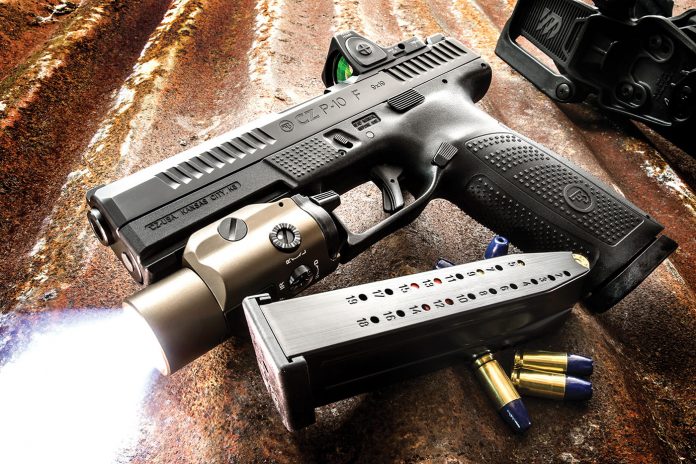 The new full-size, 19+1 capacity and RDS-compatible option in the growing P-10 line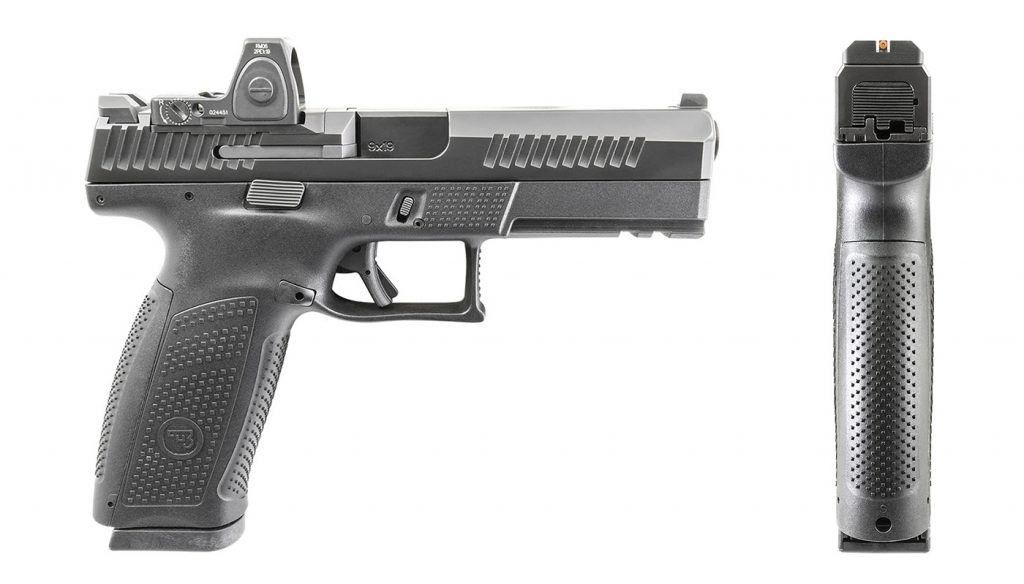 CZ-USA's P10 series is one of the most popular on the concealed carry and self-defense market today. Their compact model, the P10C is light, compact, versatile, reliable, and accurate. At least one has been on the line during the last several Gunsite Academy classes I have instructed. All have acquitted themselves, well outlasting more than a few pistols thought to be more popular. Talking to students they find them comfortable to hold, easy to shoot, reliable and accurate, and all at a great price. As the Pistol Optic has caught on it was only a matter of time for them to accommodate the demand, and their Optics Ready line does just that. Available in the Subcompact (S), Compact (C), and Full Size (F) they will accept Trijicon's RMR or Leupold's Delta Point Pro, with more optic-plates in development.
CZ-P10F Optics Ready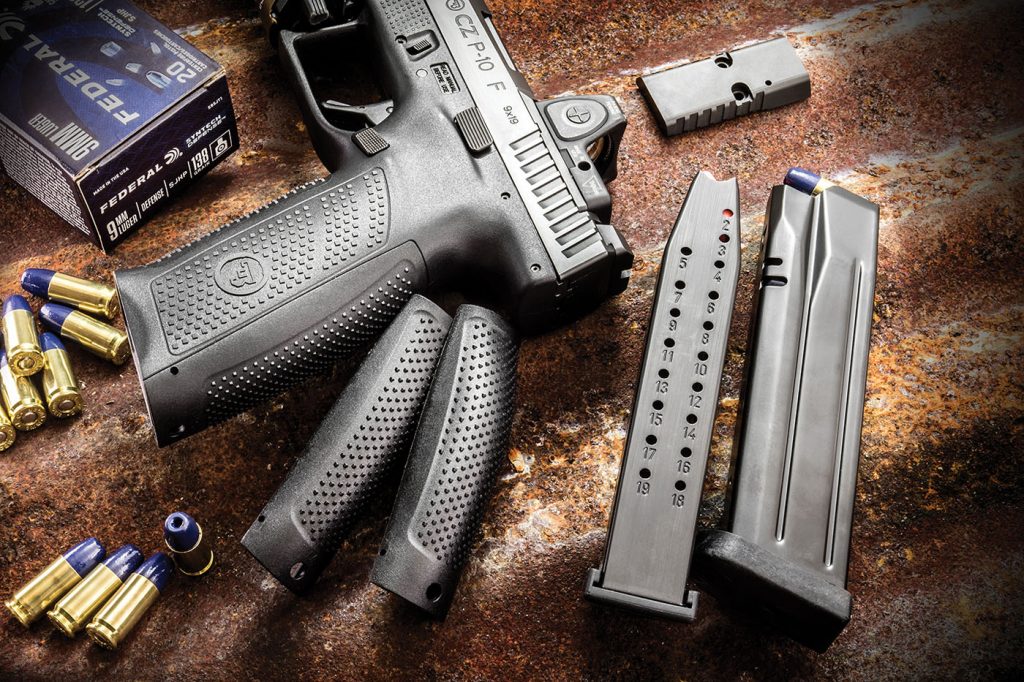 Each optics-ready pistol starts with the legendary features of the P10 Line. Polymer and striker fired they are light weight, reliable, and accurate, and outside of that, ergonomics bring many buyers to the CZ line. Handling my first CZ years ago it struck me immediately how comfortable they are to hold and shoot. Grip angles, texturing and over all shape and size lend themselves to control. A low bore-axis maintains recoil control and creates a softer shooting pistol. Designed to minimize creep and stacking, the trigger is a favorite of many; reset is short, positive, predictable and repeatable, with a pull between 4.5-5 pounds. Built from fiber reinforced polymer (frame) and nitride finished steel (slide) each is built to withstand the rigors of military use. Compatible with holsters designed for the Glock or similar pistols it's easy to fit and uses a familiar take down process for cleaning. Optics Ready pistols ship with a slide-profile-matched cover plate and low mounted sights, optics plates are available at the CZ Custom shop for $38.95 each.
Optic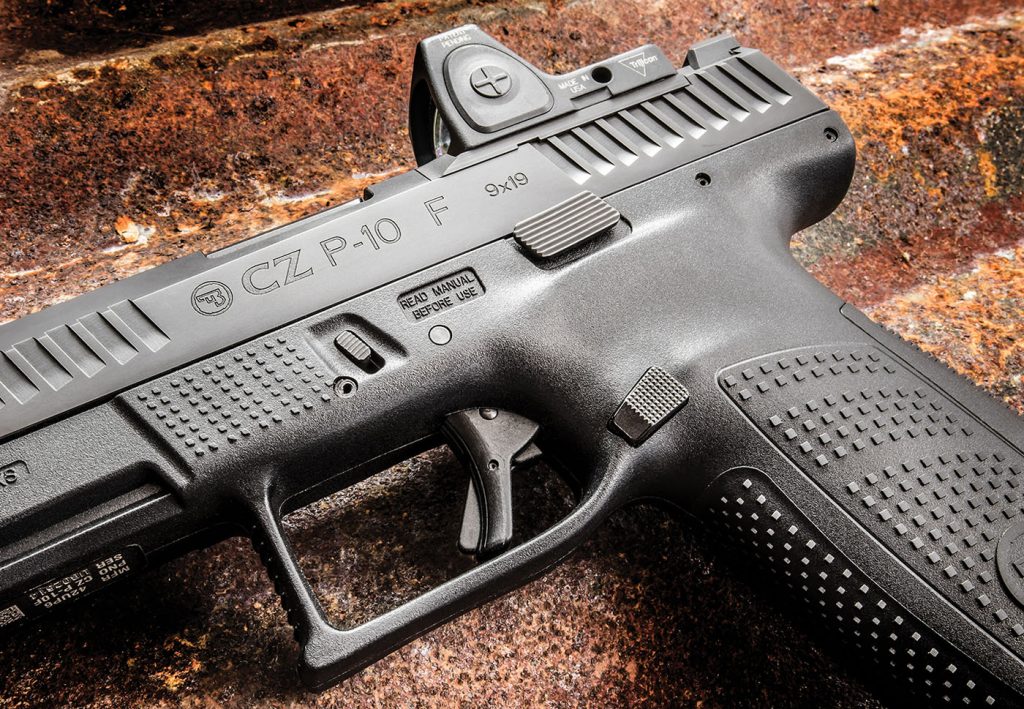 Trijicon's introduction of the SRO provided a perfect test platform for the P10F. Introduced at NRA 2019 it is purpose built for use on pistols. Battery compartment is moved to the top eliminating the need for sealing plates or removing the sight to change them. Completely sealed it is submersible to 10 feet and waterproof. Internals are as or more rugged and recoil resistant than the Type 2 RMR. Screen is larger, rounder, and the dot is crisper to the eye. Lens is parallax free, clear and the shape occludes less of the shooters field of view. It mounts to any RMR type plate and fit perfectly on the P10F Optics Ready.
Range Time
First thing I noticed without the SRO mounted was the front sight. It ships with a tritium equipped design using an orange outer ring that mounts securely to the slide. Easy to see, solidly mounted, and ruggedly built they are well suited to hard use. Height is standard for use with the installed cover plate and lines up easily allowing for impressive accuracy. More importantly for me it was easy to pick up in bright daylight and fading light conditions. Normally the first thing I replace on most pistols is the sights, would have no need to on this one.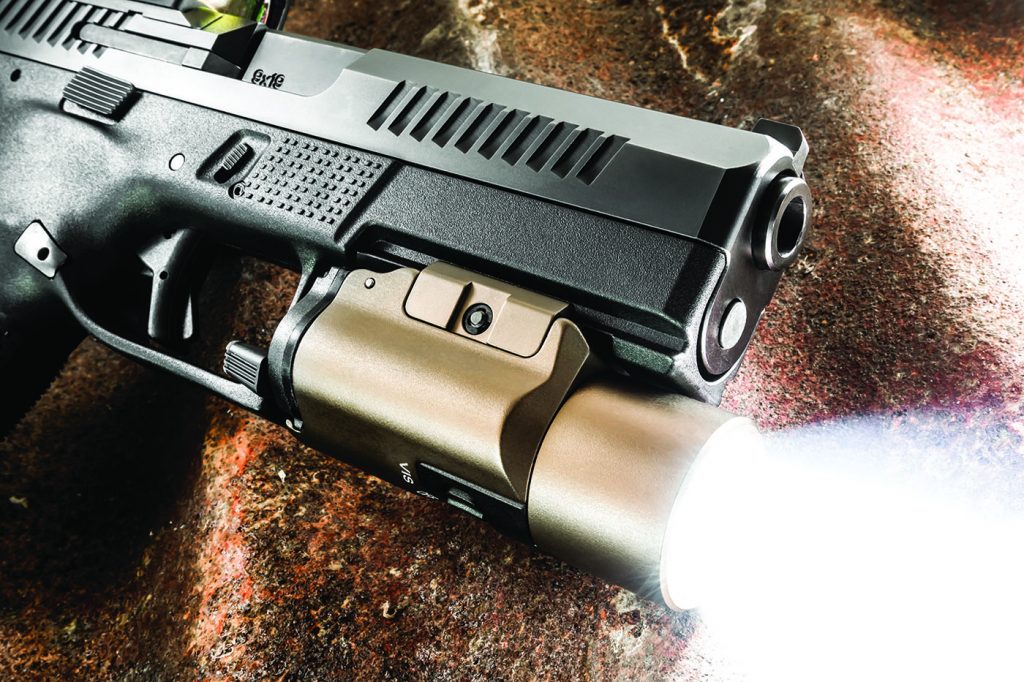 Using the practice ammunition, this pistol is soft shooting with little muzzle rise. Full size grip is about perfect for my very large hand allowing for solid control. Loaded with some stout 124 grain +P loads it was a bit harder to handle but manageable.