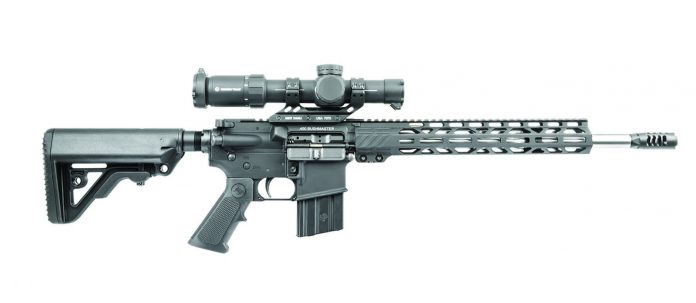 The new LAR-15M .450 Bush, chambered in .450 Bushmaster, is an evolution of Rock River Arms' LAR .458 SOCOM, which has been in production for many years. With over a decade of experience building big-bore ARs, we had no doubt that the new .450 Bush would be a home run. And we were right.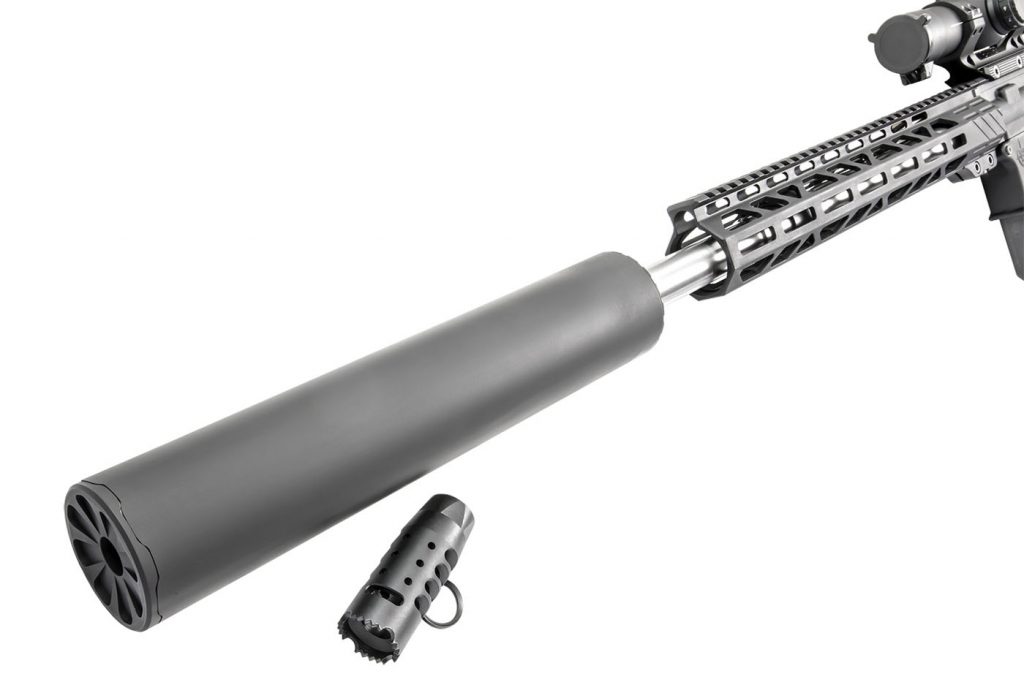 Built on forged upper (A4) and lower receivers, it is fitted with a medium-heavy-profile, cryo-treated, 16-inch, stainless steel barrel rifled at a 1:24" twist rate, and tipped with a very serious RRA Operator muzzle brake. The brake has eight large side ports angled to the rear and one large and six small vertical ports on top. The side ports reduce perceived recoil by expelling combustion gases to the rear and pulling the rifle forward, while the seven top ports push the muzzle downward to reduce muzzle rise. It proved highly effective at both tasks. Not particularly quiet, but very effective.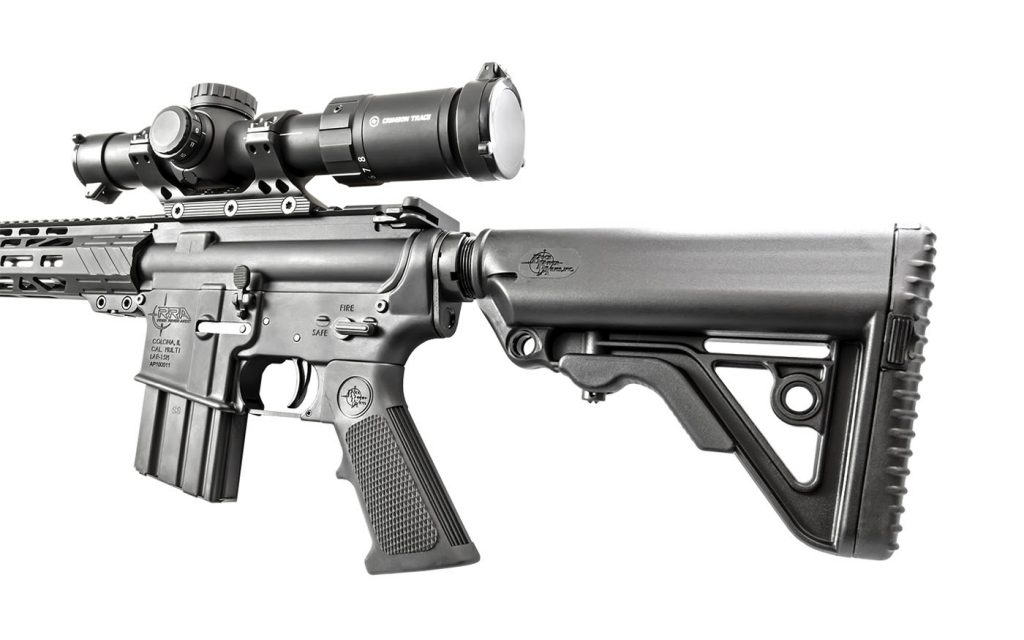 A low-profile gas block and mid-length gas system ride under a 13-inch free-floated hand guard with a 31-slot, full-length Picatinny top rail and three rows of M-LOK slots at the 3, 6 and 9 o'clock positions. The upper receiver also features a numbered, 13-slot Picatinny top rail. Controls are standard Mil-Spec fare found in their usual locations, but the trigger is RRA's superb 2-stage model that we have been raving about for almost two-decades now—zero creep or stacking and a crisp, light, second-stage break. Also a relatively-inexpensive (as in under a hundred bucks) aftermarket addition to a Mil-Spec trigger group, it's a rifleman's trigger to be sure. "Safe/fire" indicator markings are present on both sides of the receiver.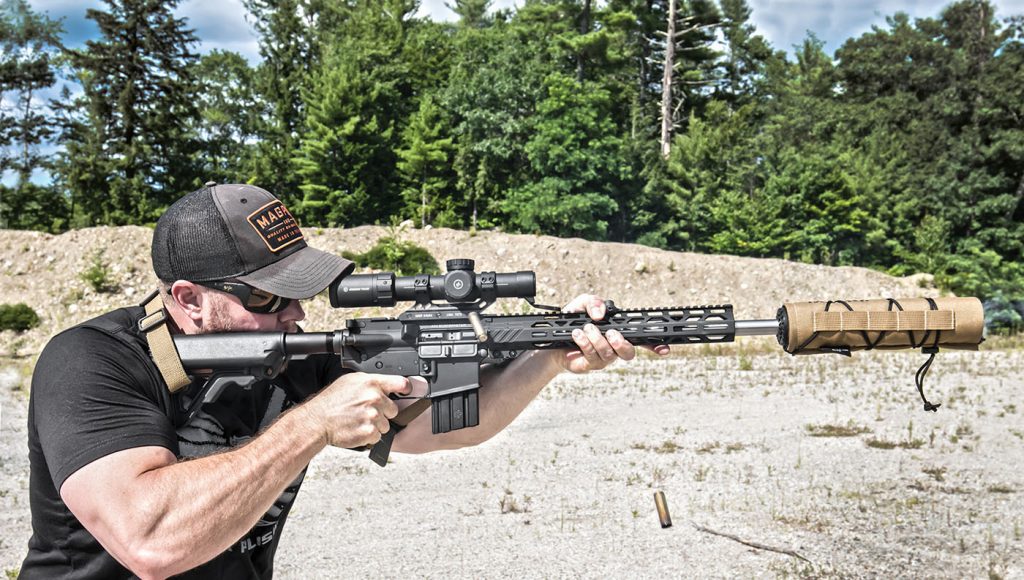 The buttstock is RRA's Operator CAR model with five adjustment positions, permitting trigger pull lengths of 11.25" to 15.0". It offers prominent cheek welds, ribbed, hard-rubber butt pad and two QD sling swivel receptacles on each side (M-LOK QD forward sling swivel receptacles are available from Magpul if desired). Other features include RRA's overmolded rubber A2 pistol grip, RRA Winter trigger guard, one 5-round magazine, polished stainless-steel barrel and black hard-coat anodized aluminum components. No iron sights are provided. It comes with one 5-round magazine, a 1-MOA accuracy guarantee, RRA's limited lifetime warranty and an RRA padded, lockable hard case. Empty weight with magazine is a deceivingly-light 6.8 pounds and extended length is 37.5 inches (collapsed length is 33.75"). With an MSRP of only $1,175, this is one hell of a big-bore AR for the money.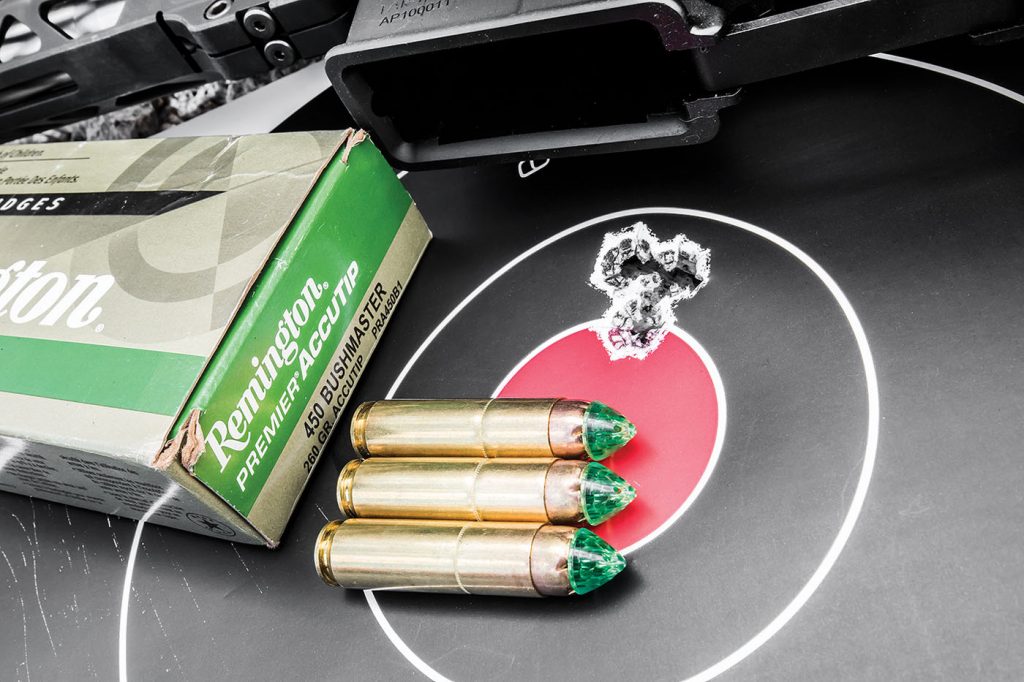 So going back to the 1-MOA accuracy guarantee, the RRA rifle—wearing the new-for-2019 Crimson Trace 1-8x 5-Series Tactical scope (www.crimson trace.com)—handily broke that with a 0.72-inch 3-shot group at 100-yards using Remington's 260-gr. AccuTip load. Hornady's 250-gr. FTX Black load broke the 1-inch mark with a 0.88-inch group, and Federal's 260-gr Fusion load just over an inch at 1.12. It's also worth mentioning that this was the softest-shooting gun of the bunch—whether suppressed with the Liberty Goliath (www.libertycans.net; which you can read about elsewhere in this issue) or not. Only one malfunction—a failure to eject—was experienced early on in test. Other than that, it ran like we've come to expect an RRA gun to—flawlessly.
See the new-for-2019 LAR-15M .450 Bush at your firearms retailer, or contact Rock River Arms; Tel.: (866) 980-Rock (7625); Web: www.rockriverarms.com
Specifications:
Caliber/Gauge: .450 Bushmaster
Barrel: 16-inch/1-24 Twist
OA Length: 37.50-inches Extended
Weight: 6.8-pounds
Sights: Flat Top Rail
Stocks/Grips: RRA Operator CAR Stock, RRA Grip
Action: Rotating Bolt Direct Impingement
Finish: Hard Anodized
Capacity: 5+1 
Price: $1,175.00