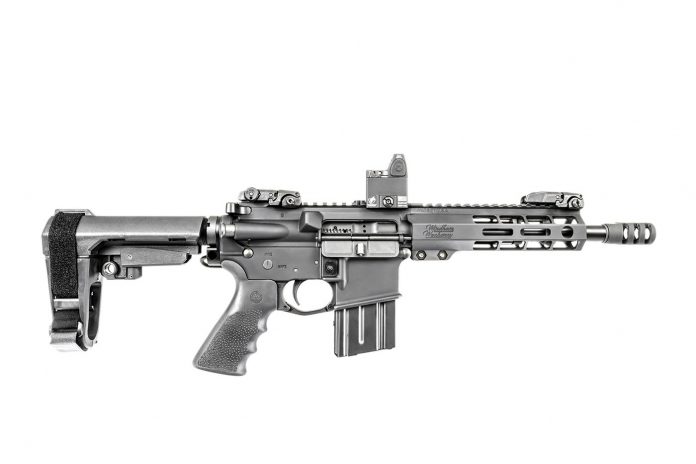 The Windham Weaponry .450 Thumper AR pistol ($1,254) was introduced at the 2018 SHOT Show to rave reviews. Fitted with a 9-inch, medium profile barrel, and tipped with a massive .450 compensator, the Thumper is surprisingly well suited to hunting. It comes with an SB Tactical pistol arm brace that extends to a "length of pull" of 12.5 inches. Designed around Windham Weaponry's standard direct gas impingement operating system (tuned for the .450 Bushmaster cartridge), it features standard AR controls, plus "safe/fire" indicator markings on the right side of the receiver. Capacity is 5 + 1 rounds, and the pistol ships with one 5-round magazine.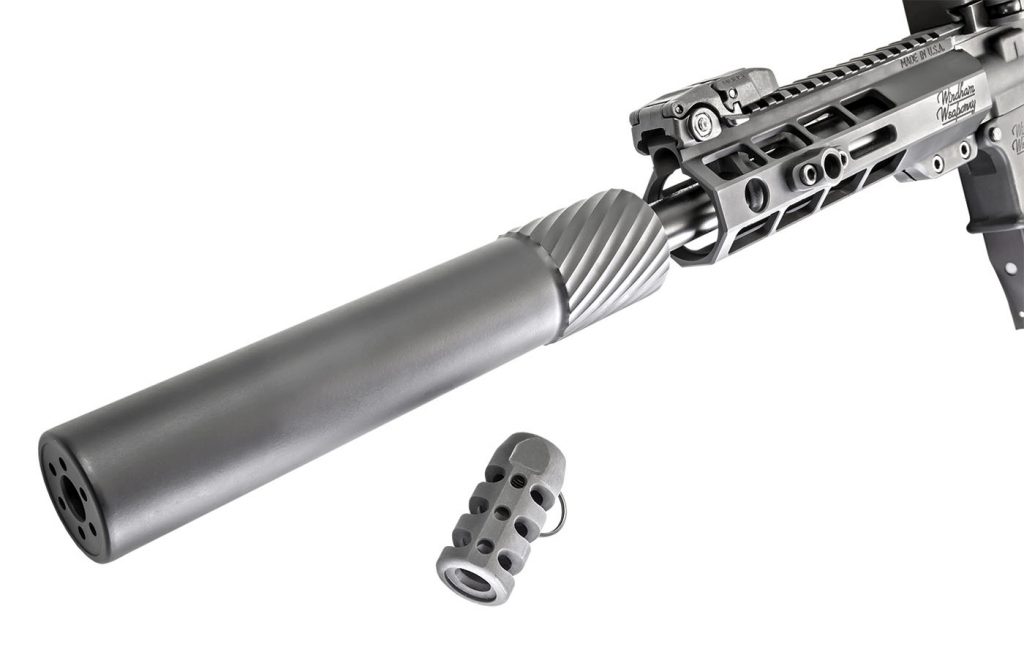 The Thumper's flat-top upper receiver includes a full-length Picatinny top rail mated to a seven-inch Windham Weaponry freed-floated machined aluminum hand guard with Magpul M-Lok slots along the sides and bottom. The 9-inch barrel is machined from 4150 Chrome Moly Vanadium 11595E steel with M4 feed ramps and Melonite QPQ finish and is rifled at a twist rate of 1:24" There's a QD sling swivel receptacle mounted on the hand guard, and one at the rear of the receiver, both on the left side, plus two more, one on each side of the arm brace frame.
One QD sling swivel is included. The SB Tactical arm brace is well made, rugged, highly functional and good looking. At the rear is a hard rubber arm surround with a captive, elastic Velcro arm strap. Length is adjusted simply by pushing up on the locking lever and pulling it out to extend or pushing it forward to collapse.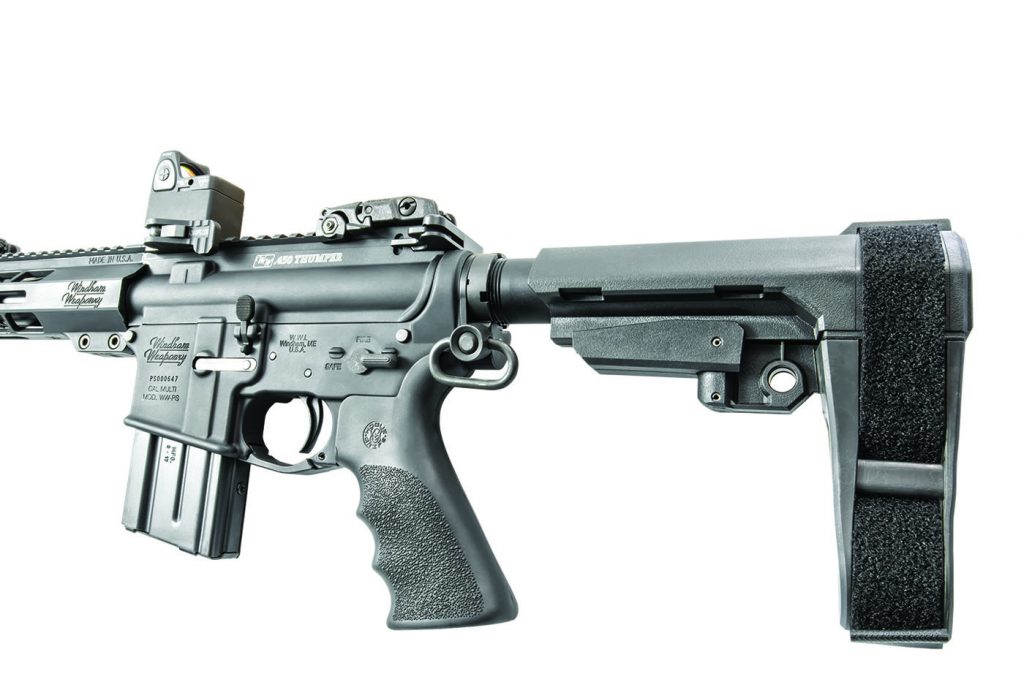 The lower receiver is fitted with a Hogue Beavertail rubber pistol grip and a Magpul enhanced aluminum trigger guard. The trigger is a typical Mil-Spec design, with palpable take-up, a small but noticeable amount of creep and a fairly heavy pull weight approaching seven pounds.
Other than a larger diameter cutout in the face of the Carpenter 158 steel bolt to accommodate the larger case rim of the .450 Bushmaster cartridge, and what feels like a beefed-up buffer spring to handle its recoil energy and velocity, it's indistinguishable from a 5.56 NATO AR inside and out.
Other features include a low-profile gas block, forged upper and lower receivers machined from 7075 T6 aircraft-grade aluminum alloy, black anodized finish, Magpul MBUS flip-up front and rear sights and a lockable, hard plastic gun case.
Given its short dimensions and empty weight of only 5.8 pounds without magazine, to say that the Thumper would be a handy platform in the deer and hog woods—or as a bear protection tool—would be an understatement. So how does the short barrel effect muzzle velocity? We're actually not sure…we forgot our chronograph on range day! With no time to re-test, we can only guess.