Field stripping is the standard 1911 process, although the heavy recoil spring and absence of front slide serrations makes removing the slide stop a bit of a chore. An extra set of hands is really needed to tap out the slide stop while the slide is held back by a couple more. Gun writers aren't happy unless they can find at least one thing to bitch about, so that's my bitch.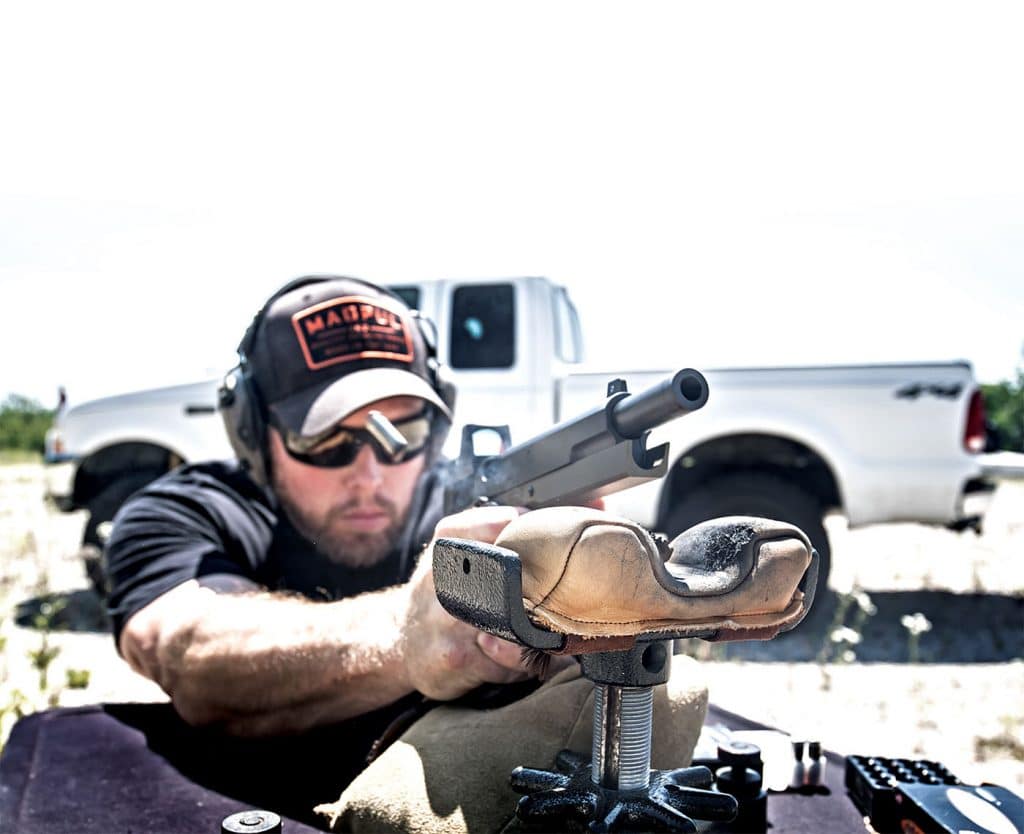 We have to give Springfield Armory a big "atta boy" for choosing the Trijicon RMR  ("Ruggedized Miniature Reflex") sight as standard equipment on their TRP 10mm's. We've used them all, and the RMR in its various iterations is our hands-down favorite for slide-ride use. That being said, we may change horses to the new Trijicon SRO after we've had a chance to try to kill it, but for now the RMR is our reflex sight of choice. Back out the price of the RMR (about $500), and the cost of the TRP 10mm becomes a true bargain.
Our first impression of the 6-inch TRP 10mm RMR was, "Man, this a big gun." And it is. With an empty weight of 50 oz., it measures 9.6 inches long, by 6.4 inches high, by 1.3 inches wide. The 5-inch version shaves 6 oz. off the weight and 1 inch off the length, but maintains the same 6.4-inch height. Both models come with two 8-round stainless-steel magazines with polymer slam pads that fit perfectly flush with the bottom of the extended magazine well. They also come with a padded Cordura, multi-compartment case with storage for eight magazines, tools, ammo and more.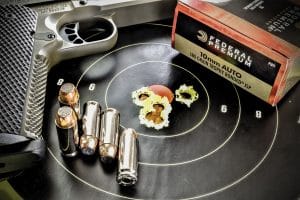 Our second impression was, "Wow, this is one serious looking piece." And it is. The front end of the frame is square and blocky looking, and the slab-sided, round-top slide makes the combined side profile look like a four-story building—or a Government Model 1911 on steroids. All of the aforementioned attributes combine to make the TRP 10mm RMR one hell of a good looker.
The pistol fit my average-size paws like it grew there. Trigger reach was perfect, with the distal phalanx of my trigger finger falling directly over the center of the trigger, the and grip circumference and Posi-Lock texturing were both comfortable and extremely effective in controlling perceived recoil and muzzle rise.
For function and reliability testing we used a variety of loads in different grain weights from Federal, Hornady and Doubletap, running the gamut from practice to defense and hunting. Each load had a distinctly-different recoil characteristic, and not only did the big TRP digest everything we fed it without complaint, muzzle rise and felt recoil were, comparatively, on the tame side of the spectrum—even with the hi-po hunting loads. This is where weight becomes an advantage.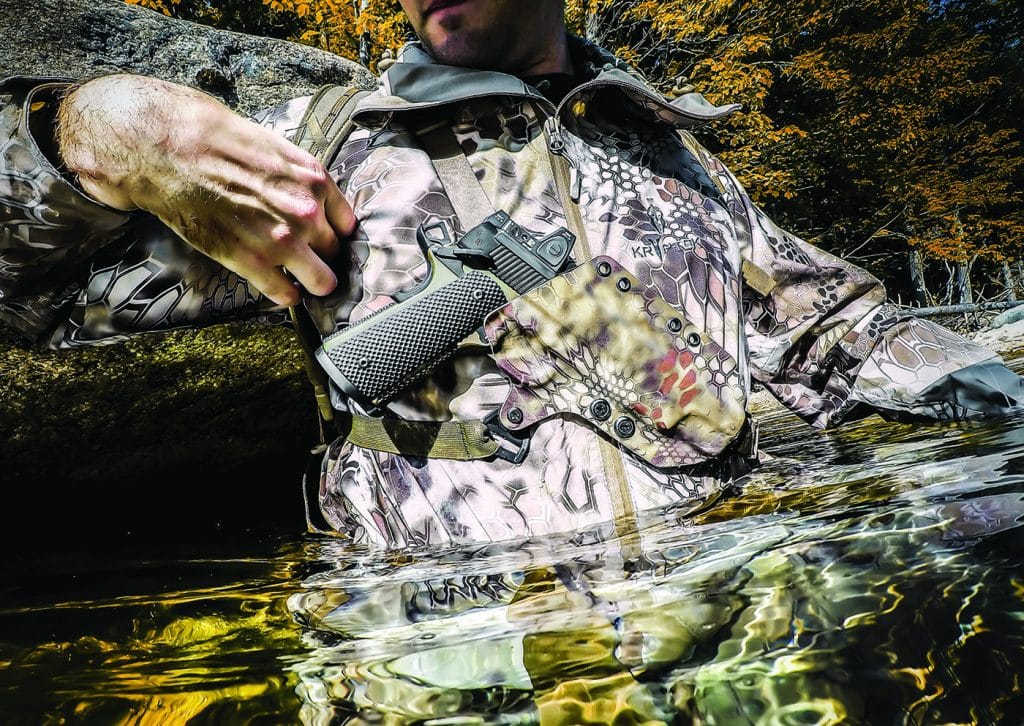 From the 25-yard line we narrowed our downrange-precision testing down two three hunting loads; Federal's 180-gr. Trophy Bonded JSP Vital-Shok, Doubletap's DT Hunter 200-gr, Controlled Expansion JHP and Hornady's Custom 180-gr. XTP. We've found our level of precision measurably better with RDS-equipped pistols (especially with aging eyes) and the TRP further further solidified this theory. All three loads proved capable of sub-2-inch 5-shot groups, with the Federal and Hornady loads breaking the 1.5-inch mark. The best group of testing was printed using the hot Federal Premium load (a staff favorite), measuring 1.16-inches. Outstanding performance overall. We have no reservations about this pistol's ability to place accurate shots at 50-yards and beyond.
Taking into account its out-of-the-box performance and features, we believe the TRP 10mm RMR pistols to be the best value in long-slide 10mm 1911s that you'll currently find on the market. See them at your gun shop, or contact Springfield Armory; Tel.: (800) 680-6866; Web: www.springfield-armory.com
Accuracy Testing
Ammunition                                         Velocity                      Group
Hornady Custom 180-gr.                        1275                      1.36 inches
Double Tap DT Hunter 200-gr.                 1250                     1.72 inches
Federal Vital-Shok   180-gr.                    1275                      1.16 inches
Specifications:
Action: Single
Caliber: 10mm Auto
Barrel Length: 6-inches
OAL: 9.6-inches
Height: 6.4- inches
Weight: 50-ounces (empty magazine)
Capacity: 8+1
MSRP: $2,289.00