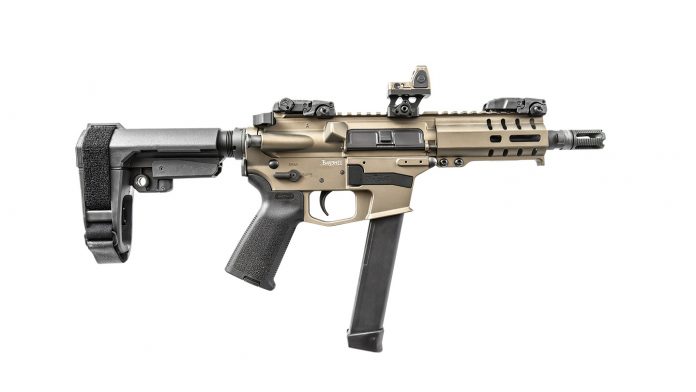 CMMG's Banshee takes a new look at the PCC platform, abandoning the simple blow back design for a modified AR style rotating bolt. Designed to offer the shortest barrels possible in 9mm, 45 ACP, 300 BLK, 5.7mm and .22 Long Rifle they represent the state of the art in design and function. Incredibly light weight and portable they meet the growing call for pistols and SBR's designed for today's shooters.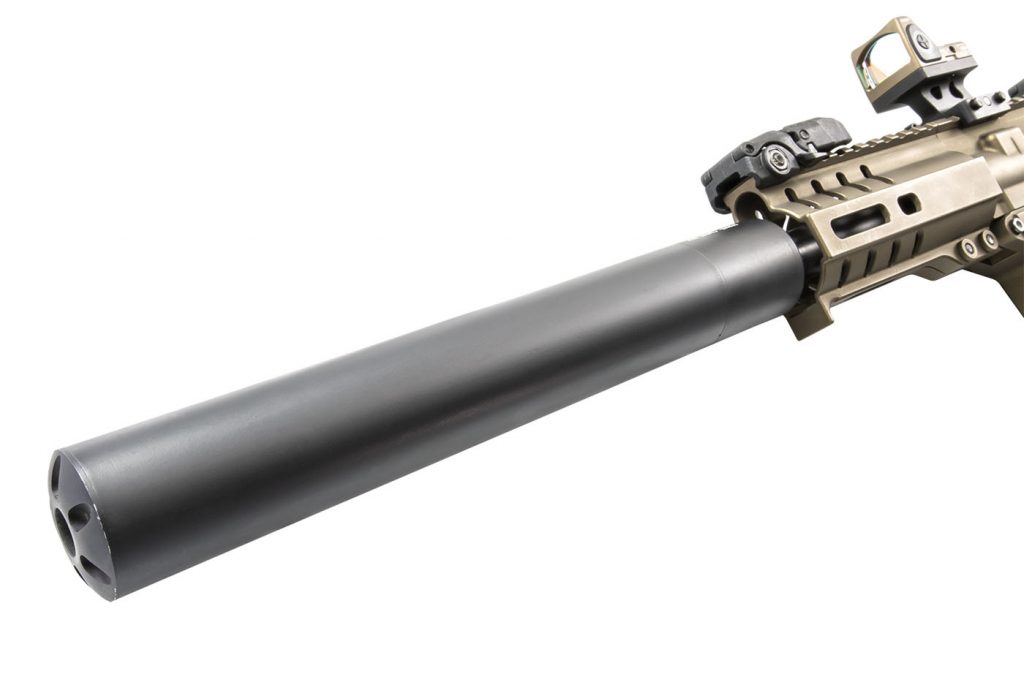 The 9mm Banshees feed from either factory Glock or Colt SMG magazines and utilize CMMG's patent pending Radial Delayed Blowback operating system. The benefit of the Radial Delayed Blowback system is that it allows CMMG to use a lighter buffer and carrier than the typical straight blowback design. This reduction in reciprocating mass ensures that Banshee is controllable and reliable.
Banshee 300 Series Glock Pistol
The barrel measures 5 inches and is threaded 1/2" x 28 with a knurled thread protector to accept muzzle devices or suppressors. An RLM4 M-LOK equipped hand guard is used with a hand stop to protect your hands from moving too far forward. The charging handle and safety are oversized and ambidextrous. The magazine release is also oversized. The trigger is a single-stage MIL-SPEC design, while the pistol grip is a Magpul MOE. The lower is billet 7075-T6 aluminum, and the upper is forged from the same material. The magwell is flared and accepts Glock 17 compatible magazines. It was all coated in Burnt Bronze with their Premier Cerakote. A single 33-round Glock 17 magazine was provided.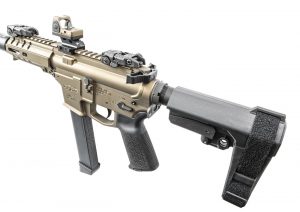 Proving to be the most rugged MRDS currently available Trijicon's RMR HRS was chosen by USSOCOM as their issue pistol MRDS. Intensity adjustments sit on either side and it has a 3.5 MOA dot. Elevation and windage adjustments can be made with a screwdriver, or even a brass case or coin in a pinch.
Also tested, CMMG's DefCan 9 suppressor is lightweight, strong, quiet, and priced very well. Pistol versions are primarily aluminum using their QD bi-loc attachment. Rated for fully automatic fire they will take a beating but remain very light and quiet.
Range Time
Accuracy was excellent, putting five rounds of Barnes 115-grain TAC-XPD into just under an inch at 25 yards. All the accuracy you would ever need for home defense or the next PPC match. Recoil with most ammunition was pretty tame, with the hot loads being noticed, but it remained controllable. Reliability was excellent using the supplied 33-round Glock magazine and several others. Designed in conjunction with SB Tactical, the RIP brace is fast to deploy: just grab and pull and it extends completely. If you want it to stop somewhere in the middle, adjust the locking screw to your desired length.