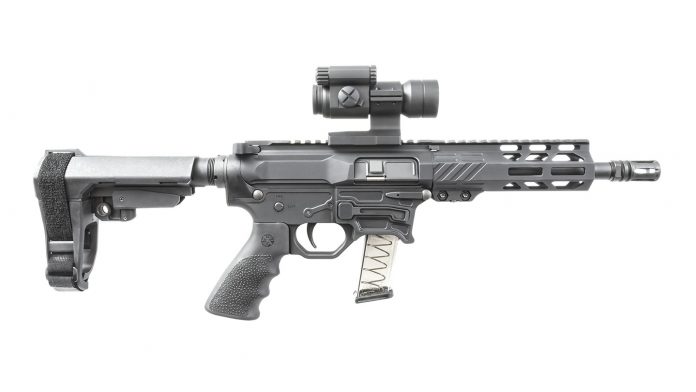 To me, pragmatist that I am, the pistol caliber carbine (PCC) represents a solution to a non-existent problem. Yes, they can take pistol magazines and reach out a bit further with more accuracy than a standard pistol.
Likewise, they are generally light weight, handy and have minimal recoil. Apparently, I'm in the minority, however, as PCCs and their near cousins, the "pistol with a brace," have only grown in popularity for both competition and general use. I attribute this to two other factors I failed to adequately consider, namely: they are fun to shoot, and pistol ammo often costs less than carbine ammo. So, it was of no great surprise when Rock River Arms (RRA) recently introduced their BT-9 series of 9mm pistols. Coming in 7- and 10.5-inch barreled models with a brace, I secured a copy of the 7-inch BT92133 model for testing, and was quite pleased with the results.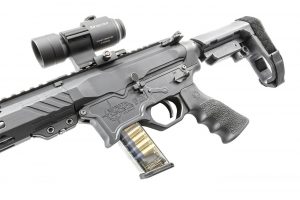 Rock River Arms is known for high quality firearms, many utilizing a significant number of proprietary parts, and the BT-9 is no exception. The heart of the BT-9 is a billet aluminum lower receiver, which includes a flared mag well for standard Glock 9mm magazines, and an integral winter trigger guard. The Picatinny-topped A4 upper holds the blowback-operated "bolt carrier group, and 1:10" twist, chrome-moly barrel tipped with a standard A2-style bird cage flash hider. The hand guard is RRA's lightweight, free-floated, aluminum M-LOK compatible model likewise topped with a full-length Picatinny rail. Controls are in the same places as a standard AR, with an RRA molded rubber pistol grip, RRA dome thumb safety, standard charging handle, bolt stop and a magazine release lever modified for use with pistol mags. The arm brace is the popular SB Tactical SBA3, which is adjustable to five positions on a standard receiver extension. Last, but certainly not least, is the BT-9s RRA 2-stage trigger, which broke consistently at a crisp 4.75 lbs, with about 1/8" take-up and stacking, creep or over-travel. The whole package weighs in at a handy 5.4 pounds, and is only 26 inches long with the brace extended. It comes in a quality RRA plastic rifle case with an ATS clear-plastic Glock 17 magazine and cable lock.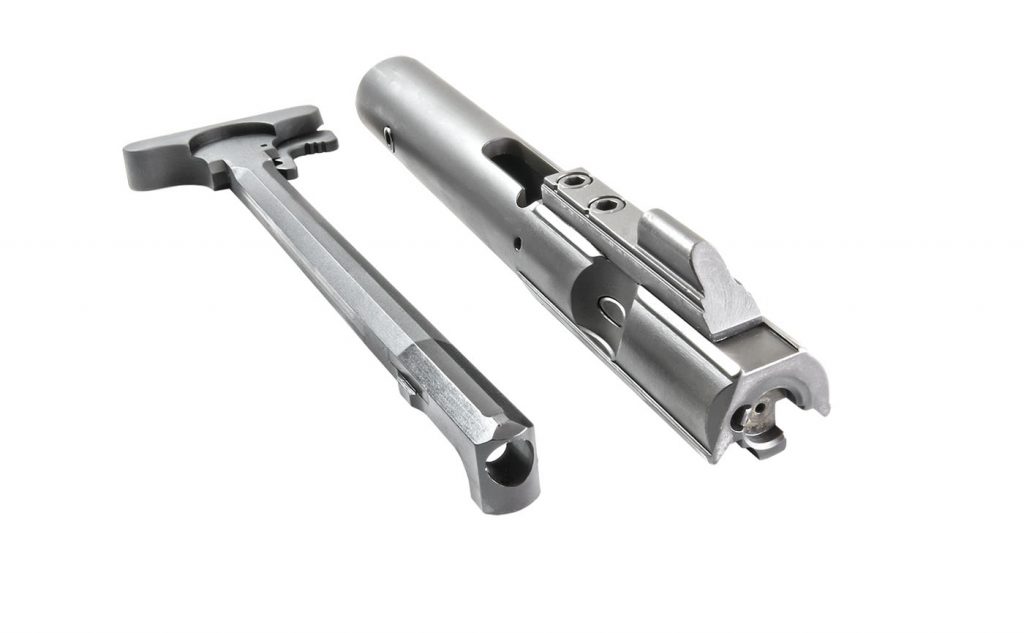 One would expect a pistol with a brace to shoot a bit better at close range than your average handgun, while offering a bit more accuracy at distance, and that's what the BT-9 did. With an Aimpoint Carbine Optic mounted for testing, I started by plinking around a bit with some Winchester 124-gr. ball I happened to have on hand to test function and get on target.