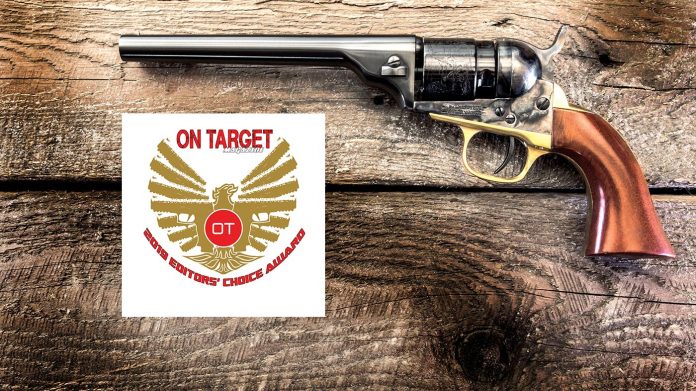 A showpiece that's just too fun not to shoot
Cimarron's new 1862 Pocket Navy Conversion center-fire revolver is just plain fun to shoot. It's also an extremely nice-looking gun, with its color case-hardened frame and hammer, brass trigger frame, trigger guard and front and back straps, engraved cylinder and gloss blued barrel and cylinder. The 2-piece grips on our evaluation gun were made from fairly "plain Jane" walnut, but we suspect that wood quality will vary from gun to gun. Chambered in .380 ACP, this "replica" revolver includes a brass bead front sight and hammer notch rear sight, neither of which are adjustable. The hammer is deeply checkered on top for positive cocking. While reminiscent of a .44 caliber 1851 Navy cap-and-ball revolver, without the loading lever or loading gate, it surely looks like something from the 19th Century.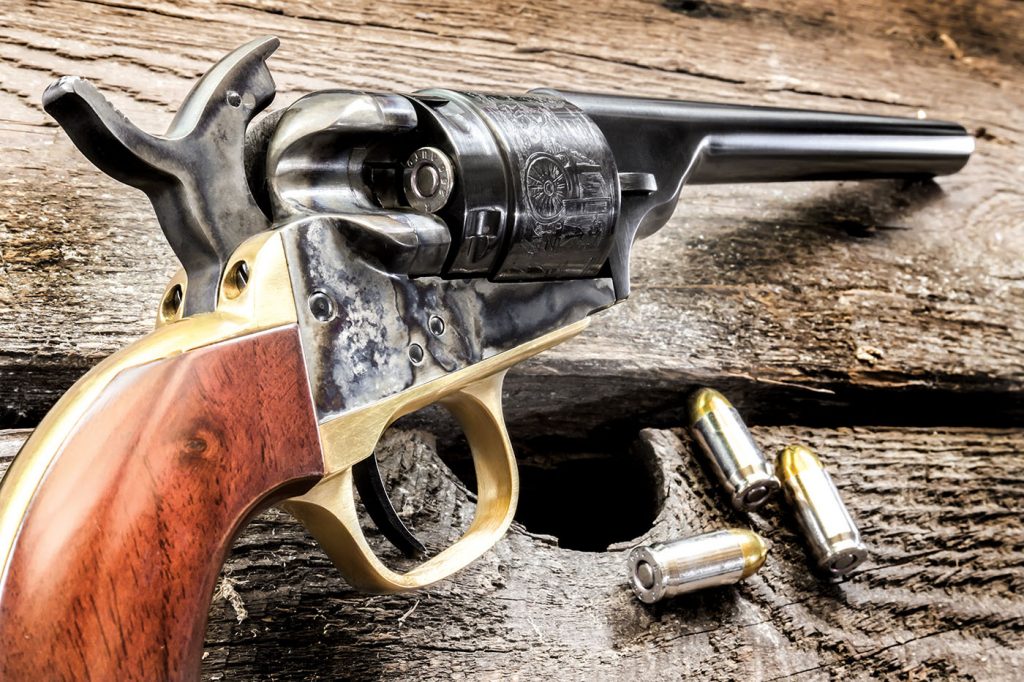 Based on a blackpowder frame, because this is, in fact, a modern center-fire cartridge revolver, there is no loading gate, and the .380 ACP rounds head space on raised rims in the chambers, preventing them from seating too deeply. The downside of no loading gate is that the rounds can fall out of their chambers through the loading port if the muzzle is raised during loading or shooting (although we never experienced this). Loading and unloading is accomplished by moving the hammer to the half-cock position, which permits the cylinder to spin freely, but without an ejection lever unloading spent cases can require some tapping of the grip against the hand or other non-marring surface.
The owner's manual—which, overall, is a lot less than we would hope for—refers to a "safety block screw" positioned in the right side of the hammer, but this feature was absent on our evaluation gun. Without being able to see or test the safety block screw, we have no idea what it is intended to accomplish. Our gun simply had a pin through the hammer in that location.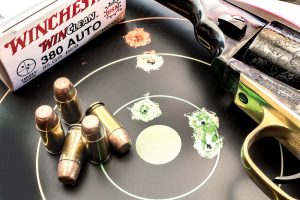 Cylinder capacity is five rounds, but there is no transfer bar or equivalent type safety, so safe loaded carry capacity is four rounds. This, combined with the gun's .380 ACP chambering, makes it an impractical choice for personal defense use, but does not detract from lots of range fun firing the low recoil .380 ACP., where all five rounds can be loaded without concern for unintentional discharge of the loaded round under the hammer—unless you screw up and drop the friggin' gun, of course.
The blued trigger isn't half bad. It exhibits a modest amount of take-up and some over-travel (which is common with many single-action replica-type revolvers), but no creep or stacking was present, and it broke cleanly at an average pull weight of 4.5 pounds. The Cimarron 1862 Pocket Navy Conversion is made in Italy by Uberti, a company which enjoys an exemplary reputation for quality and reliability, which this revolver exhibited.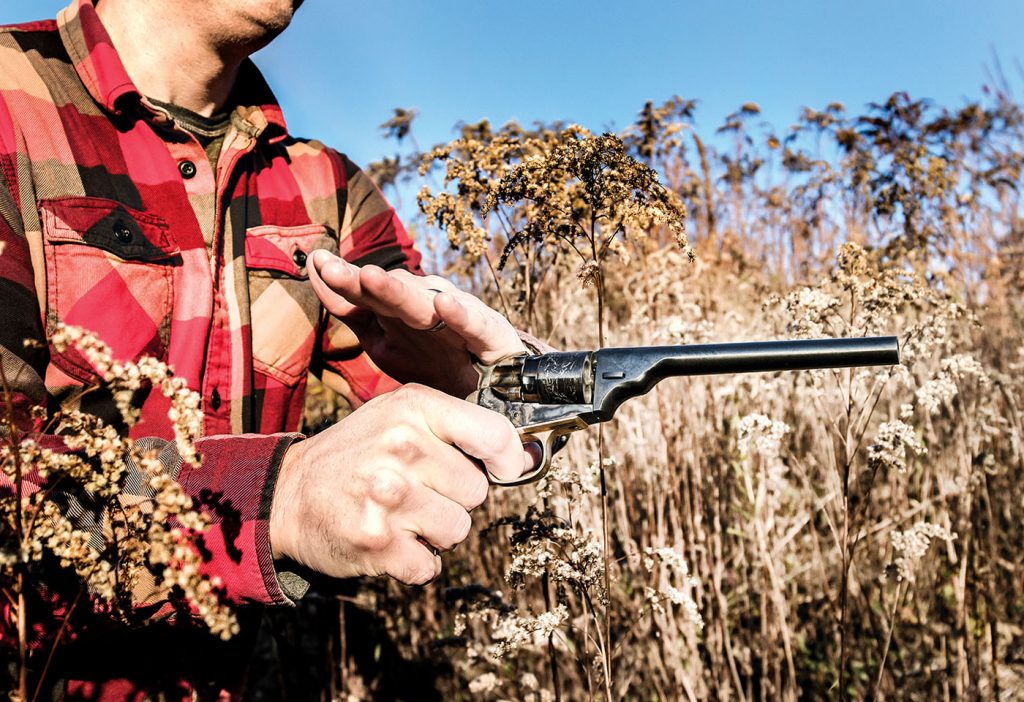 As one might expect given the rudimentary sights, point-of-aim and point-of-impact won't always coincide without breaking out a file, and this was the case with the Cimarron .380, but not by a large margain. At 15-yards, the gun printed about 2-3-inches high on average but windage seemed spot-on perfect. The best five shot group was printed using Winchester white box and measured 2.74-inches — not too shabby by comparison to other 1862 conversions we've tested. Recoil, as expected, was extremely mild, making this a fun gun to spend the day at the range with no matter what your stature happens to be.
See the Cimarron 1862 Pocket Navy Conversion .380 ACP revolver at your gun shop ($577.70), or for more information contact Cimarron F.A.C.; Tel.: (877) 749-4861; Web: www.cimarron-firearms.com
Specifications: Cimarron 1862 Pocket Navy Conversion .380 ACP
Action: Single
Caliber:.380 ACP
Barrel Length: 6 Inches
Finish: Blued/case hardened/brass
Grips: Walnut
Weight: 1.78-lbs.
MSRP: $577.70