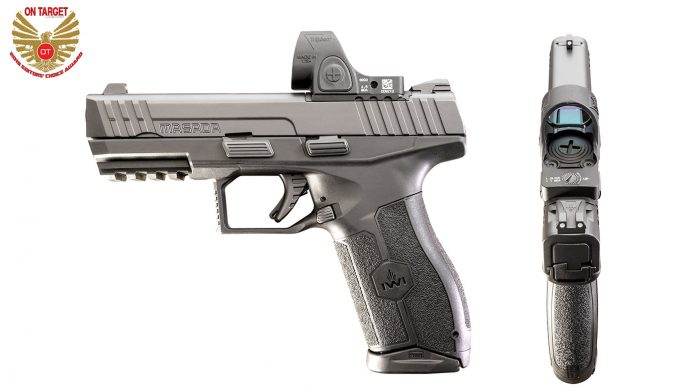 Sub-1-inch precision and an impressive feature set meet affordability
It's not often that a new striker-fired, polymer-framed pistol raises an eye brow around here, but the new Masada 9mm from Israel Weapon Industries (IWI) did just that. Priced at only $480, the Masada has everything we covet in a fighting pistol, except night sights (which are available through Meprolight, an IWI subsidiary. See them at meprolight.com). Designed with input from the Israeli Defense Forces (IDF), it was developed to provide a robust and precise solution to modern battlefield requirements.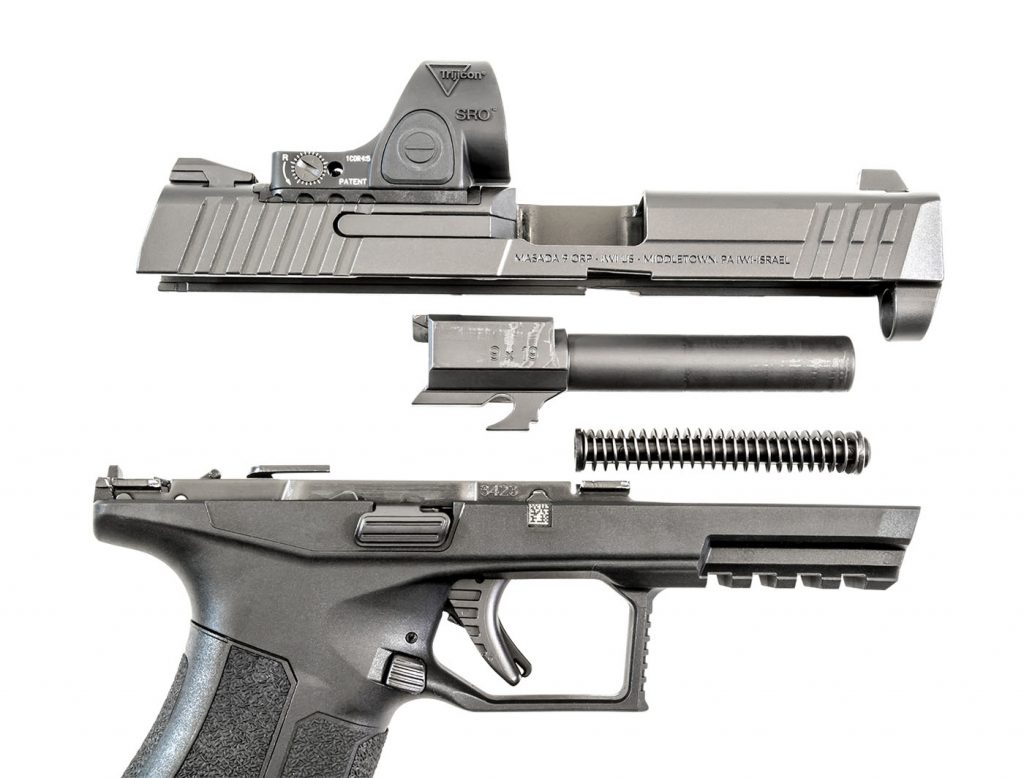 Staring at the top, it features a black nitride finished steel slide with front and rear cocking serrations; a 4.1-inch, low-profile, bushingless, cold-hammer-forged steel barrel, polygonal rifled at a 1:10-inch twist rate; dovetailed 3-dot sights with drift adjustable rear; beefy external extractor/ejector and a striker-fired operating system with single captured recoil spring. There are no loaded-chamber or cocking indicators. The slide just forward of the rear sight has a flat machined into it to accept sight bases (five included) for the most popular red-dot sights: Trijicon RMR and SRO, Vortex Venom, Leupold Delta Point Pro and Sig Sauer Romeo 1. For testing we mounted a Trijicon SRO, which, not surprisingly, occluded the open sights.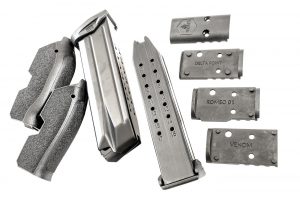 The frame of the pistol is molded from fiberglass reinforced polymer, sports a very natural-feeling grip angle and includes three interchangeable backstraps that will accommodate most any size hand. The grip frame and front and back straps are lightly stippled and afford more than adequate grip traction without taking the skin off your hand. Slide-stop and magazine release levers are ambidextrous, making the Masada a great choice for lefties. The trigger guard affords a large opening that will accommodate gloved hands, and is deeply serrated on its nearly vertical front face. A four-slot Picatinny rail is molded into the dust cover, on which we mounted a a Streamlight TLR-8 white light illuminator. The trigger system is very Glock-like, with a center-mounted trigger safety, but the trigger pull was noticeably better than most factory Glock's. Like the Glock, the Masada's trigger has about 1/8-inch of take-up to a hard wall, but from the wall to the break it exhibits about another 1/8-inch of take up at a sightly higher pull weight. IWI advertises the trigger to have a 6-lb. pull weight but our test pistol bettered that with a 5.4-lb. average weight to the break, with no creep or stacking. We can certainly live with that.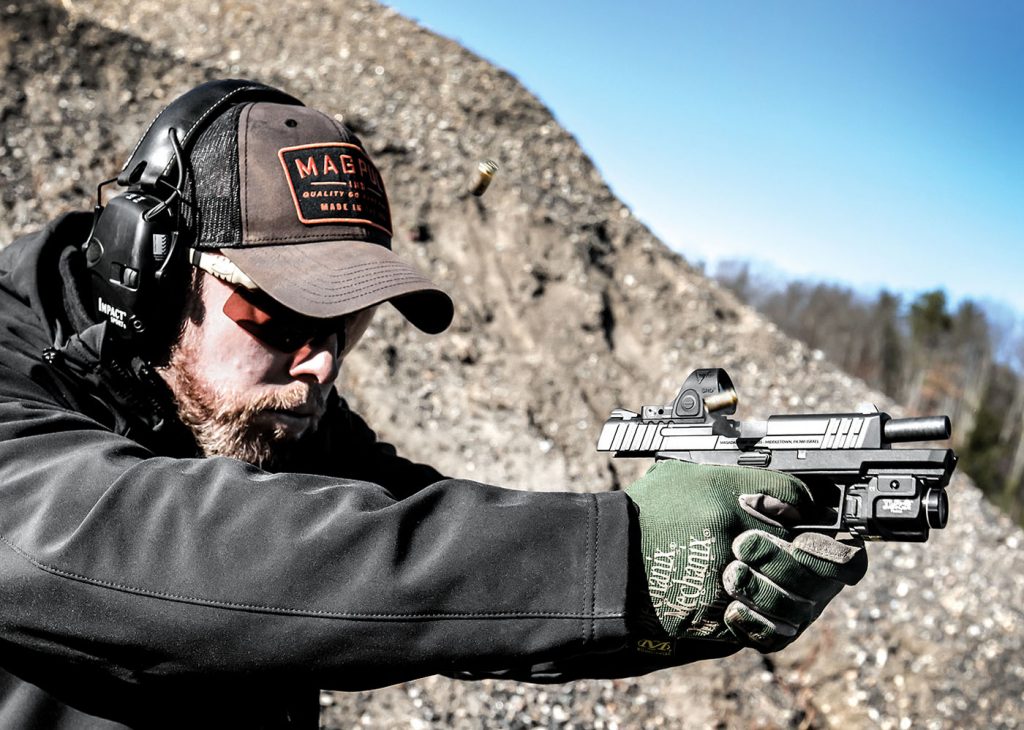 Takedown is quick and easy: pull the slide to the rear and engage the slide stop, drop the magazine, pull the trigger (after checking for an empty chamber, of course), turn the takedown lever 90 degrees, release the slide stop and slide the top half off the frame. Reassembly involves sliding the top half onto the slide rails, pushing it to the rear sufficiently to engage the slide stop, then releasing the slide stop.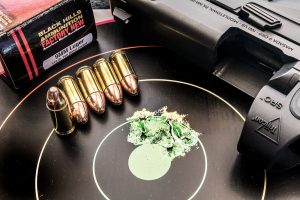 If you don't live in one of "those" states, the Masada comes with two Italian-made, steel, 17-round magazines, giving it a 17+1 round capacity—competitive with most current 9mm pistols.
At the range is where the Masada revealed its big secret—this thing is an absolute tac-driver. At 25-yards, shooting Black Hills 115-gr. FMJ, the Masada printed a 0.90-inch 5-shot group. Other loads were nipping at the heals of the 1.25-inch mark, and you almost had to deliberately throw a shot to break the 2-inch mark. Impressive? We'd consider that an understatement. And, to fully seal the deal for a 2019 On Target Editors' Choice Award, reliability was 100-percent.
Overall, we walked away impressed the features, ergonomics and especially the performance of the Masada, and wouldn't hesitate for a second to deploy it as an everyday carry gun. Contact IWI; Tel.: (717) 695-2081; Web: https://iwi.us