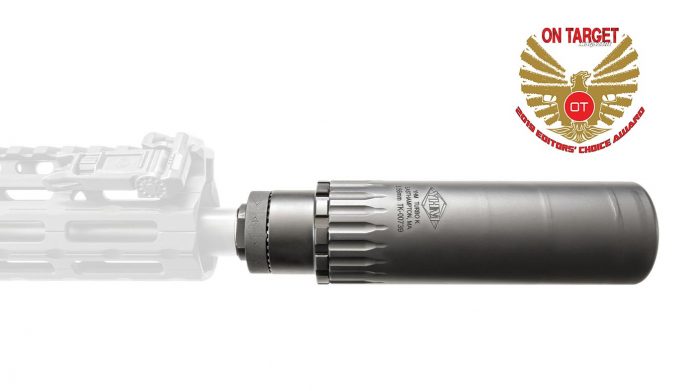 The little can that could
We been using the new-for-2019 YHM Turbo K sound suppressor on one of our SIG M400 carbine's for a little over two months now, and its two outstanding attributes are: 1. This this is quieter than it has a right to be for its external dimensions, and 2. The value for your money can't be beaten anywhere in the suppressor market. Created as a more compact sibling to the company's longer 5.56mm Turbo suppressor, Yankee Hill Machine's new truncated Turbo K Sound Suppression System is offered with QD flash hider or with QD muzzle brake, both priced at an extremely reasonable $485 (especially considering they come with a quick-detach muzzle device). The rear of the suppressor housing is threaded to the common 1-3/8×24 to open the door to other mounting options, and the Turbo K also comes with a 1/2×28 direct-thread mount.
The Turbo K utilizes a tubeless design made from heat treated 17-4 stainless steel with a heat treated 718 Inconel blast baffle that creates long-term durability and allows a full-auto rating (minimum 10.5" barrel length). Overall length of the suppressor itself is 4.9", or 5.5" with the Phantom QD adapter. Outside diameter is 1.5625". Weight of the suppressor itself is 8.83 oz., or 11.7 oz. with the QD adaptor attached.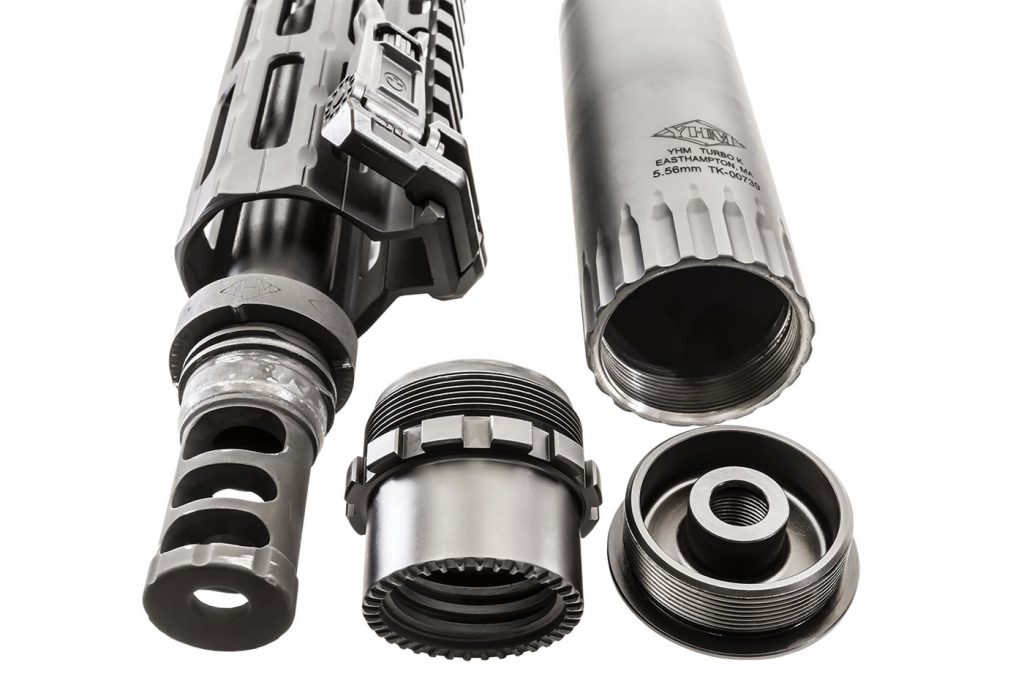 YHM states that the Turbo K's average sound pressure level is 134dB to 138dB on ARs shooting 55-grain ammo, and well within the hearing-safe threshold of 140dB. According to our seat 'o the pants decibel meter, however, noise- and concussion-killing ability seemed even greater than that. After shooting this can side-by-side with larger 5.56mm suppressors, we can confidently say that you're not giving up much in the way of sound suppression with the shorter length, and if you're trying to keep the overall package size of your rifle/suppressor system as compact as possible, the Turbo K is the perfect solution.
At the end of the day, we were sufficiently impressed to give the new Turbo K a 2019 Editors' Choice Award and we don't think you'll be disappointed either. Contact Yankee Hill Machine; Tel.: (877) 892-6533; Web: www.yhm.net