Some things never go out of style
Mossberg's "Retrograde" pump-acton, 12-gauge shotguns are designed to invoke the look of yesteryear, with walnut buttstocks and rounded, circumferentially grooved walnut forearms. Despite their oldies look, however, both the Model 500 Retrograde ($519) and the Model 590A1 Retrograde ($930) are thoroughly modern designs with Mossberg's legendary reputation for quality and no-questions-asked reliability.
Model 500 Retrograde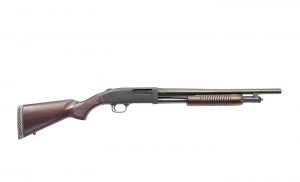 The less fancy of the two, the Model 500 Retrograde is fitted with an 18.5-inch, standard wall thickness barrel with fixed cylinder bore choke and a 3-inch chamber. It has a brass bead front sight and no rear sight. Other features include a dark-stained walnut buttstock with flawless machine checkering on both sides of the pistol grip, a thick, ventilated rubber recoil pad behind a 1/4-inch black plastic spacer, a fixed length of pull of 13.87 inches, a receiver top which is drilled and tapped for optics mounting, front and rear sling swivel studs, top tang mounted, serrated safety selector, double action bars for smooth, bind-free cycling and 6+1 round capacity with standard 2.75-inch shotshells (5+1 round capacity with 3-inch shells) and all other standard Model 500 mechanical and design features.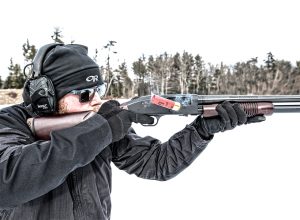 All metal components are blued, empty weight is 6.75 pounds and overall length is 39.5 inches. This is the no-frills Retrograde, designed with nostalgic looks but brutal and simplistic effectiveness in mind. While they have their place and generally suit their purpose very well, in today's world of black-polymer clad, tactical-gadget strewn scatterguns, this model will represent a breath of fresh air for many.
Model 590A1 Retrograde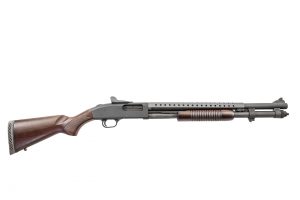 The 590A1 Retrograde is a very serious, "trench-gun" looking defensive shotgun by comparison and a definite step up in features and functionality from the Model 500 Retrograde. The Model 590A1 platform in its numerous configurations has become the duty shotgun of choice for military and law enforcement agencies worldwide—being the only pump-action shotgun to pass Mil-Spec 3443E—so you know it will hold up to the home-defense needs of the average consumer…no matter how hairy things get.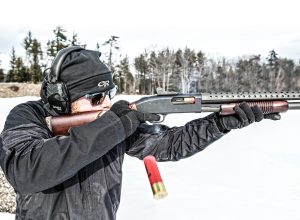 The 590A1 Retrograde includes all the standard Model 590A1 mechanical and design features, including double action bars for smooth cycling, dual extractors, positive steel-to-steel lockup, anti-jam shell elevator and sliding, serrated safety at the top rear of the receiver. It is fitted with a 20-inch, heavy-walled, cylinder-bore barrel with 3-inch chamber and ramp-mounted, orange blade front sight, a windage and elevation adjustable ghost ring rear sight with raised protective ears, metal trigger guard, a ventilated heat shield above the barrel, longer extended magazine tube with 8+1 round capacity using 2.75-inch shells (7+1 round capacity with 3-inch shells) and a bayonet lug mounted five inches behind the muzzle. All metal parts are Parkerized for the ultimate in corrosion protection.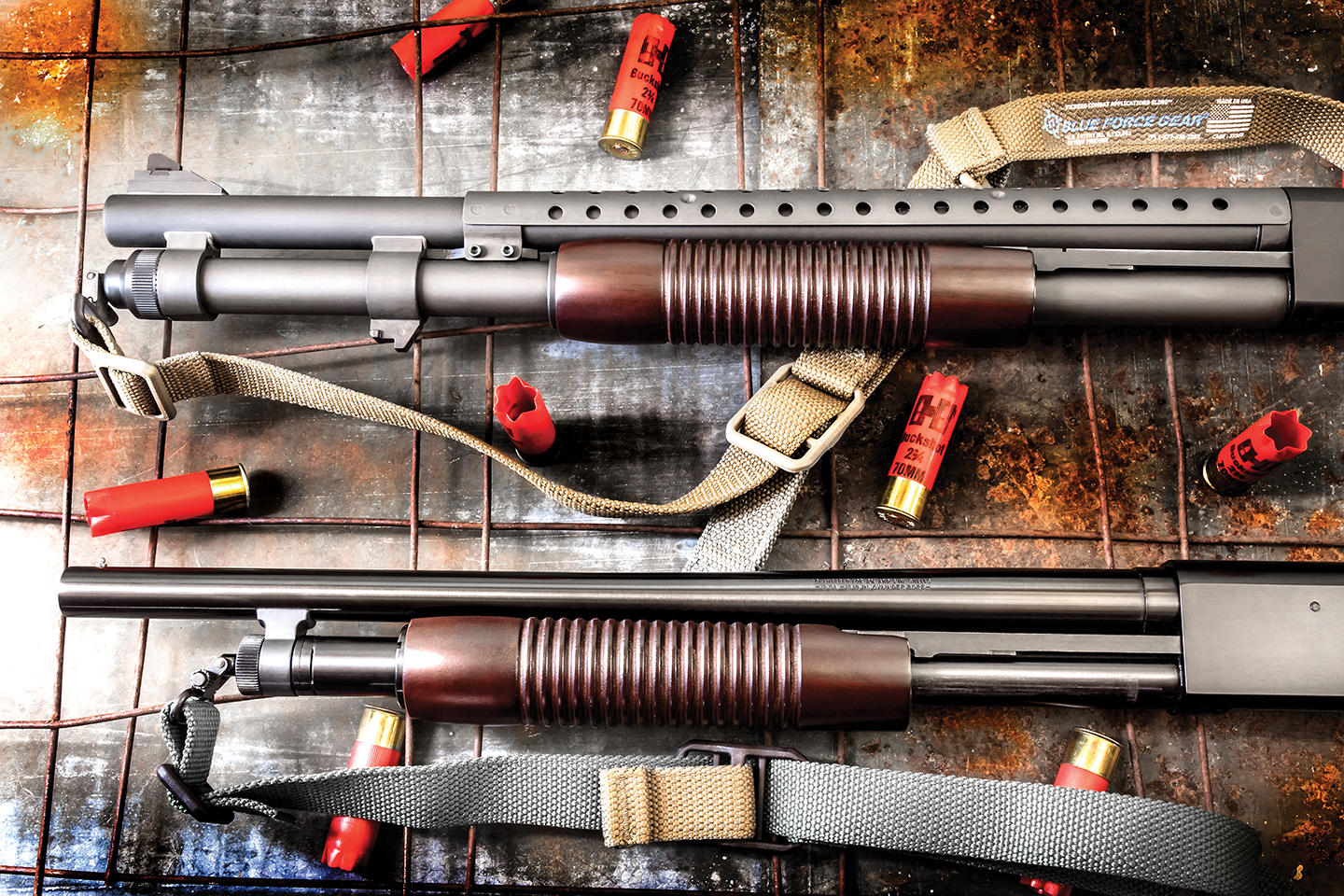 The top of the receiver is drilled and tapped for optics mounting, and the slide release lever is in the bottom of the receiver on the left side just behind the trigger guard. The steel trigger blade and trigger mechanism are standard 590 fare, which is to say they are perfectly usable but not great. The trigger exhibits about 1/4 inch of take up, but no perceptible creep or stacking, and breaks cleanly at an average pull weight of just under 7 pounds.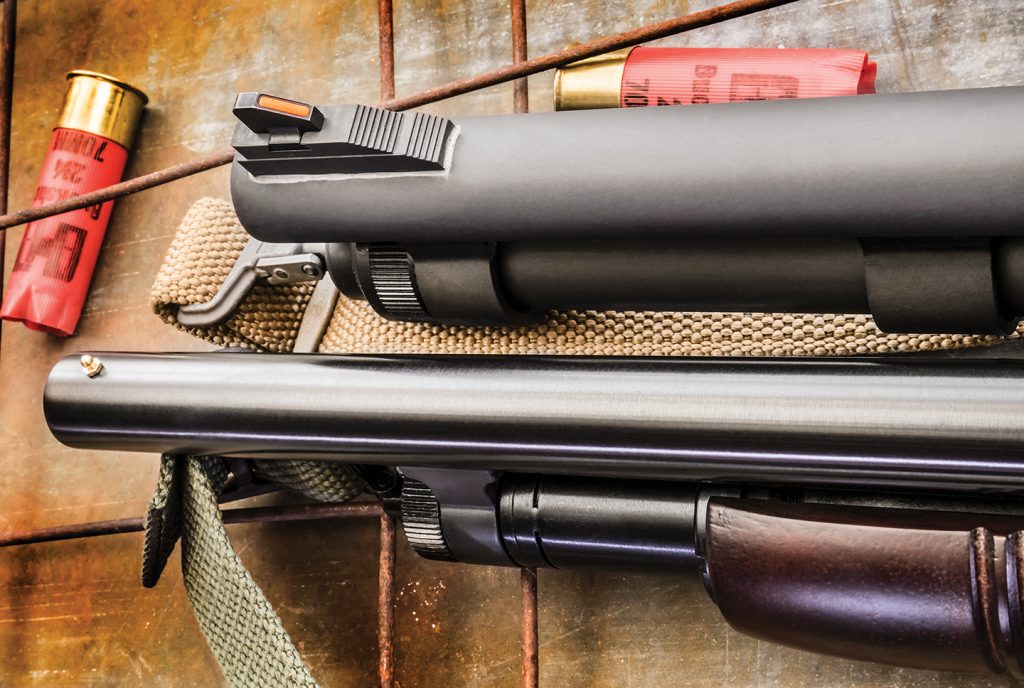 The the dark walnut furniture includes a very nicely machine checkered pistol-grip buttstock for a positive grip, and has a 1/4-inch thick black plastic spacer ahead of a ventilated 1-inch rubber recoil pad. The forearm is deeply ribbed for excellent grip traction.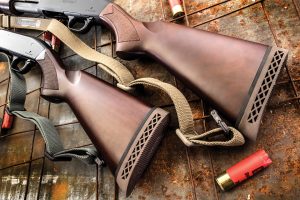 Sling swivel studs are provided at the rear of the buttock and on the front of the magazine tube cap. Length of pull is 13.87 inches, overall length is 41.0 inches and empty weight is 7.0 pounds. All in all, an excellent and reliable choice for a home defense shotgun.
Not having rifled slugs on hand, we limited testing exclusively to buckshot — the fodder we expect most end users to keep these guns stoked with anyway. At 15-yards, both guns grouped well and shot to pretty much to point-of-aim using Hornady's 2-3/4-inch Critical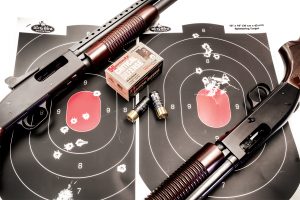 Defense 00 Buckshot, with 500 producing a slightly-high 4-3/4" pellet spread, and the 590A1 6-1/2-inches. Where the non-adjustable bead front sight on the 500 means point-of-aim/point-of-impact is what it is, the fully adjustable sights on the 590A1 will allow fine tuning — particularly important when sending slugs downrange. Both guns, as we've come to expect from Mossberg pump-action's, fed, fired and ejected without a single malfunction. Felt-recoil was a tad stouter on the 500— a direct consequence of its lower overall weight (while the specs list the guns as within a quarter-pound of each other, the difference felt considerably greater than that) — but slide operation was also a bit smoother than the 500 compared to the 590A1; both guns were still very much in their break-in periods, however
So, in conclusion, if you'd rather drive a 1970 Ford F-100 than a brand new 2020 F-150 — without sacrificing drivability or point-A to point-B effectiveness — then you are likely a Retrograde customer. Get a closer look at these handsome scattergun's at your nearest firearms retailer, or for more information contact O.F. Mossberg & Sons; Tel.: (800) 363-3555; Web: www.mossberg.com
SPECIFICATIONS
Mossberg 500 Retrograde 12-ga.
MSRP: $519
Chamber: 3-inch
Barrel Length: 18.5-inches
Choke: Cylinder Bore
Metal Finish: Blued
Furniture: Walnut
Capacity: 5+1
Weight: 6.75-lbs.
Mossberg 590A1 Retrograde 12-ga.
MSRP: $930
Chamber: 3-inch
Barrel Length: 20-inches
Choke: Cylinder Bore
Metal Finish: Parkerized
Furniture: Walnut
Capacity: 8+1
Weight: 7-lbs.