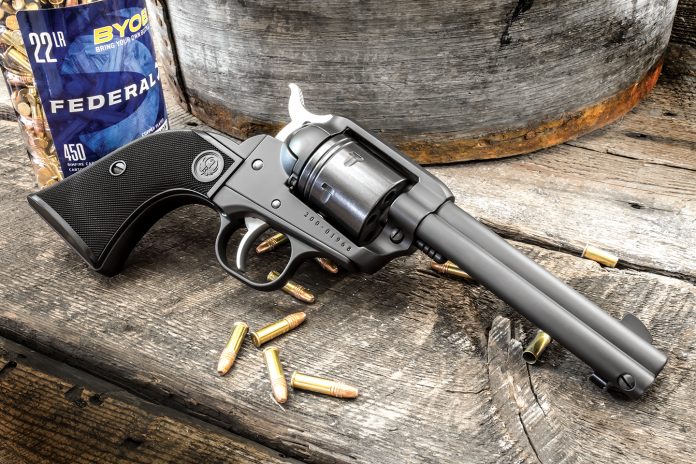 Make sure you have bulk ammo on hand…this one's tough to put down!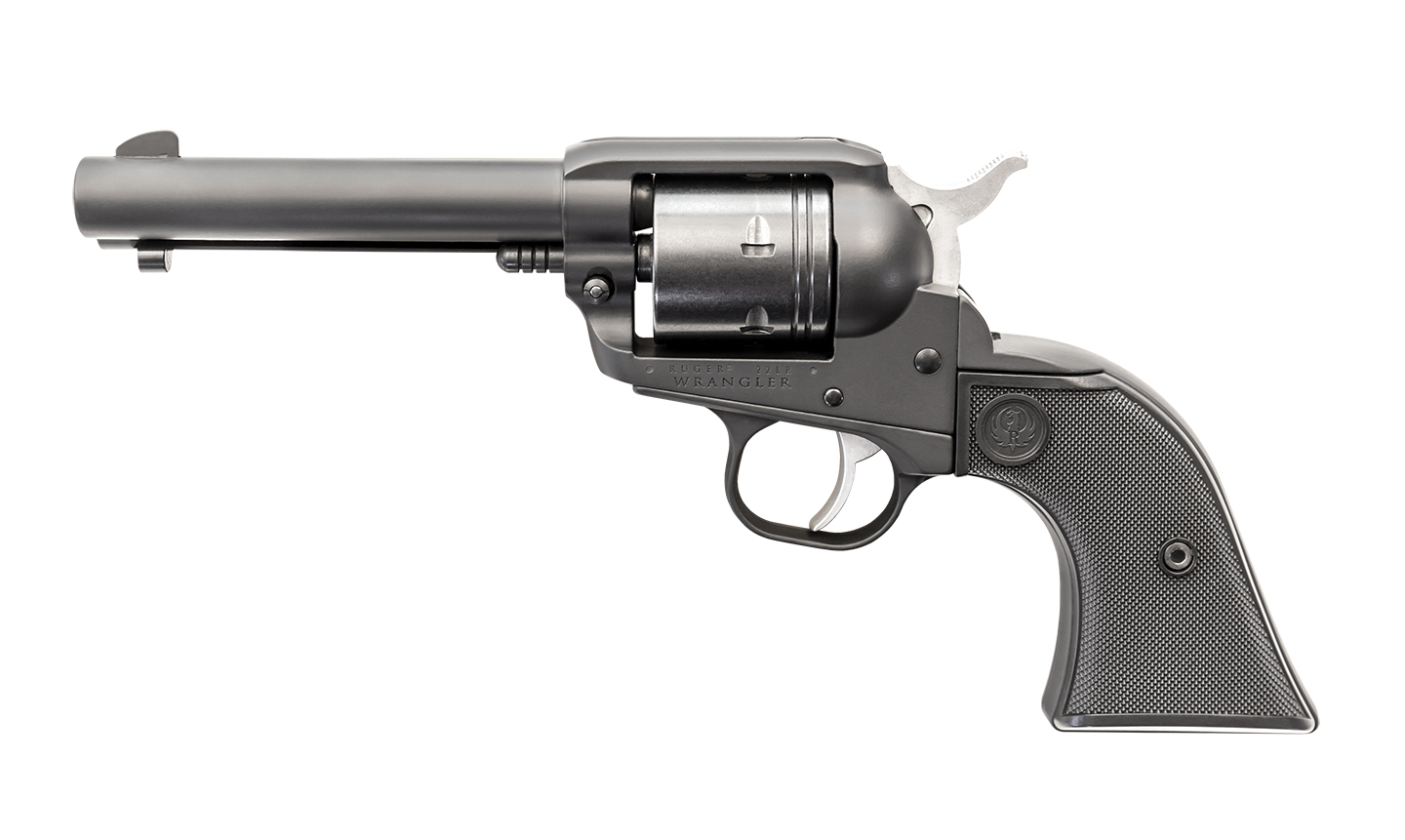 Any shooter looking for a top-quality, accurate, weatherproof and affordable single-action .22 LR revolver would be hard pressed to find a better choice than the Ruger Wrangler. Priced at a mere $249, the Wrangler is available in three different Cerakote finish colors.
The Wrangler's compact dimensions (10.1" L x 4.75" H x 1.5" W) and 30 oz. empty weight make it easy to pack or carry in a holster. Fitted with a 4.62-inch, cold hammer-forged steel barrel, its ultra-precise, 6-grove rifling (1:14" RH twist rate) provides exceptional accuracy and long service life. The barrel, 6-round cylinder, cylinder pin, ejector rod and spring, hammer spring and some internals are made from steel, while everything else—save the full-checkered black plastic grips on the Single-Six-pattern grip frame—is made from aluminum alloy. The frame, barrel, ejector rod housing, sights, trigger guard and loading gate are finished in your choice of matte black, silver or burnt bronze Cerakote, while the ejector rod, cylinder pin, push-button cylinder pin release, frame pins and all screws are finished in matte black. The trigger and hammer on all versions are finished in matte silver Cerakote, providing an attractive and contrasty appearance, especially on the silver and burnt bronze models.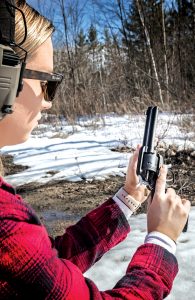 Consistent with its Old West pedigree, the fixed sights consist of a round-top blade front and integral notch rear, which were surprisingly easy to acquire, align and shoot with on the black model provided for testing. The sights on the silver and burnet bronze models, being finished in those respective colors, may be less easy to see and use—something you should check out at you gun shop before purchase.
The Wrangler is fitted with the now-standard Bill Ruger Sr. designed transfer bar safety, so it's perfectly safe to carry a loaded round under the hammer. Combined with aforementioned loading gate interlock, the Wrangler is about the safest to carry and handle single-action revolver you'll find.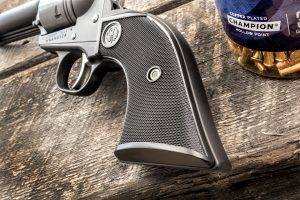 As I've said more than once in the past, gun writers just can't bring themselves to write a gun review without finding something to complain about, and I guess I'm no exception.  There were only a handful of little quirks with that Wrangler that jumped out at me. First on the list was the overly stiff hammer spring, which made cocking the hammer more work than necessary. Thankfully, the hammer spur is big and deeply checkered which made the process less onerous. I also found the loading gate to be stiff and difficult to open, which may be due to an interlock device incorporated into the design. Lastly, the trigger was OK but not great. Being a single-action revolver, I was expecting a crisp and relatively light trigger pull, but this one was on the heavy side—slightly over 5 pounds pull weight—and exhibited about 1/8 inch of take-up and a small amount of creep, the latter of which may decrease as the trigger wears in with use.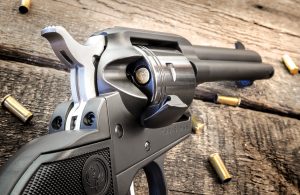 Accurate and soft-recoiling, on the range the Wrangler was an absolute joy to shoot—an experience made even more fun by the fact that the factory sights were spot-on out of the box. Perfect point-of-aim/point-of-impact is a very good thing on any SAA-ish replica, because unless you want to break out a file and start doing some metalwork for elevation, or turning the barrel within the frame for windage, the sights are as fixed as fixed sights get.
This is the type of firearm that goes well with bulk, "value pack" types of ammo. Why? We've found that it's a tough gun to put down after you start shooting. It's also the type of firearm that's fantastic to teach new, young shooters. Instead of being tempted to do a mag dump with a semi-auto pistol (because as any parent has found, this is usually a youngster's first instinct) they will be forced, more or less, to make each round count, making teaching the fundementals all that much easier for the one giving instruction.
From the bench, this single-action .22 surprised us a bit. We did dial the testing distance back from 25 to 15 yards — mostly due to the rudimentary sights these types of handguns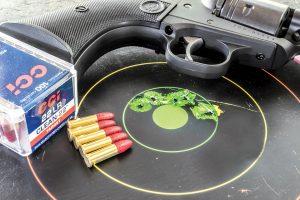 are equipped with — but even still, the Wrangler shot an impressive 1.35-inch five-shot group using CCI's poly-coated Clean-22 Target load. Keeping groups under the sub-two-inch mark with other loads we ran through the Wrangler was not challenging. And again, point-of-aim/point-of-impact were nearly perfect.
There's a lot to like about the Ruger Wrangler, but in a nutshell; it's a fun gun for both new and old generations of shooters, cheap to shoot, and — in typical Ruger fashion — it's a quality firearm at a price within reach of most buyers. See the three Wranglers at your firearms retailer, or for more information contact Sturm, Ruger & Co., Inc.; Tel.: (336) 949-5200; Web: www.ruger.com
Ruger Wrangler Specifications
Caliber:                                 .22 Long Rifle
Barrel Length:                       4.62-inches
OAL:                                     10.25-inches
Weight:                                 30-ounces
Grips:                                   Checkered Synthetic
Capacity:                              6
Finish:                                  Black, Silver or Burnt Bronze Cerakote
MSRP                                   $249.00