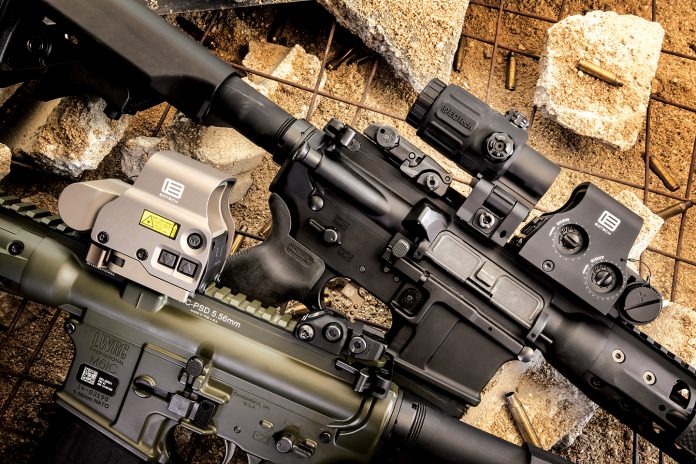 EOTech XPS2 & EXPS3
SOCOM's CQB Sight of Choice
EOTech's HWS (Holographic Weapons Sight) continues to be the close quarter battle sight of choice for the United States Special Operations Command (USSOCOM); issued to its elite troops, and in-use by most—if not all—tip-of-the-spear, counter-terror units around the globe, and for all the right reasons. The rapid target acquisition this sight brings to the mission continues to go unmatched. A very large field of view paired with EOTech's lightning-fast, yet utilitarian A65 holographic reticle, puts this sight far ahead of its peers.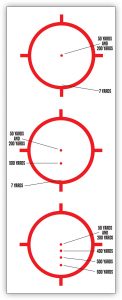 Unlike tubular sights that can amplify "tunnel vision" under duress, the HWS's wide rectangular window heightens peripheral vision and encourages both-eyes-open shooting; increasing speed-to-target time and enhancing situational awareness thanks to its enlarged field of view.
A holographic weapon sight delivers an instantaneous, razor-sharp view of both reticle and target. With HWS, the holographic reticle is perceived by the shooter to be as far away as the target, allowing for simultaneous focus on both the target and the reticle. That means not having to consciously shift focus during high-stress situations, thereby increasing target focus.
EOTech's latest models, the XPS2 ($555) and EXPS3 ($700) maintain their signature large, square field of view, and when coupled with the optional A65 circle dot reticle, the sight is a literal super car in the realm of close-quarter battle. The center dot is a precise 1-MOA in size and is designed as your 50/200-meter zero, while the 6 o'clock portion of the bottom rocker is your point of aim/point of impact at 7 to 10 yards. The 3 and 9 o'clock portions of the reticle can be used as holds on moving targets, and finally, the reticle can also be used for ranging targets.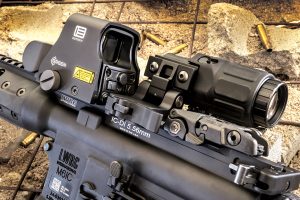 The equation for the latter is a simple one; the height of an average adult male will fit within the 68-MOA circle at 100 yards and half the reticle at 200 yards. Most of our eye sight will be strained much beyond that, without a little help from a 3x magnifier and a very stable position.
EOTech Holographic Weapon Sights use state-of-the-art digital electronics, including an onboard microprocessor. In fact, it's the same tech used by elite fighter pilots for target acquisition within the cockpit. When using holography, all the information required to reconstruct the reticle image is recorded everywhere in the heads-up display window. It creates an accurate image of a target even in poor-visibility conditions like rain, snow, darkness or cloud cover. The heads-up display of a holographic sight provides the user with 2-eyes-open shooting that eliminates blind spots, tunnel vision, and maximizes peripheral vision.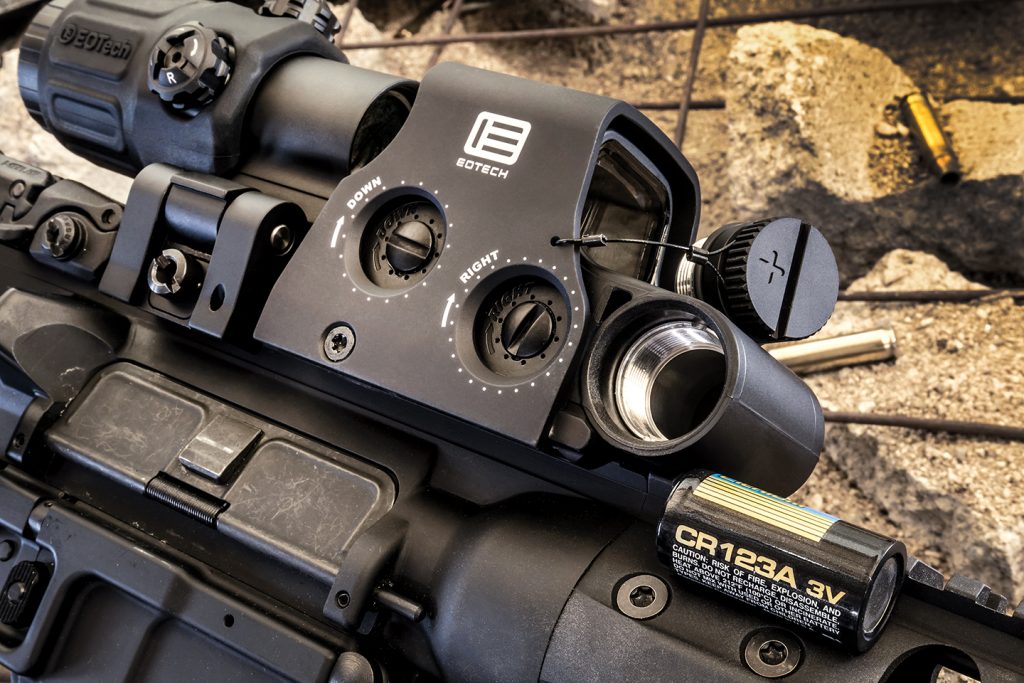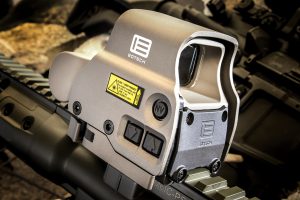 Just like a high-performance automobile, a little more preventative maintenance is required. In EOTech's case, this maintenance comes in the form of battery life. The EXPS and XPS units are powered by a single CR123A lithium battery and have a battery life of 600 hours. Both XPS2 and EXPS3 models feature a battery life indicator that allows the reticle to pulse when initially powered on if the battery has minimal life left, although this pulsing only occurs when the sight is powered on from an off state.
Rubberized push-button controls are located on the left side of the EXPS3 model and on the rear of XPS2 model. These buttons allow the user to pre-adjust settings for known lighting conditions, or expected use with a weapon mounted light. When you first power up the sight it will turn on at level 12 of 20 daytime settings. To change the reticle intensity, simply press the up or down arrows, or press the NV button on the EXPS 3 model to activate the night vision setting for use in conjunction with in-line or head-mounted night vision devices.
The EXPS3 features an integrated throw-lever mount/riser and positions the reticle at the lower 1/3 co-witness height, or about 1.73-inches above the top rail, for more of a heads-up shooting position. One of the secrets to the EXPS3's combat-proven durability is an integrated roll bar that protects the lens and acts as a built-in crush zone. If the sight were to take a tooth jarring impact, only the roll bar is likely to sustain superficial damage.
See them at your gun shop, or contact EOTech, Inc.; Tel.: (888) 368-4656; Web: www.eotechinc.com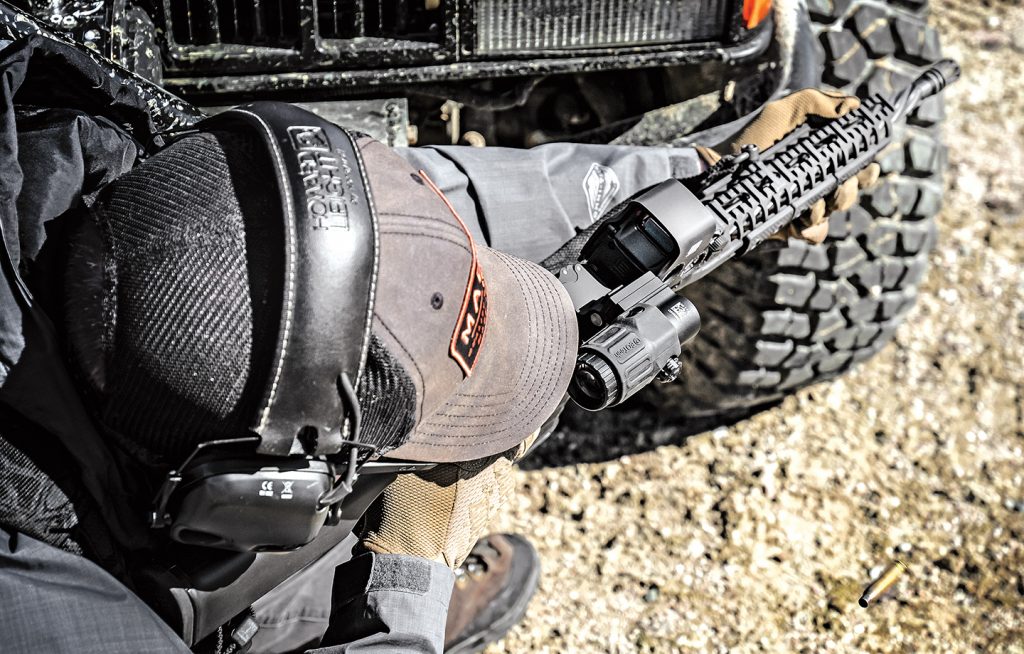 EOTech XPS2 Holographic Red Dot
Power: 1X
Objective: 30mm by 23mm
Elevation Adjustment: .5 MOA per click
Windage: .5 MOA per click
Reticle: A65—68 MOA circle with a 1 MOA red dot
Length: 3.8 in.
Width: 2.1 in.
Height: 2.5 in.
Weight: 9 oz.
Eye Relief: Unlimited
MSRP: $555
EOTech EXPS3 Holographic Red Dot
Power: 1X
Objective: 30mm by 23mm
Elevation Adjustment: .5 MOA per click
Windage: .5 MOA per click
Reticle: A65; 68 MOA circle with a 1 MOA red dot
Length: 3.8 in.
Width: 2.3 in.
Height: 2.9 in.
Weight: 11.2 oz.
Eye Relief: Unlimited
MSRP: $700