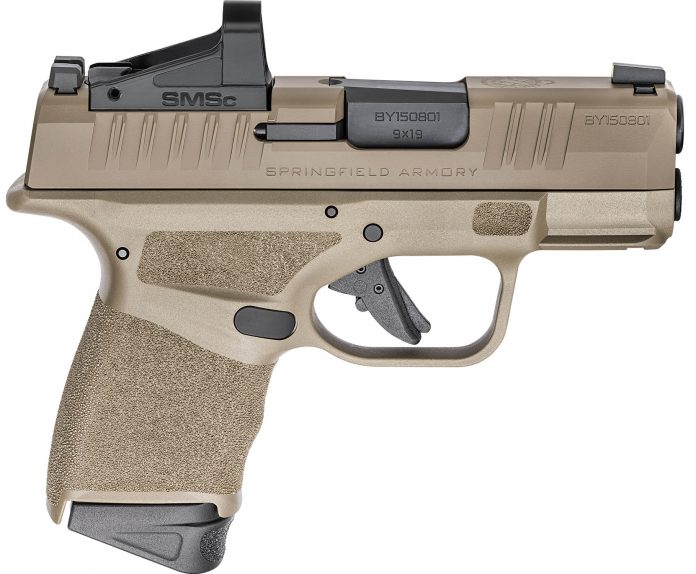 Springfield Armory® Announces Hellcat® in Desert FDE
GENESEO, ILL. (06/10/20) – Building on its strength as the highest capacity micro compact 9mm in the world since its launch in 2019, Springfield Armory® is proud to announce an exciting new variant of the Hellcat® in Desert Flat Dark Earth (FDE). It is being offered in both standard and OSP™ versions.
The Hellcat was an immediate hit upon its release late last year, offering shooters and CCW enthusiasts a paradigm-shifting combination of high-capacity and compact size as well as the ability to mount an optic. The result was a pistol that fully lived up to the mission statement established by Springfield Armory CEO Dennis Reese when he said, "Every detail of the Hellcat has been shaped by a singular mission — to deliver the definitive concealed carry handgun."
Since its launch, the Hellcat has shown that it not only has the design features CCW users desire, but also durability, reliability and ruggedness surpassing the expectations of a micro-sized carry gun. This was proven by besting an intensive 10,000 round test, using Federal ammunition. In addition, the pistol has received accolades in both the civilian and law enforcement communities. At the beginning of 2020, the Hellcat earned the National Rifle Association's prestigious American Rifleman Handgun of the Year award, and the National Tactical Officers Association (NTOA) gave the Hellcat its highest "gold" ranking within its "Member Tested and Recommended" (MTR) program.
The Desert FDE finish of the newest Hellcat variant is a rugged Cerakote coating that provides extreme corrosion resistance, and also offers an attractive contrast to the black Melonite® finish on the hammer-forged barrel. In addition to the barrel, other parts and controls on the Desert FDE Hellcat — such as the trigger, magazine release, cover plate on the OSP version, sights and more — are in black for an attractive contrasting look.
A next generation defensive pistol, the +P rated Hellcat has helped reshape the way compact carry handguns are viewed. The 3″ barreled micro compact pistol features a class leading capacity of 11+1 with its patented magazine, and 13+1 with the included extended mag.
In addition to the standard model, the Hellcat OSP features a seamless cover plate that removes to allow direct mounting of a micro red dot to the slide. Complementing the optic is the co-witnessing U-Dot™ sight system, offered on both the OSP and standard model. It is made up of a high visibility tritium and luminescent front sight paired with a tactical rack U-notch rear.
The class leading Springfield Armory Hellcat offers concealed carriers the best pistol in its category, and is now available in Desert FDE.
HELLCAT® 3" Micro-Compact 9mm – Desert FDE  |  HC9319F
 HELLCAT® 3" Micro-Compact OSP™ 9mm – Desert FDE  |  HC9319FOSP­https://www.spr-ar.com/r/4087
HELLCAT® 3" Micro-Compact Features