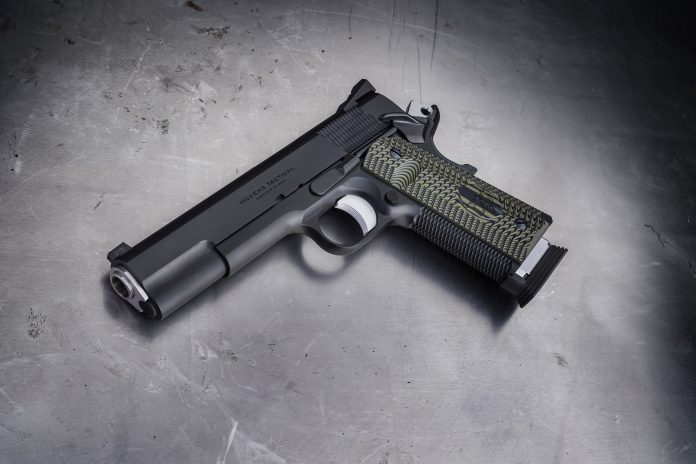 Springfield Armory® Releases Vickers Tactical Master Class 1911
GENESEO, ILL. (06/08/20) – Developed in concert with retired U.S. Army 1st SFOD-Delta combat veteran Larry Vickers of Vickers Tactical, Springfield Armory® is proud to present the new Vickers Tactical Master Class 1911, a Lipsey's® Distributor exclusive offering.
Harnessing its decades of 1911 manufacturing experience and the rugged foundation of forged steel major components to deliver a lifetime of service, Springfield Armory brought a lot to the table in developing this new combat-grade pistol. Combine that with the unassailable credentials of Larry Vickers, and you have a .45 ACP pistol ready for any possible contingency.
"We are extremely proud to have partnered with respected firearms expert and combat veteran Larry Vickers of Vickers Tactical on this exciting new pistol," says Dennis Reese, CEO of Springfield Armory. "This pistol, which combines Vickers' tactical expertise with Springfield Armory's renowned manufacturing skills, delivers a top-tier 1911 for the most serious of applications."
"I'm pleased with the Vickers Tactical Master Class 1911 and how a real team effort brought it together. Springfield Armory, Lipsey's, Wilson Combat and I got to work to bring a superb quality pistol to the market at a great price point. I'm proud to be a part of it," explains Vickers.
Priced at an MSRP of $1,495, the new Vickers Tactical Master Class is designed from the ground up to deliver when it counts. As a Master Class pistol, it features premium grade components and exceptional attention to detail. Featuring a forged carbon steel slide and frame with Springfield's Black-T® finish and a 5″ forged match-grade stainless steel barrel, this Master Class pistol is designed for intensive round counts and harsh environments.
The slide features the iconic Vickers Tactical logo as well as the Vickers Elite Battle Sight rear matched to a tritium/luminescent front dot. Specialized proprietary slide serrations at the rear ensure reliable and consistent racking of the slide under any condition.
The rugged pistol weighs in at 41.5 oz. with an empty magazine, and has an overall length of 8.6″. The pistol comes packed with two eight-round Vickers Duty Magazines. The rugged green grips are made from G10 and also feature a Vickers Tactical logo. Rounding out the package are a Wilson Combat Tactical single-sided thumb safety and Bullet Proof® Commander Hammer.
Delivering a pistol from a manufacturer that knows how to build a 1911 right and a combat veteran who knows what features it needs, the new Vickers Tactical Master Class is a must-have addition for the collection of any serious handgun shooter.
Vickers Tactical Master Class .45 ACP  |  PC9108LAV
For more information about the Springfield Armory Vickers Tactical Master Class 1911, visit www.springfield-armory.com and https://www.lipseys.com/crm/springfieldarmoryvickers1911.