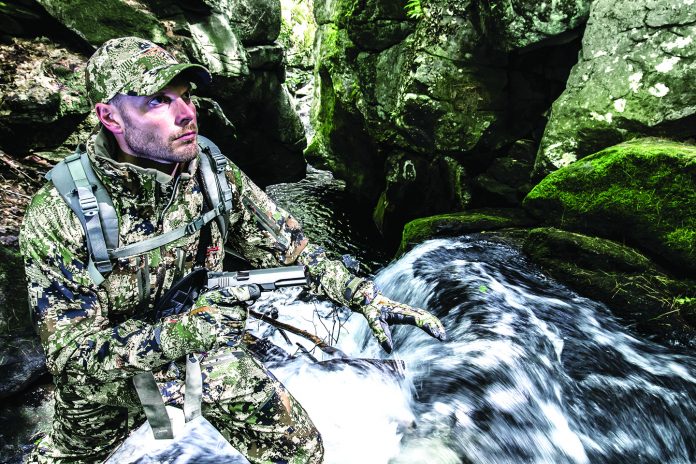 Dan Wesson Kodiak 10mm 1911
by Dave Bahde
A cost/performance ratio replicated by very, very few
When the subject of a quality 1911 comes up there are always a few companies that jump to mind. Colt, Kimber, Wilson Combat and Springfield Armory among them, along with a few others. Dan Wesson, which has been quietly building some of the best production 1911s for years, should be in that group and near the top of the list. Having owned several and tested many of their pistols, they never disappoint; all have been reliable, accurate, well-built and robust. If demand is any indication, they remain popular and are highly sought after. While everything is hard to get right now, Dan Wessons have been difficult to acquire for years now, largely due to their cost-to-performance/quality ratio that's replicated by very few manufacturers.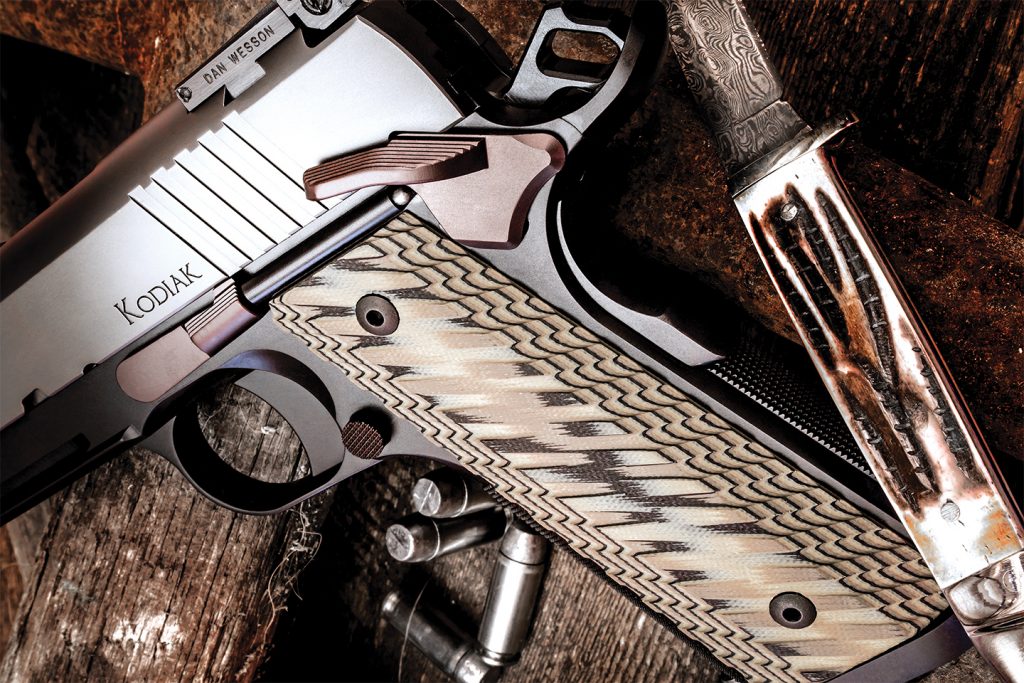 Dan Wesson 1911s
I authored my first article on the "new" Dan Wesson 1911s in 2009, a Valor in .45 ACP.  It was followed by the CCO that same year. They were impressive enough that I bought both of them—a rare occurrence, especially that early in my writing career. Having recently retired as a SWAT Lieutenant, money was tight, but they were two of the best built production 1911s I had ever used and I just could not bring myself to send them back. They continued to serve me well as a part of the reserve unit and some occasional work on a Federal task force for years. I have tested more over the years, the last being a Wraith a couple years ago and nothing has changed—they remain one of the best production 1911s on the market today.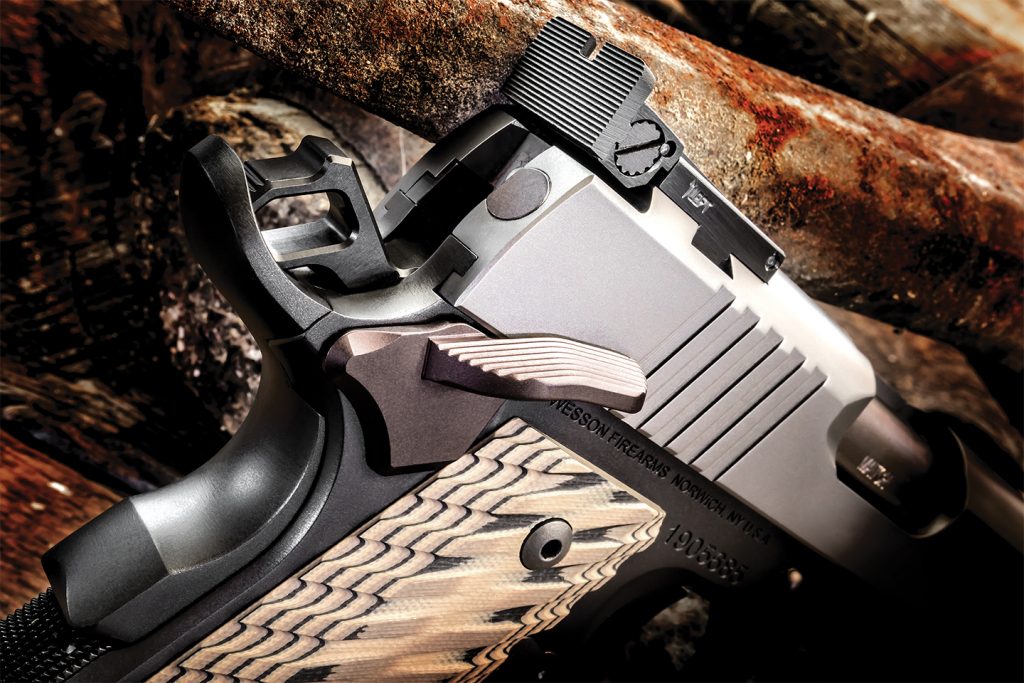 1911s and the 10mm Cartridge.
My background with a 1911 spans decades of duty, special operations, personal and training applications. The same is true of the 10mm cartridge, having used it in a pistol, submachine gun and revolver for a variety of tasks. Early on it was an MP-10, and then I carried a Delta Elite for years on patrol, during investigations and on the team. I competed with a Smith and Wesson Model 610 revolver using both .40 caliber and 10mm. My hunting and backcountry companion is still a Glock G20 loaded with Doubletap Ammunition's 200-gr. controlled expansion for predators, and 155-gr.  Bonded Defense for two legged vermin and varmints. Long story short, a 10mm of some sort has been nearby for well over two decades.
One of my more prized 1911s is a 6-inch barreled pistol with light rail and Trijicon RMR built by long-time custom 1911 builder, Jeff Meister, so I jumped at the chance to test this 6-inch Kodiak from Dan Wesson. While not the most practical self-defense handgun, these are among the best hunting semi-automatics available. Serious game has been taken with a 6-inch 1911 in 10mm, including dangerous game such as brown bear and cape buffalo. They also happen to be a ton of fun to shoot and capable of impressive long-range accuracy. This Kodiak proved to be no exception.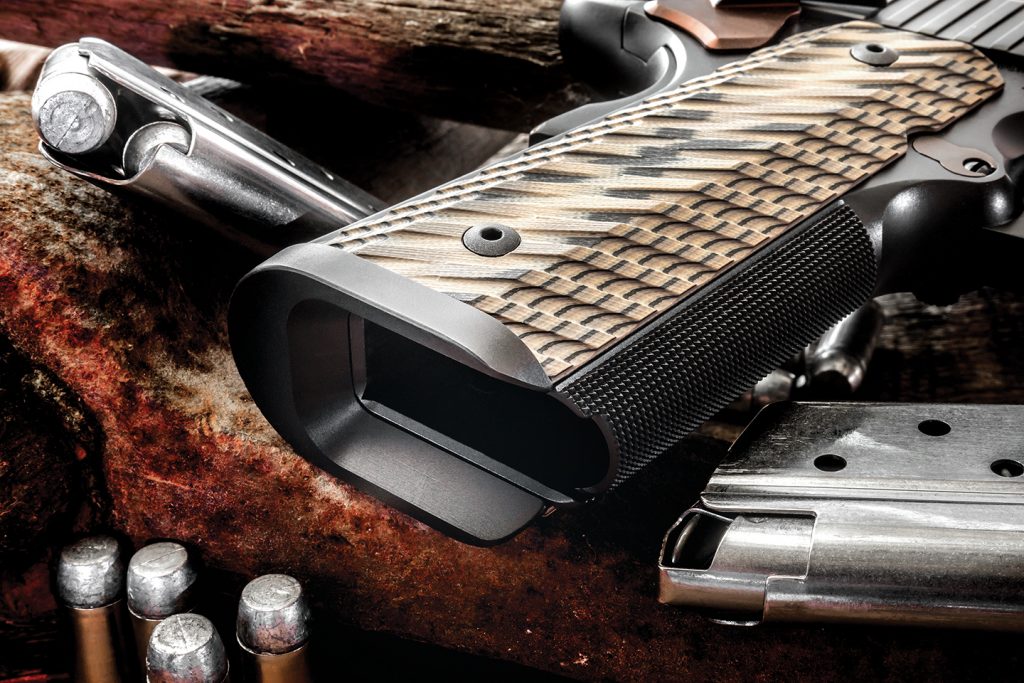 Dan Wesson Kodiak 6-inch Long Slide 1911 chambered in 10mm
The Kodiak is available with a black or a matte gray slide (Tri-Tone). Both have the barrel, ambidextrous safety and slide stop coated in Bronze Cerakote and are made from forged stainless steel. My Tri-Tone test pistol had a nice look, and the brown G-10 grip panels really set off the colors. The barrel is a bushingless, match-grade bull barrel,  and is fitted with a fiber optic front and adjustable rear sight with no dots. The rear sight blade is serrated with a target-style square notch adjustable for elevation and windage. The return spring uses a standard guide rod with an extended plunger that fits flush to the end of the muzzle. It provides a really nice look and keeps things nicely aligned without the need for a full-length version. Takedown is typical 1911, with no need for any special tools. Cocking serrations at the rear and front of the slide are as clean as a whistle (as they should be.)
The frame is forged, and all small parts are steel—no MIM parts are to be found in a Dan Wesson 1911. The frame includes a rail for use with a light, or more likely a visible or IR laser. The front strap and main spring housing are expertly checkered at 25 L.P.I.  The trigger breaks crisply at a pull weight of 4.5 pounds with typical take up and no creep, stacking or perceptible overtravel. Pull weight will likely settle in at about 4 pounds after sufficient use. An oversized magwell is fitted with a nice bevel for smooth reloads. It ships in a plastic case with two 8 round 10mm magazines.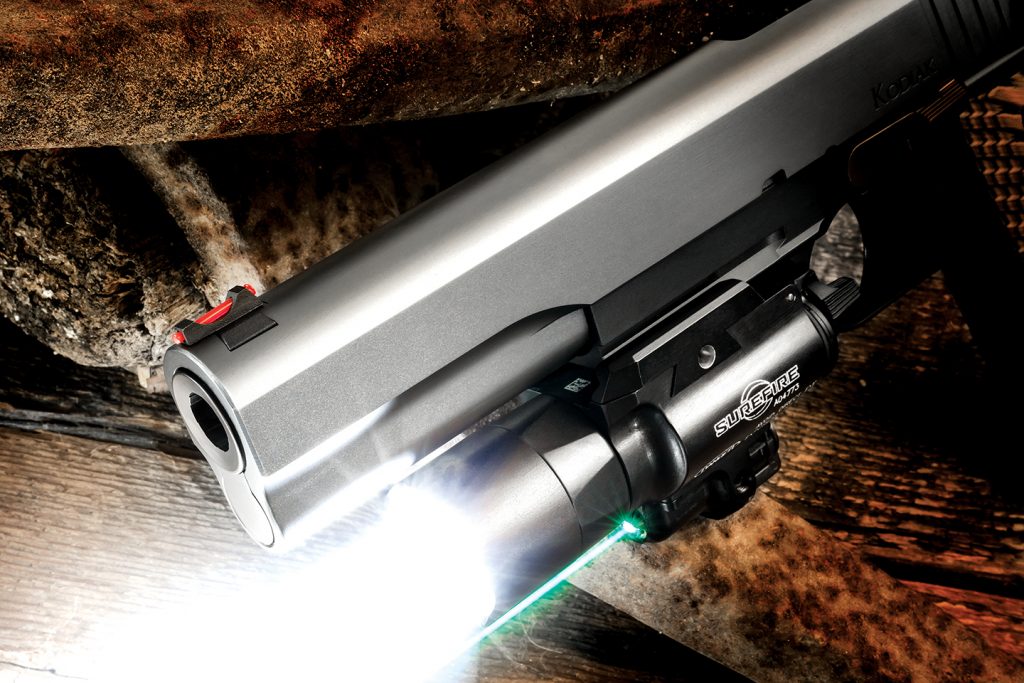 Range Time
Accuracy was, as expected, excellent and probably more accurate than I was that day.  Everything was under 2 inches at 25 yards, with my best group coming with Doubletap 200-gr. Controlled Expansion at closer to 1.25 inches. This is a pretty stout load, making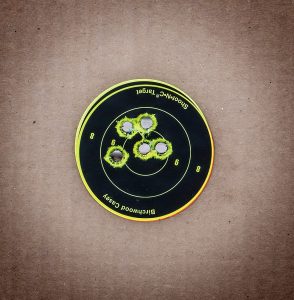 1,300 f.p.s. out of this 6-inch barrel. This bullet is custom made by Doubletap for use against North American big game or African plains animals, and has proven itself as one of the best 10mm handgun-hunting loads to date. It's usable on two legged critters, but it does come with some serious over-penetration concerns, so be aware. It boasts 19.5 inches of penetration through ballistic gelatin, with expansion to 3/4 of an inch in diameter. Groups were fired from the hood of my FJ Cruiser using an Armageddon Gear Game Changer as a rest, making this a realistic test in a hunting environment where you can find a rest. Lighter loads are pretty soft shooting, but few carry something like this for self-defense, so they were not part of accuracy testing.
Adjustable sights are a must on a pistol like this and these worked quite nicely. The 200-gr. loads were zeroed at 50 yards, with bullet drop at 100 yards under 7 inches, making them very flat shooters for backcountry work out to realistic distances on most predators. I was able to get lead to steel on a full-sized silhouette at 300 yards with the 200-gr. hard cast, and the resounding "smack" indicated that it hits very hard at that range.
Reliability was excellent, without a single stoppage using the factory magazines and both my Tripp Research and Wilson Combat 9-rounders. It's not uncommon for 10mm 1911s to be kind of finicky with magazines, but this one worked with everything I had, which is impressive to be sure. Adding a light light/laser combination did not have any effect on performance—it just kept on spitting out 10mm brass.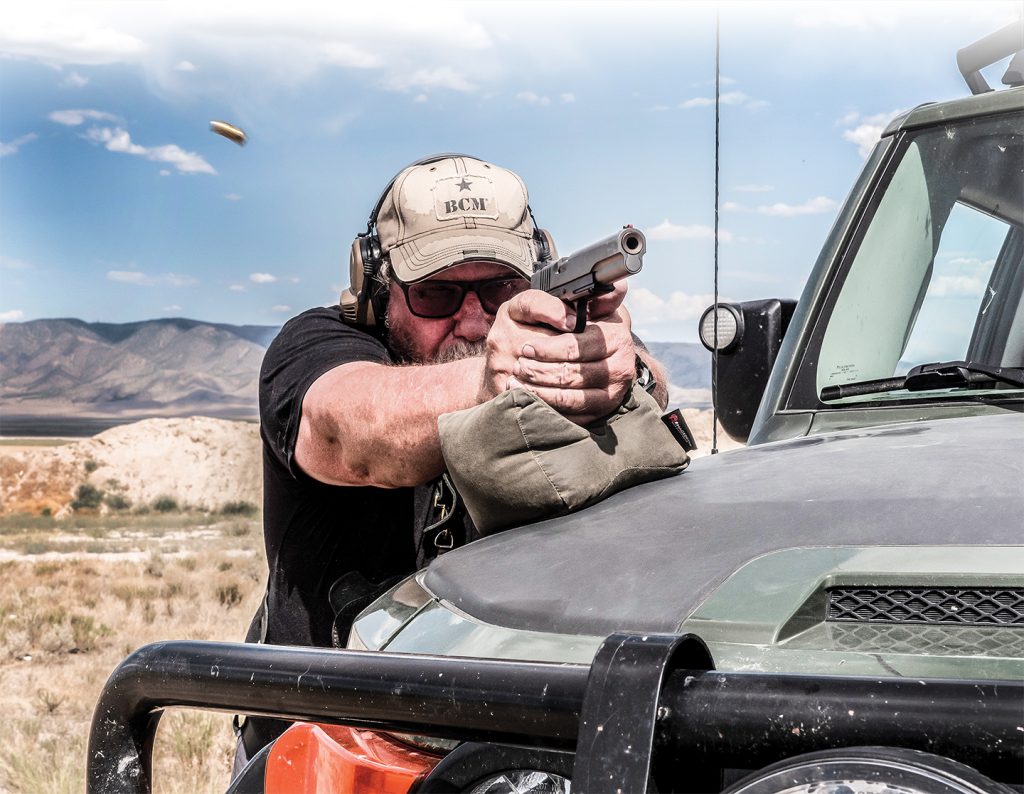 Bottom Line
As one might expect, Dan Wesson has come through with an excellent version of the long-slide 1911 chambered in 10mm. Accurate, reliable, well balanced and a joy to shoot, it will provide years of fun and is fully capable of putting meat on the table when needed Priced at $2,349, it is very well placed priced-wise with most top-quality competitors.  If you're looking for a 1911 hunter in a proven and well supported caliber, then this Dan Wesson Kodiak needs to be way up on your list. Contact Dan Wesson Firearms; Tel.: (800) 955-4486; Web: www.danwessonfirearms.com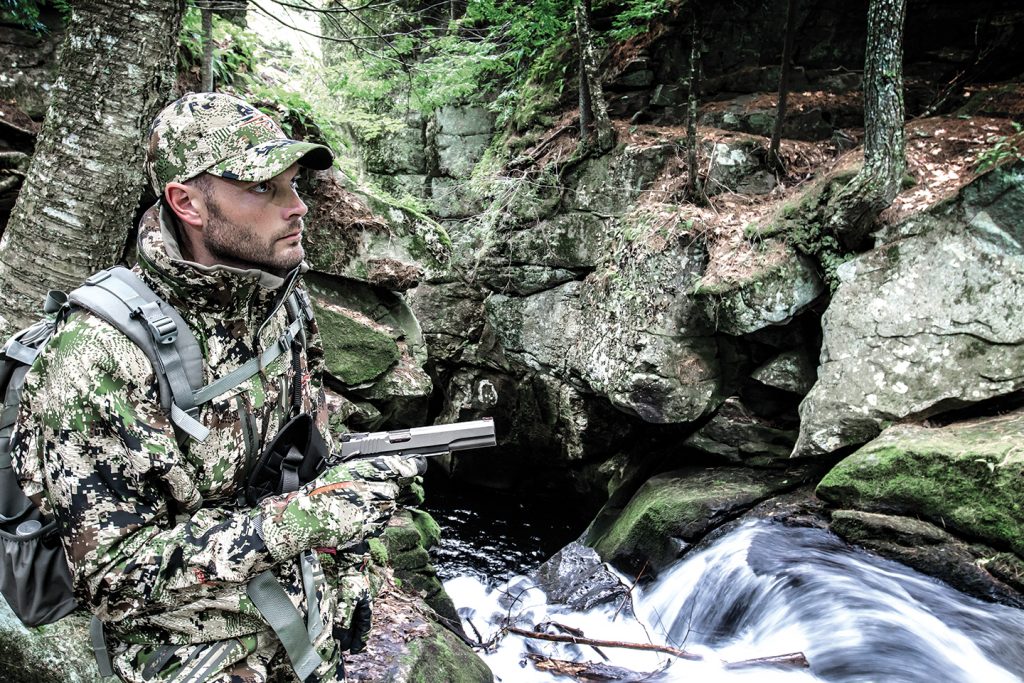 Specifications:
Caliber                         10mm
Barrel                           6 Inches
Overall Length             9.7 Inches
Sights                           Fiber Optic Front, Adjustable Rear
Weight                          47.1 ounces empty
Finish                           Tri-Tone, gray slide, black frame, bronze highlights
Grips                            G-10
Magazine Capacity      8+1  (accepts standard 10mm 1911 Magazines)
Retail Price                 $2,349
Accuracy:
 Load                                                               Velocity (f.p.s.)                   Accuracy             
Buffalo Bore 220-gr. hard cast                    1,270                                   2.00 Inches
Doubletap 200-gr. hard cast                        1,290                                   1.55 Inches
Doubletap 200-gr. Controlled Exp.               1,300                                  1.25 Inches