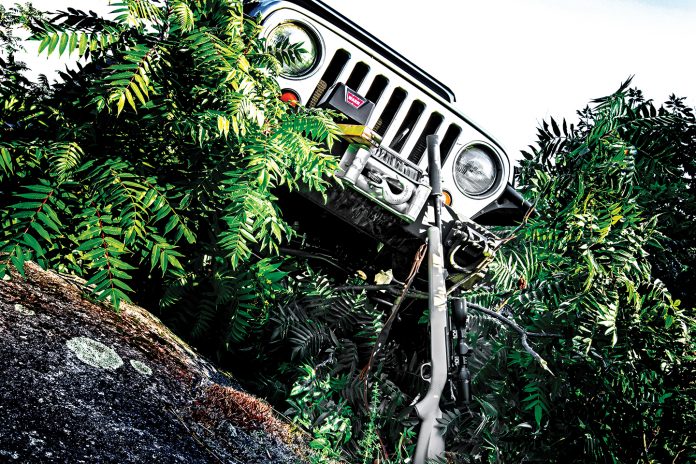 Mossberg Patriot Predator Rifle .450 Bushmaster
by: Bill Battles
Your compact, suppressor-ready, brush-busting machine
I've always had a soft spot in my heart for the .450 Bushmaster cartridge. That's probably because I was one of the very first mortals to shoot it. Before its public release, Steve Hornady decided it would be a good idea to assemble a group of professional writers/hunters to test the new cartridge on dangerous game. I was one of the seven test hunters invited by Steve to attend a European black boar hunt in South Carolina.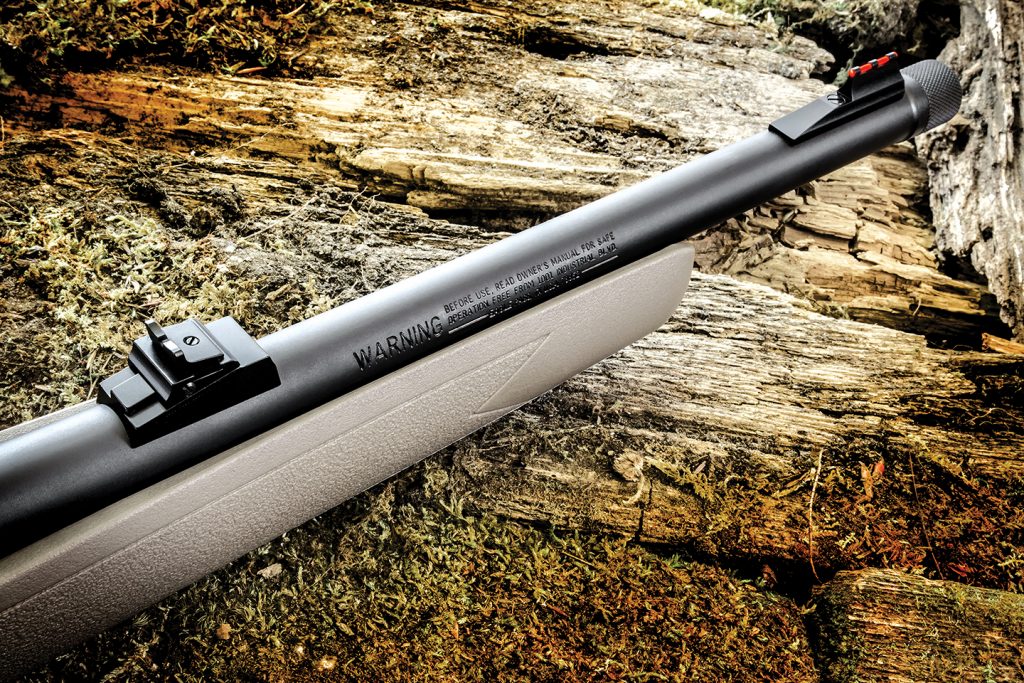 Bushmaster suppled the rifles—all their new AR-15 models chambered in .450 Bushmaster—and a variety of Trijicon magnifying optics, while Hornady brought the ammo. The ammo on that hunt was loaded with Hornady's SST ML muzzleloading bullet in the appropriate diameter. Since then they've replaced it with 250-gr. FTX—a superior performer, for sure—at a muzzle velocity of 2,200 f.p.s., with a muzzle energy of 2,686 ft. lbs., plus 245-gr Interlock and 395-gr. Sub-X subsonic loadings.
I got three hogs on that hunt, ranging from 350- to nearly 500-pounds—all one-shot kills—the biggest being a feral hog that somehow infiltrated the high-fence property. The dogs got that hog running flat out parallel to a line of three shooters at a range of about 100 feet. Steve Hornady was first up—only fair, since he was picking up the entire tab—but he missed. The next guy in line was the editor of a major national gun magazine who shall remain nameless. He hit a pine tree in an explosion of red bark. And then there was the "last chance" guy … me. With ten years of sporting clays experience, I tracked the crosshairs out past the hog's nose and pulled the trigger. He caught that 250-gr. SST ML right below his ear and went down like he'd been hit by an 18-wheeler.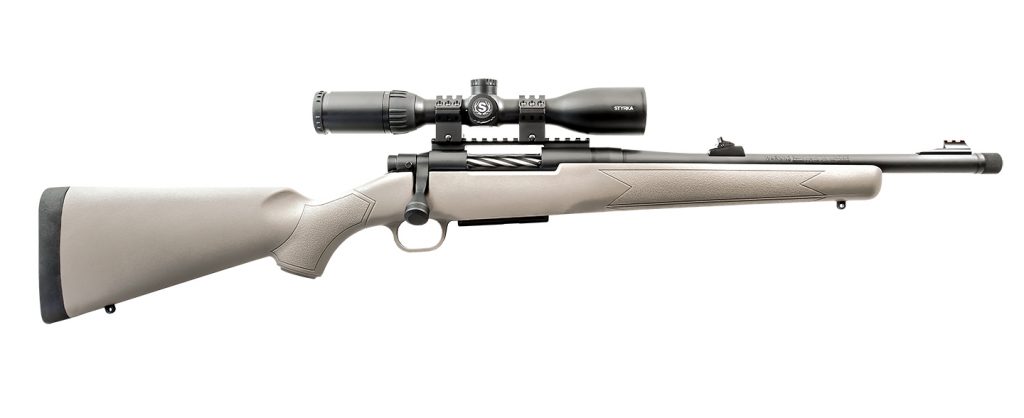 All of which brings me to the subject of this article, Mossberg's new Patriot Predator rifle chambered in .450 Bushmaster. Kudos to Mossberg for recognizing the utility of this real thumper of a cartridge. Even with its "rock-like" trajectory—sighted in at 200 yards, the 250-gr. FTX loading hits two inches low at the muzzle, 4.1 inches high at 100 yards and 19.3 inches low at 300 yards—it makes a BIG hole and has enough terminal energy to take any North American game animal.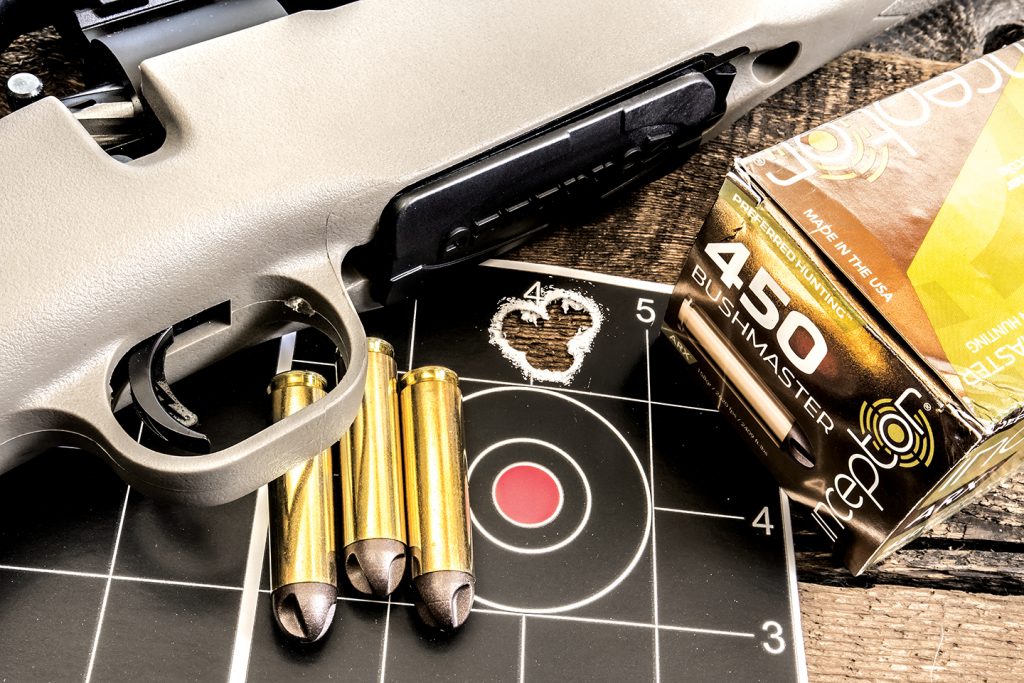 The new .450 Bushmaster Patriot Predator ($498) is a bolt-action rifle is built on a forged and machined carbon-steel receiver and fitted with a 16.25-inch barrel rifled at a 1:24" twist rate. It features a threaded muzzle (11/16" x 24 TPI) with muzzle cap for installation of a suppressor or the optional 18-port, 2.75-inch long muzzle brake ($43 on the Mossberg online store.) Other features include a 4-round detachable box magazine (4+1 round capacity), 6-inch receiver-mounted, Picatinny rail scope base, red fiber-optic ramp-mounted front sight, fully adjustable rear sight and a stainless-steel spiral-fluted two-lug bolt with internal extractor, spring-pin ejector and an enlarged bolt head. The trigger is Mossberg's patented LBA internal-blade-safety trigger—similar to the Savage Accu-Trigger—which is user adjustable for pull weight from two to seven pounds. Out of the box, the trigger measured a heavy-for-me 5.1-pound pull weight, so the first thing I'd do is dial it down to about 3 pounds. Otherwise the trigger was perfect, with absolutely no take-up, creep or stacking.
The 2-position manual safety is mounted on the left side of the bolt head, and permits manipulation of the bolt to remove a round in the chamber when in the on-safe position.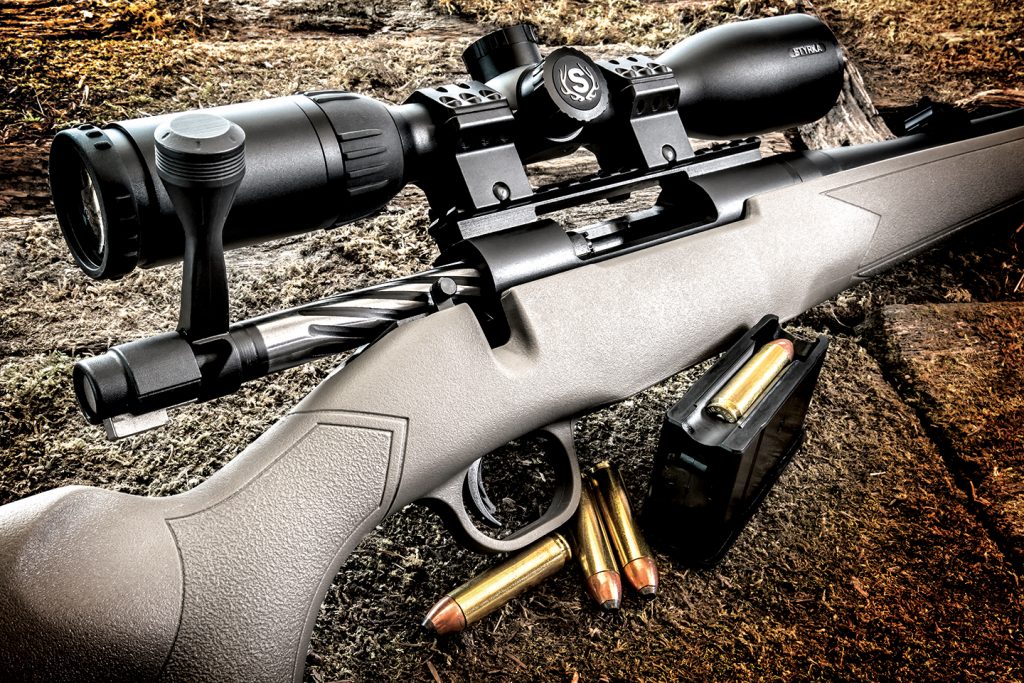 The 1-piece synthetic stock has light molded-in checkering on both sides of the neck and forearm, and sling swivel studs fore and aft. The trigger guard is molded integrally with the stock, and soft rubber recoil pad is attached to the butt. Length of pull is 13.75 inches, empty weight a relatively-light 6.25-pounds and overall length is a compact and handy 35.5-inches.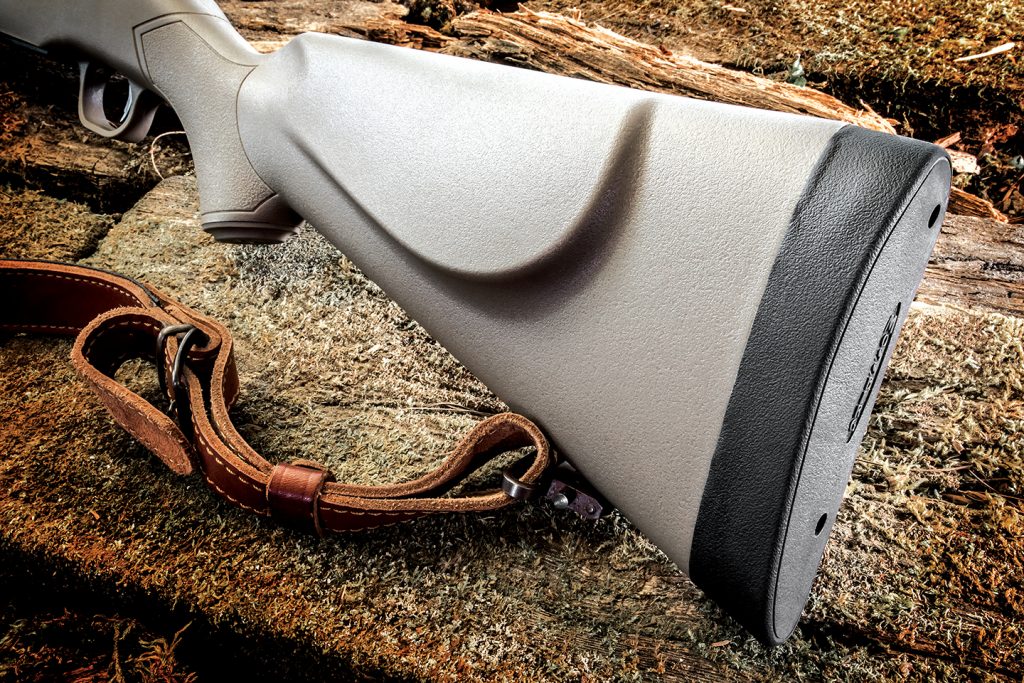 The one-piece, flat-dark-earth colored synthetic stock has a large, integral trigger guard that will readily accommodate gloved hands, a Monte Carlo cheek riser, cushy 1-inch thick rubber recoil pad and sling swivel studs mounted fore and aft. Light stippling takes the place of checkering on both sides of the pistol grip and on the bottom and both sides of the forearm. While also available with a walnut stock ($559) or a black synthetic stock ($423), both with longer 20-inch barrels and Weaver-style optic bases, no optics are included. We recently discovered that Styrka Optics offers their 3-9x40mm S3 model ($309.95) with a plex reticle and custom ballistic turret for the .450 Bushmaster cartridge, which allows you to simply range your target, dial to the corresponding yardage marker on the turret and pull the trigger. These relatively new, reasonably priced, high-quality, riflescopes come with a lifetime warranty, and this particular model goes a long way toward compensating for the "rock-like" trajectory of the .450 Bushmaster. So, we ordered one and mounted it on the .450 Bushmaster Patriot Predator for testing.
With the Styrka S3 securely mounted in a set of 6-screw Burris aluminum rings, the big-bore Mossberg proved itself able of stacking shots atop each other at 50-yards, turning in an amazing, best-of-test 0.45-inch 3-shot group using Interceptor Ammo's unique 158-gr. ARX Preferred Hunting polymer/copper load. That's better than some precision bolt-guns we've tested in the past. Both other loads— Federal's 260-gr Fusion and Remington's 260-gr. AccuTip—turned in sub-3/4-inch groups. Seriously-impressive performance for $498. We tip our hats to Mossberg.
See the Mossberg Patriot Predator .450 Bushmaster at your gun shop, or for more information, contact O.F. Mossberg & Sons; Tel.: (203) 230-5300; Web: www.mossberg.com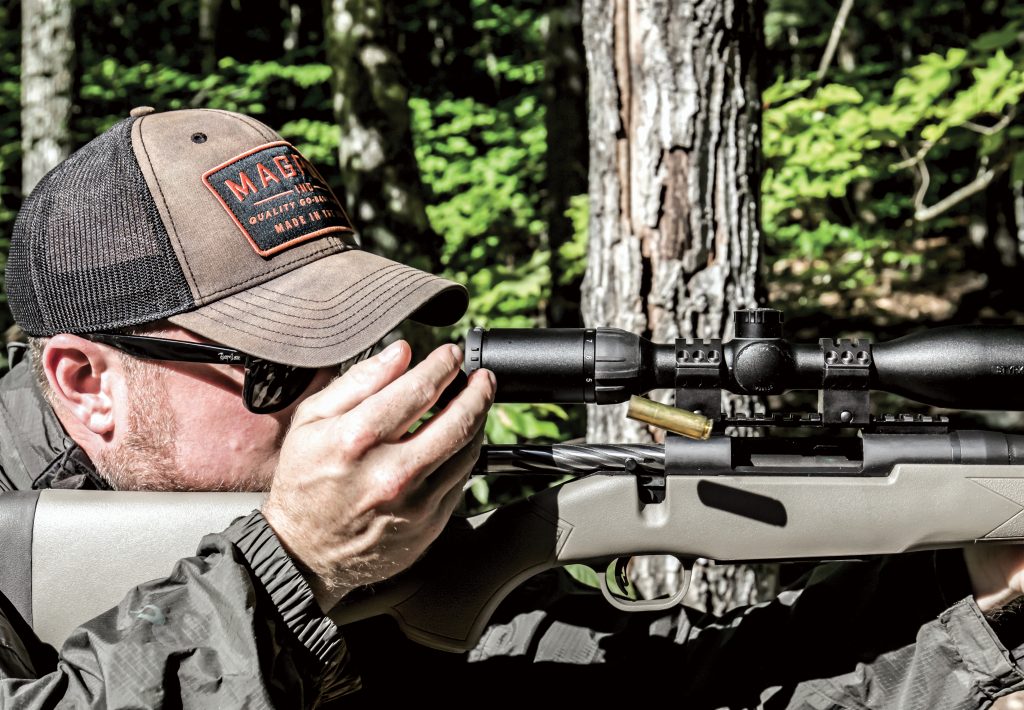 Specifications:
Caliber/Gauge:                     .450 Bushmaster
Barrel:                                  16.25-inch, threaded muzzle
OA Length:                            35.5-inches
Empty Weight:                       6.5-pounds
Sights:                                 Adjustable fiber-optic/Picatinny scope base
Stocks/Grips:                        Synthetic flat-dark earth
Capacity:                              4+1 rounds
Price:                                   $498