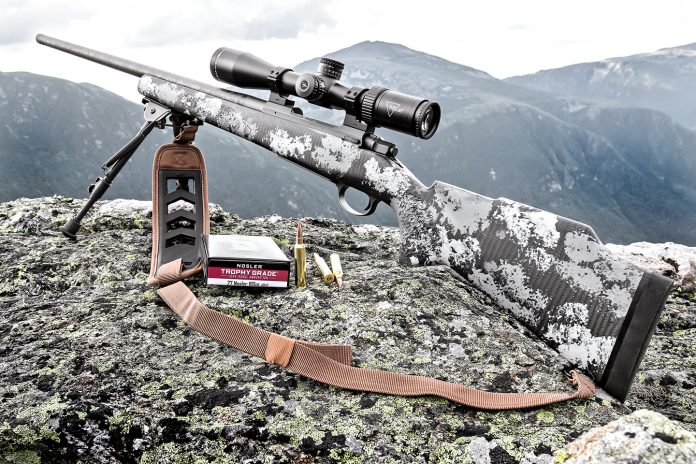 Nosler M48 Long Range Carbon Rifle in .27 Nosler
by Mike Dickerson
Elevating the performance of .277-inch bullets to eye-popping levels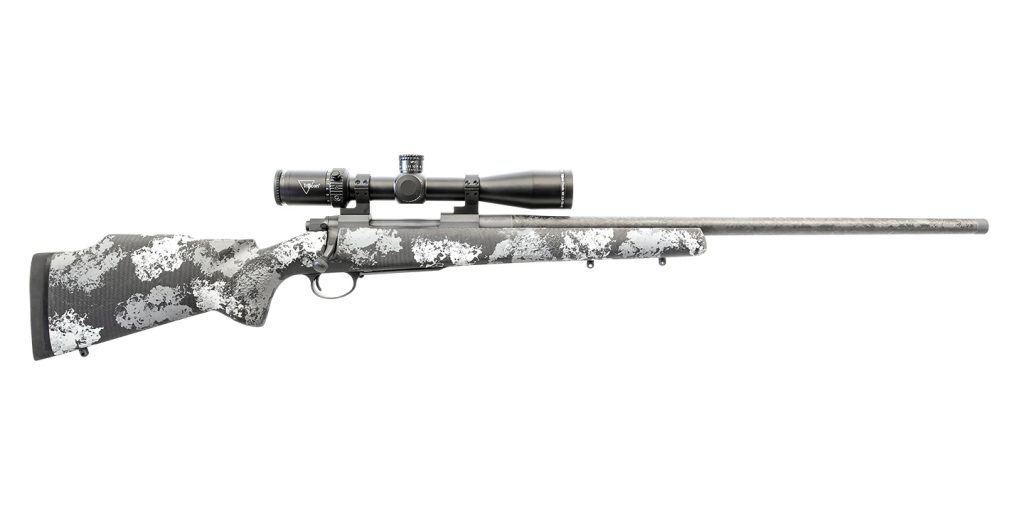 Lightweight rifles built specifically for long-range shooting generally have one thing in common: they are not inexpensive. The Nosler Long Range Carbon rifle ($3,190) is no exception, but it's fairly priced when you consider the fact that it's really much closer to being a custom gun than a factory rifle. Even a quick glance tells you this rifle is not built for the masses. For starters, there's the carbon fiber-wrapped, light Sendero-contour barrel from Proof Research, which delivers the advantages of less weight and more-rapid cooling while squeezing maximum velocity from a given cartridge through 26 inches of barrel. The muzzle is threaded (5/8×24) for attaching a suppressor or a brake.
The rifle sent to me for testing was chambered for Nosler's newest proprietary cartridge, the 27 Nosler, which pushes .277-inch bullets to performance levels that leave the .270 Win. in the dust, as you'll see in a bit.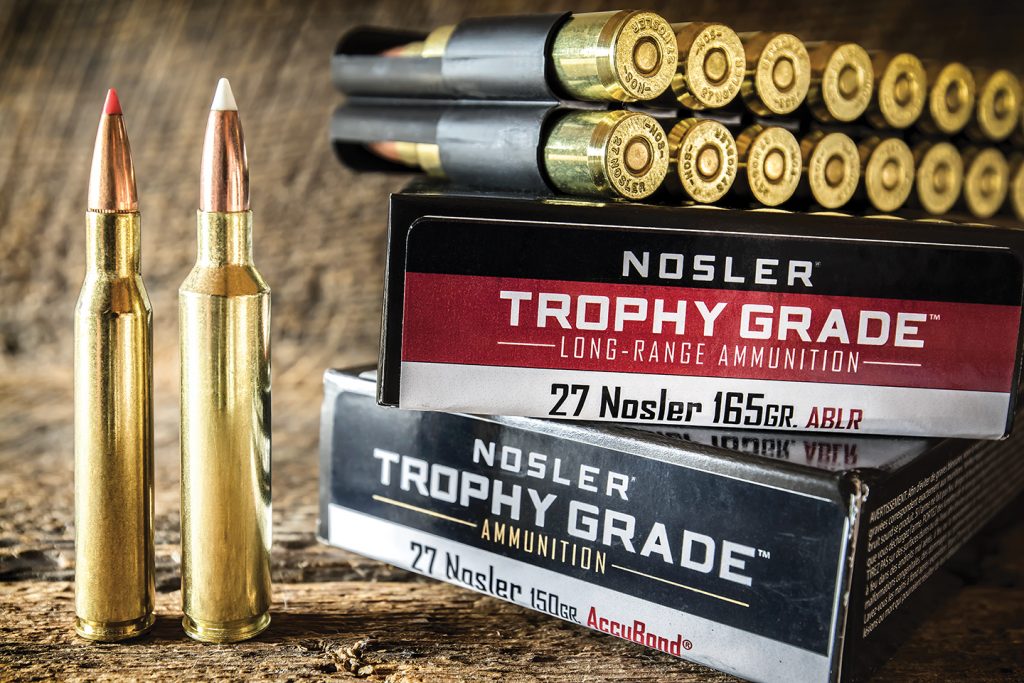 To be clear, this is not a rifle and cartridge combination for the novice. Experienced shooters who know how to place shots accurately at long distance will be most interested in this rifle. There's also the matter of recoil, which is significantly greater–around 34 ft. lbs. of recoil energy with a 150-grain bullet in this seven-pound rifle—than you'll experience with a .270 Win.
Another thing you'll quickly notice about this gun is the Manners MCS-T Elite Tac stock, which weighs only about 28 ounces. Made of 100 percent carbon-fiber, this one-piece  stock does not have the standard lines of a hunting rifle. It's really designed for shooting from a prone or bench position with a high cheek piece for optimal cheek contact and neck relief. The comb height is ideal for using riflescopes with large objective lenses. The forend and palm swell have a nicely textured surface for a sure grip. The wrist of the stock is somewhat larger than most, and I found to my surprise that I actually liked that because it helped me with consistent, repeatable finger placement on the trigger when shooting from the bench. The forend has two sling swivel studs for attaching attach both a sling and a bipod. At the rear of the stock you'll find another sling swivel stud and a PachMayr Decelerator recoil pad.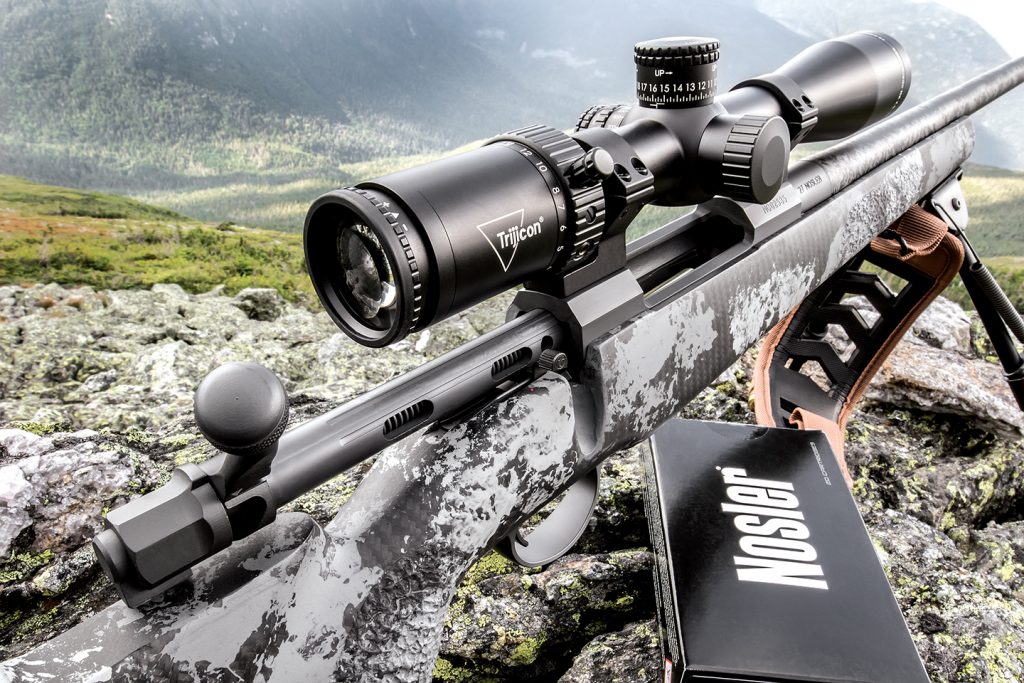 You might think that this rifle is designed just for long-range target shooting, but its relatively light weight makes it a great choice for hunting any place where shots may be long. The gun is built to withstand the elements. Both the action and the hinged, lightweight aluminum magazine floorplate are Cerakoted in a color Nosler describes as "sniper grey." The rifle is something of a stunner, visually, with its combination of a carbon fiber-wrapped barrel and "elite midnight" camo pattern on the stock, and it's sure to turn heads at the range.
One important element of this gun's construction that you won't see–and one that nudges it into the custom-gun category–is the fact that the M48 action has been squared and trued. This essentially means that, prior to barreling, all surfaces on the barrel, bolt and receiver that are going to be in direct contact with each other are squared or trued at precisely matching angles so everything aligns perfectly. Done properly, this ensures even contact on all the mating surfaces and lug surfaces, and can significantly enhance accuracy.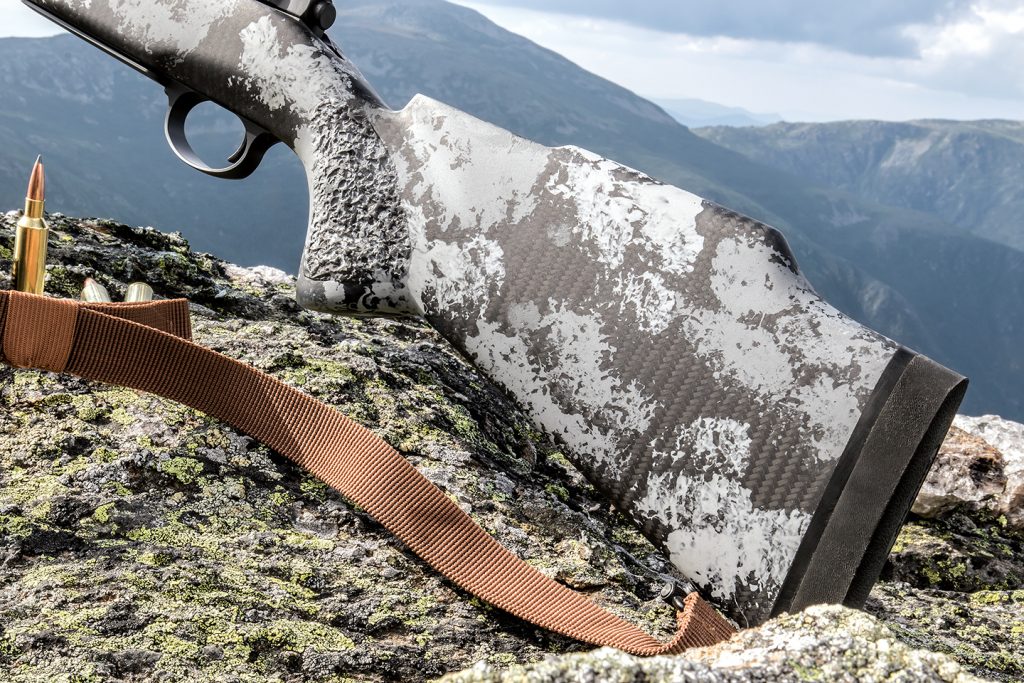 That M48 custom action is then glass- and aluminum-pillar bedded to the stock. The M48 push-feed action isn't exactly revolutionary, but it has earned a reputation for being strong, rigid and accurate. The action body as well as the bolt handle are precision CNC machined and then heat treated for strength and rigidity. Large, twin locking lugs are hand-lapped for precise alignment and lock-up. To resist binding and ensure smooth cycling, the action employs a fluted, uni-body bolt, and a groove is machined into the right-hand bolt locking lug and aligns with a rib in the receiver.  The bolt face is recessed and fits into the counter-bored barrel to surround the cartridge base with steel. An AR-15 style extractor provides reliable extraction. Mechanically, the rifle performed with nary a hiccup in testing. Cartridges fed, fired, extracted and ejected with zero issues.
In keeping with Nosler's practice of equipping its guns with high-quality components, the rifle has a Timney trigger with a two-position safety. I have always found Timney triggers to be nothing less than excellent, and this one is no different. It broke crisply at a consistent pull weight of 2 lbs., 14 oz., as measured with a Lyman trigger-pull gauge, with no take-up and zero creep or stacking. The safety, when engaged, does not lock the bolt down, so you can cycle rounds to load or unload the rifle with the safety on.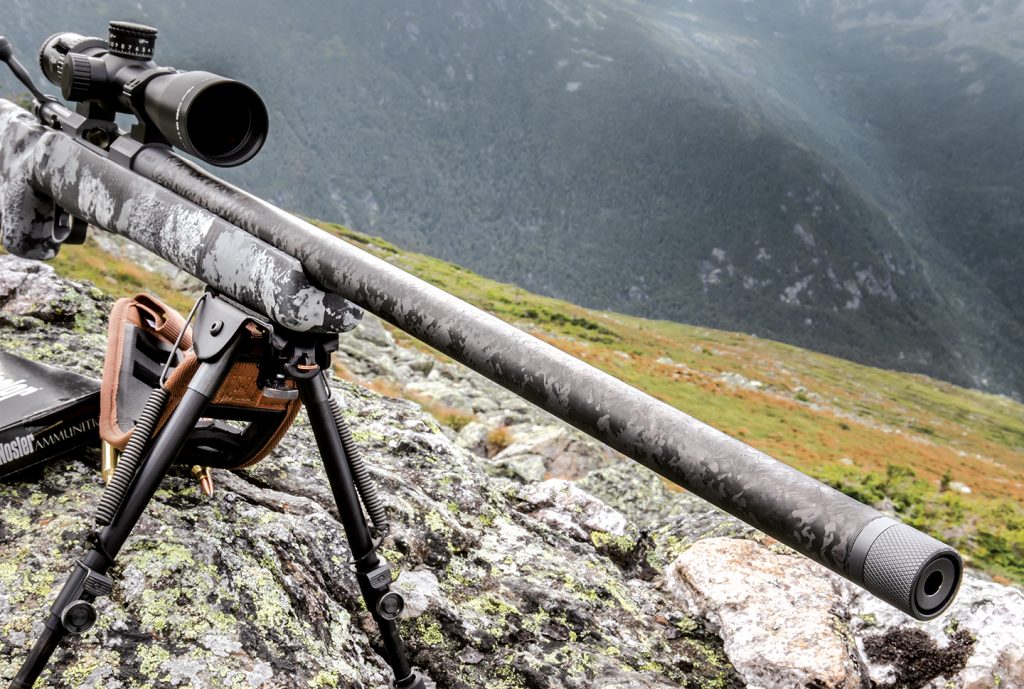 Finding scope bases and rings for the M48 action isn't an issue, as the action accepts bases and rings made for Remington 700 actions.  For testing at the range, I mounted Trijicon's new Credo HX 2.5-15×42 scope on the rifle using medium-height Talley lightweight rings for proper clearance. This is the second rifle I've put to the test with this scope, and I've been impressed with how well the adjustments tracked and returned to zero, as well as the scope's edge-to-edge clarity and low-light performance.
The 27 Nosler cartridge elevates the performance of .277-inch bullets to eye-popping levels. Designed to be shot out of barrels with a relatively zippy twist rate (1:8.5" in this case), the cartridge follows the contemporary trend of being optimized for long, heavy-for-caliber, high-B.C. bullets for improved long-range performance. The fast twist rate better stabilizes such bullets. Based on a 404 Jeffrey case, the cartridge pushes 150-grain bullets some 400 f.p.s. faster than the .270 Win. and 300 f.p.s. faster than the 270 WSM. With the same-weight bullet, it's even faster than the 270 Weatherby Magnum. It consequently drops less and punches with more energy.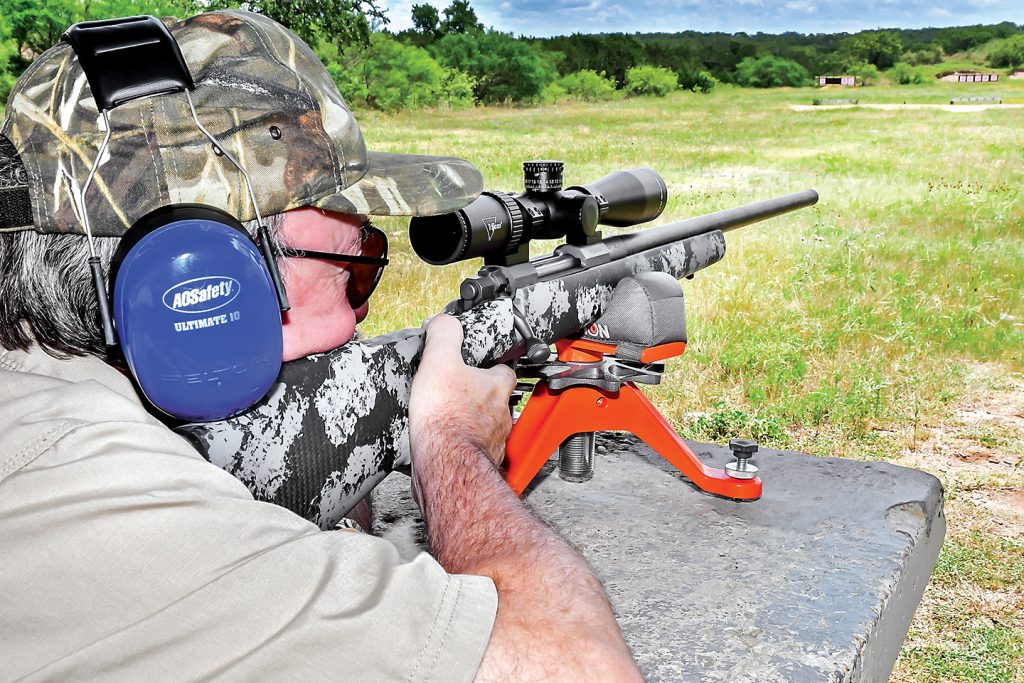 I had only two factory Nosler loads to test with the rifle, but found performance to be, in a word, impressive. I clocked Nosler's 150-grain AccuBond load at 3,280 f.p.s. over my CED M2 chronograph. That's about 30 f.p.s. faster than factory-stated velocity. Nosler's 165-grain AccuBond Long-Range load stepped out at 3,120 f.p.s., which is just slightly under the factory-listed number. In both cases, the numbers were close enough to factory figures that with this rifle you can reasonably rely on the factory numbers when calculating bullet drop downrange.
You would expect a rifle like this to be a sub-MOA shooter – in fact, Nosler guarantees that the rifle will deliver 1-MOA accuracy with specified Nosler ammo–and I wasn't disappointed at the range. The 150-grain AccuBond load turned in average groups measuring 0.89 inch and a best group of 0.81 inch. While there are no flies on that performance, the rifle did even better with the heavier 165-grain AccuBond Long-Range load. Average group size with this load was just 0.45 inch, with a best group of 0.39 inch.
That's stellar performance from such a relatively light rifle equipped with a 26-inch barrel. With this gun, .277-inch bullets never looked so good. Contact Nosler, Inc.; Tel.: (800) 285-3701; Web: www.nosler.com
Specifications:
Caliber/Gauge:                     .27 Nosler
Barrel:                                 26-inch carbon-fiber-wrapped, threaded muzzle
OA Length:                          48-inches
Empty Weight:                     7.0-pounds
Sights:                                None
Stocks/Grips:                      Carbon fiber, Elite Midnight camo
Capacity:                             3+1 rounds
Price:                                  $3,190