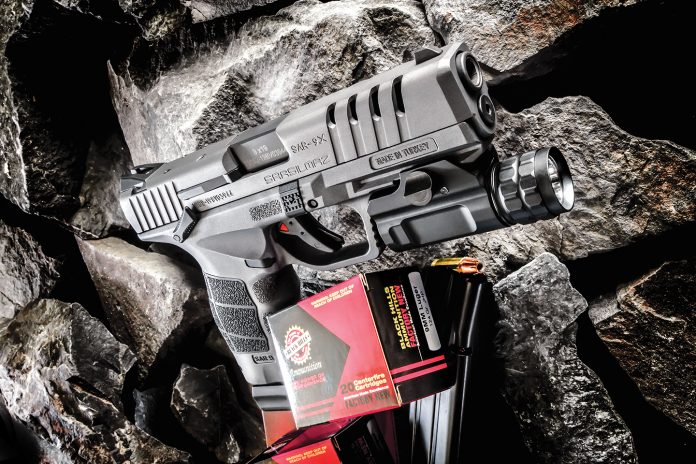 SAR USA SAR9X Platinum Pistol
by Bill Battles
The most rigorously-tested pistol you may never have heard about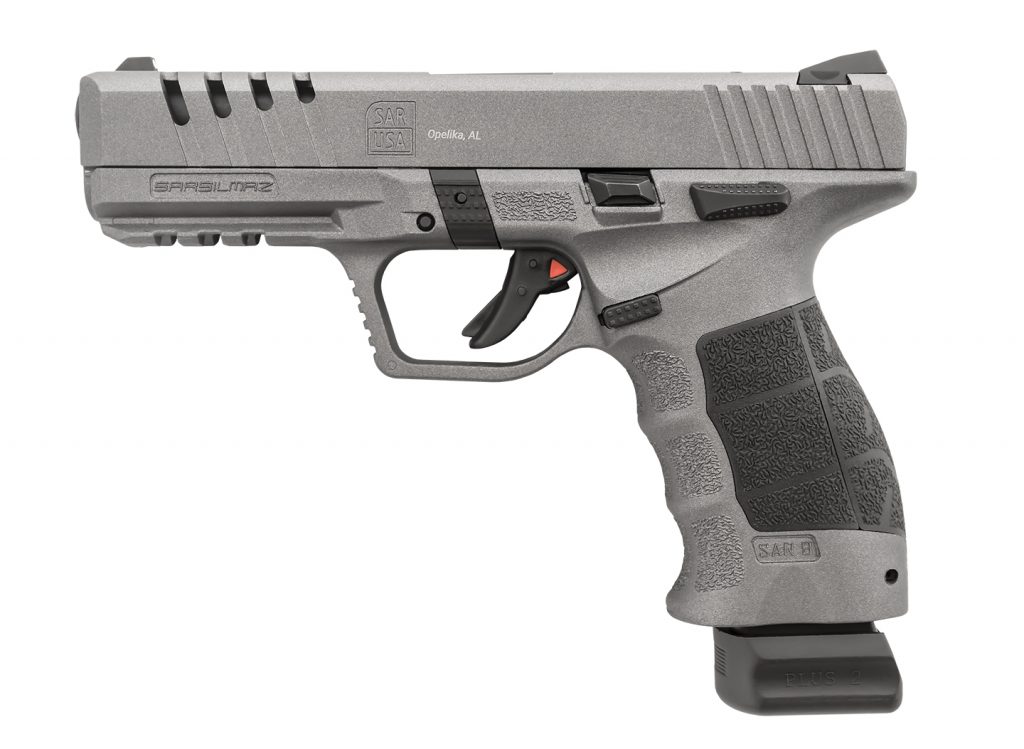 The new SAR9X Platinum 9mm pistol is made in Turkey by Sarsilmaz, which has been producing firearms since 1880. The company is the exclusive supplier of pistols to the Turkish National Police and the Turkish armed forces, which has the second largest army in the NATO alliance. Sarsilmaz pistols are imported into the USA by the company's American subsidiary, SAR USA, located in Auburn, Alabama.
SAR USA introduced the original SAR9 pistol at the 2018 SHOT SHOW. It received excellent reviews from the gun press, and one writer went so far as to call it "What the Glock platform should have been." As luck would have it, SAR USA initially sent us a basic SAR9, followed shortly by a SAR9X Platinum, so we had both models to evaluate side by side. The SAR9X Platinum is the same pistol as the SAR9, but with a number of embellishments and additional included accessories. Since the two models are functionally identical, this review will focus on the SAR9X Platinum.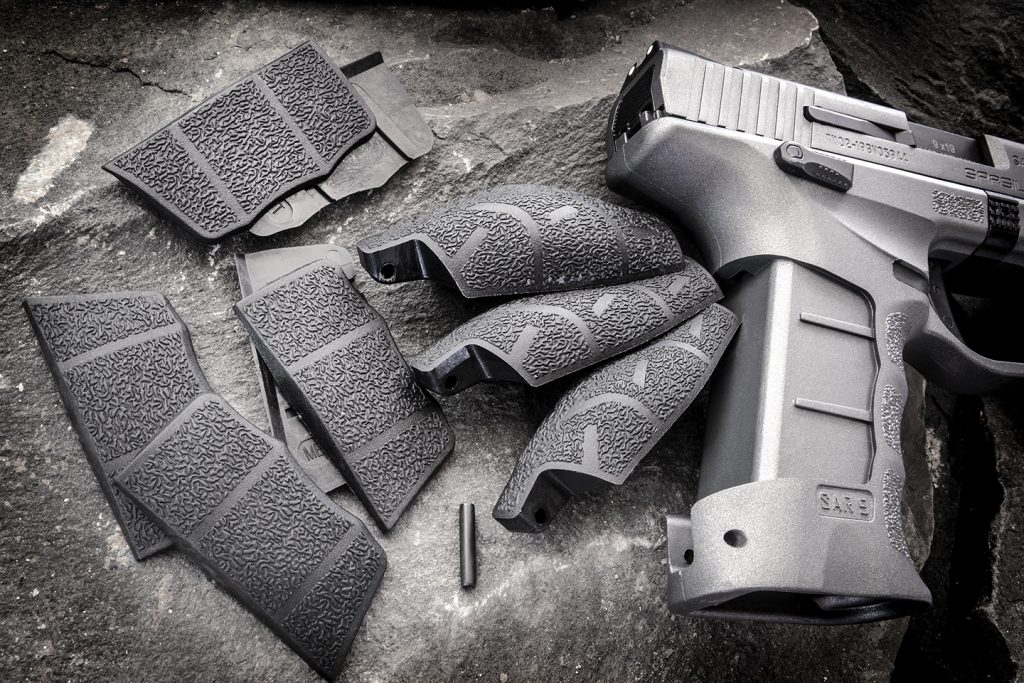 The SAR9X Platinum ($555.54) is a polymer-framed, striker-fired pistol which closely follows the Glock design. In fact, it takes down in the same fashion as a Glock, albeit the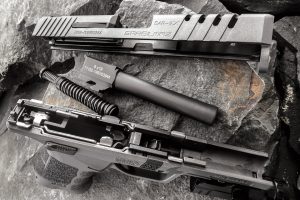 takedown latch is much larger and easier to manipulate. It incorporates the best features of the Glock, and when the slide is removed and the innards are examined one would be hard pressed to differentiate the SAR9X Platinum from a Glock. Externally, there are also similarities to the Glock platform, like the trigger-blade safety and the interchangeable backstraps and side-panel grip inserts, and dust cover equipment rail found on some Glock models, but the overall profile is much different looking. Compared to a Glock 17, the SAR9X looks taller, narrower and has a more rounded grip frame . . . not to mention its platinum-colored frame and slide.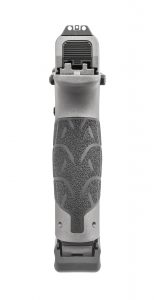 Notable features include 3-dot sights, with the front being staked on and the windage-adjustable rear dovetailed into the slide; slide lightening cuts aft of the front sight; front and rear slide serrations; external extractor/ejector; and a slide top is drilled and tapped for optional mounts for most popular red-dot and holographic pistol optics. The slide is finished in platinum (silver) Cerakote, and the 4.5-inch, hammer-forged barrel has a recessed muzzle crown for enhanced accuracy.
The frame is made from platinum-colored polymer which perfectly matches the slide. It comes with three sets of interchangeable back straps and grip side panels, insuring that it can be configured to fit any hand. The front strap has three full finger grooves, and all grip surfaces are lightly stippled for both comfort and good grip traction. Molded finger groves on both sides nicely fit the thumb on the left and the trigger finger on the right. A 3-slot Picatinny equipment rail is molded into the underside of the dust cover.
Frame-mounted controls consist of an ambidextrous manual safety, left-side mounted slide catch/release, non-reversible magazine release, ambidextrous take-down latch and safety-blade trigger with a red dot visible at the rear when the striker is cocked. Empty weight is 27.5 oz. and overall length is 7.6 inches.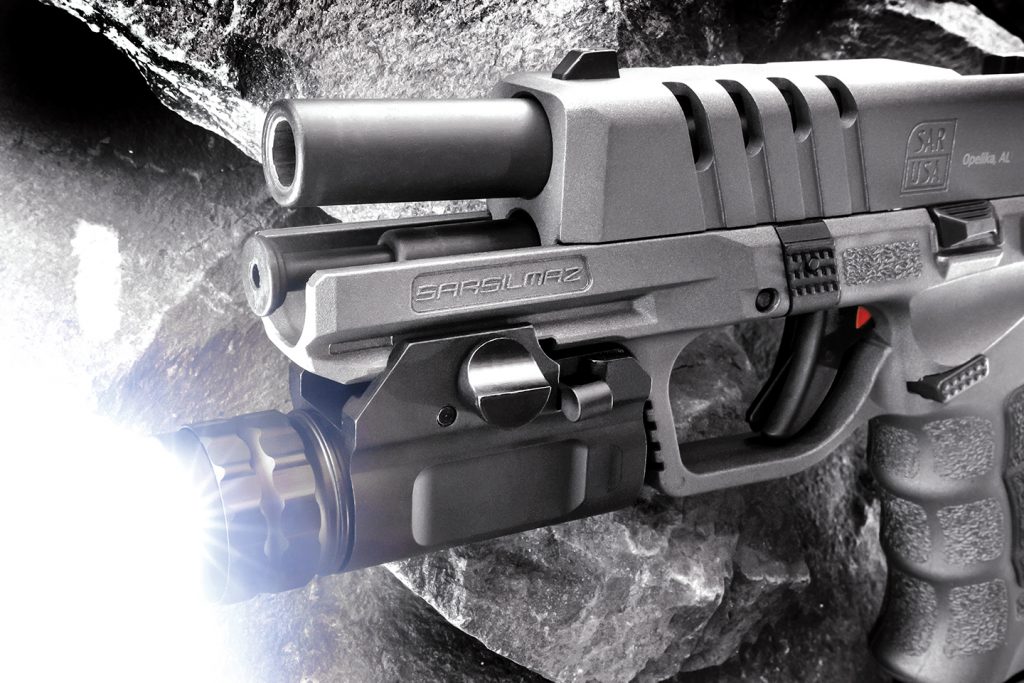 We found the manual safety to be just right to take off-safe without breaking the firing grip, but somewhat stiff to put on-safe (our standard SAR9 was easy to put on-safe, so we expect this condition will remedy itself with use). The slide catch/release is raised and was much easier to operate than the Glock's flush iteration. The rectangular magazine release button is too flush to the frame (not sufficiently raised) to eject a magazine without breaking the firing grip. The takedown latch is a huge improvement over the Glock's tiny latch. It's wide, stippled and easy to manipulate.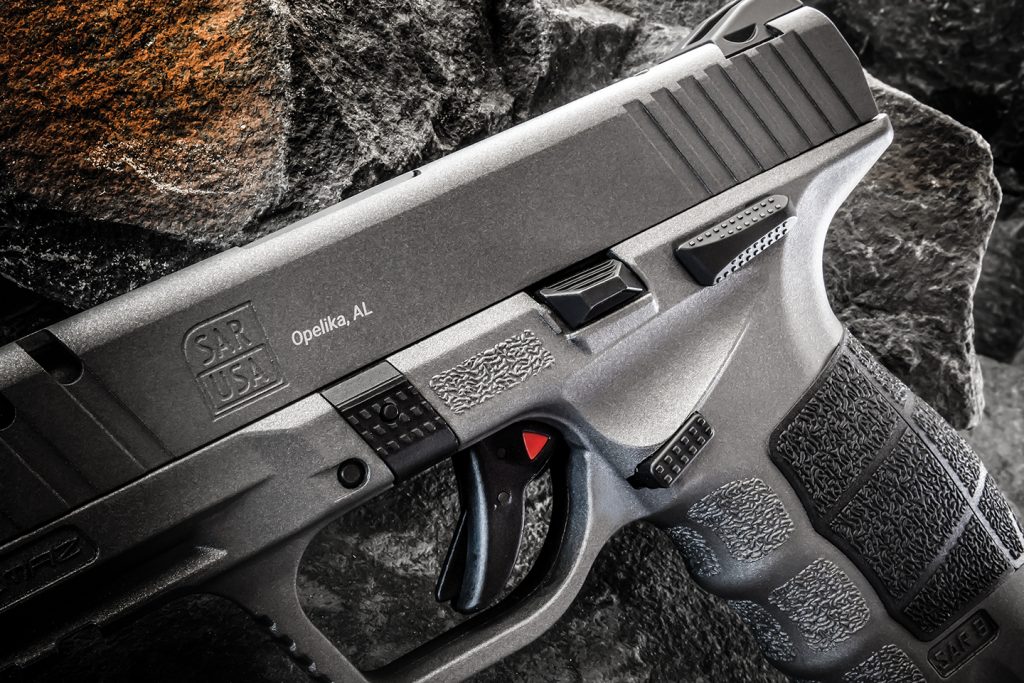 And then there's the trigger. About 3/16ths of an inch of take-up at an average pull weight of about 1.5 lbs. brings you to a semi-hard (meaning "fairly soft") wall. From that point to the break requires an additional 1/4-inch+ of trigger travel with some noticeable creep at an average pull weigh of 5.1 pounds—the same overall pull weight as a factory Glock trigger. Not great, but I could certainly live with it after some practice, especially because it's such a bargain.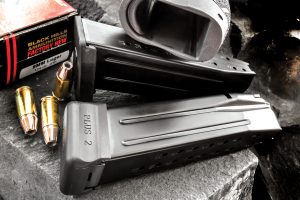 Further solidifying its outstanding value are its package contents. The SAR9X Platinum comes with one 17-round and one 19-round, drop-free, steel magazines, a molded Kydex pancake-style belt holster with retention latch, a pancake-style double magazine pouch with adjustable retention, a rail-mount weapon light powered by one CR123A battery (included), magazine loader and an oversized red polymer, lockable case with cut-foam interior to accommodate every accessory.
Testing the SAR9X was drama-free; it fed, fired, extracted and ejected everything we fed it without a single malfunction. Also, of no small note, the SAR9X is — arguably — more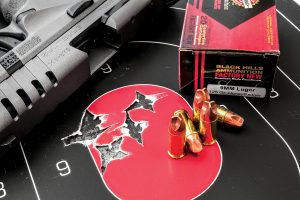 comfortable, controllable and flat-shooting under recoil than the Austrian pistol its features resemble. From the 25-yard line, Black Hills' devastating 125-gr. HoneyBadger ammunition, which uses precisely-machined solid-copper bullets, gave us the best 5-shot-group performance during testing, with a centered cluster measuring 1.68-inches. The five other factory loads used — varying in grain weight from 115 to 147, and in both hollowpoint and FMJ — gave best-group sizes ranging between 1.85 to 3.46. All-in-all, more than acceptable precision when compared side-by-side to its closest competitors.
The storied "Glock Killer" has yet to appear, but given its ergonomics, accuracy, reliability, host of useful accessories and rock-bottom sticker price, we consider the SAR9X Platinum to be a real contender. See it at your gun shop, or contact SAR USA; Tel.: (833-727-4867; Web: www.sarusa.com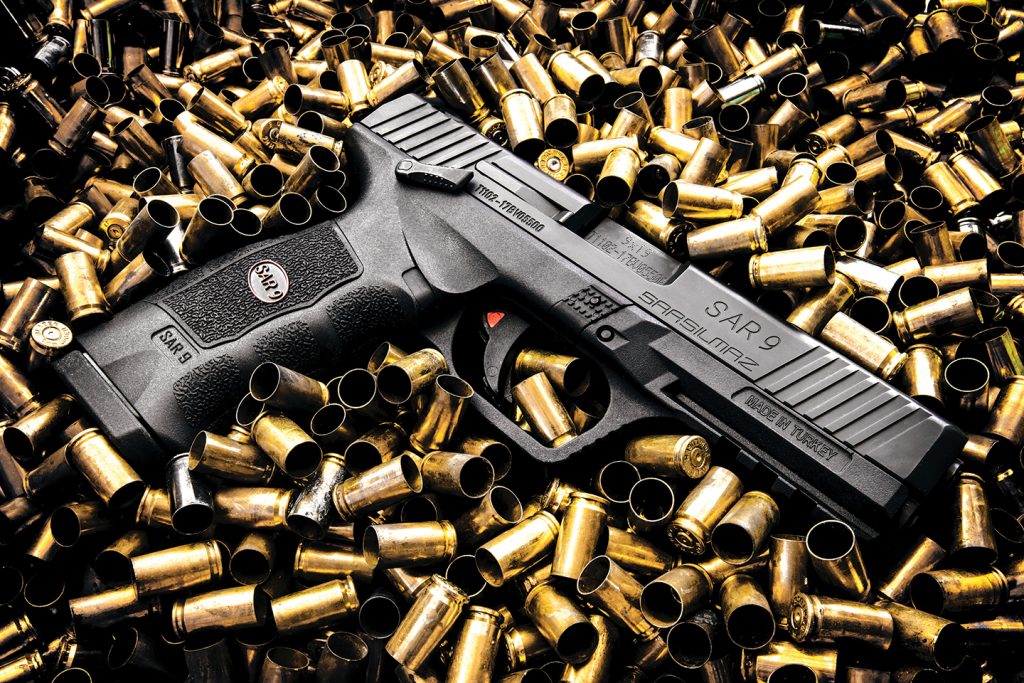 Specifications: SAR USA SAR 9X
Action:                      Striker Fired
Caliber                      9mm
Barrel Length             4.4 inches
OAL:                         7.6 inches
Weight:                     27.5 ounces
MSRP                        $555.54