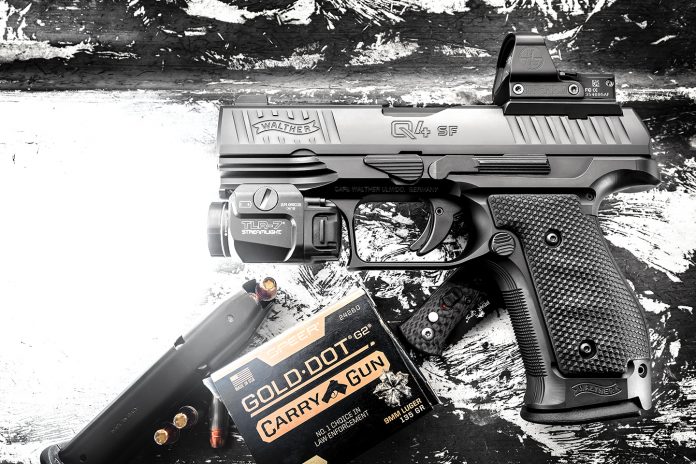 Walther Q4 SF
by Dave Bahde
This smooth-running machine screams German detail and build quality
One of Walther's most popular pistols is a bit of an enigma: an all steel, 41.6 ounce, 5-inch match pistol called the Q5 Match Steel Frame. Introduced in January 2019, it was a hit from the start. It was about perfect for action shooting competitions; fast, accurate, smooth and optics ready. Swimming in a sea of plastic, many in the industry shook their heads at a "heavy" pistol. Most were focused on lightweight polymer or alloy frames that were more art than function, and designed to be carried often and used only if necessary, it's seemingly all about turning your pistol into Swiss cheese in a weight-saving effort. With an entire generation of shooters never actually using an all-steel pistol, the Walther seemed odd—at least until they shot it. Was it heavy by comparison, sure, but it was insanely accurate, and completely controllable. It's 5-inch barrel made carry a tad inconvenient, as it was really a competition pistol, so the clamoring for a more-compact Q4 began almost immediately. Walther was listening and has come through with flying colors.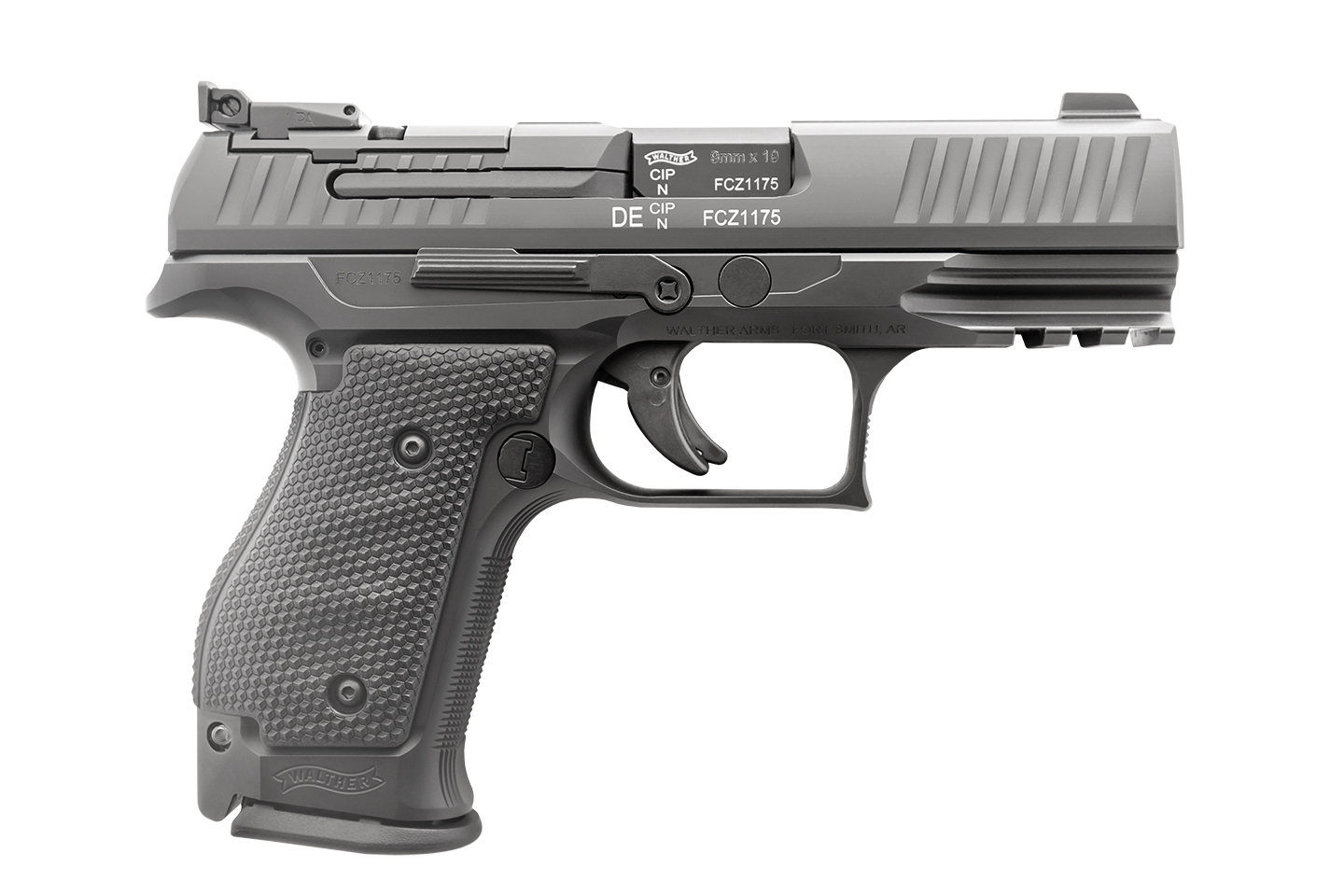 Carrying Steel
My first "carry" pistol was a stainless Colt Python used through the academy, weighing in at 42 ounces. Like most baby cops, that was all I had and could not afford another one.  A department change moved me to a S&W model 686 (about the same weight as the Python) then a 6906, an all steel semi-auto. As time passed I suffered through duty plastic until the policy (the one I authored) allowed for more liberal personal carry. From that point forward my primary duty and carry pistol was generally an all steel 1911 in .45 ACP, or a stainless Colt Delta Elite (10mm), both of which hovered around 45 ounces fully loaded. I carried them in one form or another for close to 20 years, so carrying heavy sidearms is nothing new. So why a heavy gun? Well, it's pretty simple: all-steel pistols are easier to shoot, generally due to less recoil and muzzle rise, and for most they make accuracy easier—that being my priority. These were fighting pistols I carried, not carry pistols I fought with if needed. This Walther Q4 SF (steel frame) you're reading about here splits the difference quite nicely.
Walther Q4 SF 9mm
Machined from solid steel-billet, the frame and slide are strong, smooth and result in a very well-balanced pistol. Typical Walther ergonomics allow the Q4 SF to melt into your hand. The grip may be large for some, but replacing grip panels with slim versions solves that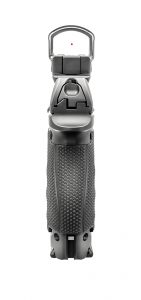 issue. Using the same grip as the Q5 has resulted in an aftermarket for some stunning panels of varied grip texturing, many of which are thinner. Checkering is present on the front strap and trigger guard with a contoured and beveled magazine well. Controls match the polymer Q4; easy to reach with either hand, yet recessed for concealed carry. The rear beavertail on the SF is deeper and more pronounced than the Q4 Tactical previously tested, which results in a higher grip-to-bore line relationship that rolls over the web of your hand, locking it in place. A full-length accessory rail allows for lights or aiming aids.
The Q4 SF trigger is very clean, since the striker assembly is pre-loaded when the pistol is charged. Trigger "pull" is solely due to spring tension from the trigger and disconnector springs. Travel is short by comparison, with a reset of only .10 inch. Trigger weight is approximately 5.5 pounds and consistent from shot to shot. Internal safeties include trigger, firing pin and disconnector. The external trigger safety is a fourth.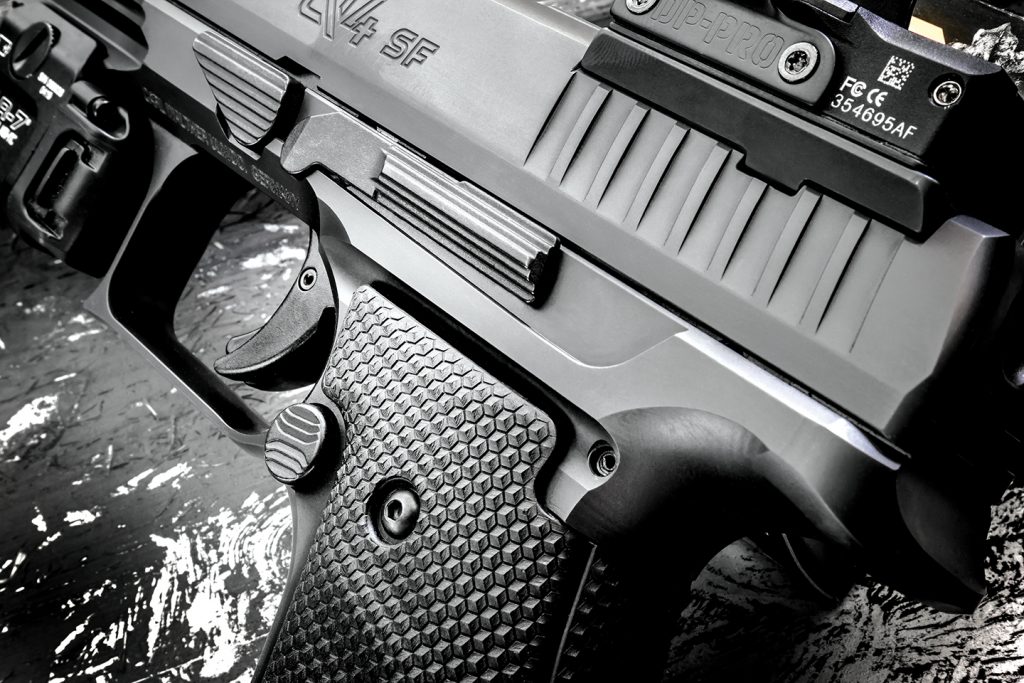 The slide includes front and rear cocking serrations. Sights on the standard model are carry oriented, using phosphoric dots. The optics-ready version uses an adjustable rear sight with no dots and a slightly longer and taller serrated front sight. The top of the slide is serrated to cut down on glare. The barrel is match-grade and 4.0 inches long.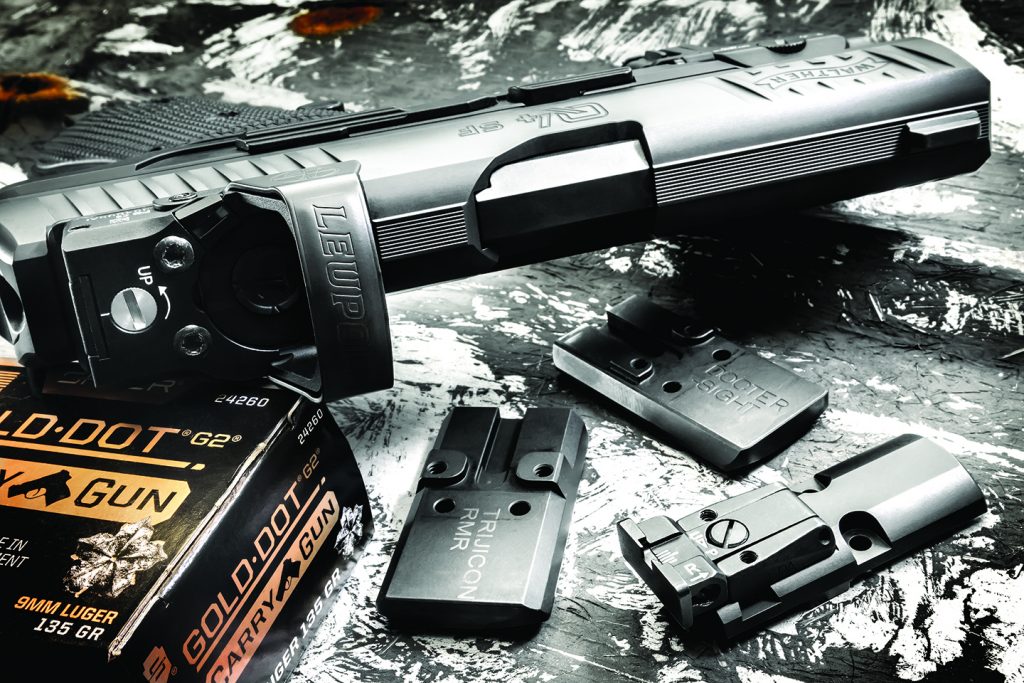 Optic plates available for the Leupold Delta Point Pro, Trijicon RMR, and Doctor Optic cuts, allowing fitment of most red dots on the market.  Mounting plates do not ship with the pistol and can be hard to get right now—luckily, I still had the Q4 Tactical in inventory and was able to mount a Leupold Delta Point Pro for testing. Plates are a tad thick, but they mount easily using the two screws holding the sight plate in place and provide a very solid mounting platform. While you can see and use the front sight if necessary it is not co-witnessed. Both versions of the Q4 SF ship with two 15-round magazines in a Walther hard plastic case.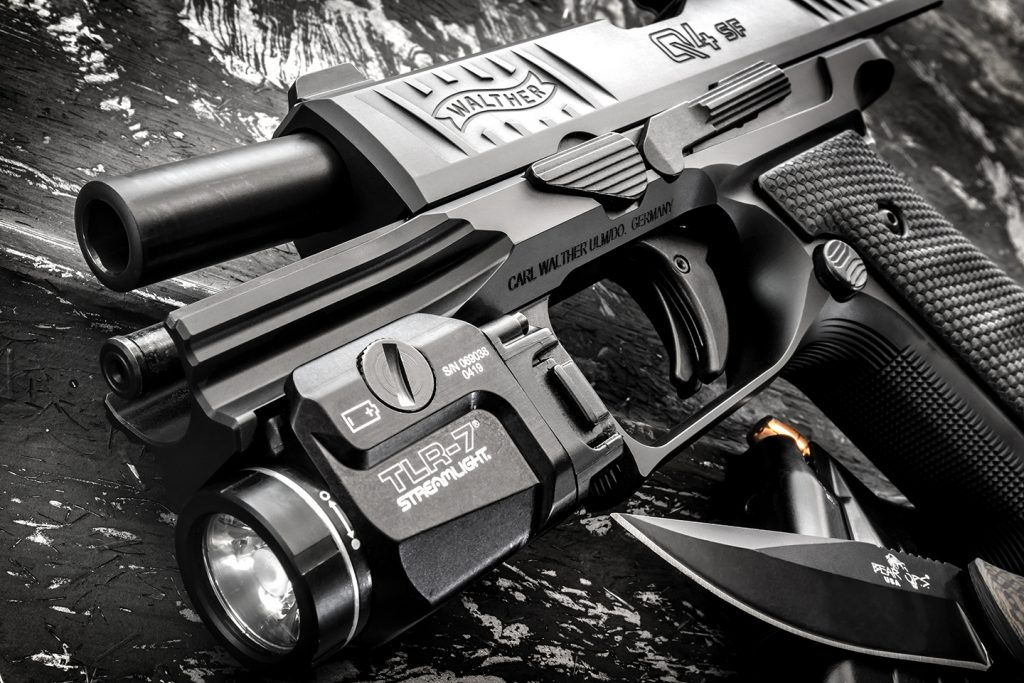 Range Time
Walther didn't just whack off an inch of the barrel on the Q5 to create a shorter version. This pistol was designed from the ground up in its steel form and it shows, with an almost perfect balance. Shooting side-by-side with the polymer-framed Q4 Tactical, you could immediately tell the difference; less muzzle-rise and felt recoil, and with a firm grip and stance, the pistol barely moves when shooting practice ammunition. Running +P loads from Black Hills, Wilson Combat, and Doubletap Ammunition was downright pleasant. The combination of the extra weight, deeper palm swell and balance create a recipe for some pretty amazing accuracy. My best group came from Wilson Combat's 124-grain XTP +P at just a tad over 1.25 inches at 25 yards. Everything was under 2 inches, and most were around 1.5 inches. Four rounds touching with a flyer was not uncommon, which is my usual with pistols these days. With the Leupold Delta Point Pro zeroed at 50 yards it put 10 shots of Doubletap 115 grain +P into a fist sized group—I'm not sure you could make a more accurate 4-inch, striker-fired pistol.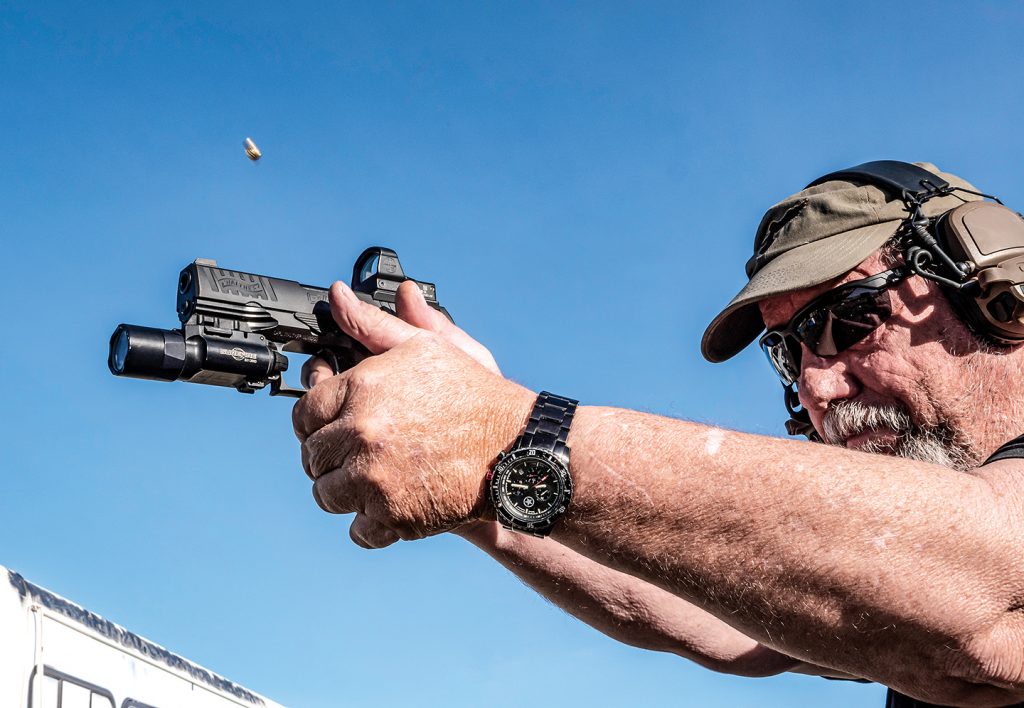 Reliability was excellent with everything used, including some IRTG (It Runs The Gun) competition loads. No stoppages were experienced and it never failed to go into battery with or without the RDS and/or Surefire 300 Ultra tactical light attached. Even on a dusty and windy day it just would not stop running no matter how fast I ran the trigger.
I have always found the extra weight of an alloy or steel pistol beneficial when moving between targets. It takes some getting used to but for me it is smoother with less wobble where I stop. A tad different with rifles, but this is an excellent competition pistol for those allowing factory RDS or with iron sights.
If you are going to carry a heavier pistol its really all about the holster, belt and proper placement. It will never be "as comfortable" in the long run as your latest super light compact, but depending on your build it can certainly be done. I have known a ton of slighter built officers over the years that never had an issue with a full-sized 1911.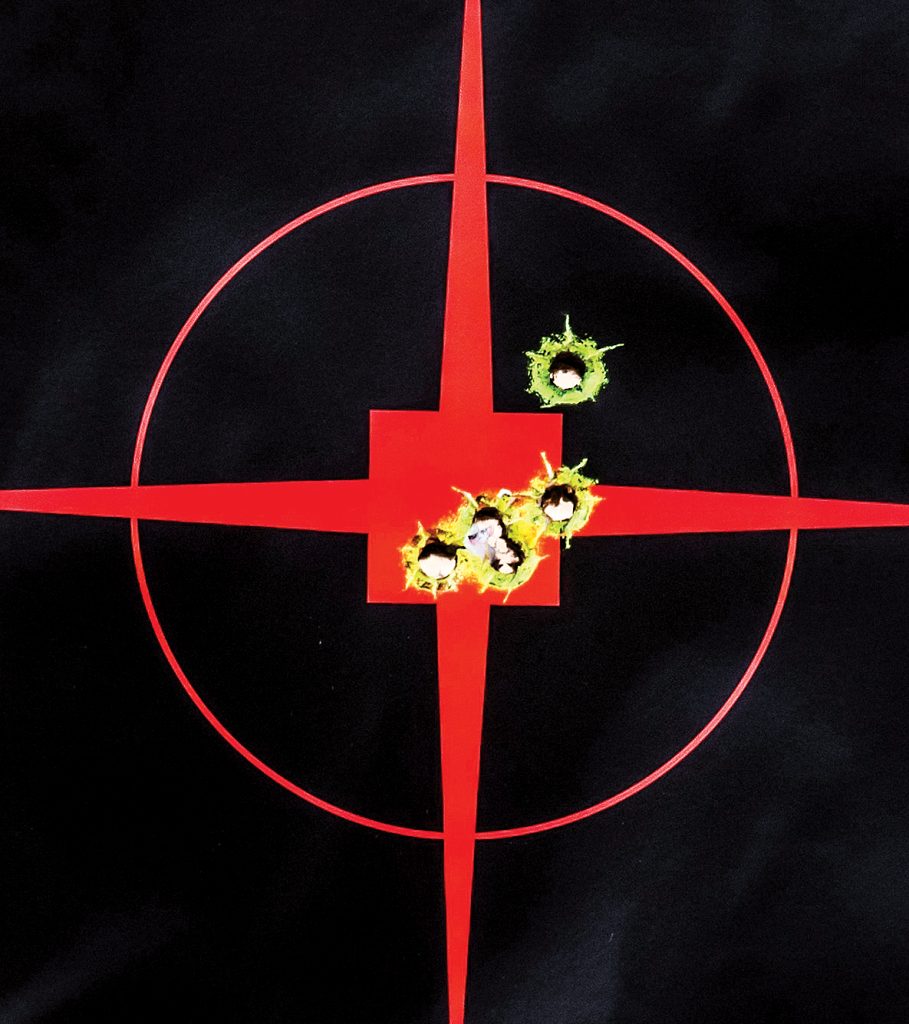 Bottom Line
Walther's Q4 SF screams German detail and build quality. This is a smooth-running machine that feels more like a custom pistol than a steel version of a polymer counterpart. Just racking the slide feels different, even from aluminum and other alloy slides. Retail is $1,399 for the standard version, while the Optics Ready model adds another $100.
Will this be for everyone? Probably not, but it is well suited to professional work, duty or otherwise, and will likely be a hit on the competition range. Even if it is not the one for you, everyone should give this pistol a try—it is pure joy to shoot. In fact, take a friend to the range that has never fired a finely machined firearm made from steel and watch the reaction … it's priceless. Contact Walther Arms; Tel.: (479) 242-8500. Web: waltherarms.com
Weight                                   40 Ounces (unloaded)
Overall Length                       7.4 Inches
Barrel Length                         4.00 Inches
Frame                                   Machined Steel
Sights                                   Serrated Front, Adjustable Rear/Optics Ready
Magazine Capacity                 15+1
Retail Price                             $1,399.00 (standard) $1,499.00 (Optics Ready)
Ammunition                                           Velocity                      Group Size
Remington 115-gr. +P HTP                      1,160                          1.80 inches
Federal HST 124-gr.                                1,100                          1.90 inches
Wilson Combat  124-gr. XTP +P               1,175                          1.25 inches
Hornady 124-gr. XTP                              1,080                          1.75 inches
Black Hills 115-gr. +P                             1,347                          1.55 inches
Doubletap 115-gr. TAC-XPD                    1,300                          1.50 Inches
Groups fired from a sand bag rest on the hood of my truck. Range was 25 yards. Three 5-shot groups were fired for comparison. Velocity in feet per second measured with a Chrony chronograph.