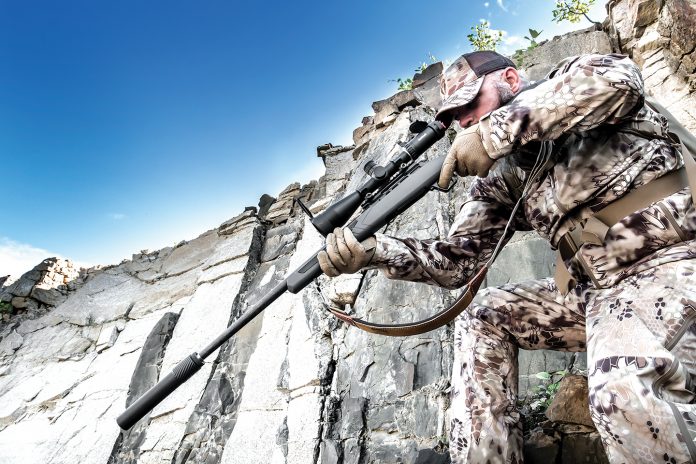 Savage Model 110 Ultralight Rifle
by Bill Battles
Savage puts custom-gun features and performance within the reach of more hunters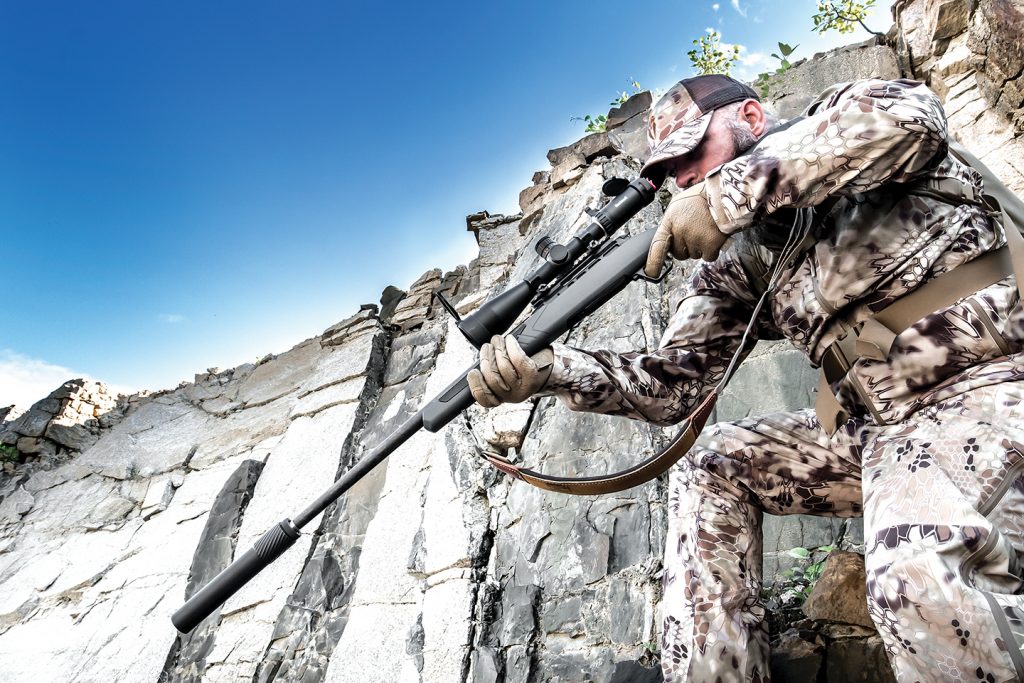 Specifically designed as an ultralight, highly accurate mountain rifle, the new Model 110 Ultralight rifle from Savage employs a carbon-fiber wrapped stainless steel barrel and Melonite finished, skeletonized receiver to reduce empty weight (without optics) to 6 pounds or less. Available chambered in .308 Win., .270 Win., 28 Nosler, .280 Ackley Improved, .30-06 Springfield, .300 WSM, 6.5 Creedmoor and 6.5 PRC—empty weights range from 5.8 to 6.0 pounds. The only real downside for some will be its price—$1,499 chambered in any available caliber. However, compared to other carbon-fiber-wrapped barrel offerings currently on the market, the M110 Ultralight Rifle is a relative bargain considering its host of innovative and useful features, top-notch build quality and unequaled precision performance. Our hats off to Savage for stepping out of their all-steel-barrel comfort zone.
Our evaluation rifle was chambered in 6.5 Creedmoor. Its 22-inch barrel is made for Savage by PROOF Research of Columbia Falls, Montana. It's a stainless-steel barrel cut rifled at a twist rate of 1:8", over-wrapped with an undisclosed number of layers of aerospace-grade carbon fiber impregnated with a proprietary matrix resin to reduce weight by up to 64%, and provide fast heat dissipation and unprecedented durability. The retail price of this barrel from PROOF Research is $940, which accounts for the lion's share of the Model 110 Ultralight's price tag. The muzzle is threaded at 5/8"x24 TPI for installation of a suppressor or other muzzle device, and a stainless-steel muzzle cap is included. No open sights are provided, but the receiver is drilled and taped (8-40) for installation of a Picatinny rail or scope mounts.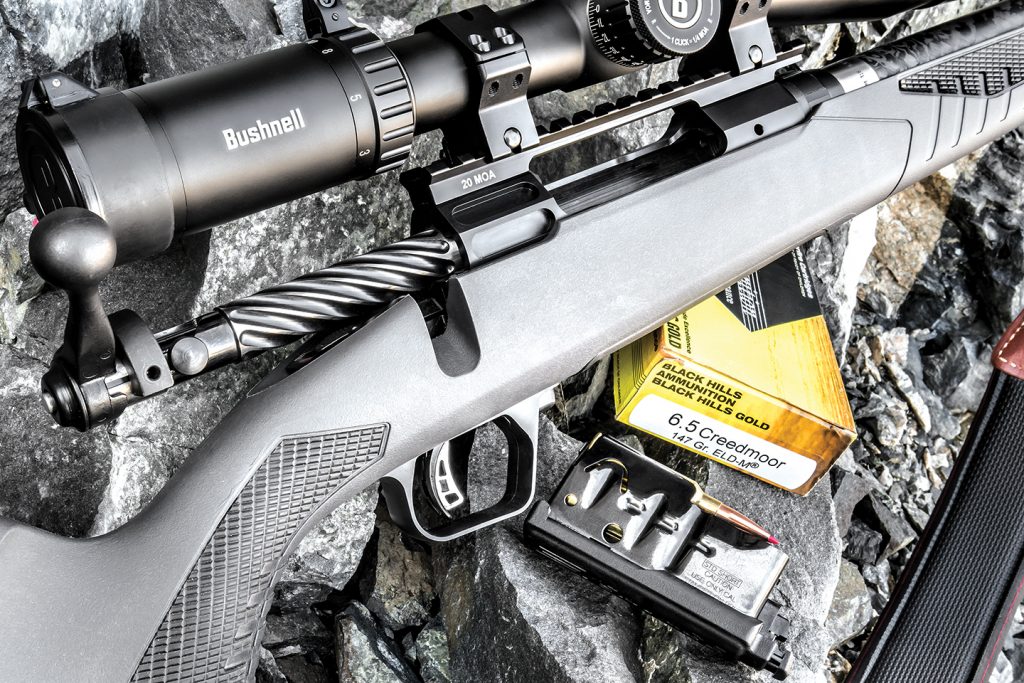 The 110 Ultralight employs every bit of cutting-edge technology developed by Savage since sliced bread was first offered. They include a factory blue-printed action for ultimate precision, skeletonized receiver and spiral-fluted bolt for significant weight reduction, gray synthetic AccuStock with rigid aluminum bedding rail that engages the action three-dimensionally along its entire length, AccuFit interchangeable combs and stock spacers, rubber overmolded, deeply textured traction panels in the neck and on the forearm, free-floated barrel and floating bolt head, and, of course, the superb Savage AccuTrigger which is user adjustable for pull weights ranging from 1.5 to 4.0 pounds. The AccuTrigger on our evaluation rifle broke at an obscenely consistent 2.4 pounds out of the box, without even a suggestion of take-up, creep or stacking. One of the things we've always appreciated about Savage bolt-guns is the fact that you get more performance than you pay for, and the AccuTrigger is certainly a significant component of that recipe.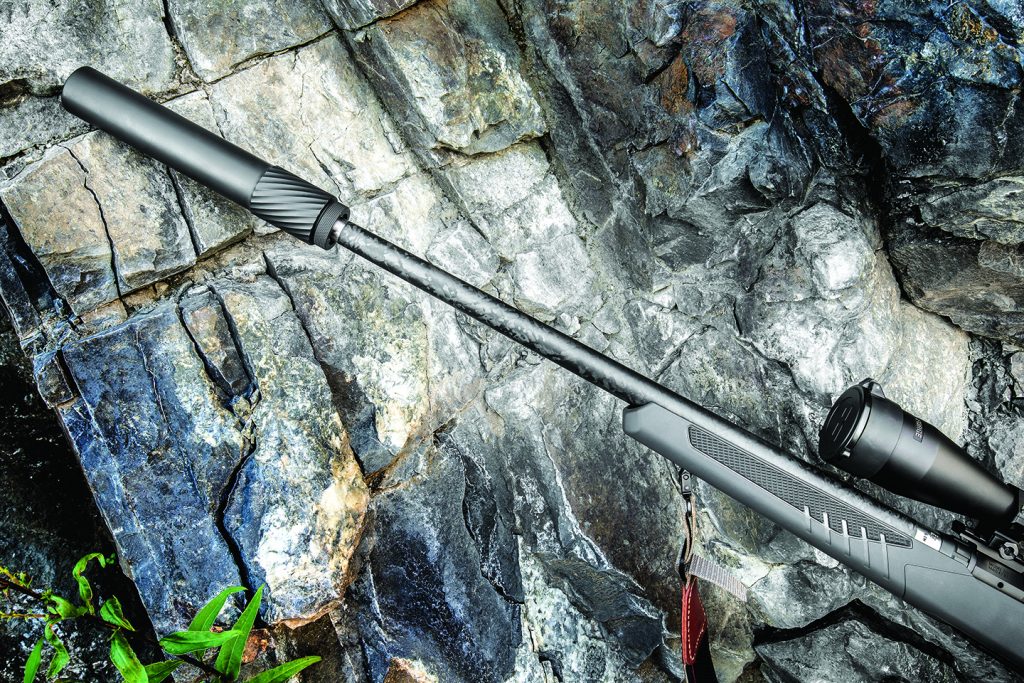 Custom fit is one of the 110 Ultralight's strong points. Its AccuFit kit includes a cushy 1-inch thick rubber but pad; four stackable polymer butt pad spacers—in 5/16", 3/8", 9/16" and 15/16"—which let you adjust length of pull from 1/2-5/8" (butt pad only with no spacers) to 15-15/16" with the butt pad and all four spacers installed; all necessary screw lengths to mount any combination of spacers.; and five polymer combs—in heights at the heal of 1-3/8", 1-1/2", 1-5/8", 1-7/8" and 2.0"—to insure a truly custom fit. At the pistol grip and forend sections you'll find "Soft-Touch" rubber-impregnated surfaces providing a secure, comfortable grip. Bottom line, if you can't make this rifle fit, you're obviously from another planet!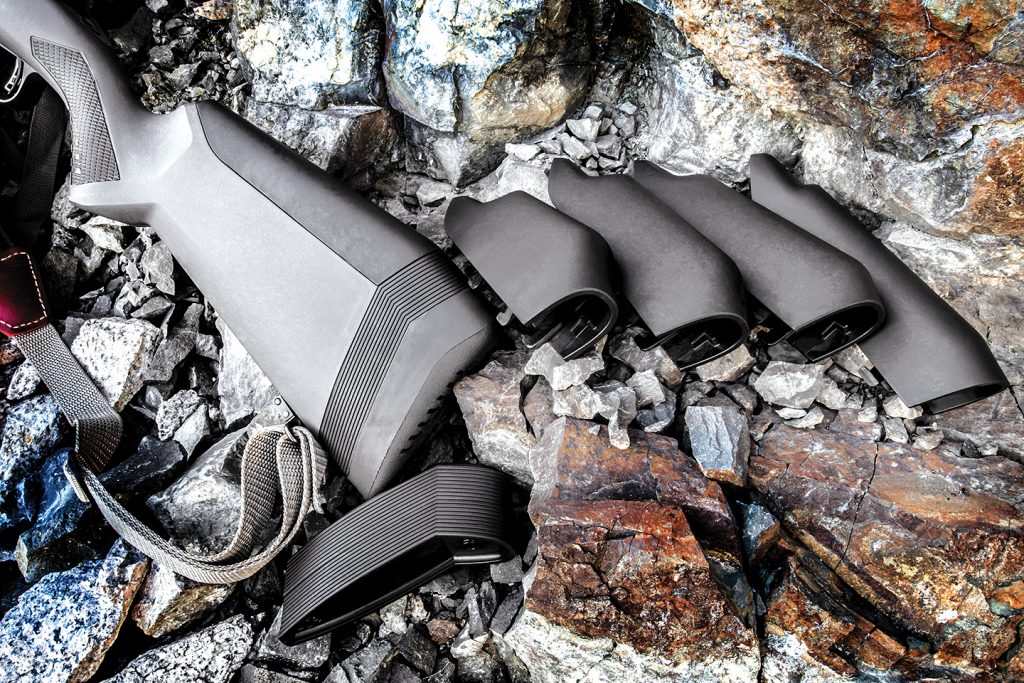 Other features include a steel detachable box magazine with a capacity of four rounds (two rounds in 28 Nosler, .300 WSM and 6.5 PRC), a 3-position sliding safety that permits operating the bolt with the trigger locked to safely remove a chambered round, and an enlarged, deeply knurled bolt head to provide extra traction. Single sling swivel studs are provided front and rear.
Come to think of it, there was one aspect of this rifle's design we didn't care for: the process required to remove the bolt from the receiver. With this rifle you have to pull the bolt to the rear, depress the trigger while simultaneously depressing the bolt release in the front of the trigger guard. Easy with practice but a little awkward at first. As far as complaints go, however, that's about it — Savage has done an outstanding job of actually listening to the end user, and the breadth of smart features found on this rifle stand as proof.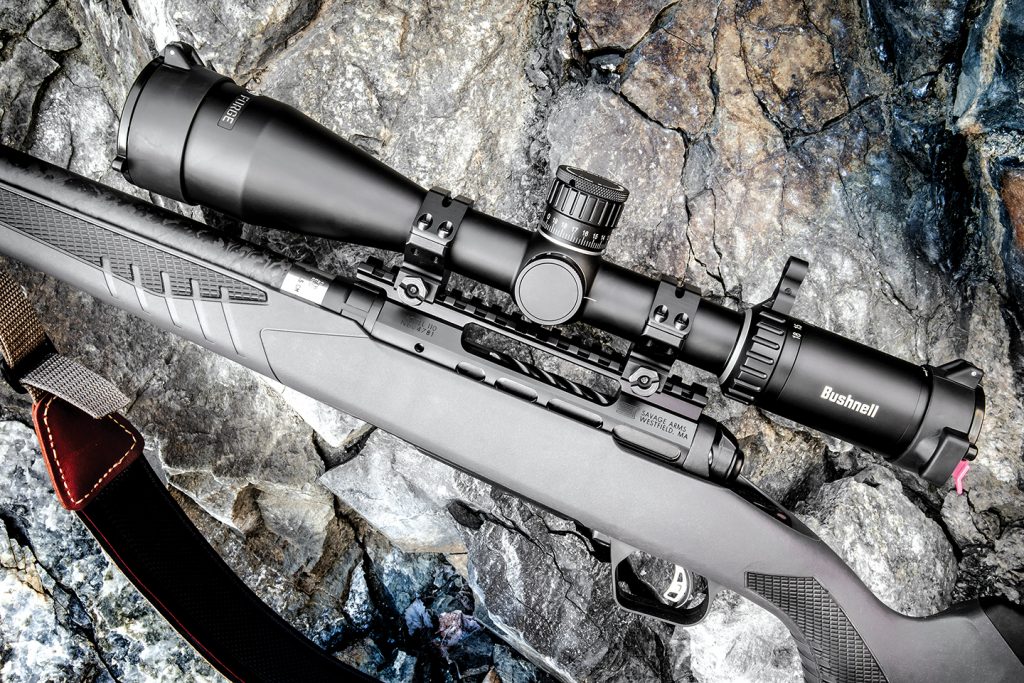 For testing we installed a first-focal-plane-reticle Bushnell Forge 3-18x50mm riflescope ($899) in a set of aluminum 30mm rings on a 20 MOA Savage one-piece Picatinny base. Throughout testing, the Ultralight's bolt cycled smoothly and never failed to feed ammunition or extract and eject spent casings. We've come to expect very high levels of accuracy with Savage rifles (more than you pay for in all reality) and standing as proof that you're not giving downrange performance with the PROOF carbon-fiber wrapped barrel vs. good ole steel, sub-half-MOA 100-yard precision came relatively easy with the 110 Ultralight model. Our test rifle printed a best-of-test 0.34-inch group using SIG's 130-gr. Elite Hunter Tipped ammunition, but the other two loads tested — Federal's 130-gr. Terminal Ascent and Black Hills' 147-gr. ELD-M — both squeaked in sub half-inch groups. What more can you ask from a 5.8-pound hunting rifle?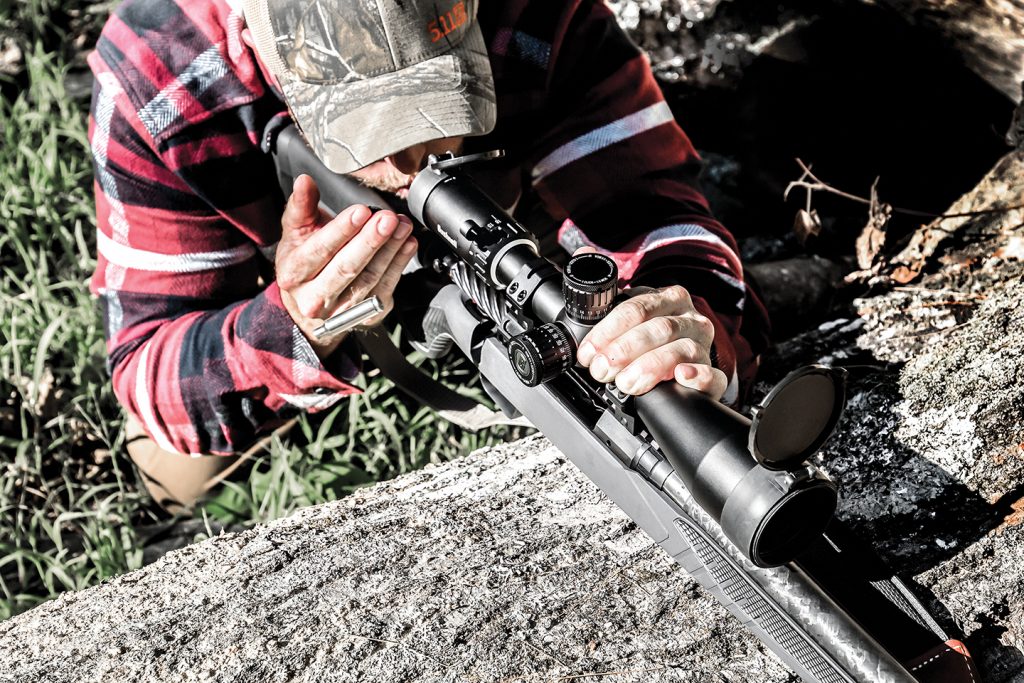 If you can write the check, we guarantee there's no way you'll be disappointed with the Savage Model 110 Ultralight. See it at your firearms retailer, or contact Savage Arms; Tel.: (800) 370-0708; Web: www.savagearms.com
Specifications:
Caliber/Gauge:                     6.5 Creedmoor
Barrel:                                 22-inch, threaded muzzle
OA Length:                           42.5-inches
Empty Weight:                      5.8-pounds
Sights:                                 None
Stocks/Grips:                        Synthetic AccuFit
Capacity:                              4+1 rounds
Price:                                   1,499