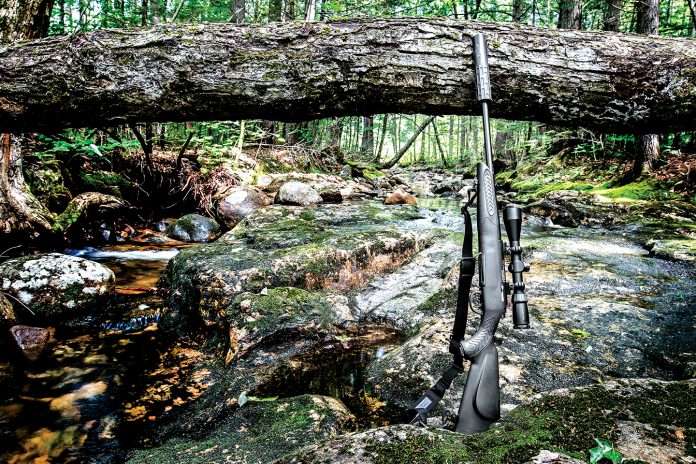 Thompson Center Compass II Compact Rifle
by Bill Battles
All the right features, adjustability and a sub-MOA performance guarantee … all for around $400 bucks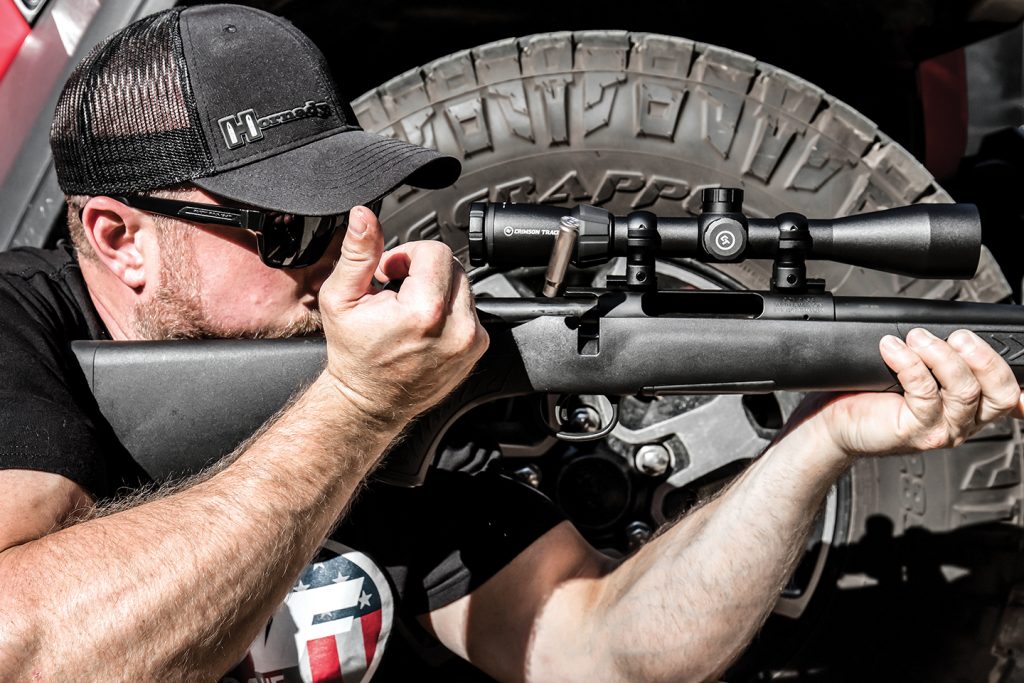 There's no question that the days of an affordably priced, bolt-action hunting rifle with a bright-blue metal finish and nicely figured walnut stock are long gone. I guess that's just one of the things we "old guys" have to accept. But here I am—enthusiastically embracing the reality of today's marketplace—by lauding the virtues of a synthetic-stocked, blue-black metal finished hunting rifle with exemplary features that anyone can afford. Go figure.
The rifle in question is Thompson/Center's new Compass II Compact Rifle. Available chambered in four popular hunting calibers—.223 Rem./5.56mm NATO, .243 Win., .308 Win. and 6.5 Creedmoor—the new Thompson/Center Compass II Compact incorporates nearly every technical advancement in bolt-action rifles devised to date. While it may not be the most elegant to look at, there's no question that it has all the right stuff.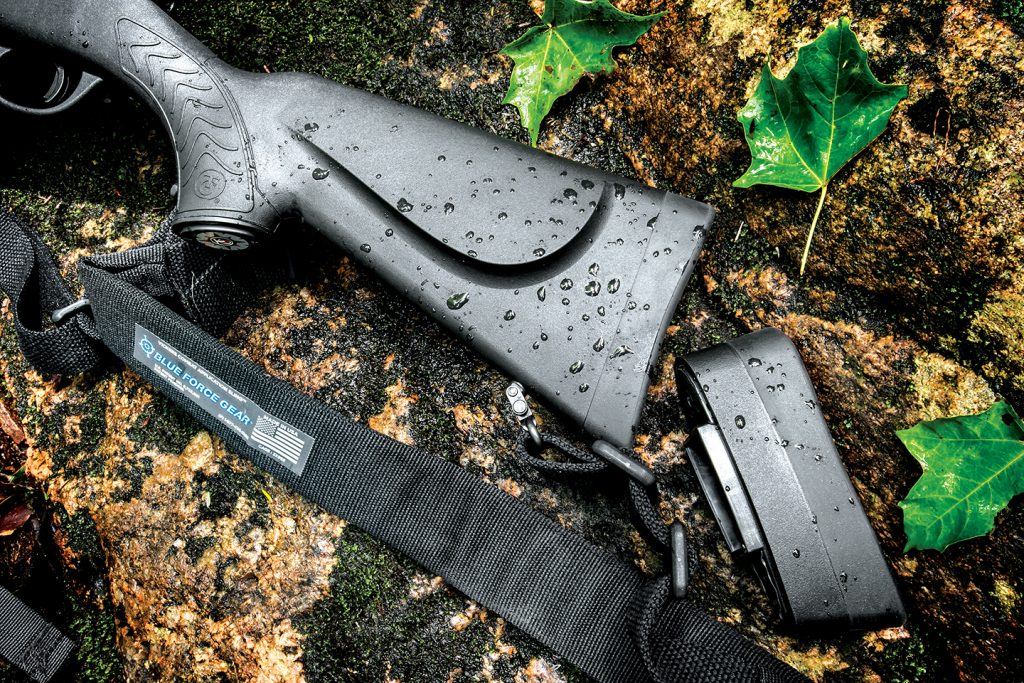 And the price is right, too—$405; or $575 with a Crimson Trace 3-9x44mm riflescope with rings, bases and lens covers (scope not available with .223 Rem./5.56mm NATO model). When I say "nearly every technical advancement in bolt-action rifles devised to date," I'm not kidding. The T/C Compass II Compact includes a 3-position Model 70-type safety, which in the middle position locks the trigger while permitting the bolt to be opened to remove a round in the chamber. The trigger is T/C's Generation II internal-bade trigger. It is not user adjustable, but that's not really necessary, as the trigger in our .308 Win. chambered evaluation rifle exhibited a clean, crisp trigger pull, measuring a consistent 3.4-pound pull weight, with no take-up, creep or stacking whatsoever. A rifleman's trigger, to be sure.
All models are fitted with a free-floated, 16.25-inch, medium-contour barrel with 5R rifling at a twist rate appropriate for the cartridge. 5R rifling offers significant benefits to the hunter. The edges of each land do not cut into and deform the bullet jacket, resulting in less copper fouling in the grooves, greater bullet stability in flight, enhanced accuracy and a bore that's a lot easier to clean. The muzzles are threaded for suppressors or other muzzle devices, and a threaded muzzle cap is provided.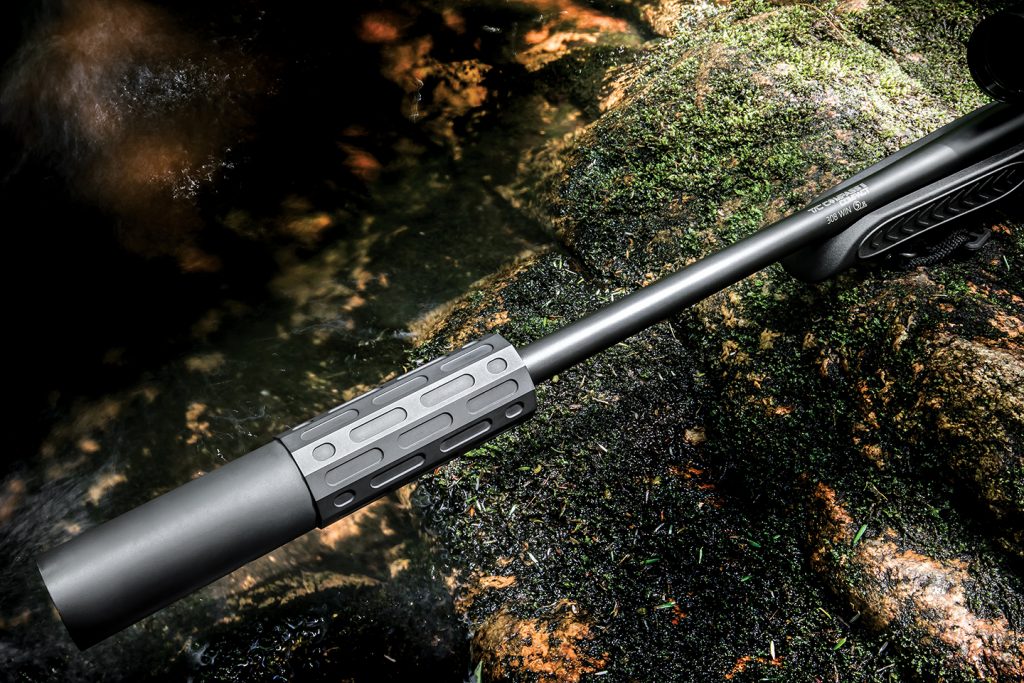 The 3-lug bolt is fitted with a spring-pin ejector and small but effective extractor. Bolt lock-up on our evaluation gun was very tight, as evidenced by a bolt lift that took more effort than we would have expected to open or close the bolt. That issue resolved itself after about 100 rounds were fired during testing. Every gun—no matter the type—requires some breaking in to achieve optimal functionality. By the end of testing we were happy with the bolt's operation—still rock solid, but with noticeably less effort to operate. No malfunctions in feeding, ignition, extraction or ejection were encountered during testing.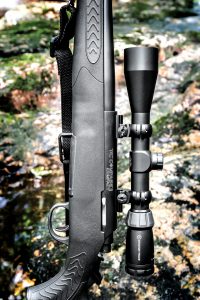 The bolt handle as an enlarged, grooved head for positive operation, and bolt lift is a short 60 degrees to accommodate the largest ocular scope lenses. The 3-position safety (on-safe to the rear, trigger locked/bolt unlocked in the middle position, and off-safe all the way forward) is perfectly placed for easy access and operated easily. The left-side mounted bolt release and safety lever are silver colored, as is the head of the bolt body, providing a dressed-up look to an otherwise all-black rifle. Metal finish on the barrel, action and bolt is what I would call "semi-gloss blue/black" which is closer to my high-polish blue preference than matte black. The finish on the bolt handle, however, is straight matte black.
The black, 1-piece stock is a pretty typical synthetic affair, with a straight comb and a Monte Carlo-style cheek piece. There's molded-in texturing on both sides of the neck and far forward on the forearm. The trigger guard with generous opening to accommodate gloved hands is molded as a part of the stock. Sling swivel studs are provided front and rear. The standard 1-inch butt pad—which provides a 12.5-inch length of pull—is soft and cushy, and feels a lot like a Pachmayr Decelerator, albeit with a T/C logo molded in. It wouldn't surprise me to find out that it really is T/C branded Pachmayr Decelerator. A second similar butt pad is provided, but this one has a permanently attached, 7/8" thick, black plastic spacer on the stock end of the pad. With the extended butt pad installed, length of pull is increased to 14-3/8 inches. Overall length with the standard butt pad installed in 35.1 inches, and empty weight with optics and magazine is 7.5 pounds.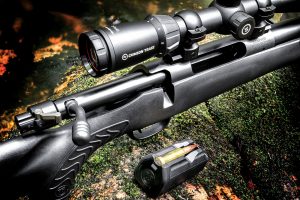 The magazine bears some additional comment. It is a detachable box, rotary magazine that holds five rounds in all chamberings. When the latch at the front of the magazine is pulled rearward (aided by a nice, deep recess in the stock), the magazine pivots down from the front similar to an AK47 magazine. Removal is fast and easy. To install a loaded magazine, simply push the rear end up and in and rotate the front upward until the latch engages. Again, fast and easy. There were several customer feedback comments on the T/C website complaining about difficulties in getting the fifth round fully seated in the magazine, and one about the magazine flying apart when trying to force a fifth round in. After reading those comments, I grabbed four boxes of different brands of factory .308 Win., plus a box of handholds, and with the safety selector in the middle position (a really handy feature) I loaded the included magazine with five rounds of each of the five types of ammo and cycled them all through the action. I never had a problem getting a fifth round into the magazine, and everything fed, extracted and ejected flawlessly. And needless to say, the magazine never came flying apart. All of those customer comments were several years old, so it looks like T/C fixed the problems.
If you're looking for a long-action or magnum version of the of this rifle, check out the standard Compass II, which is available in the same chambering as the Compact, but adds .270 Win., .30-06 Springfield, .300 Win. Mag. and 7mm Rem. Mag. to the line-up—amazingly all at the same prices as the Compact—with barrel lengths ranging from 21.625 inches to 24.0 inches depending on cartridge.
T/C guarantees minute of angle performance (1-inch or less 3-shot groups at 100-yards) with the Compass line of rifles, which is sort of unheard of for a rifle at this price point. Using the Federal Premium 165-gr. Barnes TSX load, not only did our test gun live up to its precision guarantee, it flat-out smashed it with a best-of-test 0.43-inch 3-shot group at 100-yards. We've seen worse performance from rifles costing five times as much, and certainly didn't expect sub-half-MOA grouping from a base rifle wearing a sticker price of just over 400 bucks. The other two loads used for testing — SIG Sauer's 165-gr. Elite Hunter Tipped and Black Hills 155-gr Sierra TMK — both produced best-group sizes under 3/4 of an inch. Feeding, extraction and ejection were all flawless.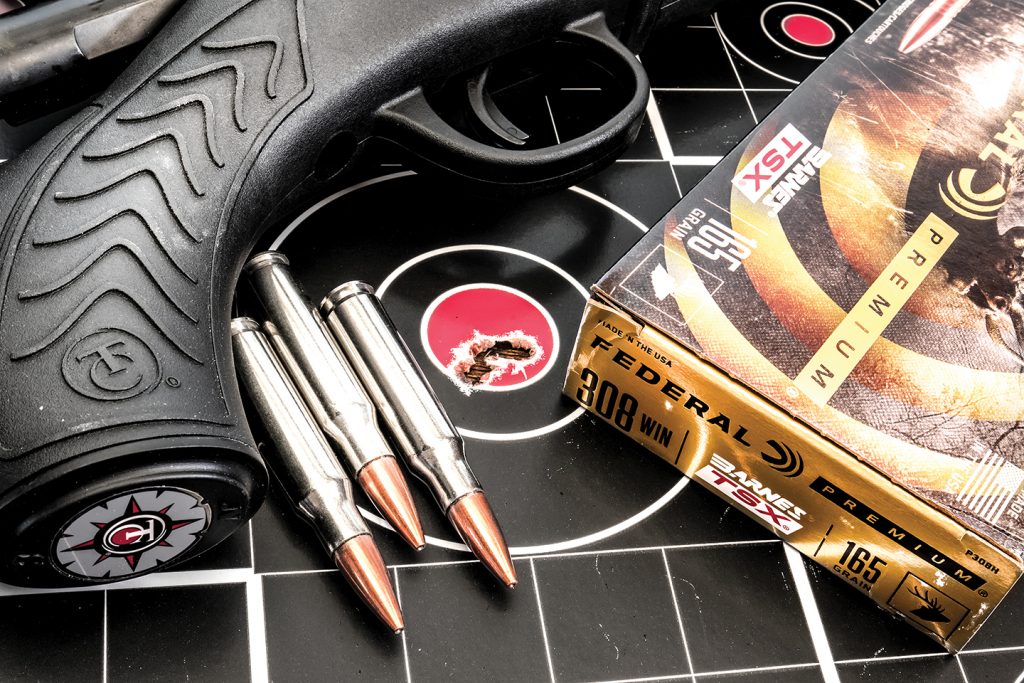 I liked the ergonomics, features, quality optics, accuracy, reliability and performance of this T/C Compass II Compact so much that I'm going to buy it as my all-weather, throw-it-under-the truck-seat utility rifle for medium game. See it at your gun shop, or contact Thompson/Center Arms; Tel.: (866) 730-1614; Web: www.tcarms.com
Specifications:
Caliber/Gauge:                     .308 Winchester
Barrel:                                 16.5-inch, threaded muzzle
OA Length:                           35.125 to 36-inches
Empty Weight:                      6.5-pounds
Sights:                                 Scope bases
Stocks/Grips:                        Synthetic
Capacity:                              5+1 rounds
Price:                                   $405 to $575