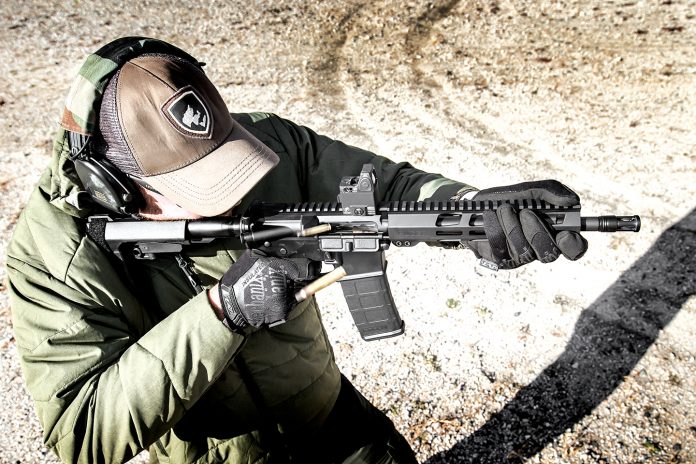 Top Six AR-15s For Under A Grand
Part 3 – Ruger AR-556 Pistol ($899)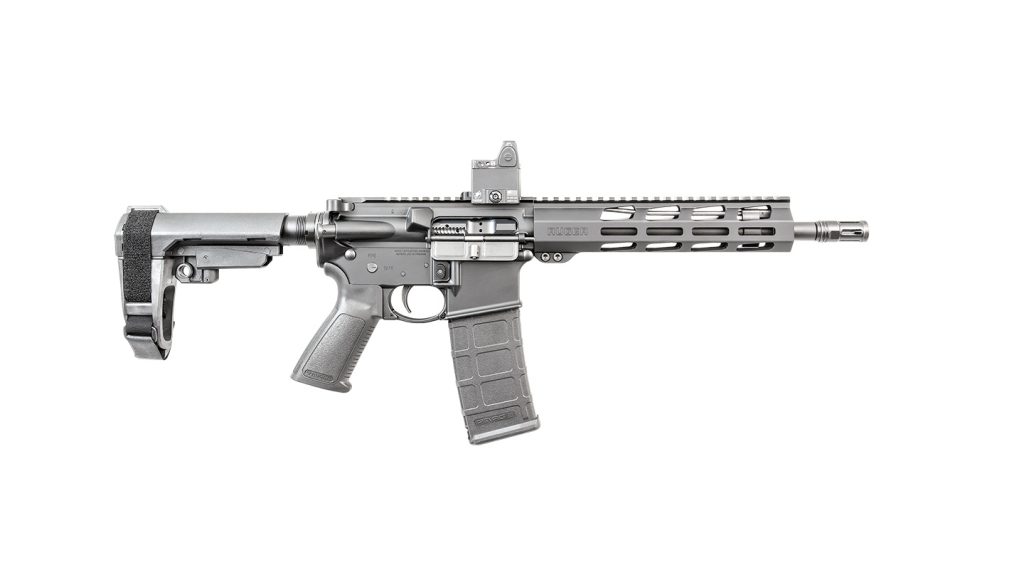 There is no question that Ruger enjoys a cult-like following among firearms enthusiasts. At the same time, it is also deeply criticized by many in the millennial crowd for being too slow to jump onboard with industry trends, such as AR pistols. I look at the Ruger's conservative consumer base as a giant ship that must take long slow turns to shift directions, and the company exercises caution when doing so, to not rock the proverbial boat. But when it does, it typically gets it right the first time. The AR-556 Pistol is a solid representation of that process.
Ruger's AR-556 pistol is a well-built, well-equipped, value priced model that checks the boxes for most shooters. Furnished with an SB Tactical SBA3 stabilizing brace that quickly and easily adjusts along the pistols receiver extension. The forged lower receiver is standard fare; meaning it forgoes ambidextrous controls — which keeps the price competitive. A notable upgrade, however, is the addition of Ruger's own winter triggerguard, which is virtually identical to Magpul's polymer variant. Like many of you, I typically add this to an AR after purchase and appreciate the value-added upgrade direct from Ruger.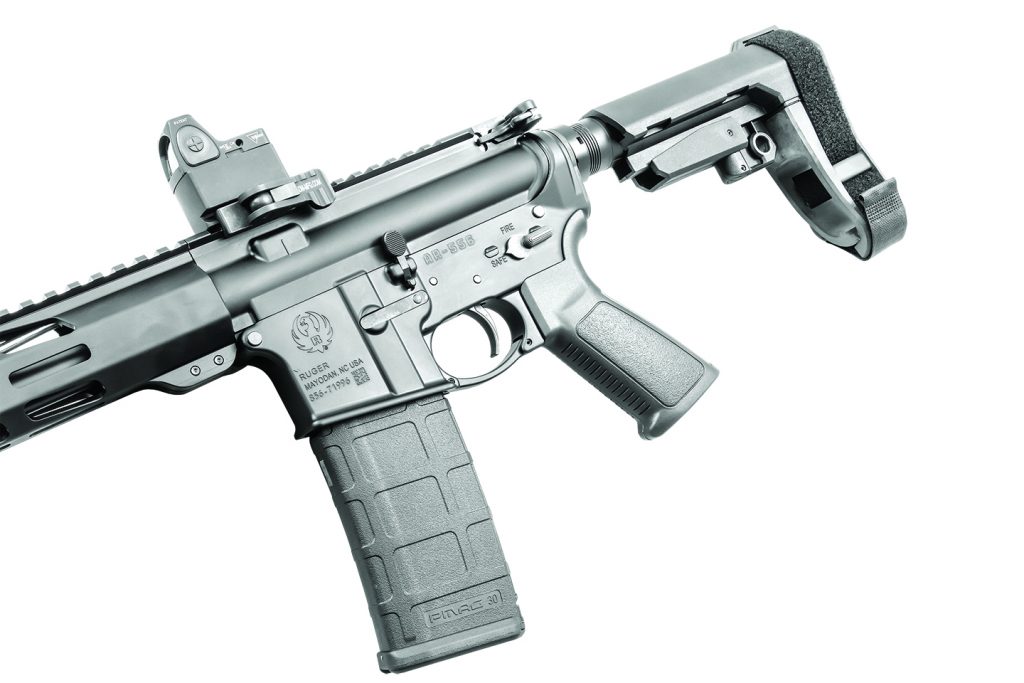 Ruger equipped the AR-556 Pistol with mil-spec single-stage trigger that gets the job done, and one certainly acceptable at this price point. A Ruger-branded polymer pistol grip provides good ergonomics, but is somewhat lacking on texture.
The upper is much the same as the lower; that is to say standard. The flat top upper receiver is forged from 7075-T6 aerospace-grade aluminum alloy. Ruger paid special attention to the mating of the handguard to the upper. There is no perceivable gap between the two and demonstrates a high level of attention to detail and engineering. The narrow outer diameter of the 9-inch M-LOK compatible, free-float handguard allows for a secure purchase in most hands. M-LOK compatible slots are located along the length of the rail at 3-, 6-, and 9'oclock. Additional slots have been carved out of the handguard to not only reduce weight, but increase cooling — a desirable feature when the rate of fire increases.
The internal surface areas of both the bolt carrier and gas key have been chrome-plated, and the latter has been properly staked to ensure no movement or gas leakage, even after extensive firing. Just like the barrel, each has been finished with a matte black oxide for additional corrosion resistance.
Like each model in this round-up, the Ruger AR-556 pistol was performance tested at the 50-yard line with a red dot sight as its primary sighting system. With that tidbit in-mind, it performed extremely well and demonstrated the performance most users can expect in the field, if similarly equipped. The best five-shot group was achieved using SIG Sauer's 55-grain FMJ, measuring .60-inch center to center. The two best defense loads were Hornady's 5.56 75-grain Interlock HD SBR load measuring .65-inch and hot on its heels was Black Hills 50-grain TSX. Not only did the Hornady and Black Hills rounds perform in the accuracy department, they were both designed specifically for use in short barreled AR platforms.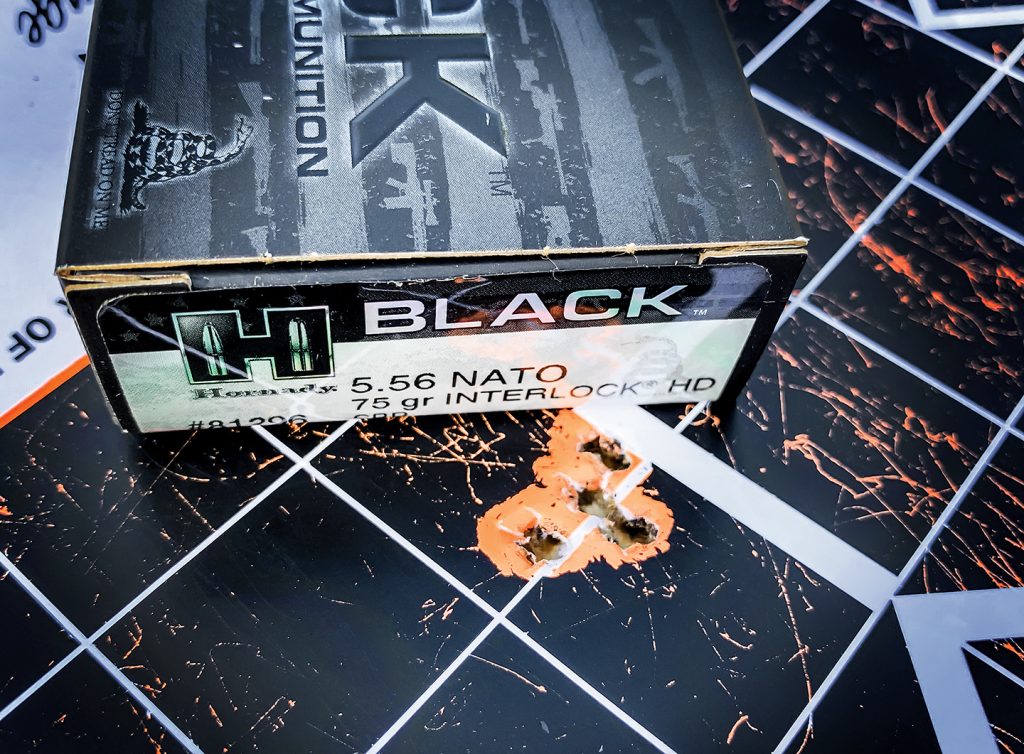 The 5.56 chambered, cold hammer-forged chrome-moly steel 10.5-inch barrel features a 1:8 twist and is fitted with a carbine-length gas system that is well-tuned to the platform. Felt recoil was minimal and I did not observe any excess gas blow back. Ejection remained consistent across all rounds tested, making for a very pleasant shooting experience.
Short-barreled rifles (SBRs) have always had a certain level of sex appeal, but the cost of admission and draconian rules associated with them have been a turn-off for all but the most dedicated consumers. With braced models like Ruger's AR-556 pistol available off the shelf and without a wait, the ultimate compact, semiautomatic truck gun was reborn, and continues to unapologetically enjoy an ever-increasing level of popularity. See Ruger's variant at your gun shop, or contact Sturm, Ruger & Co., Inc., Tel.: (336) 949-5200; Web: www.ruger.com — Chris Mudgett
Specifications Ruger AR-556 Pistol:
MSRP:                                   $899.00
Caliber/Gauge:                       5.56x45mm NATO
Barrel:                                  10.5-inch cold hammer-forged, 1:8 Twist
OA Length:                            25.30-inches
Weight:                                 6.2-pounds
Sights:                                  Flat top rail
Stocks/Grips:                         SB Tactical SBA3 5-position, Ruger grip
Action:                                  Rotating bolt, direct gas impingement
Finish:                                   Matte-black oxide
Capacity:                               AR-15 .223/5.56 compatible