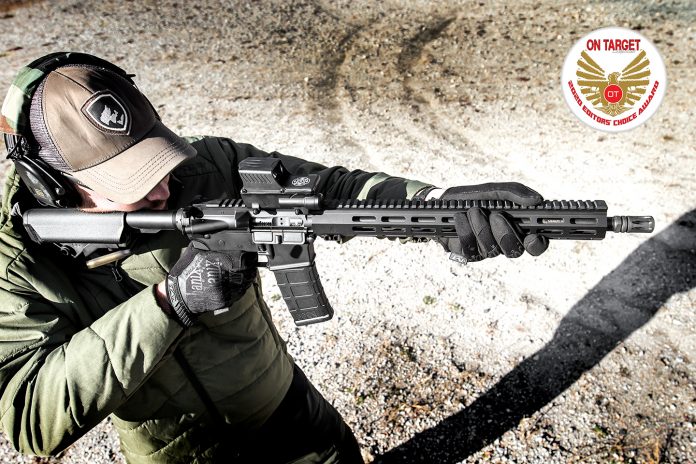 IWI Zion-15
The best AR under a grand?
The last issue of On Target featured a "Top-6 ARs For Under a Grand" feature section, giving you the lowdown on what we thought were the best options beneath this price threshold. Subsequently, among them, the IWI Zion-15 was voted the best of the bunch, earning it a 2020 On Target Editors' Choice Award.
Having used rifles built by Israel Weapon Industries and its military counterpart, IMI Systems (formerly Israel Military Industries), since before the U.S. market knew who they were, I've grown to be a long-time fan. Running an UZI in the 1990s, followed by a Micro Galil a few years later, they fit my overall needs as a SWAT team member perfectly. Accurate enough, they were rugged, completely reliable and easy to run. Known for a focus on simplicity and reliability in the harshest conditions, it was no surprise their first AR offered in America was built to the same standards.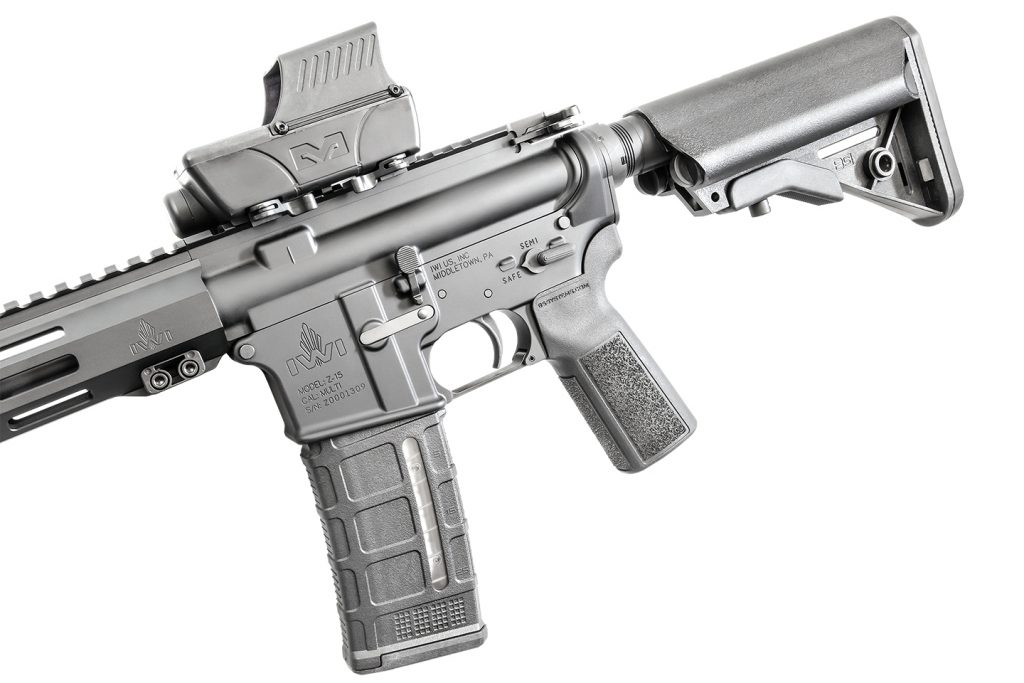 Priced at $899, the Zion-15 is 100% US made, and is chambered in 5.56mm NATO. Built using their typical combat mindset, it was extensively tested and abused prior to being released. Manufactured at the IWI facility in Pennsylvania, the ZION-15 employs a mid-length, direct impingement operating system with fixed gas block. Its 4150 chrome moly vanadium, heavy-contour, 16-inch barrel is rifled at a 1:8" twist rate, has a 5.56x45mm NATO chamber and is tipped with an A2 flash hider. The handguard is 15 inches long with seven rows of eight M-LOK slots and a full-length Picatinny top rail. The bolt carrier is magnetic particle inspected and full-auto capable.
The adjustable butttock is a B5 Sopmod and the grip is a B5 Type 23 P-Grip. Controls and charging handle are all Mil-Spec, while the trigger is an "improved" Mil-Spec design. It exhibited no creep, stacking or overtravel, and it was predictable without the "crunch" you get with many Mil-Spec triggers. IWI states the Zion-15 will hold 1 MOA or less, and was tested to over 10,000 rounds with no significant degradation in accuracy.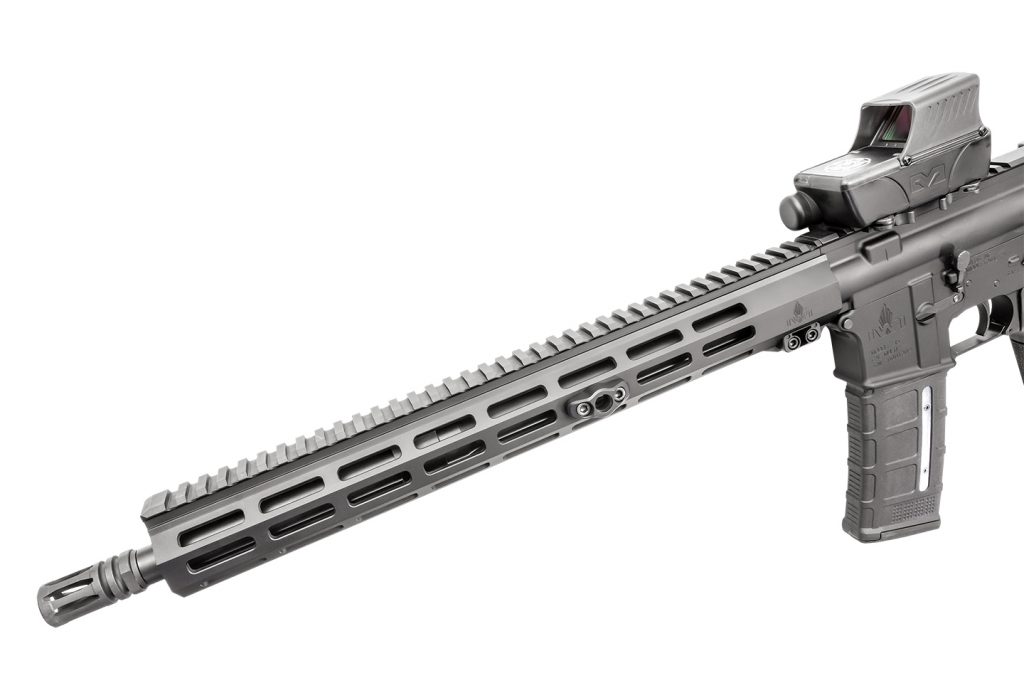 Tight, balanced and properly assembled, this is a well-built, high-quality fighting rifle and feels that way out of the box. Fit and finish are solid and the handguard will accommodate any modern accessory out of the box. Add optics and a sling and this rifle is ready to go to work.
At 50 yards, using only the non-magnifying Meprolight Foresight red-dot optic, accuracy was at or near an inch, with a few groups in the 0.70-inch range. Our test rifle seemed to like 70-grain bullets; my best group was with Black Hills 69-grain TMK, but the 70-grain TSX was very close. Add a match-quality trigger and it would only get better. The Zion-15 was equally accurate at 300 meters and allowed consistent hits on the 600-meter steel using the Meprolight Foresight. The Foresight ($769.99) is unique in its use of cell phone app for zeroing and, along with a few other technologically advanced features, including multiple reticles and a heads-up display with real time data.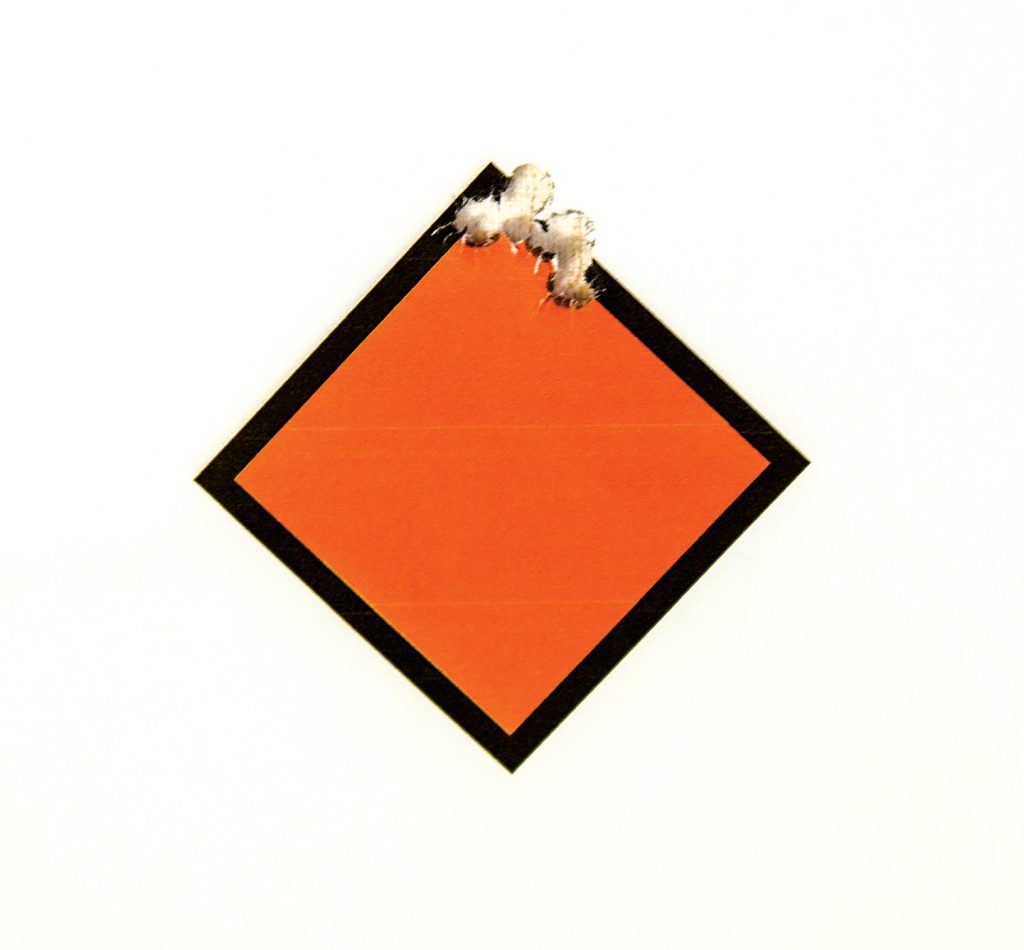 Reliability is what you would expect from IWI: flawless, with no stoppages during testing. Recoil was typical of mid-length gas systems using an A2 flash hider. Brass ejection was very consistent and between three and four o'clock.
It's hard to call this a base rifle given all of the factory extras, but it is an excellent fighting rifle out of the box. It comes with one 30-round polymer magazine. Empty weight is 6.5 pounds, and overall length is 33- to 36.25 inches. Contact Israel Weapon Industries; Tel.: (717) 695-2081; Web: www.iwi.us.com—Dave Bahde