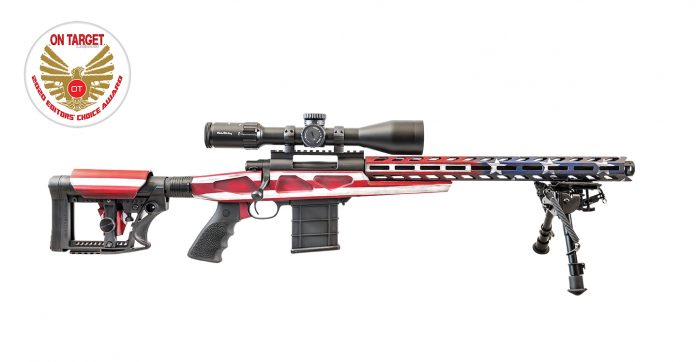 Howa 1500 American Flag APC Chassis Rifle
Precision and patriotism exemplified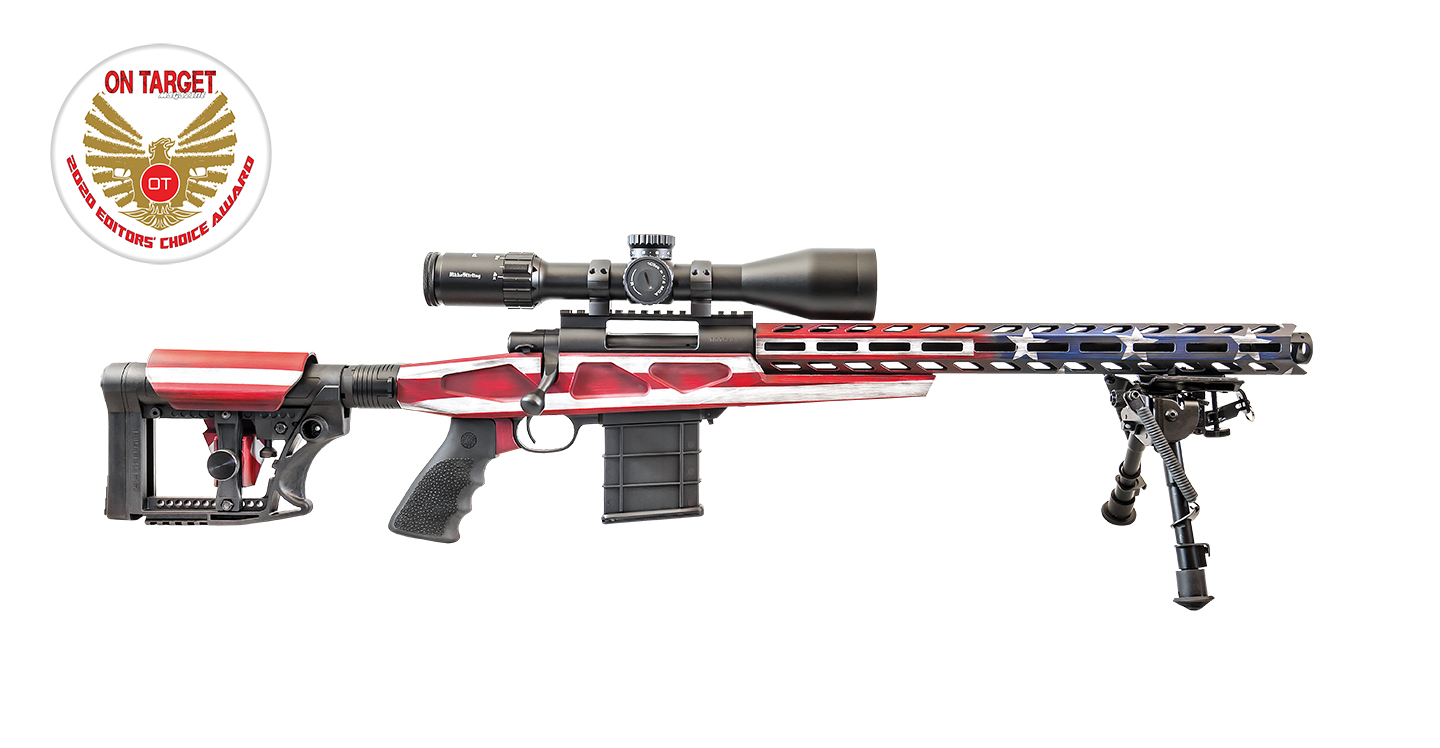 In a year where the patriotism meter is seemingly running at an all-time low amongst approximately 50-percent of this great country, this rifle could be exactly what our founding fathers ordered. Anyone looking for the turn-key bolt-action precision-rifle package of his (or her) dreams, that can be had without taking out a second mortgage on the house, needs to take a very hard look at the Howa American Flag APC Chassis Rifle from Legacy Sports. It has everything any self-respecting American gun guy (or girl) could want, including full-featured optics, sub 1-MOA accuracy guarantee, lifetime warranty, Australian Precision Chassis system and a host of AR-style features. The only limitation is that you have to like .308 Win./7.62mm NATO or 6.5 Creedmoor, the only two available chamberings. Turns out both are among my half dozen, all-time top picks in rifle cartridges. I love them both for either long-range target shooting or hunting anything bigger than P-dogs but smaller than Alaska coastal brown bear. That's a lot of rifle-shooting real estate covered by a single chambering!
Built on the legendary Howa Model 1500 action—about which I cannot say enough good—the rifle is housed in an Australian Precision Chassis (APC). The APC includes a fully Cerakoted, American flag logo finish, full-length machined-aluminum AR-style, M-LOK handguard, Hogue rubber, finger-groove pistol grip, 1-piece polymer magwell/trigger guard, 10-round polymer detachable box magazine and side-folding, adjustable-for-everything (including comb height and comb fore/aft position) LUTH-AR MBA-4 AR-style buttstock. Mounted at the forward end of the handguard is a Buffalo River 6- to 9-inch adjustable Bipod with two positive click adjustments for cant to both sides.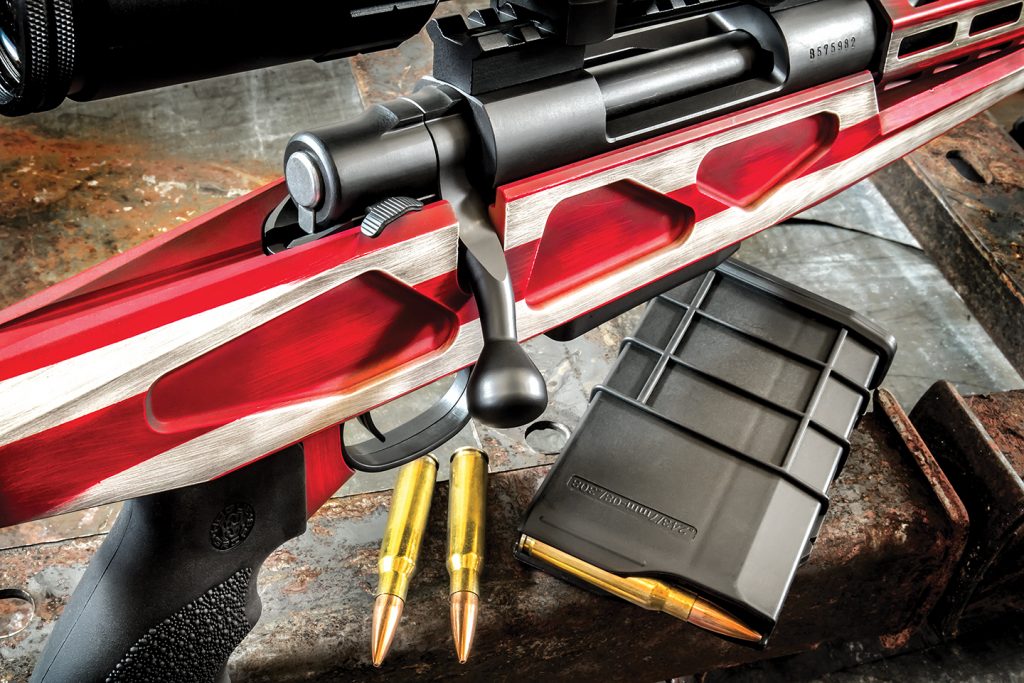 The Howa Model 1500 action is mated with a 16.25, 24.0 or 26-inch heavy contour barrel with threaded muzzle. A Midwest Industries 3-chamber muzzle brake is factory installed and is largely covered by the handguard on our 7.62 NATO chambered, 16.25-inch barreled evaluation model (it is fully exposed on the 24-inch barreled models).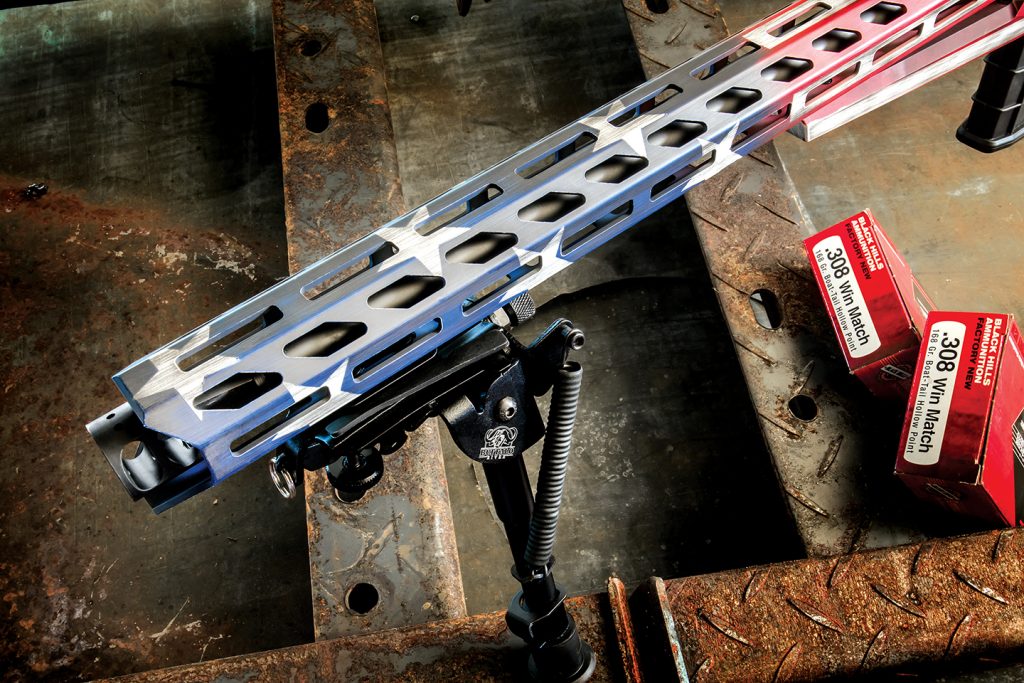 Some of the "good about which I cannot say enough" involves the Model 1500's fundamental design parameters. It's basically a beefed-up Winchester Model 70 with a combination of pre- and post-'64 features, along with some the Model 70 has never seen. It retains the pre-'64 3-position manual safety mounted on the right side of the bolt head, which with the lever in the forward position is fully off safe and ready to fire, in the middle position locks the trigger but leaves the bolt free to manipulate to remove a chambered round, and in the rearmost position locks the trigger and the bolt. It lacks the pre-'64 (and current) Model 70's Mauser-style, controlled-round feed, full length extractor, but replaces it with an oversized push-feed extractor that is larger and stronger than that on the post-'64 Model 70. In the "Model 70-never-saw-it" category is the 1-piece polymer magwell/trigger guard and 10-round polymer detachable box magazine, the former of which is no compromise in our minds, and the latter of which beats the hell out of the Model 70's internal box magazine. The current-production Winchester Model 70 has revived the original Mauser-style, controlled-round feed, full length extractor, but does not offer a detachable box magazine in any of its numerous configurations. Always known "The Rifleman's Rifle," the Model 70 now has to share that moniker with the Howa Model 1500. Compared to a a Model 70 Super Grade chambered in 7.62 NATO I recently tested, the Howa American Flag APC rifle gives up no ground on any measure—build quality, strength, reliability, accuracy and trigger quality (a sure-enough rifleman's trigger) all stand even with the Model 70 Super Grade.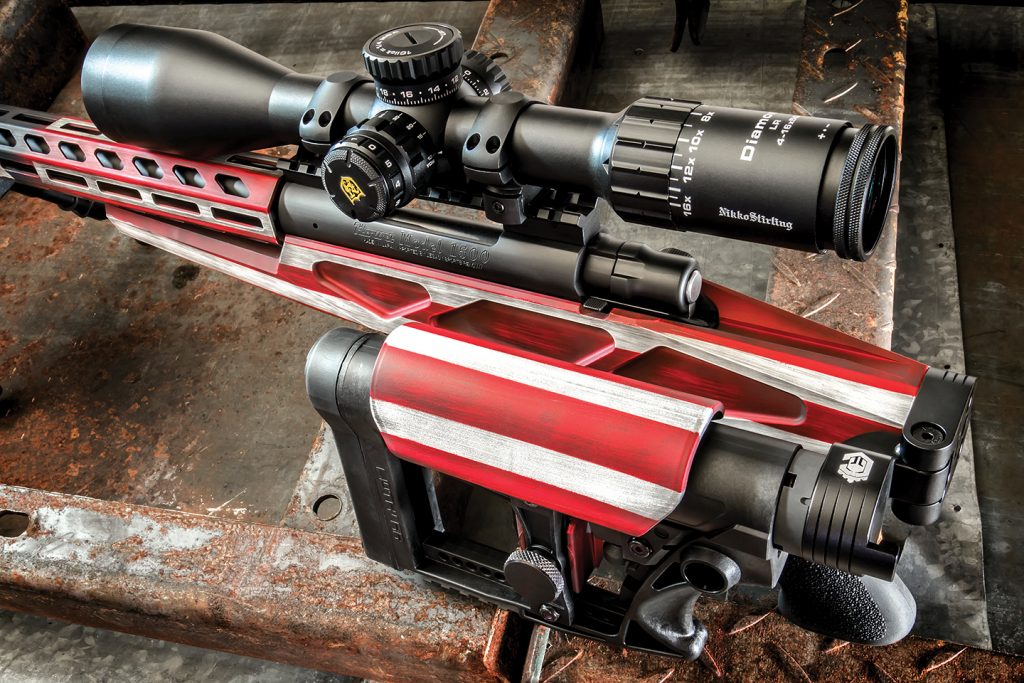 A big plus with the Howa American Flag APC rifle is that it comes with a quality Nikko Stirling Diamond 30mm 4-16x50mm Long Range riflescope with dual selectable red/green illuminated reticle, zero-stop turrets, 10-yard to infinity parallax adjustment, and lifetime warranty, mounted in Nikko Stirling ZERO-LOK rings on a 6-inch raised Picatinny rail base.
From the bench, our test rifle easily trounced its one-MOA accuracy guarantee with a best group of 0.52-inches using Black Hills 168-gr. BTHP Match ammunition. This performance mirrors our testing experience with past Howa precision rifles we've tested. Sub-one-inch groups were printed with all loads during testing, with the average of all being 0.68-inches. The Howa never hiccupped on us; it loaded, fired extracted and ejected everything it was fed.
For more information on the 2020 Editors' Choice Award winning Howa American Flag APC Chassis Rifles (all $1,549), contact Legacy Sports International; Tel.: (800) 553-4229; Web: www.legacysports.com—Bill Battles