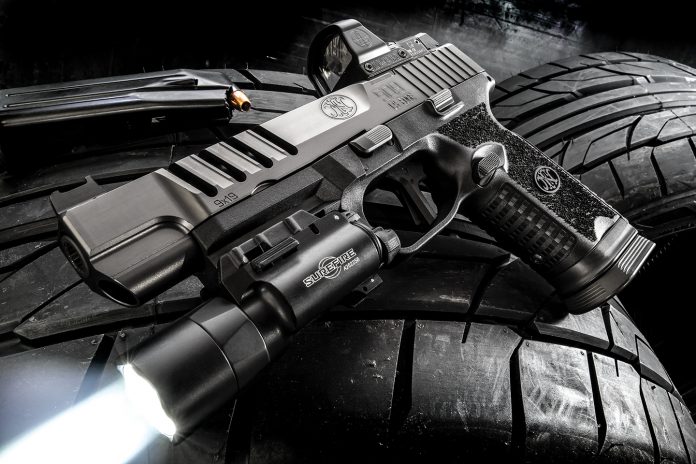 FN 509 LS Edge
by Dave Bahde
A pistol you can drive all week at work and race on the weekend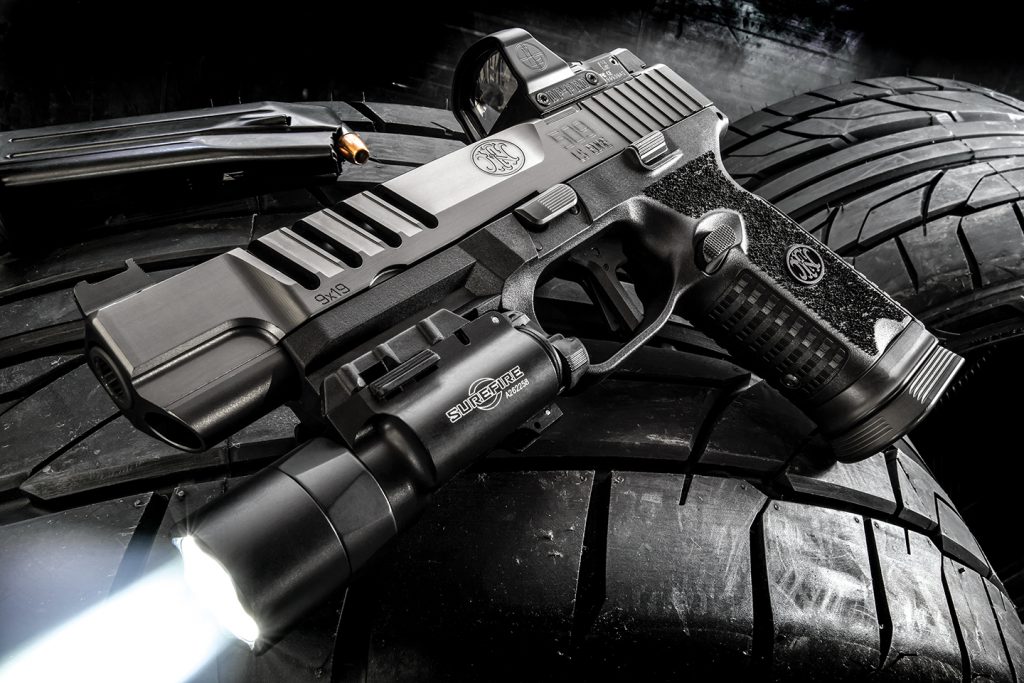 Competitors have always seen the value of the longer sight radius, and—bringing the attributes of better balance and less recoil—there is a large contingent of the personal defense market who prefer a longer barrel on their carry pistols. Add a red rot sight and the advantages are multiplied. An MRDS (mini red dot sight) allows for surprising accuracy at ranges that many considered impossible only a few years ago. MRDS-equipped pistols are often zeroed at 50 yards and will stack rounds when shooting supported, but granted, this is tough to do with a sub-compact pistol. Concealed carrying a full-size pistol can be a tad more challenging, but not always. Some of us carried full-sized pistols for years when "compacts" were unreliable and not as prevalent. Shorter barrels remain the most popular for concealment but 5-inch barreled pistols are experiencing a resurgence. The new FN 509 LS Edge is an excellent example.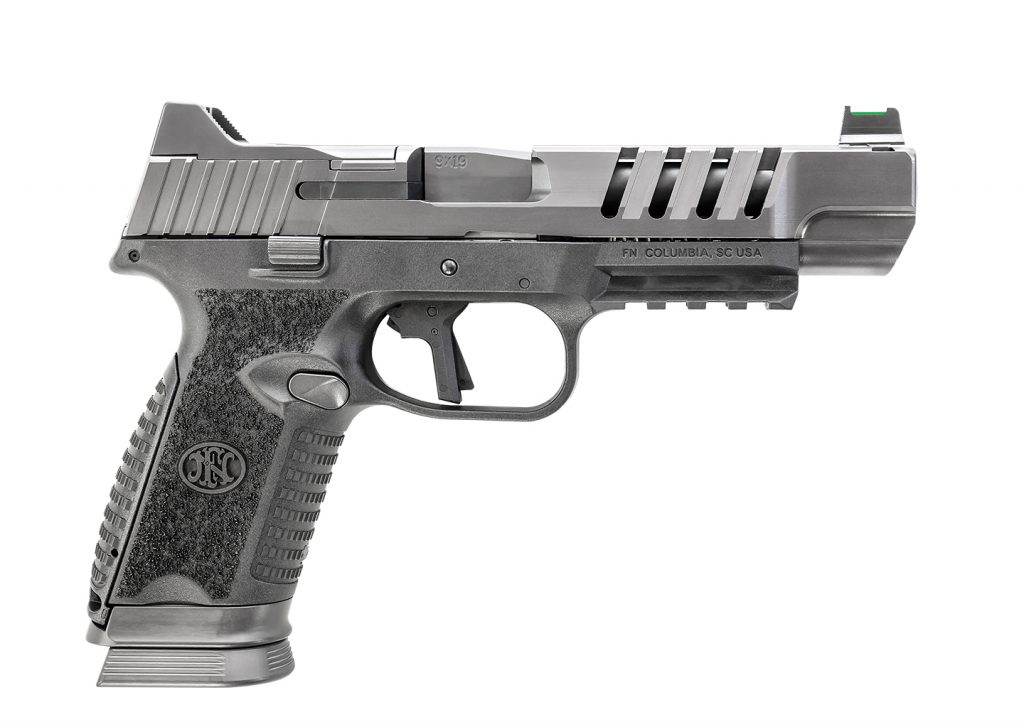 FN509 ELS Edge 9mm Pistol
The heart of the 509 LS Edge is a pistol that meets all the same testing requirements included in the U.S. Army's MHS (Modular Handgun System) contract. It uses the same patented MRDS mounting system and same hammer-forged, target crowned barrel, albeit a

bit longer than the rest. Four lightening cuts on each side of the slide maintain the appropriate balance and slide reciprocation speed. A green fiber-optic insert sits in the front sight, while the rear is solid-black and half-serrated—both co-witness with your MRDS. The frame is polymer with a flat trigger that breaks at a 90 degree angle and 4.5 pounds pull weight. A flared aluminum magwell matches the contour on the magazine's base pad, which is extended just enough to easily grab. Magazines drop free even when empty. The LS Edge also accepts all current 509 24-round magazines. The grip is high cut with moderately aggressive texturing. The slide stop/release is ambidexterous, as is the mag release button remains, but the right-side button is further tucked in and out of the way. The left-side mag release is slightly extended and checkered. The Edge gets a graphite-colored PVD finished slide and ships with a quality nylon case, mounting plates for most red dot sights and three 17-round magazines.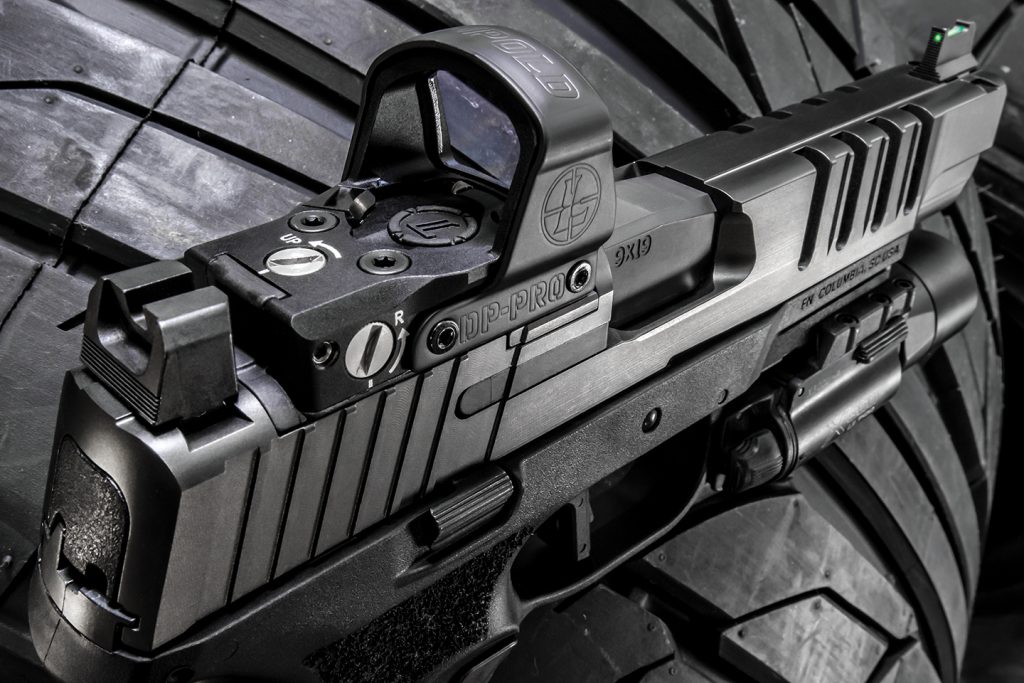 Range Time
Accuracy testing yeilded excellent results, with the best group coming from Federal 147-gr. HST measuring about 1.25 inches at 25 yards with iron sights. Adding a Leupold Delta Point Pro, it stacked rounds on top of each other on steel at 25 yards, and at 50 yards it was still a fist sized group. All ammunition that we ran through the 509 LS Edge fell inside 1.50 inches at 25 yards.
The Edge is lightweight by comparison to similarly-sized pistols, and even with a weaponlight attached would be comfortable to carry, given the correct holster. Fully loaded with 17 rounds of 147-gr. ammunition and no optic it weighs in at 33 ounces. Not bad for a 5-inch barreled pistol using metal mags, base pads and heavier 9mm ammunition. By comparison, my 5-inch Robar Custom 1911 loaded with 10 rounds of 9mm and iron sights weighs in at 44.5 ounces.
Opinions differ when it comes to properly gripping your pistol. One of the most popular is the "Grip it and Rip it" technique, or gripping as hard as possible with your support hand. Prevalent in the competition world, it works well with aggressive grip treatment and a true thumbs-forward position. This grip texture was designed for this method and proved comfortable so long as your grip was tight. Loosen things up and it's aggressive enough to wear on your palm. On the other hand, shooting in the snow with slightly wet tactical gloves, the pistol remained glued to my hand. The slide stop was designed specifically as a landing pad for your support hand's thumb and stays out of the way during rapid fire strings.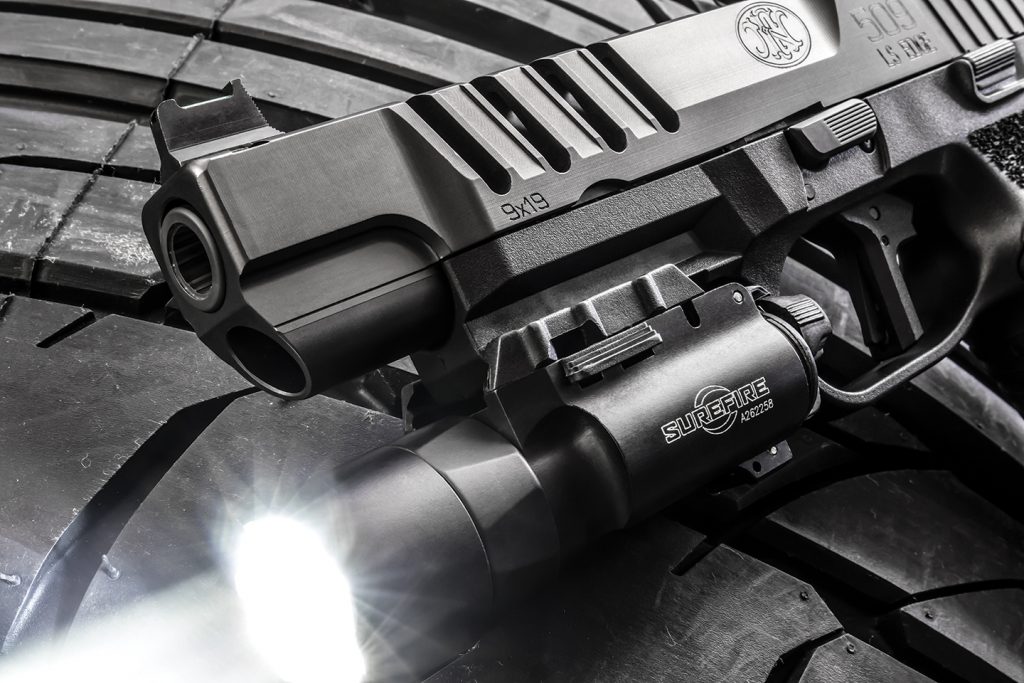 The MRDS mounting system on the 509 is one of the lowest and most secure on the market. It worked perfectly with the Trijicon RMR and Leupold's Delta Point Pro, and both co-witnessed with the iron sights nicely. FN's mounting system is as robust and as reliable as it gets. With thousands of rounds through my FN 509 Tactical, no MRDS ever mounted has come loose or lost its zero. Running the Leupold Delta Point Pro adds the advantage of battery changes without removing the sight—a big plus for duty and carry pistols.
Prior to testing at home, I put over 700 rounds through the 509 LS Edge during a few hours at an FN Media Event in Georgia. Courses of fire were mostly steel with lots of rapid fire strings and magazine changes. Slides always locked open on the last round and I didn't notice anyone else having issues with any of the pistols. There were at least nine pistols going through the same tests—pistols that had gone through several thousand rounds the day prior during video shoots with both Tim Kennedy and David Sevigny. David Sevigny is one of the winningest pistol competitors around, and Tim is a mixed martial artist and active Special Missions Unit member with a strong following and extensive practical background, providing the best of both worlds from true experts for our training session.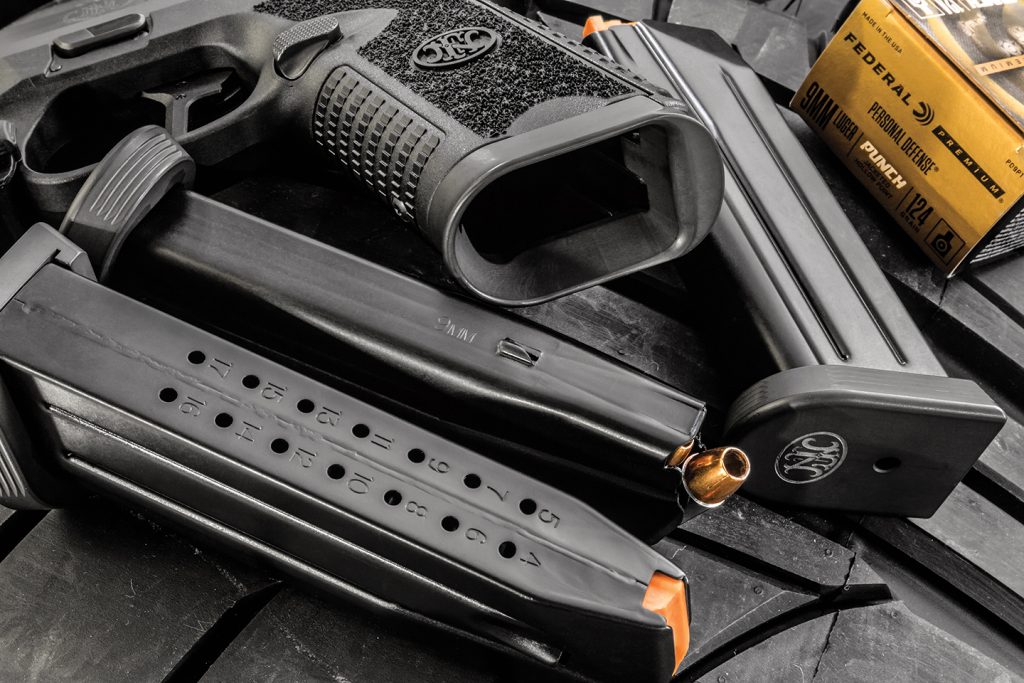 Part of this pistol's design is the use of the green fiber optic front sight in conjunction with the red dot of an optic, a point stressed heavily at the event by Tim Kennedy. My preference has been black or tritium so this is a bit of a change from my current carry pistols. Opinions differ, but the idea is—given experience—you will see that front sight naturally and the RDS dot will fall right into place. On moving targets, or while moving, the RDS provides a huge advantage. The same holds true with extended ranges, and you give up nothing up close. The common knock on the fiber optic is it will "distract" you with two dots. Heard it, just never experienced it, and having a green dot makes that even less so—enough that I added one to my carry pistols after this training.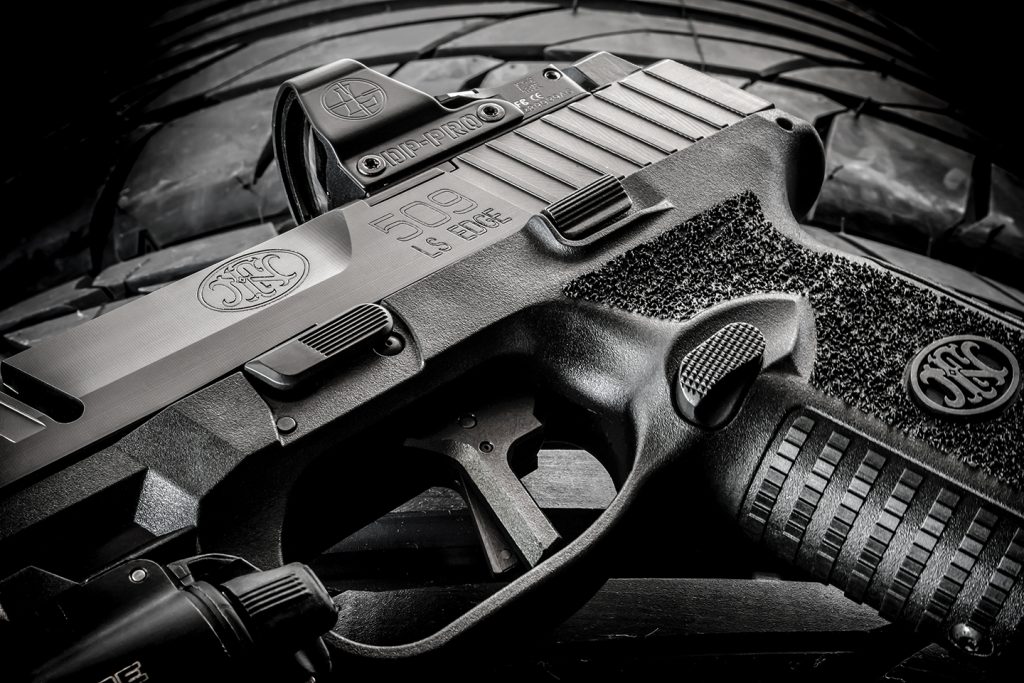 Bottom Line
Aftermarket extended magwells tend to shoot loose, so many use a screw in the front to prevent that. This is what FN does on the Edge. The screw head sits at the bottom half of the front strap and went completely unnoticed throughout the 700 rounds at the event or on my range at home. While I have carry pistols without an extended magwell, they still remain my preference. This one is large enough to provide an advantage without looking like you added a garbage can to the bottom of your pistol.
As mentioned, FN's 509 Edge meets the same stringent requirements as any other 509, and a 4.5-pound trigger weight meets most department policies, making it safe for concealed carry or duty use. Could you take it to a competition on the weekend? Absolutely. Loaded with light loads, this thing is fast. If you are using a Tactical for duty they would swap back and forth pretty seamlessly. The Edge is truly a pistol you can drive all week at work and race on the weekend! See the new 509 LS Edge at your nearest dealer, or for more information contact FN America; Tel.: (800) 635-1321; E-mail: [email protected]; Web: www.fnamerica.com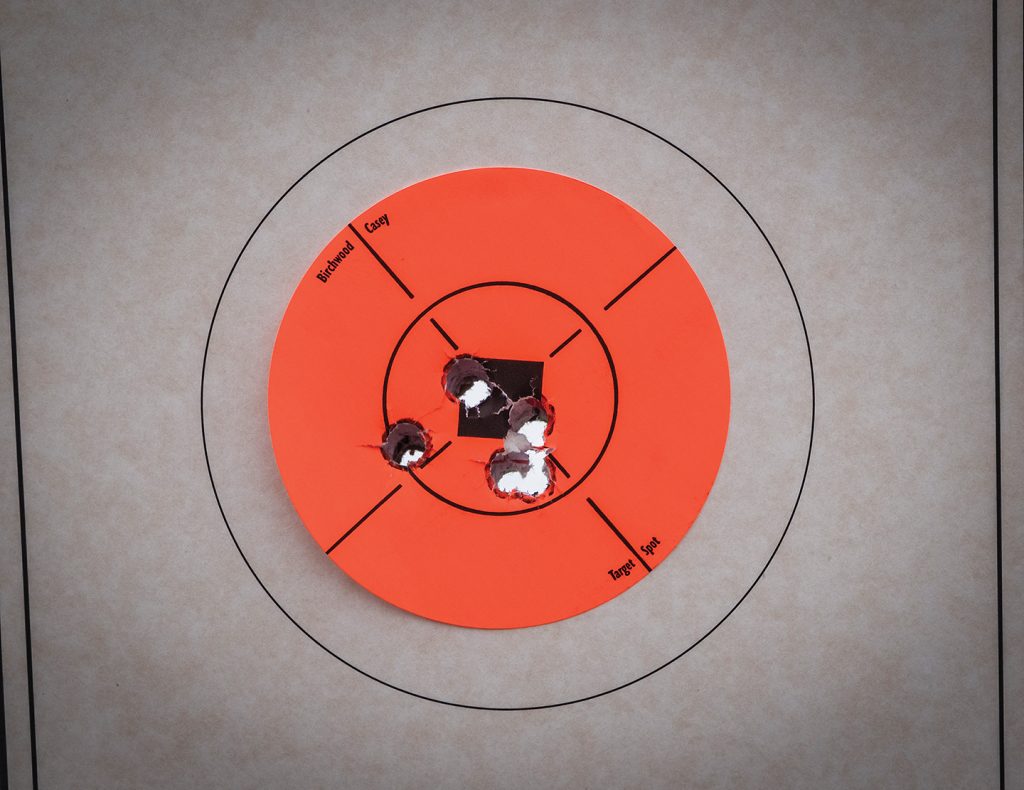 Specifications:
Action: Striker fired
Caliber: 9mm
Barrel Length: 5 Inches
OAL: 8 inches
Width: 1 inch
Weight: 31 ounces (empty magazine)
Capacity: 17+1
MSRP: $1,499.
Accuracy Testing
Ammunition                                       Velocity                      Group
Remington 115-gr. +P HTP                    1,220                       1.47 inches
Federal HST 147-gr.                              1,040                        1.25 inches
Hornady 135-gr. +P Critical Duty            1,185                        1.50 inches
Black Hills 115-gr. +P TACXP                  1,225                        1.35 inches