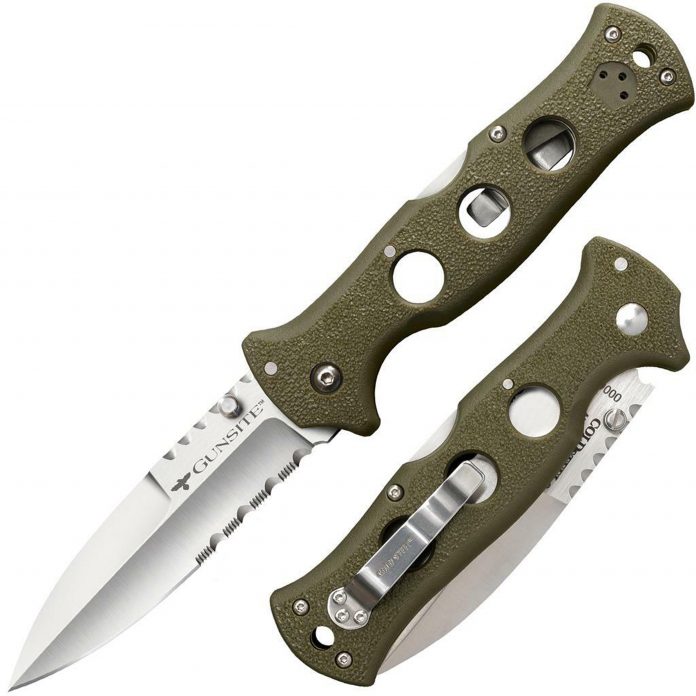 Cold Steel Announces the Gunsite™ Counter Point 1
Irving, TX – Cold Steel, manufacturer and innovator of purpose-built knives and blade tools for everyday carry, tactical, and hunting applications, is excited to introduce the new Gunsite™ Counter Point 1 folding knife. Featuring the Gunsite Raven logo across the blade, the Gunsite™ Counter Point 1 is the perfect addition to any range bag or for everyday carry needs.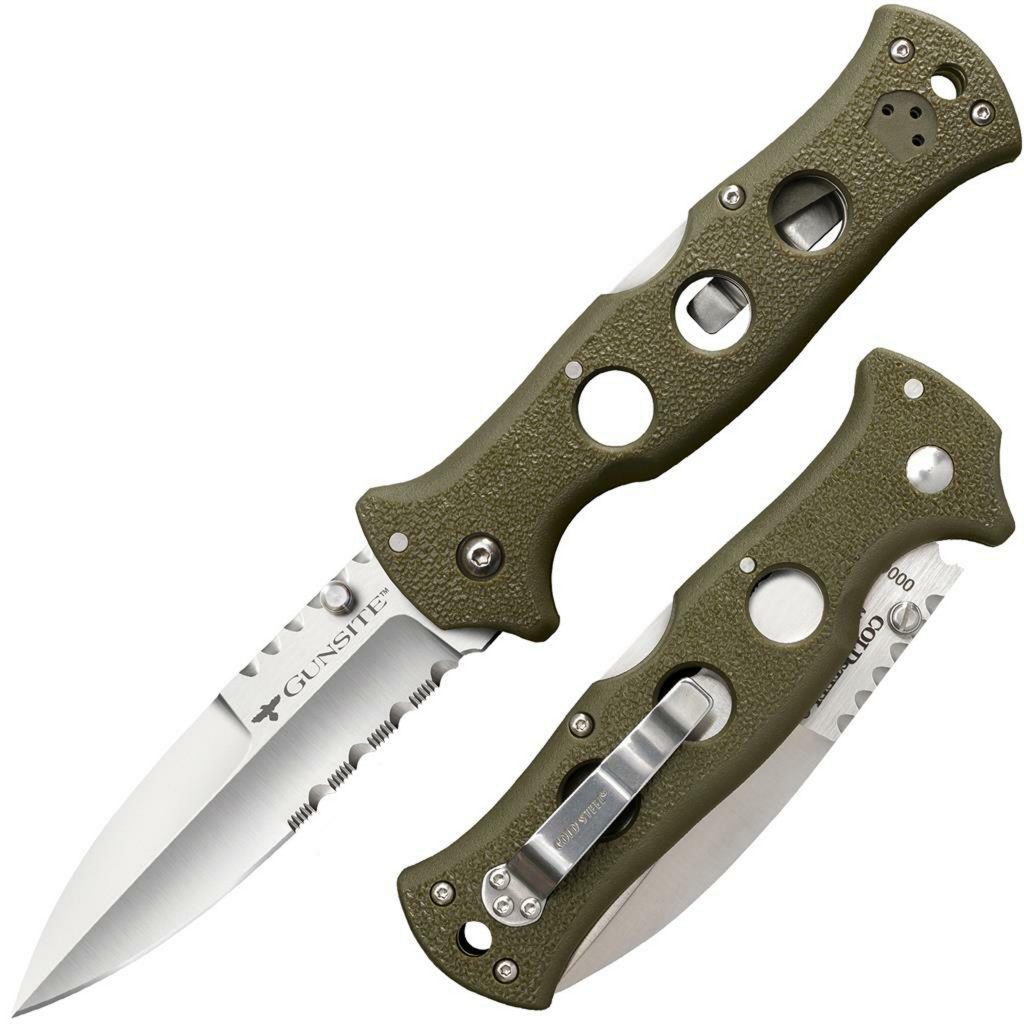 Built around Cold Steel's heralded Tri-Ad® locking mechanism—the strongest, safest, and most secure locking system in the industry—the Gunsite™ Counter Point 1 stands ready for any task. The 4-inch stiletto-inspired spear point blade features a stylish false edge spine backed with jimping to ensure optimal blade control while an integrated thumb stud allows for smooth and quick blade deployment. Made of 3.5mm thick Japanese AUS10A stainless steel alloy to deliver exceptional corrosion resistance and edge retention in an easy-to-sharpen platform, the blade also includes an aggressive half-serration for expanded utilitarian performance.
Reinforced and heat-treated aluminum liners are flanked by Cold Steel's popular Griv-Ex™ handles in OD Green. The generous, highly tactile stipling found along the Griv-Ex™ handles offers a secure grip even with wet or sweaty hands. Assisting in the positive grip is an ergonomic contour with a prominent finger groove and integrated tang and butt profile to deliver a solid, comfortable hold for any cutting job.
With an overall length of 9 inches open and an ambidextrous pocket clip for tip-up carry, the 4.7-ounce Gunsite™ Counter Point 1 is a solid go-to folder that meets any challenge.
Gunsite™ Counter Point 1 Specification
Item: CS-10ABV1
UPC: 813628005735
Weight: 4.7oz
Blade Thickness: 3.5mm
Blade Length: 4-inches
Blade Steel: Japanese AUS10A
Handle Length/Material: FDE 5-inches Griv-Ex™
Locking Mechanism: Tri-Ad® System
Overall Length: 9-inches
Additional Features: Ambidextrous Pocket / Belt Clip
MSRP: $129.99
To learn more about the Gunsite™ Counter Point 1 and other Cold Steel products, please visit https://www.coldsteel.com. To become a dealer or have a sales rep contact you, please call (877) 269-8490. Click HERE for more info on all GSM brands.
About GSM Outdoors:
Few American outdoor companies enjoy a mutually respected relationship with their customers that spans over five generations. GSM Outdoors is among those few! For over 70 years, the GSM family of brands has been helping passionate hunters and shooters succeed through innovation and the manufacture of high-quality, reliable products that continue to prove themselves in the field and on the range to this day. GSM Outdoors continues to leverage the latest technology and provide customers with the best products on the market. Tradition, heritage, and loyalty to outdoor enthusiasts of generations past and generations to come…that's the GSM Outdoors guarantee!
Stealth Cam  Walker's  Muddy  Birchwood-Casey  TekMat Boss Buck New Archery Products (NAP) Western Rivers Hawk Big Game Down & Out Blinds by Hawk HME  Coyote Light Scent Slammer  SME Bullseye  Crossfire Holsters Cyclops  Viking Solutions  Hunters Specialties  TRUGLO Rival Arms APEX Gear Johnny Stewart Cold Steel