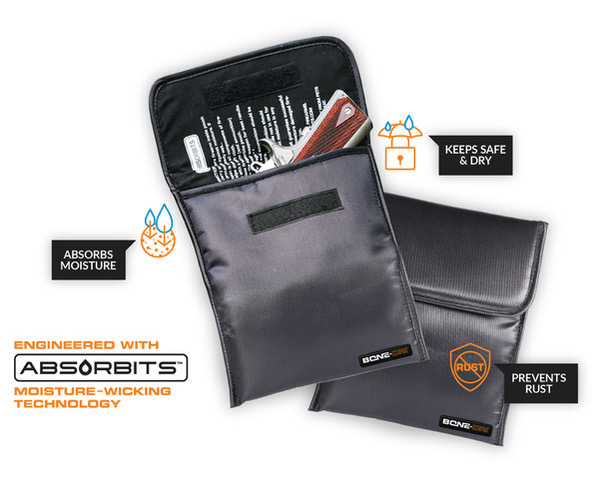 BONE-DRI™ Moisture-Absorbing Gun Cases Unveils Gun & Ammo Bag                      
Provo, Utah (March 14, 2022) – BONE-DRI™, inventor of award-winning moisture-absorbing gun cases, is proud to announce the introduction of the Gun & Ammo Bag. Engineered with Absorbits™ moisture-removal technology, the BONE-DRI Gun & Ammo Bag protects your handgun and ammunition from rust after exposure to moisture.
"This is the perfect solution for those who want a smaller profile case to protect or remove moisture from their valuable handgun and ammo," said Romney Williams, CEO of BONE-DRI. "The compact size of this moisture-removing bag makes it easy to fit in your gear bag or gun safe."
Whether you are headed to the gun range, hunting, fishing, camping, or hiking – or storing your handgun, ammo, or silencer in a safe – the BONE-DRI Gun & Ammo Bag keeps your prized possessions safe, dry, and ready for use.  Crafted from durable nylon and guaranteed for life, this bag stops rust before it starts.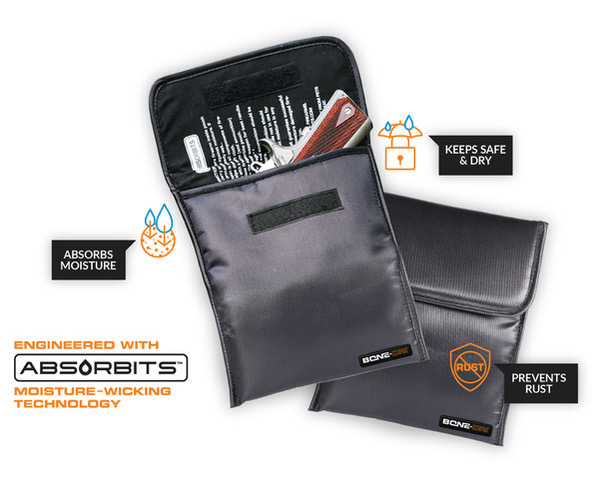 Features Include:
Helps prevent corrosion and rust- Absorbits™ moisture-wicking material keeps your handguns and ammo dry and rust-free post-exposure to moisture
Makes cleaning easier- seeps out moisture from your firearm's inner workings
Great for suppressors and ammunition- ensures readiness for use
Ideal for storage and rust prevention
Storage and transportation bag – ideal for your safe or on your next trip to the gun range, hunting, fishing, boating, camping, or hiking
Dimensions: 14" x 9" x 1"
Weight: 13 oz.
Backed by a lifetime warranty – love it or return it
MSRP: $29.99
BONE-DRI's current product line includes: Dual Rifle Case, Big Shuug Shotgun Sleeve, Shotgun & Rifle Case, Handgun 2.0 Case, Gun & Ammo Bag, Range & Tool Bag, and Small Electronics Rescue Pouch. Additional innovative products will be launched throughout the year.
To check out the newly launched website or to learn more about BONE-DRI's innovative moisture-absorbing products, please visit www.BONE-DRI.com.
About BONE-DRI™
BONE-DRI is the inventor of moisture-absorbing gun cases engineered with patented Absorbits™ technology to remove moisture from guns, ammunition, and other valuable hard goods in order to keep them safe, dry, and rust-free. BONE-DRI products utilize the best materials that can be sourced globally and are guaranteed for life. As a give-back company, BONE-DRI donates a portion of its profits to organizations that support conservation, children, and disabled veterans and their families to acquire the skills, mental health, and resources necessary to adapt to civilian life.