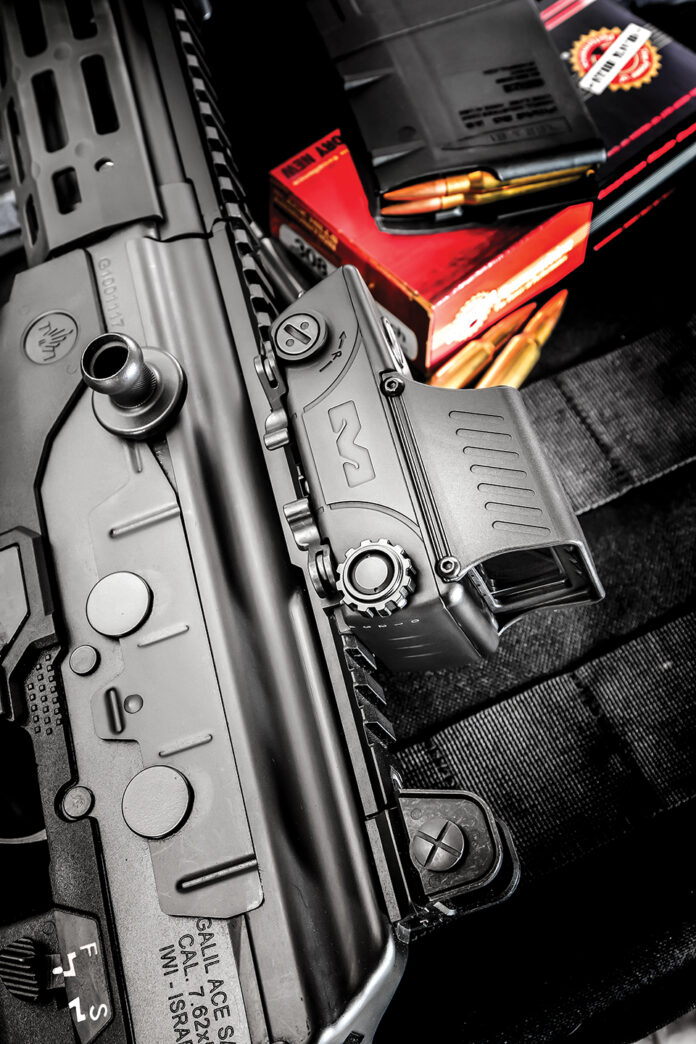 Meprolight Mepro RDS PRO V2
By: Chris Mudgett
A giant screen of forgiving field-of-view
The firearm market has been on a crusade to reduce the size and weight of nearly every aspect of their product lines. Buzzwords such as "light is right" and "ounces equal pounds, and pounds equal pain" are often tossed around as sound reasoning. If you're spending long days in the mountains or hauling a ton of gear on a SWAT callout, weight management should be at the forefront of your planning. What about home defense? Or teaching a spouse to shoot? Micro red dots currently in vogue might not be the right choice for every scenario due to their constricted field of view, requiring very consistent head placement to pick up the dot quickly and potentially exacerbating tunnel vision for those untrained to deal with its effects.
A giant screen of forgiving field-of-view is very useful in CQB (home defense), in and around vehicles, use with night vision devices, and for teaching new shooters how to shoot. A large sight picture also provides the shooter with plenty of observation surrounding a target, assists with target acquisition, as well as with follow-up shots.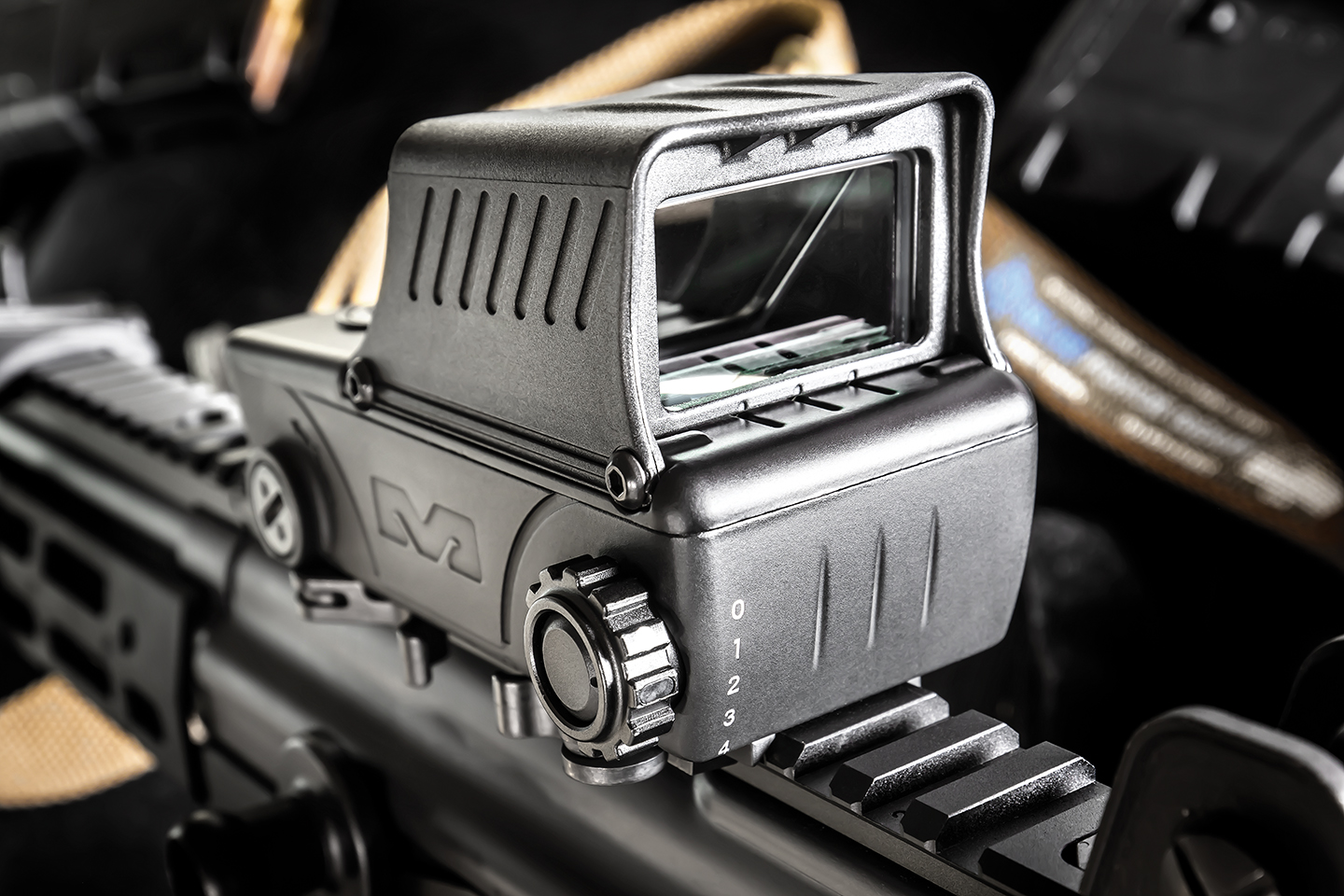 We've heard many optics manufacturers state that when shooting with both eyes open, field of view doesn't matter. This is great in theory but not always practically accurate in the field – especially for those not dedicated to regular practice. For the rest of us, it's hip to be square, big square glass, that is.
Meprolight is a veteran of the optics game with a number of professional militaries on their customer list. One highly recognizable customer being the IDF, or Israel Defense Force. Given that the small middle-eastern country has been forced into being in a constant state of war since its founding 70 years ago, it would be fair to say the IDF has a pretty good idea of what hardware works and what doesn't over a broad base of skill levels. Given most of the country's citizens are also reservists, not active duty, a big window of forgiving field-of-view has proven hugely beneficial for those not actively handling their rifles each day.
The new Mepro RDS Pro version 2 is an electro-optical red-dot sight powered by a single and very-common AA battery that will run the optic for a claimed few thousand hours. This is made possible by a shake-awake style auto on/off sensor and a 120-minute timer that will automatically turn the sight off when left dormant. The optic mounts on the Picatinny rail of any so equipped platform via a pair of quick-release throw lever mounts, which make installation or removal quick and easy.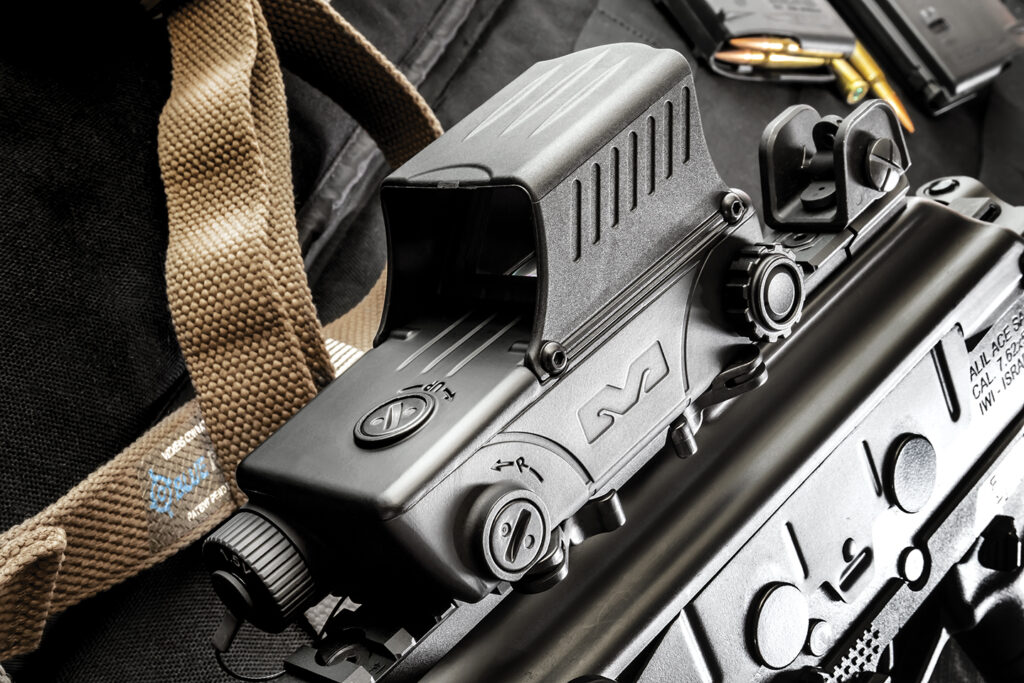 The 10.5-ounce sight is available in your choice of three different reticles patterns at the time of purchase. These include a single 2 MOA dot, a bullseye (a 2 MOA dot surrounded by a 55 MOA circle), and a BDC-type reticle calibrated for the 300 Blackout cartridge. Two reticle colors are offered, red or green, which again must be decided upon at the time of purchase and cannot be switched on the fly. Our test model was equipped with a red LED, which we found more than suitable in all the lighting conditions we tested the sight in. We do understand the science behind green and will eventually test-drive a version of this sight so equipped.
In testing, we found the Mepro RDS Pro V2 shined on our short-barreled 300 Blackout carbine. Because the Blackout has the trajectory of a rainbow, it becomes very advantageous to use a sight equipped with a BDC. A red dot with a BDC is even better, especially when calibrated to the load. We found when paired with a three or five-power magnifier, the reticle was incredibly crisp; the combo made attaining accurate hits out to 300 yards comparable to child's play after we determined proper holds for super- and subsonic-loadings.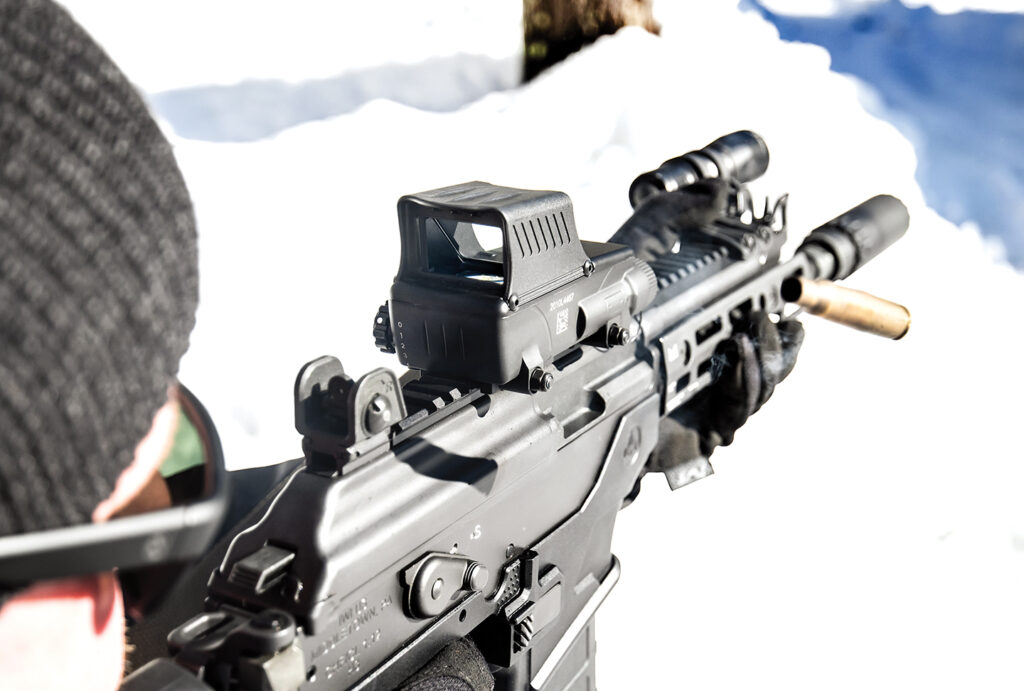 We also found the rotary switch located at the rear of the sight is ideally placed and made adjustments to the reticle's four intensity settings (programmable to 12 visible and four night-vision) on the fly a snap. We found we much preferred Meprolight's rotary adjustment and its placement to the push buttons found on other models, regardless of their location.
Aside from the clarity of the glass and crisp dot, another feature we love about the Mepro RDS PRO V2 is its unobstructed view – all dials and adjustments are neatly tucked away, with only a thin frame of aluminum encasing its lenses. If you're in the market for a battle-proven sight with a huge window of forgiving field-of-view, the Mepro RDS PRO V2 may just be the ticket. Check out Meprolight's complete line of optics at your nearest dealer, or for more information, contact Mepro USA; Tel.: (717) 985-4488; E-mail: [email protected]; Web: www.meprolight.com.