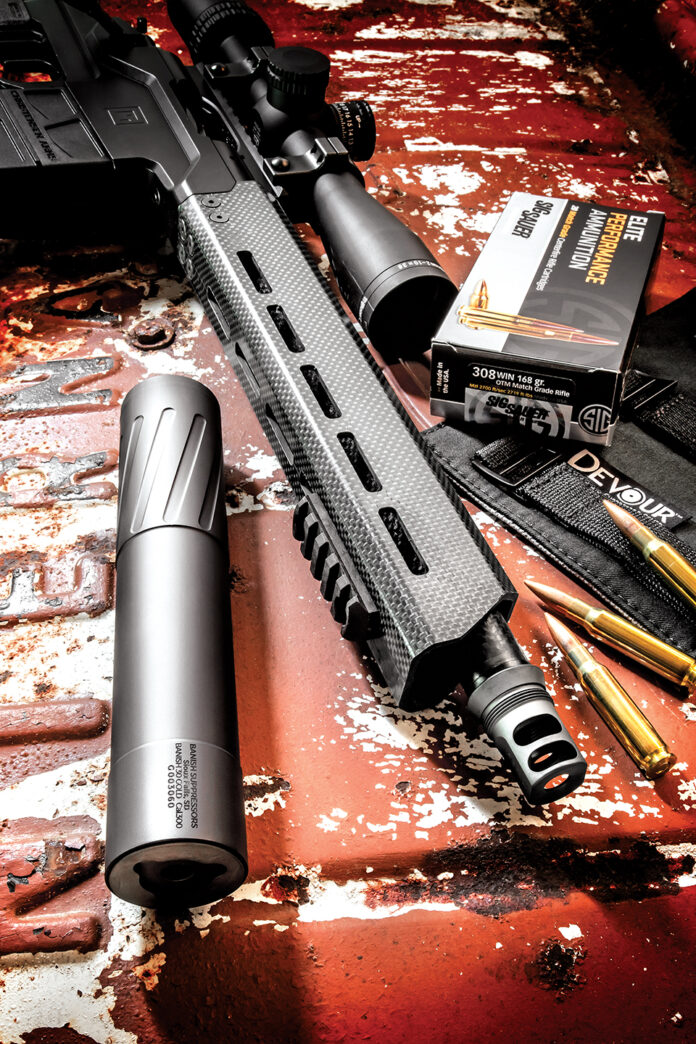 Banish Gold .30-Caliber Suppressor Package
By: Dave Bahde
Everything you need to suppress multiple platforms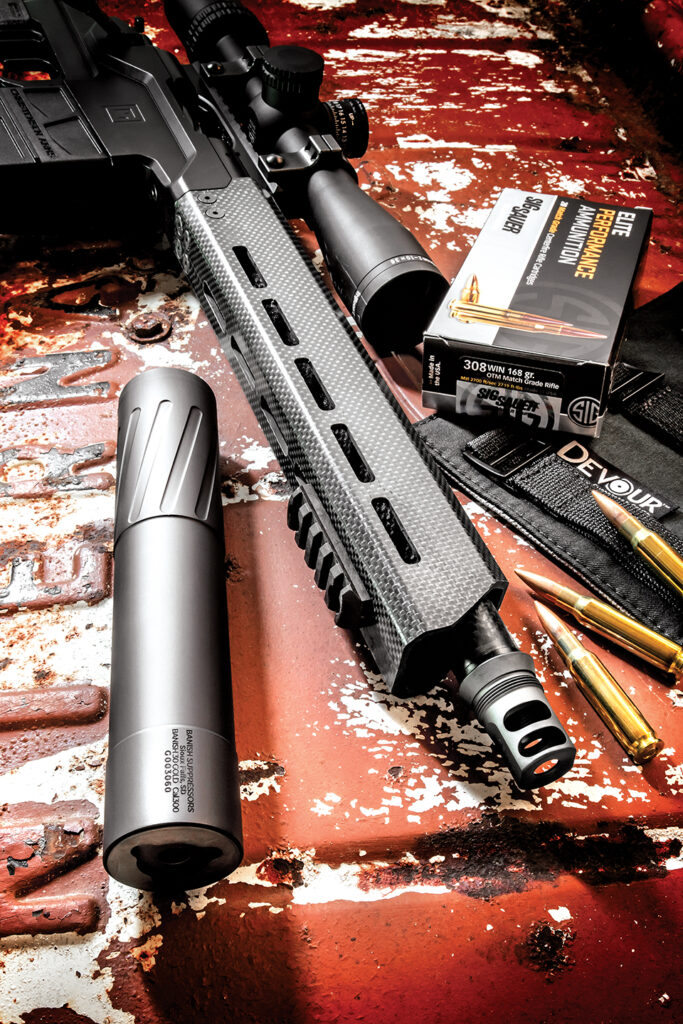 Using one suppressor over a variety of host platforms saves money, government paperwork, and has become increasingly common these days. Let's face it — in all reality, you shoot one rifle at a time anyway, and moving a single suppressor between them is just not that big a deal. To add to this, manufacturers are constantly improving attachment methods, simplifying use on just about any rifle. While you can find one that will work on anything from .338 caliber magnums to rimfires, most rifles fielded today are .30-caliber or less. Competition, defense, duty, hunting, and even the military are the same, so if you want one-single suppressor to do it all, .30-caliber is probably the most versatile.
While .30-caliber suppressors will yield the most noise reduction on .30-caliber hosts, they are plenty quiet on anything down to a .223 (5.56mm), with little noticeable difference using the 6mm and 6.5mm calibers. My primary bolt-rifle, a Desert Tech SRS A2 chambered in 6.5 Creedmoor, works best with a 30-caliber suppressor. When pushing a sub-diameter caliber through a .30-caliber suppressor, is there a measurable sound difference? Probably. Don't get caught up in the numbers, however. Numerous factors affect how a suppressor sounds, including the person using it. Outside of extraordinary circumstances, a multi-use suppressor is about perfect for any use outside a sound laboratory.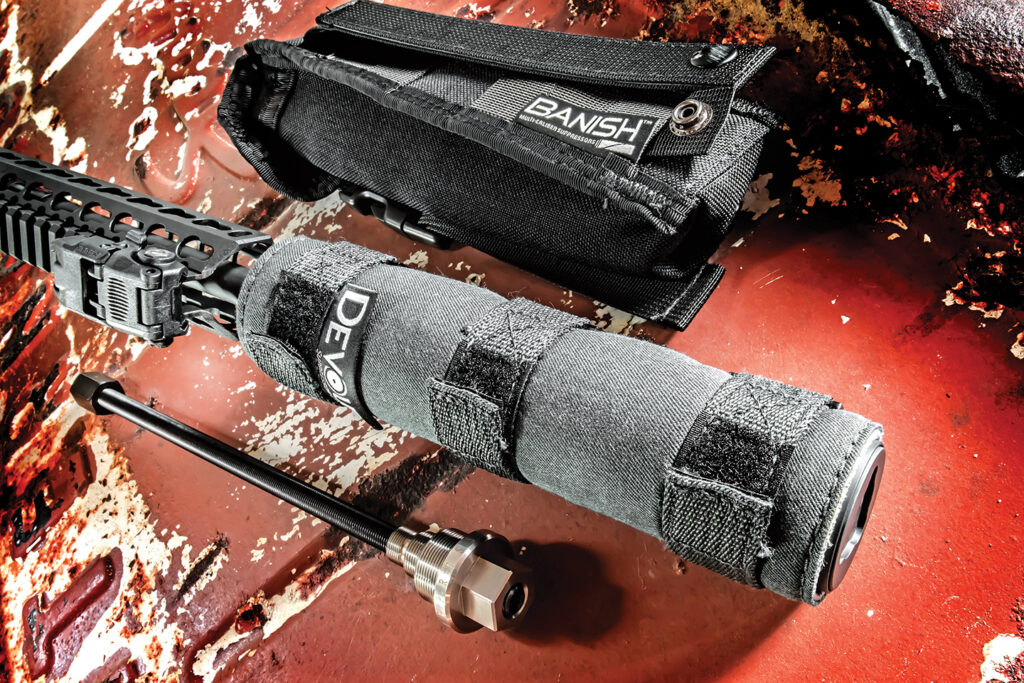 Banish Gold – 30 Caliber Suppressor
Banish suppressors (formally Dakota Silencer) have been around since 2005 and has focused on modular designs since 2009, with a strong focus on using one suppressor for multiple applications. Their user-serviceable design makes them very easy to maintain and viable for use on notoriously-dirty rimfire rifles.
Constructed of a Titanium alloy, the 8.2-inch long by 1.593-inches in diameter Banish Gold weighs in at a mere 13-ounces. User serviceable, it contains eleven STifle baffles and the necessary tools for disassembly. The two included Titanium muzzle brakes — one in 5/8 x 24 and one in 1/2 x 28 thread patterns — that help keep things lightweight and facilitate mounting on most rifles. Along with the baffle tool and muzzle brakes, a Devour high-temperature suppressor cover, nylon suppressor pouch, and Silencer Central T-shirt are all included. The Banish 30 Gold package is a perfect example of providing everything you need to suppress multiple platforms and then some.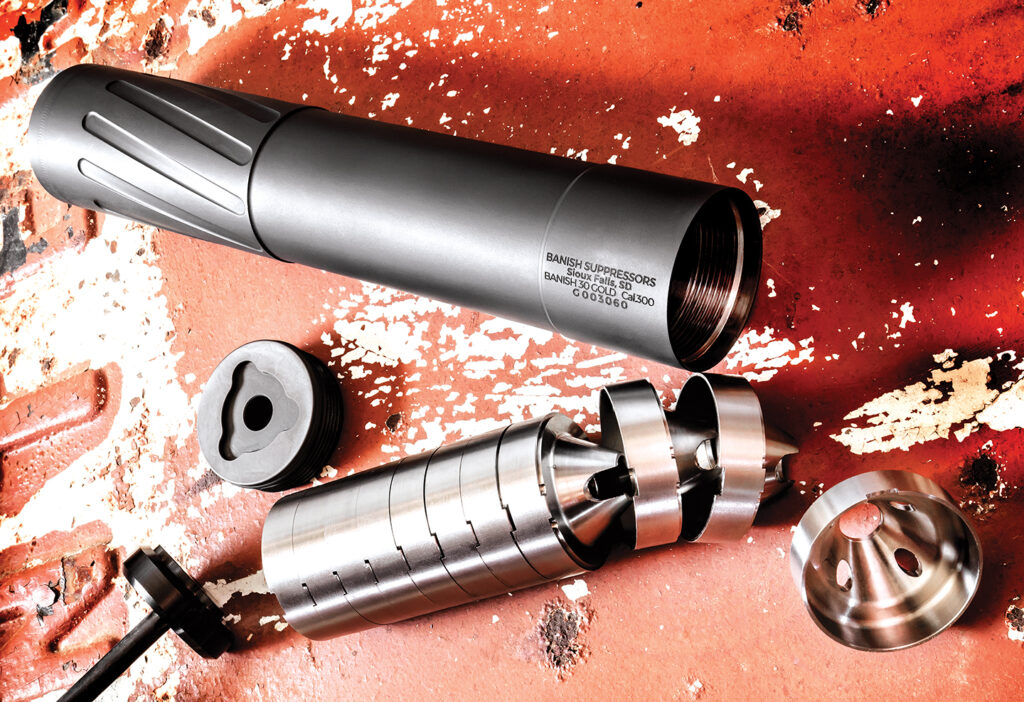 Range Time
I've had the opportunity to test the Banish 30 Gold on several rifles over the last year, ranging from 5.56mm ARs to 300 Norma Magnum bolt rifles. The two most common hosts I find my Banish on are my 18.5-inch barreled Desert Tech SRS A2 chambered in 6.5 Creedmoor and a Brace Built ESG3 rifle chambered in 6CM. Sound suppression is excellent on both, and to my ear, one of the quietest suppressors I've ever used on the Desert Tech SRS A2.
Backpressure is about the same as most conventional suppressors, maybe a bit less. There was no sticky bolt (a sure sign of heavy gassing) under rapid fire with the bolt guns and little to no excess gas in the action — even with the 18.5-inch 6.5 Creedmoor. Mounted to the 24-inch Brace Built barrel was no different from shooting unsuppressed while running the bolt hard and fast. AR's run fine, but optimal reliability with be on those that have an adjustable gas block.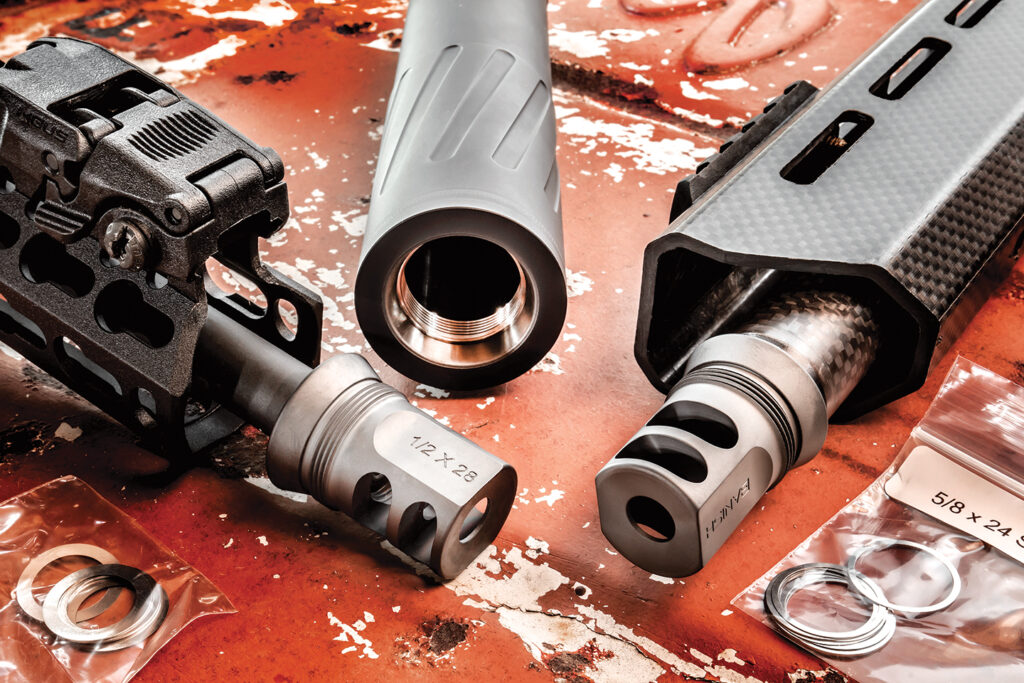 Impact shift ranged from 1.5 to 2.5 inches low compared to the muzzle brake alone, which is pretty typical. The horizontal change was minimal and most likely attributable to the shooter and/or ammunition. Impact shift after removing and reattaching the suppressor was minimal to non-existent. The two-chamber Titanium muzzle brakes are so light you barely notice them. Loud, as one should expect, the blast at the shooter was minimal. Recoil reduction was noticeable on everything tested.
The Devour suppressor cover worked as billed, made things a different tone (and quieter to my ears), fit tightly, and did not move under fire. It made moving the suppressor between rifles easy after consistent firing. Attaching and removing easy with its Velcro straps and no added cord to mess with.
Long story short, the Banish 30 Gold is a very solid suppressor. Lightweight, quiet, less backpressure than most conventional suppressors, and user-serviceable. I rank it as "about perfect" for a multicaliber design. See the entire line of Banish suppressors at Silencer Central; Tel.: (888) 781-8778; E-mail: [email protected]; Web: www.silencercentral.com.
CALIBER:                                7.62 mm (.308 caliber)
CONSTRUCTION:                     Titanium
COATING:                               Cerakote Finish
DIAMETER:                             1.5 in
LENGTH:                                 8.2 in
WEIGHT:                                 13 oz (suppressor only)
RETAIL:                                  $1699.00