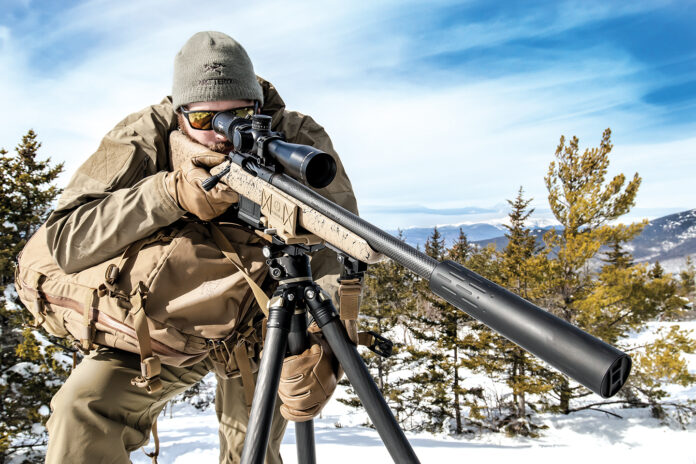 Christensen Arms Ridgeline Scout
By Dave Bahde
Precision rifle? Hunting rifle? Ranch rifle? Backpacking rifle? Yes.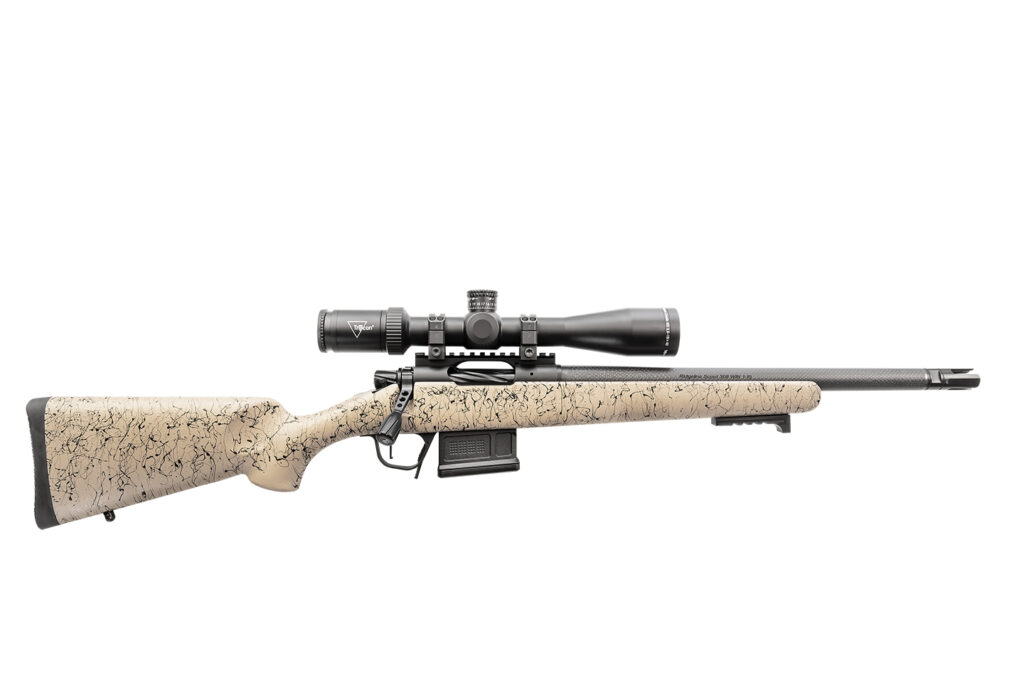 Scout rifles have been around for decades, with the basic design parameters being a rifle that is powerful, not too long, and easy to carry. Generally, that meant a shorter barrel, lighter stock, and a scope that is not long nor heavy and powerful enough to see things within the range of the rifle's chambering. Perfect for hunting, predator protection, or general ranch use, the scout-style rifle remains very popular to this day. The earliest versions were often referred to as "sporters," which were larger rifles that were modified with cut-down barrels and stocks, but modern machining techniques and build materials mean you can choose from a slew of very nice factory-built scout rifles right from your dealer's gun rack. The new Christensen Arms Ridgeline Scout rifle is a prime example of the latest technology packed into a scout-style.
Christensen Arms Ridgeline Scout
The Ridgeline Scout is based on a Christensen Arms Model 14 action that is coated in black nitride. The factory-equipment Trigger Tech is a single-stage unit with a flat trigger and is precise, crisp, and reliable. The radial-fluted bolt uses an M16 style extractor, a skeletonized hand, and enlarged and nicely contoured knob that's also treated to some weight-saving machining. The included 0-MOA Picatinny optic rail is compatible with Remington 700 rails. The tan/black-speckled coated stock is a lightweight Christensen Arms carbon-fiber composite with stainless steel bedding pillars, with an included Picatinny rail/barricade stop for mounting a bipod and/or sling up front and a sling swivel stud out back. It's shaped in the simple and streamlined "sporter" style. The stock's floorplate accepts AICS style magazines; our early sample shipped with a 5-round Magpul PMAG, but it appears as though the rifle is now shipping with a 10-round Christensen Arms magazine. The compact 16-inch carbon-fiber-wrapped 416R stainless barrel is button-rifled and hand lapped with a match chamber. The muzzle on our .308 Win. chambered rifle was threaded to the common 5/8 x 24 pitch for easy suppressor attachment, but the rifle comes factory-equipped with a Christensen Arms three-prong flash hider. Other chamberings include 300 BLK, 223 Rem, 6mm ARC, and 6.5 Creedmoor — all with the same length barrel.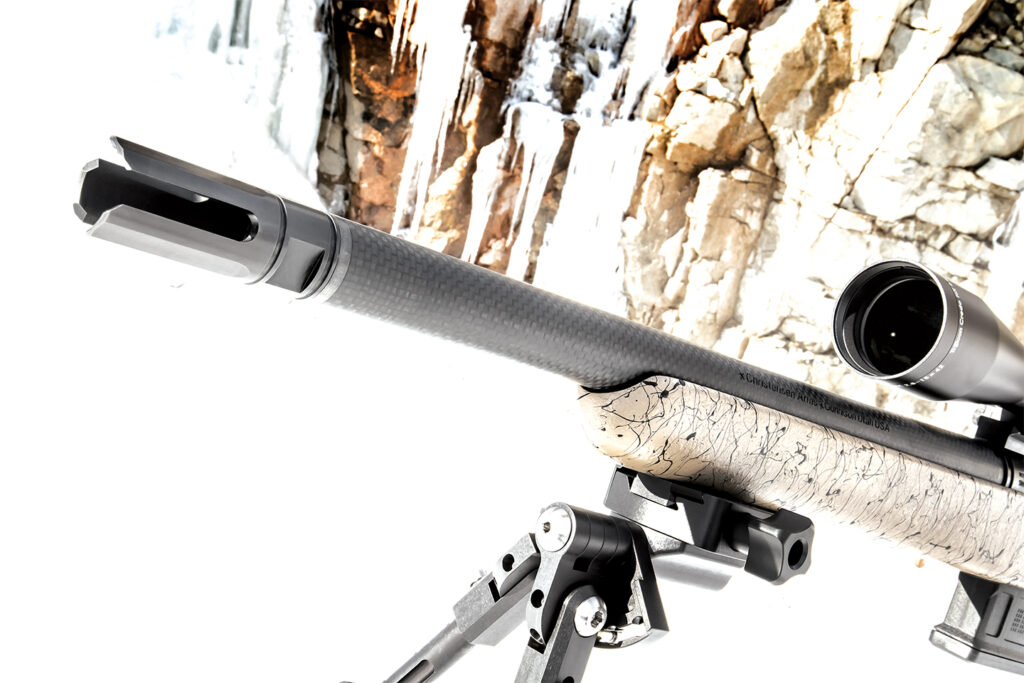 Trijicon Credo HX 2.5 to 15 x 42mm SFP scope
Trijicon's Credo HX 2.5 to 15 x 42mm is perfect for this application, with plenty of magnification for any of the available calibers. Its illuminated (red) MOA center dot reticle is mounted in the Second Focal Plane and provides ample points for holdovers, ranging, and wind corrections. Turrets are .25 MOA per click with bright, easy-to-read numbers, and there's a built-in throw lever for quick power changes. Having tested a few of the Credo and Credo HX scopes of late, they are becoming a fast favorite. The glass is incredibly clear and bright and works well at dawn and dusk. Reticles are practical and useful, the scope body is strong but not heavy, and they are moderately priced for what you get. At just under 14-inches long and weighing in at 23 ounces, it's a great match for the short and light Ridgeline Scout rifle.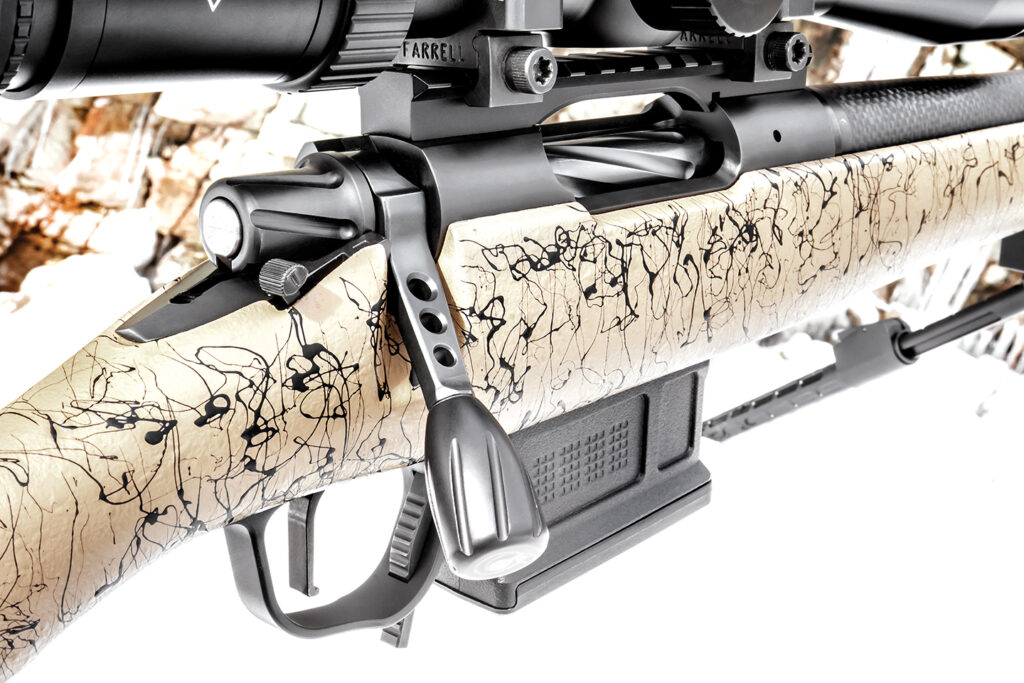 Testing
Testing was completed using Liberty Suppressors' new Amendment .30 caliber suppressor. With a retail price of $483.00, it may be the best buy in a rifle suppressor on the market today. Downrange precision was excellent, with the majority of five-shot groups at 100 yards being well under an inch. My best performance of the day came with Hornady's 155 grain TAP and measured around 0.70 inches. Hornady's 155 grain American Gunner performed nearly as well and has proven to be an excellent overall round in general. Built under the scout-rifle concept, the Ridgeline Scout will often be used from unsupported positions, possibly a tripod, and field expedient supported positions. Hits at 300 yards were very consistent using a bag as a rest on the hood of my truck, producing fist-sized groups with the Barne's 150-grain TTSX.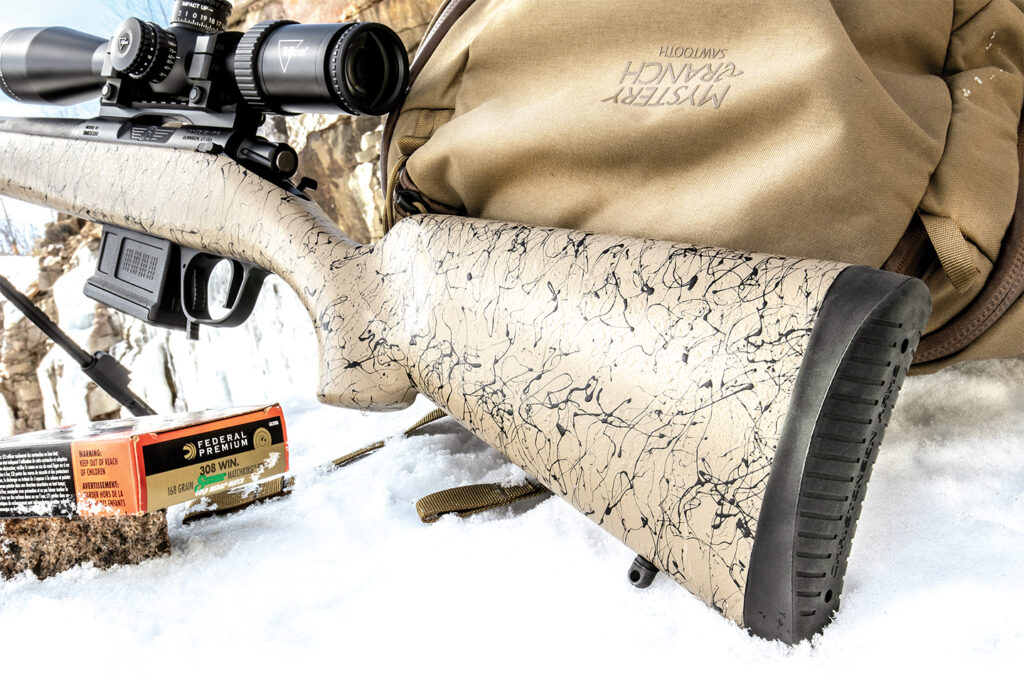 Recoil is what you expect from a 6-pound rifle chambered in 308 Winchester — noticeable but not overly-punishing. Using the factory-mounted flash hider, it was not unpleasant to shoot, just loud … as one might expect. Adding a brake would certainly reduce recoil, but the stubby 16-inch barrel would make the blast particularly oppressive and not something I'd ever recommend if used as a hunting rifle. Suppressed, it was quiet and remained well-balanced and comfortable to carry thanks to the short barrel. The Liberty suppressor did have a bit of a first-round "pop" but makes the rifle capable of safe operation in a hunting environment without hearing protection. Overall, the moderately-loaded 155-grain ammunition provided the most comfortable shooting experience, along with the greatest precision. Barne's 150 Grain TTSX was also very accurate and would be an excellent all-around choice, making plenty of velocity with the shorter barrel. Heavier bullets increase recoil a tad but run fine and are equally as accurate. If you reach out past 500 yards, these may be strongly considered, but the 150-grain TTSX or similar is about perfect at reasonable hunting distances. Maybe even the 130-grain TTSX under 300 yards.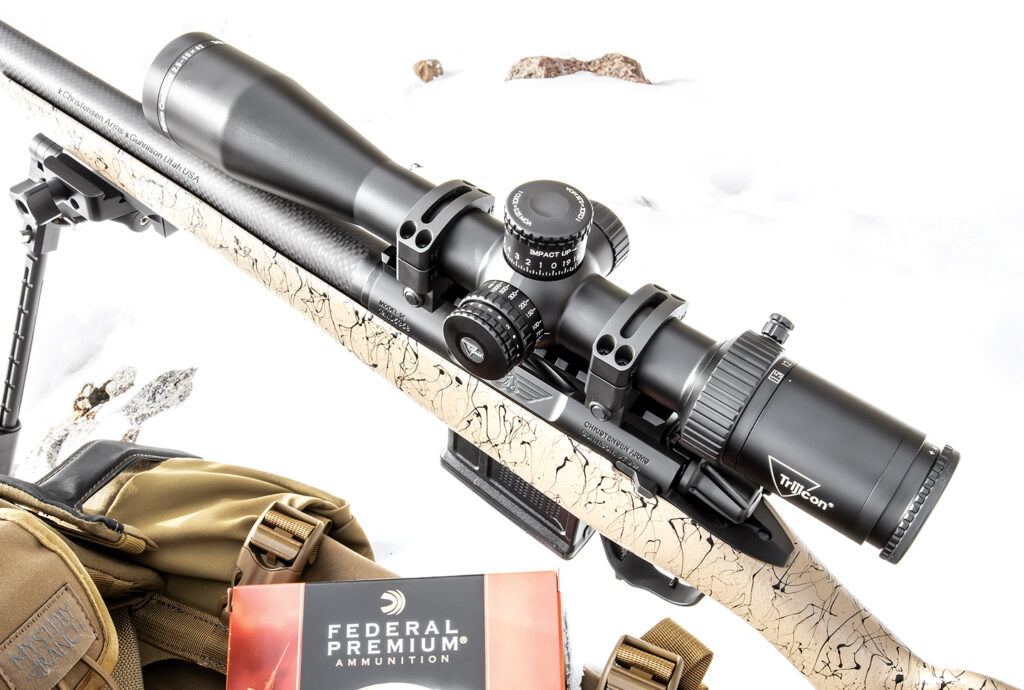 Unsuppressed, the Ridgeline Scout fit in my Eberlestock pack with just enough of the stock showing to grasp. Adding the suppressor, the scope was still protected, and carrying this lightweight rifle for hours on end would prove no issue at all. This setup was equally as comfortable slung over either shoulder. This rifle would remain comfortable and handy, whether hiking into the backcountry or even on horseback.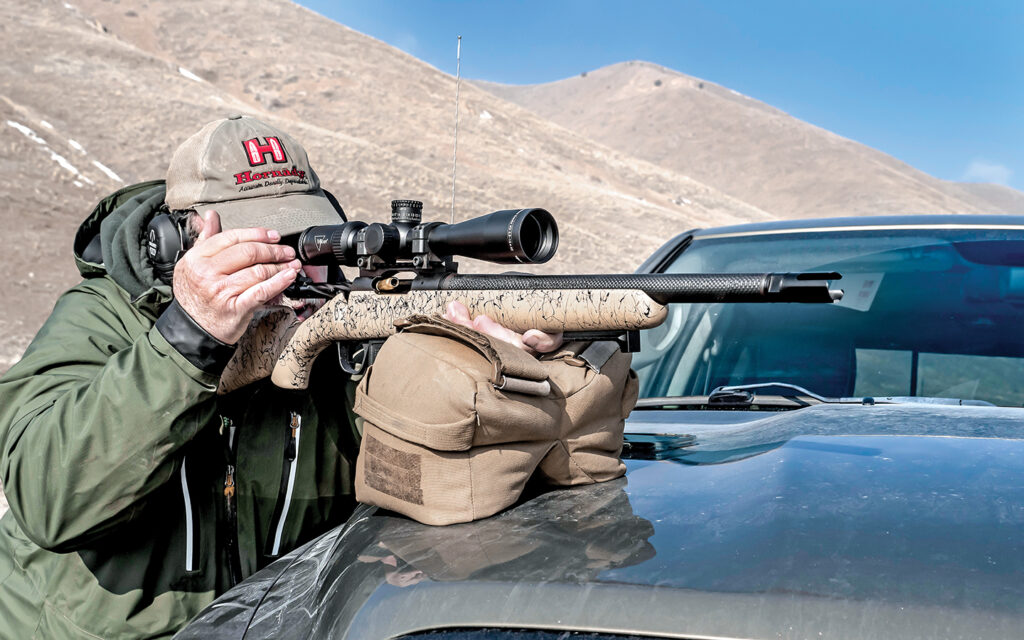 Bottom Line
Fit, finish, and overall production quality on Christensen rifles, in general, are excellent. Having tested them almost since they started producing bolt-action rifles, each subsequent generation only improves. Bolt throw was smooth and precise out of the box and only got smoother with use. The stock is comfortable and fits nicely, with a solid overall feel for its weight. TriggerTech triggers are amongst the best you can buy and have proven reliable and predictable. Also worth noting is the fact that I have yet to see any accuracy dispersion out the Christensen rifles I've tested in the last several years at 300 and 500 yards over ten rounds strings.
In conclusion, Christensen Arms produces extremely nice, high-quality rifles that are priced competitively, if not under comparable offerings with carbon-wrapped barrels. If you are looking for a quality, do-most-things bolt rifle, the Ridgeline Scout should be on the list. If you want to add lightweight to the equation, it should be at the top of that list.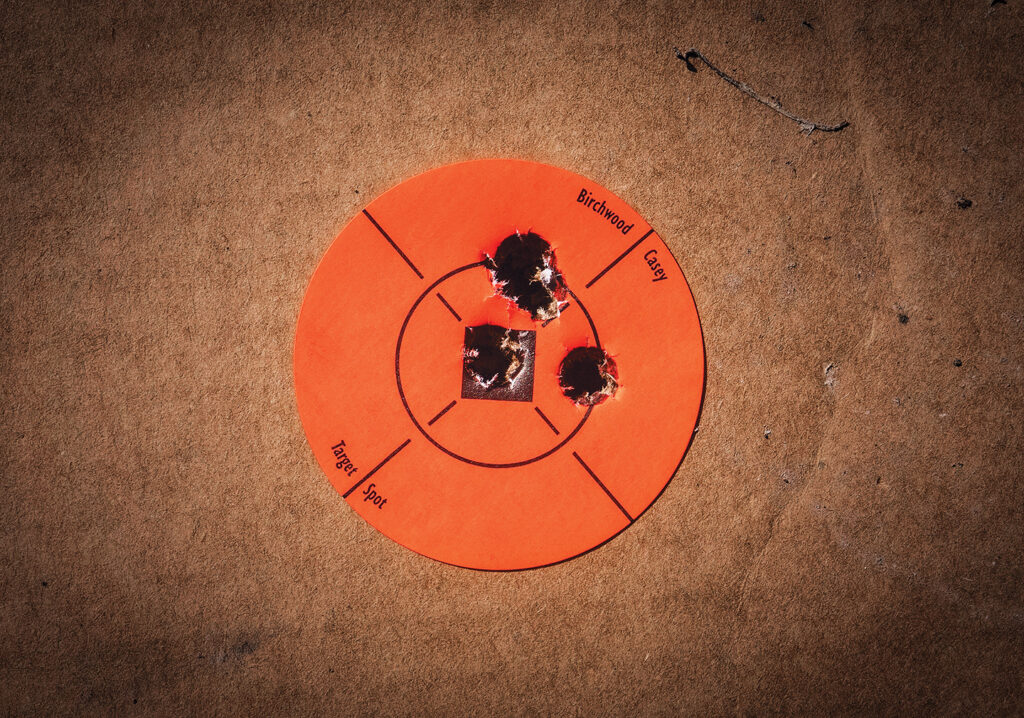 Specifications:
Caliber:                                  .308 Win.
Barrel:                                     16-inch, 1-10 twist
Weight:                                  5.9 pounds
Sights:                                    Picatinny optic rail
Stocks/Grips:                         Carbon-fiber composite sporter
Action:                                    Dual lug bolt action
Finish:                                     Black Nitride / tan
Capacity:                               AICS Magazine capable
Price:                                       $2,199