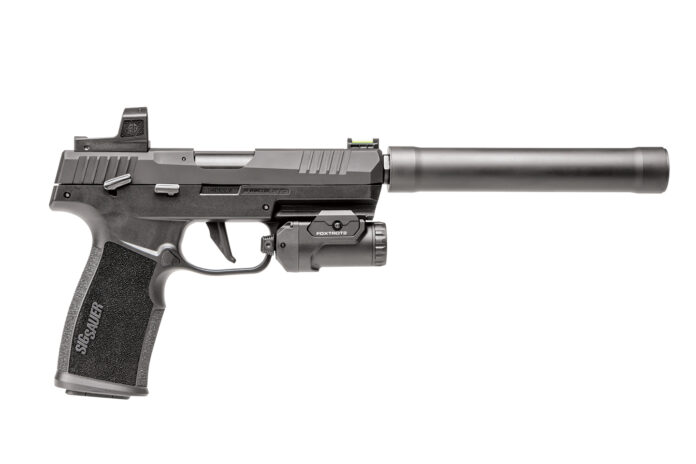 SIG Sauer P322 ($449.99)
One of the hard lessons we've all learned over the last decade or so is not to be light on our inventory of .22LR ammunition. Thankfully, that stockpile can be culled a bit (or a lot-a-bit should you have a .22LR ammo fort) with SIG's new P322 — a .22LR pistol featuring a massive 20+1 round capacity.
We remember the days when manufacturers stated 10-round magazine capacity was it if we wanted reliable feeding. Then came the Glock, then the Taurus, and now the new capacity king is SIG Sauer. As usual, SIG knocked the P322 out of the park — their product managers are simply some of the best in the business. Direct-mount red dot optic compatible (RomeoZERO footprint), spot-on ergonomics, reliability, and did we mention 20-round magazine capacity?
Threaded-barrel equipped and suppressor-ready, other features include a manual thumb safety, ambidextrous controls, interchangeable trigger shoes to switch between flat and curved triggers, a fiber-optic front, and adjustable fiber-optic rear sights, front and rear slide serrations — all in an accurate and reliable package. Did we mention the 20-round magazine capacity? While the P322 looks like the company's popular P365XL, it's actually a slightly larger version of it, instead of a smaller scale, like most companies do. After playing with the P322, we hope a center-fire version of the pistol isn't too far behind this rimfire. Did we mention 20-round capacity? For more information, contact SIG Sauer; Tel.: (603) 610-3000; Web: www.sigsauer.com.