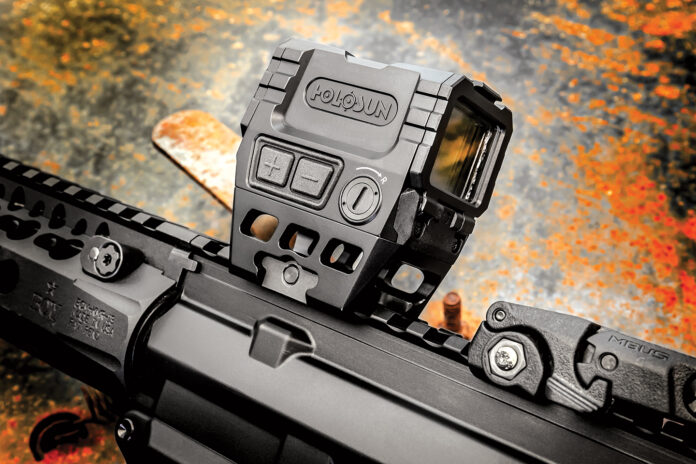 Holosun AEMS Red Dot Optic (from $353)
Even with the prevalence of financially attainable low-power-variable optics (LPVOs) hitting the mainstream buyer, the red dot market has shown no indication of slowing down. In fact, it continues to get even hotter.
Holosun has become a significant player in the red dot market, and its pistol-mounted red dot solutions are arguably the current best-buy. They've proven extraordinarily durable, to say the least, and their quality has been remarkably consistent. Many On Target staff members have thrown down their hard-earned bucks at the retail point to equip our personal carry pistols with the 507-series of optics.
The all-new AEMS was designed as a carbine optic that checks the boxes, possesses all the features a modern optic should offer, and several more. Several of our favorite features are the squared-off pressure forged aluminum body, reduced size of the optic, and its 2032 battery power. Shake-awake technology ensures a long battery life, all while giving the illusion that it's always on. A lower 1/3 co-witness height mount is included, as are a pair of transparent protective lenses that we like very much. Red or green-colored reticles are available in single-dot or circle-dot patterns, as are supplemental solar-power versions. For more information, contact Holosun; Tel.: (909) 594-2888; Web: www.holosun.com.