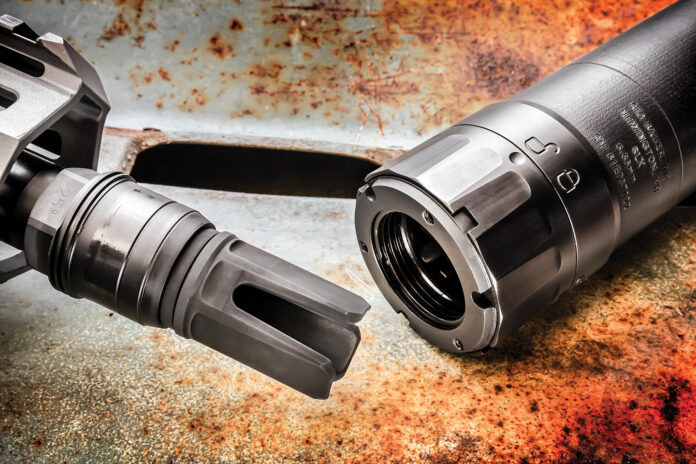 Sig Sauer SLX 5.56 QD
 Free-flow perfection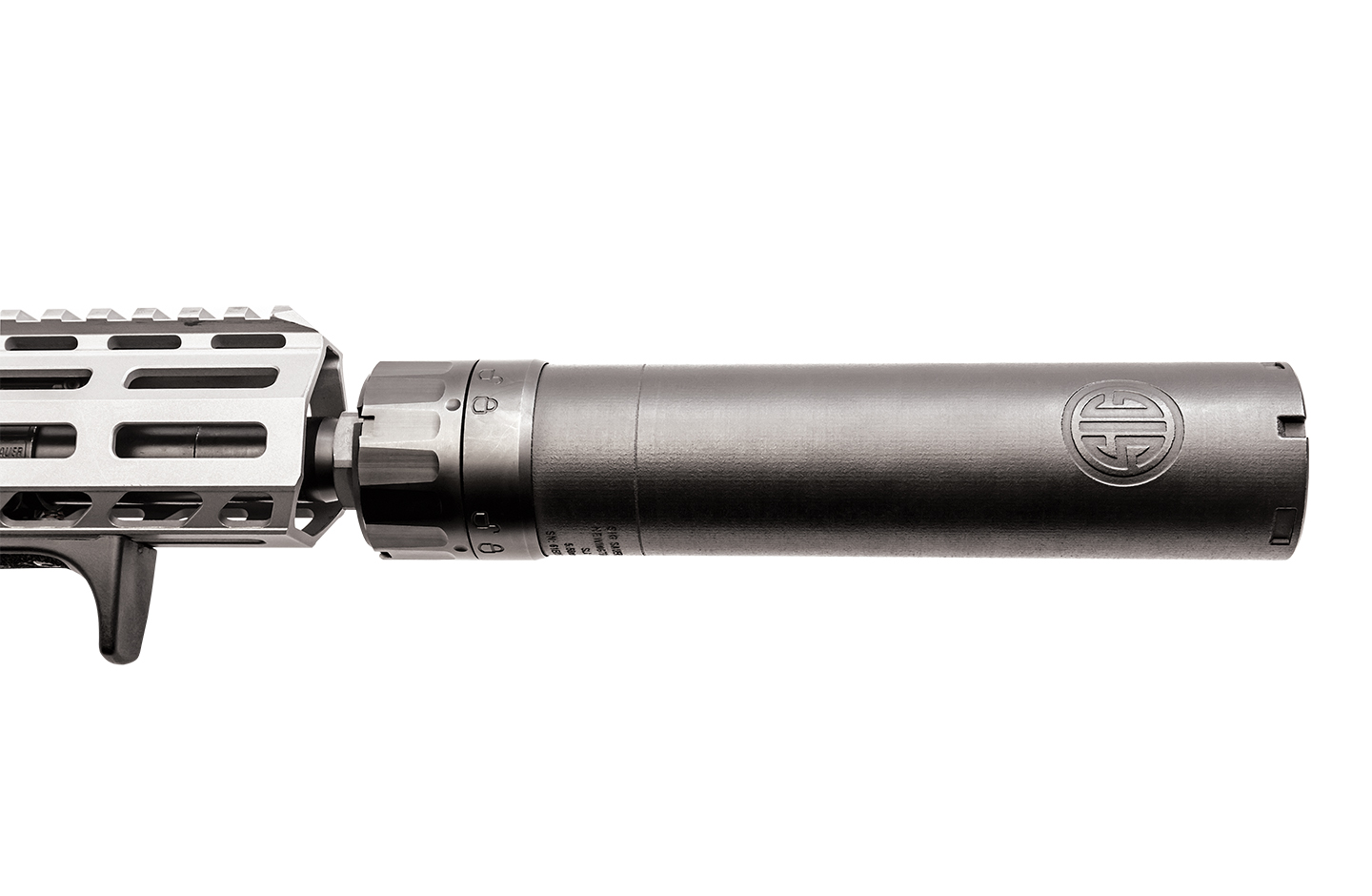 Sig Sauer has been at the forefront of suppressor development for years now, and their suppressors have always been well-built, lightweight, and quiet. Having tested various models over the years, they are amongst the best you can get your hands on and use the latest technology methods and construction materials. Their new SLX suppressor line is born from years of development and testing to provide a light and reliable suppressor that's quiet with less back pressure. Designed to meet current military specifications, it is now available to the civilian market in both 5.56 and 7.62mm variations. And, manufactured using the latest additive manufacturing (3D printing), the SLX represents the latest in suppressor construction.
SLC556-QD
SLX suppressors are available in either a direct-thread configuration or their latest Clutch-Lok QD attachment. The Clutch LOK system uses an intuitive and tactile locking ring with infinite radial locking positions. Constructed of Inconel with a monolithic core, the SLX556 – QD weighs in at 19.4 ounces, including the mounting system. The overall length is 7.4 inches with a 1.67-inch outer diameter. The design reduces both back pressure and flash signature over previous Sig Sauer suppressors and other conventional designs.
Testing was completed using a Sig M400 Switchblade pistol equipped with a Sig Sauer Romeo 4T RDS. The barrel on the Switchblade is 11.5-inches long with a carbine-length gas system and was equipped with the Clutch Lok compatible flash hider included in the SLX package. The Clutch Lok mechanism is a significant improvement over earlier designs — simply align and twist to lock in place.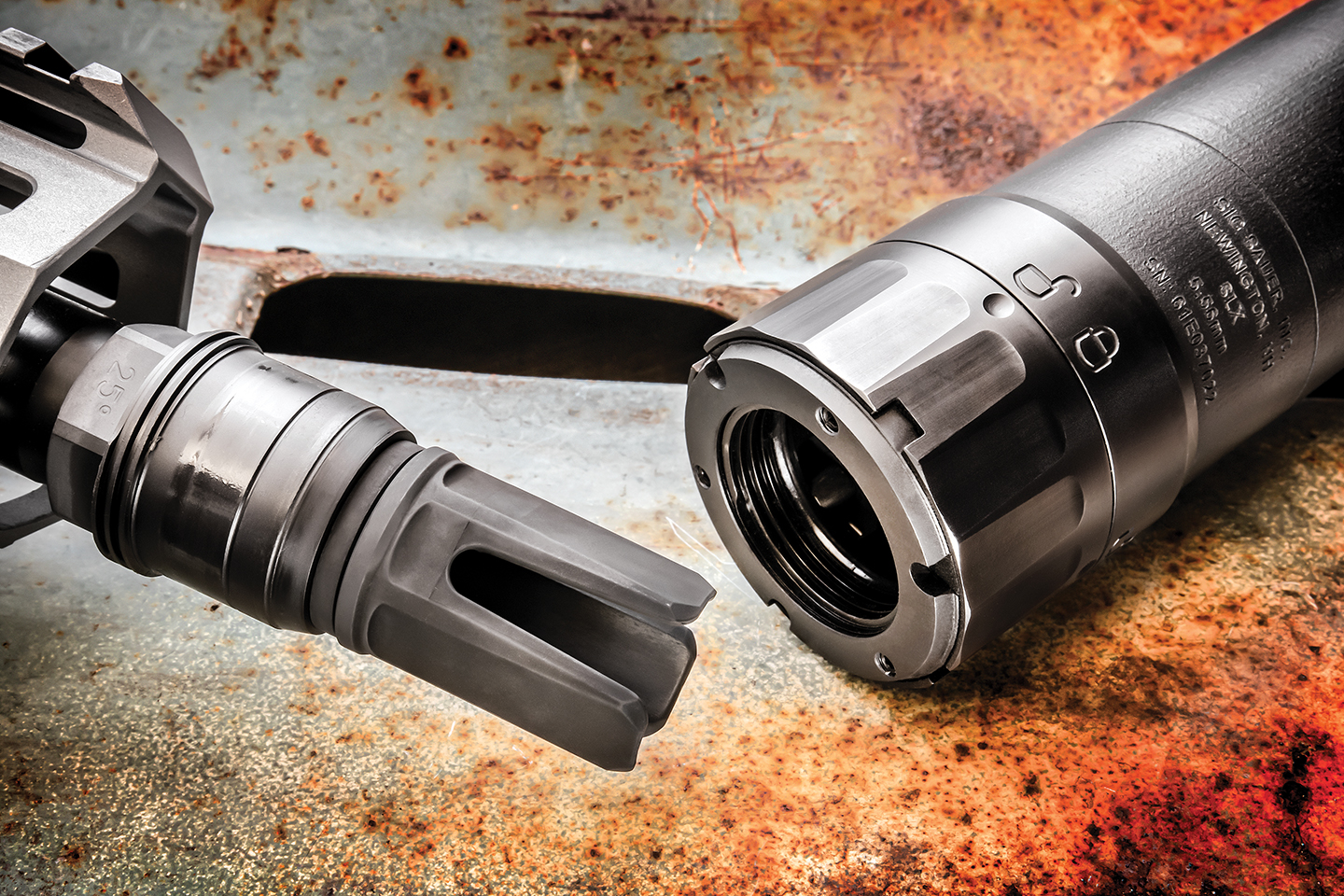 Range Time
Range sessions were spent working in and around vehicles, and even with the added length of the SLX556-QD, the Switchblade was easy to maneuver in tight spaces. Removing and reinstalling the suppressor changed impact very little. The recoil impulse was not excessive, and excess gas from the ejection port was minimal; carbon buildup on the magazine and in the chamber was noticeably less than with previous designs.
Even with the short 11.5-inch barrel, the SLX is quiet, and felt recoil is about the same as unsuppressed using a flash hider. There was very little change in brass-ejection patterns, and the Switchblade was controllable during multiple round strings. Rifles with adjustable gas systems will benefit the most since you can tune them, but given the lower back pressure, the SLX will work better than most conventional designs on gas impingement rifles and pistols without an adjustable gas block.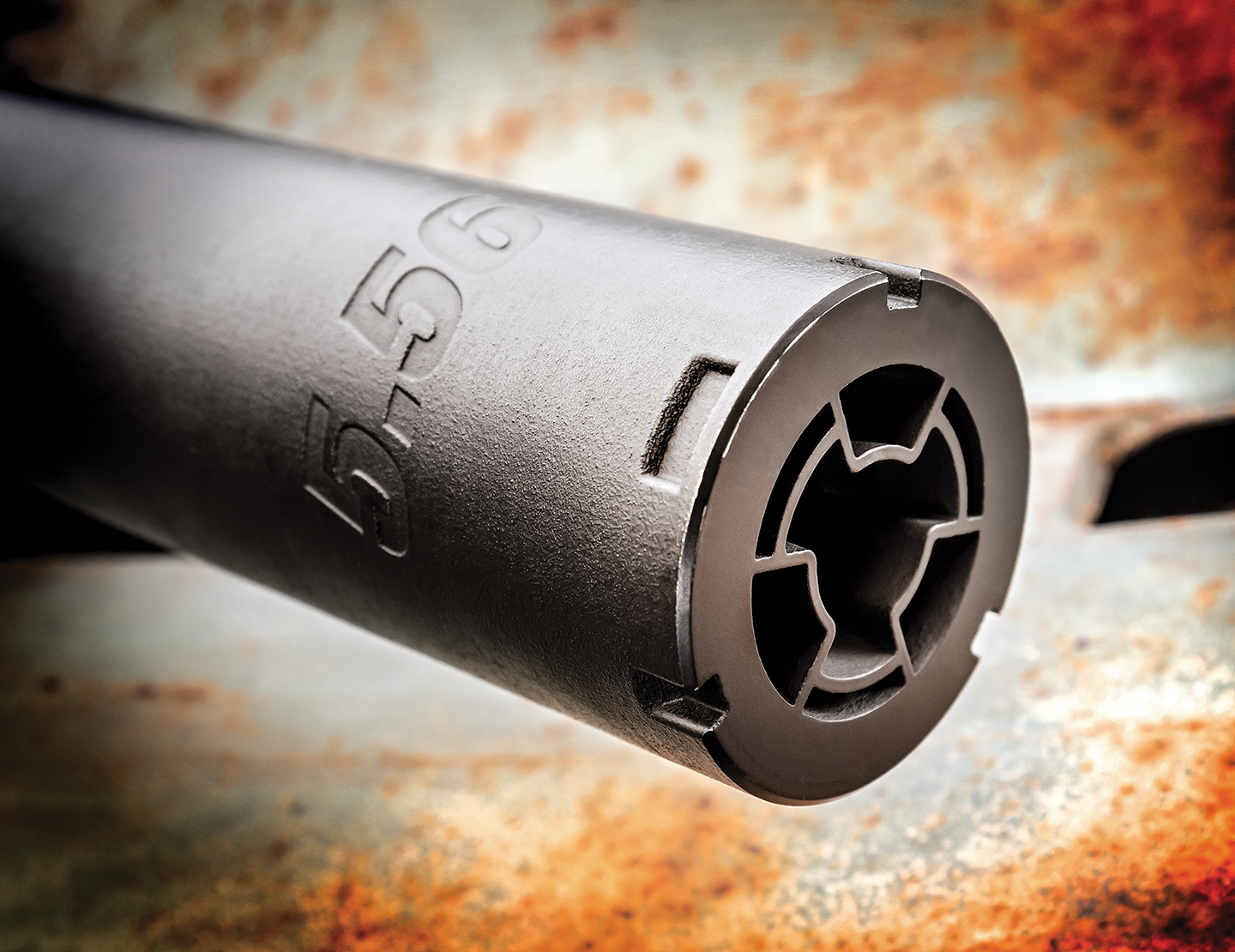 Bottom Line
The SLX556-QD is a lightweight suppressor with an improved attachment system and noticeably less backpressure and excess gas in the shooter's face, resulting in a more reliable and cleaner shooting gun. Its rugged 3D-printed construction was designed to meet US military demands and completely eliminates the chance of welding defects. Though not inexpensive, if you want one of the best 5.56mm suppressors available today, you have found it. See the complete line of Sig suppressors at your nearest dealer, or for more information, contact SIG Sauer; Tel.: (603) 610-3000; Web: www.sigsauer.com.
Specifications: SLX556-QD Sound Suppressor
---
Construction:            Inconel
Caliber:                      5.56mm
Length:                       7.40-inches
Diameter:                   1.67-inches
Weight:                      19.40-ounces
MSRP:                       $1479.99