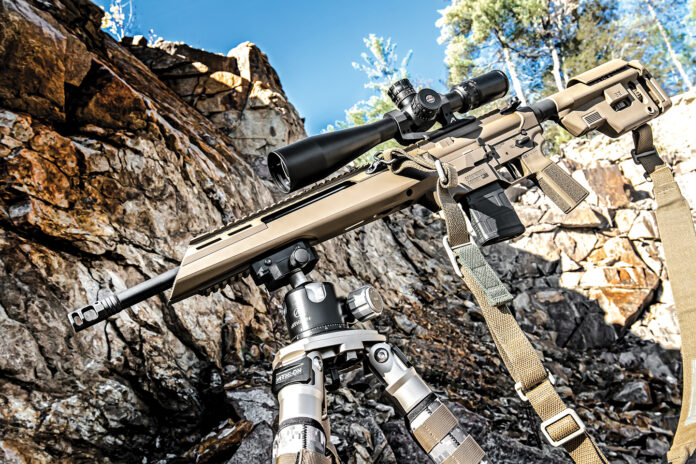 Springfield Armory Saint Edge ATC
By: Dave Bahde
My first experience with a "precision" AR chambered in 5.56mm/.223 Rem. was a Colt target rifle I picked up as an LE rifle nearly 22 years ago. The idea of an AR-15 that could produce sub-MOA accuracy was a bit of an oxymoron at the time; they were out there, but most were built for NRA competition. The only real things separating a "precision" AR from standard fare were a match trigger and a stainless-steel target barrel. Federal 69-grain Gold Medal Match was about the only "match" ammunition available then, and when paired with my Colt, it was a very consistent 0.75 MOA combination. The Colt served me well as a patrol rifle with a simple ACOG scope and a sling, but fast forward a couple of decades, and an off-the-shelf, standard AR will likely outshoot it. Precision ARs today will rival a bolt gun in the right hands, and while still not the most popular for precision work, they have a following amongst enthusiasts and competitors. Many precision ARs today are still custom-built, but mainstream manufacturers are starting to step up in this arena, and Springfield Armory has done so in a great-big way with their new Saint Edge ATC (Accurized Tactical Chassis).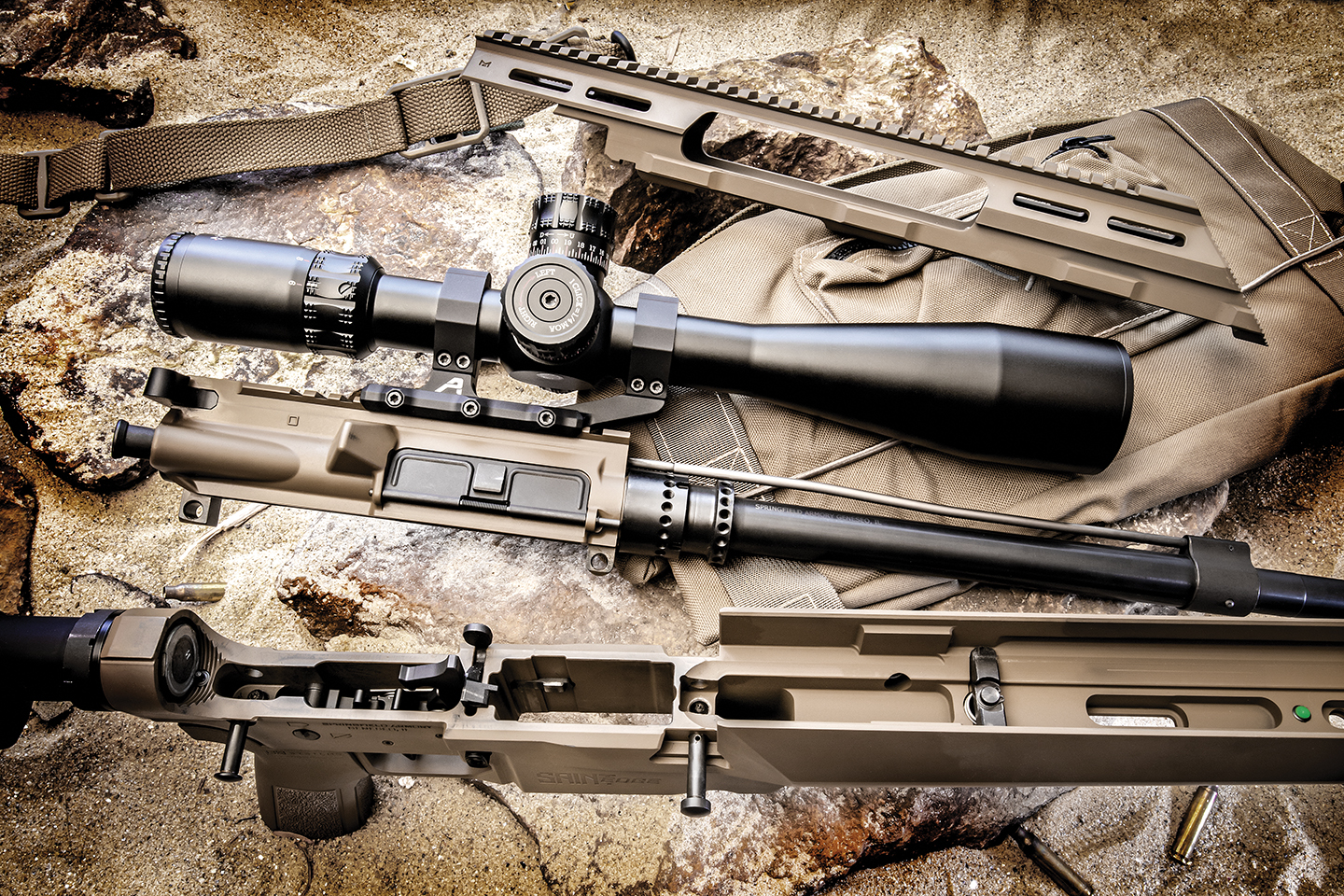 Saint Edge ATC
Springfield Armory offers two rifles using this new precision platform — the standard and Elite models. The standard model is black and uses their Flat Modular Match Trigger and B5 Systems Enhanced SOPMOD stock. The elite model uses a Larue Tactical MBT flat two-stage trigger, B5 Systems precision stock, and is finished in a coyote brown Cerakote. Both are chambered in .223 Wylde and utilize the ATC chassis system with a monolithic lower that completely free-floats the barrel, barrel nut, and gas system. The integral lower handguard is sloped for use on barricades, is M-Lok compatible, and includes a machined Picatinny rail for mounting a bipod. The upper houses an 18-inch Ballistic Advantage precision barrel with a 1:7 twist. Coated in Melonite, it's capped with an SA muzzle brake optimized to eliminate barrel movement and mitigate recoil. It's covered by a full-length rail for optics and other aiming devices or night vision. While it would look a bit odd, you could shoot the rifle without the upper handguard cover in place. The bolt carrier group is the M16 profile, made of Carpenter 158 steel, and has been HPT and MPI tested and then Melonited. Another nice touch is the 20-round PMAG versus a 30-rounder. The shorter 20-round magazine is perfect for shooting from prone or other supported positions and is something most companies do not consider with their precision rifles.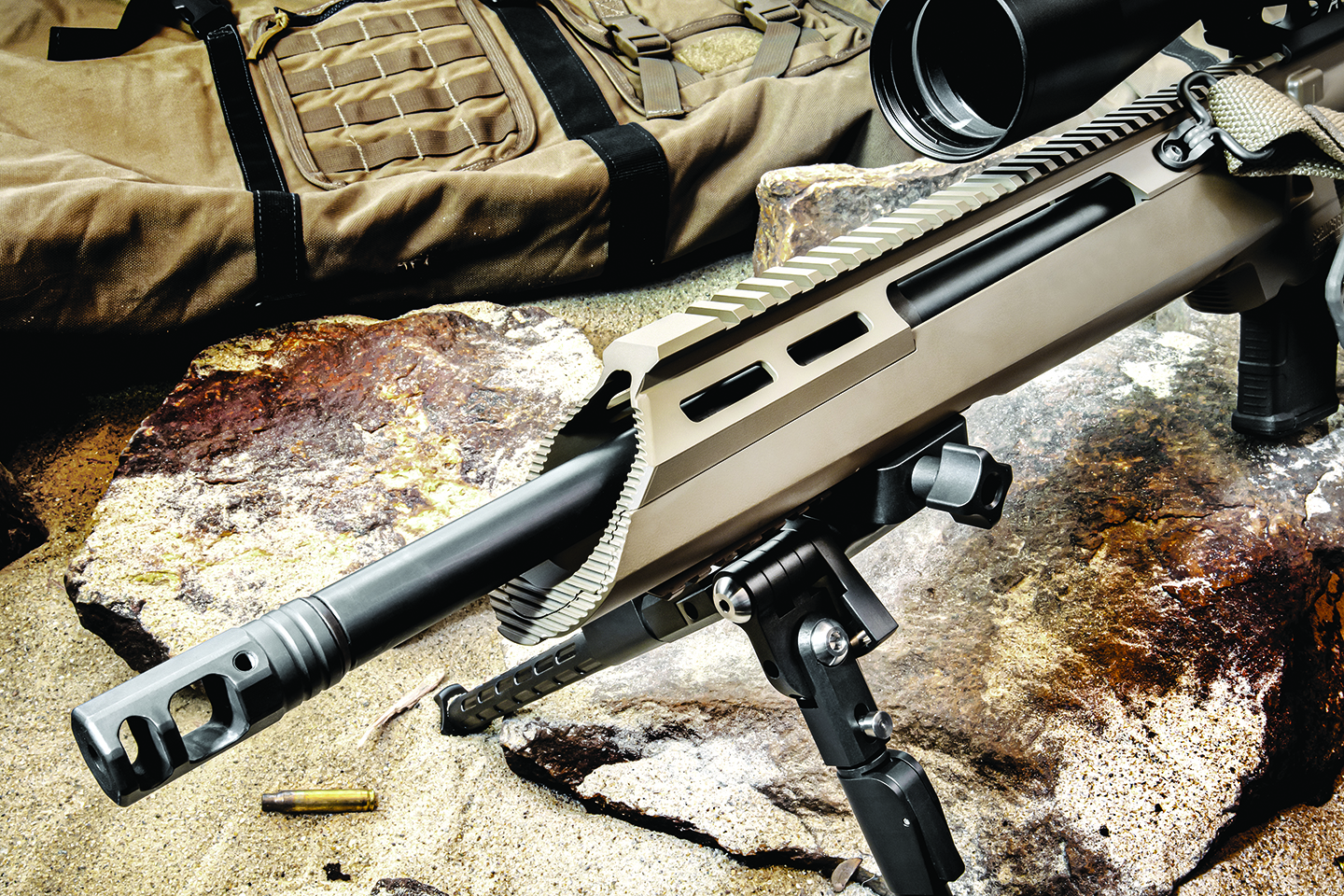 Testing
My Saint Edge ATC test gun was the Elite model, fitted with a Sightron SIII 6-24X Precision Long Range riflescope. This scope includes Precision Tactical Turrets available with a Mil or MOA Hash reticle mounted in the Second Focal Plane that provides holds not only for elevation but wind at elevation. It can also be ordered with a more-simple MOA-2 reticle, but all are illuminated — the Hash reticles in their entirety on the Mil and MOA-2 versions and the center dot on the MOA-2. Other features include zero-stop turrets, an extended sunshade, lens covers, and Zact-7 Revcoat plus lens coatings.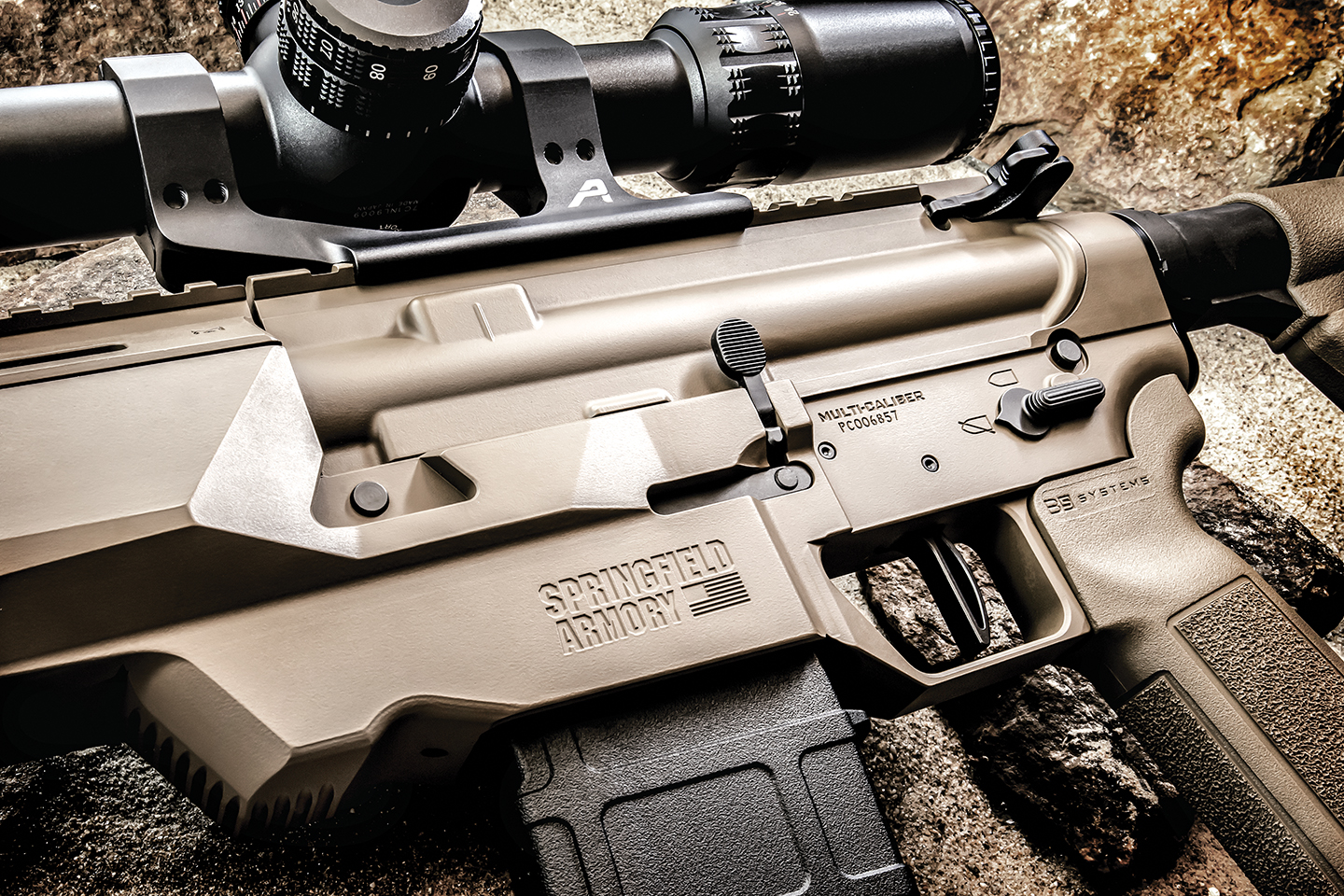 Range Time
My first impressions of the Saint Edge ATC Elite left me a bit skeptical of its capabilities. It looks different, at 10-pounds it's comparatively heavy, and I am not a big fan of muzzle brakes in general. Once the shooting started, however, all doubt went out the window. Simply put, the accuracy and shootability of this rifle are impressive. Using Federal Gold Medal Match 69 grain BTHP, my best five-shot group at 100-yards was under half an inch. Most groups fell within the 0.50 to 0.60 range, and nothing even approached the 0.75-inch mark — let alone Springfield's one-MOA guarantee. The level of precision I was able to wring out of the Saint Edge ATC Elite was largely due to its Larue trigger, the overall weight of the gun, and a really efficient muzzle brake. Fired from either the bench or a couple of different obstacles, the rifle simply did not move under recoil. Larue's MBT trigger is one of my favorites; it's smooth, crisp, predictable, capable of duty use, and it allowed me to do some solid work with this rifle. I have several ARs that will shoot at or around 1-MOA, but the Saint Edge ATC was noticeably softer to shoot and more consistent by comparison. Shooting the rifle out to 500 meters provided very consistent and repeatable results, and my best group on steel at 300 meters measured in at just over 0.75 inches. I'm not sure you can build a rifle on the AR platform that is capable of any better downrange precision … this is about as good as it gets.
The Saint Edge ATC Elite remains heavy but given a heavy-profile 18-inch precision barrel and monolithic lower, and this comes with the territory; it was never designed to be a CQB rifle. The collapsible B5 Systems Precision Stock will fit exceptionally well thanks to all its adjustments, felt rugged, and features QD sling swivel cups on either side. The lower handguard portion of the lower receiver is well suited for competition use due to its steadiness off of barricades or a bipod and its ability to alter elevation by sliding it front and back. As a precision AR, I would like to have seen an ambidextrous safety and an upgraded charging handle, but there are quick and easy aftermarket fixes here.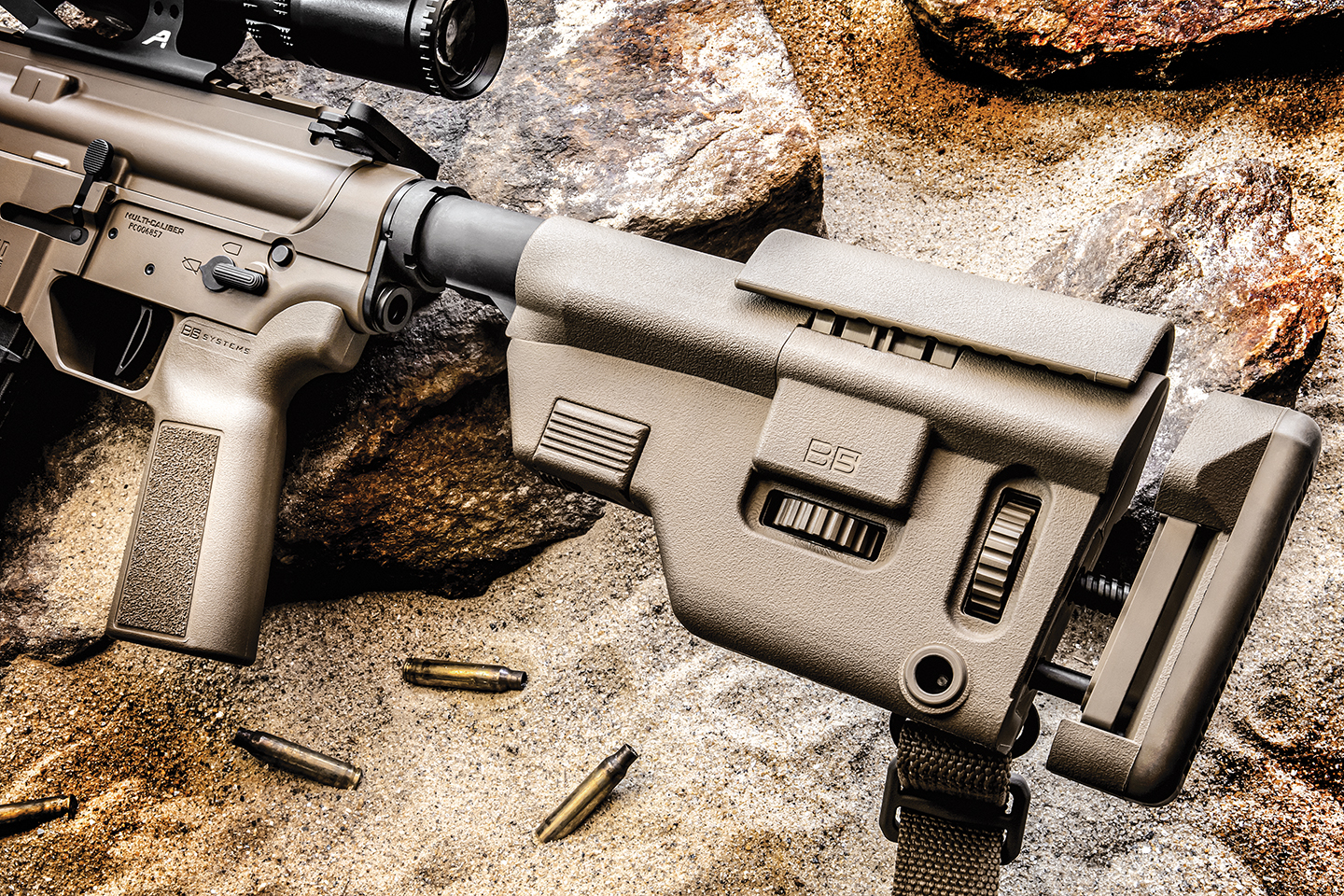 Bottom Line
While the Saint Edge ATC line will not be for everyone, it will fill the needs of many interested in a DMR (Designated Marksman's Rifle) or precision .223 for competition work. The Elite version is equipped with almost everything you need outside a sling and the optic of choice. It is soft shooting, consistent, impressively accurate with various ammunition, and truly fun to shoot. Even the brake was not oppressive like some; loud as usual, but no real blast back at the shooter.
All in all, if you're looking for a precision AR, they don't get much more precise than the new Saint Edge ATC Elite. See it in person at your nearest dealer, or for more information, contact Springfield Armory; Tel.: (800) 680-6866; Web: www.springfield-armory.com.
Specifications:
---
Caliber/Gauge:                     .223 Wylde
Barrel:                                 18" Stainless Steel, Mid Length Gas, 1:7 twist
OA Length:                            39.75-inches
Weight:                                 10-lbs., 1-oz.
Sights:                                 Flat Top Rail
Stocks/Grips:                        B5 Systems
Action:                                  Rotating Bolt/Direct Impingement
Finish:                                  Coyote Tan Cerakote
Capacity:                              AR15 compatible
Price:                                    $1,899.00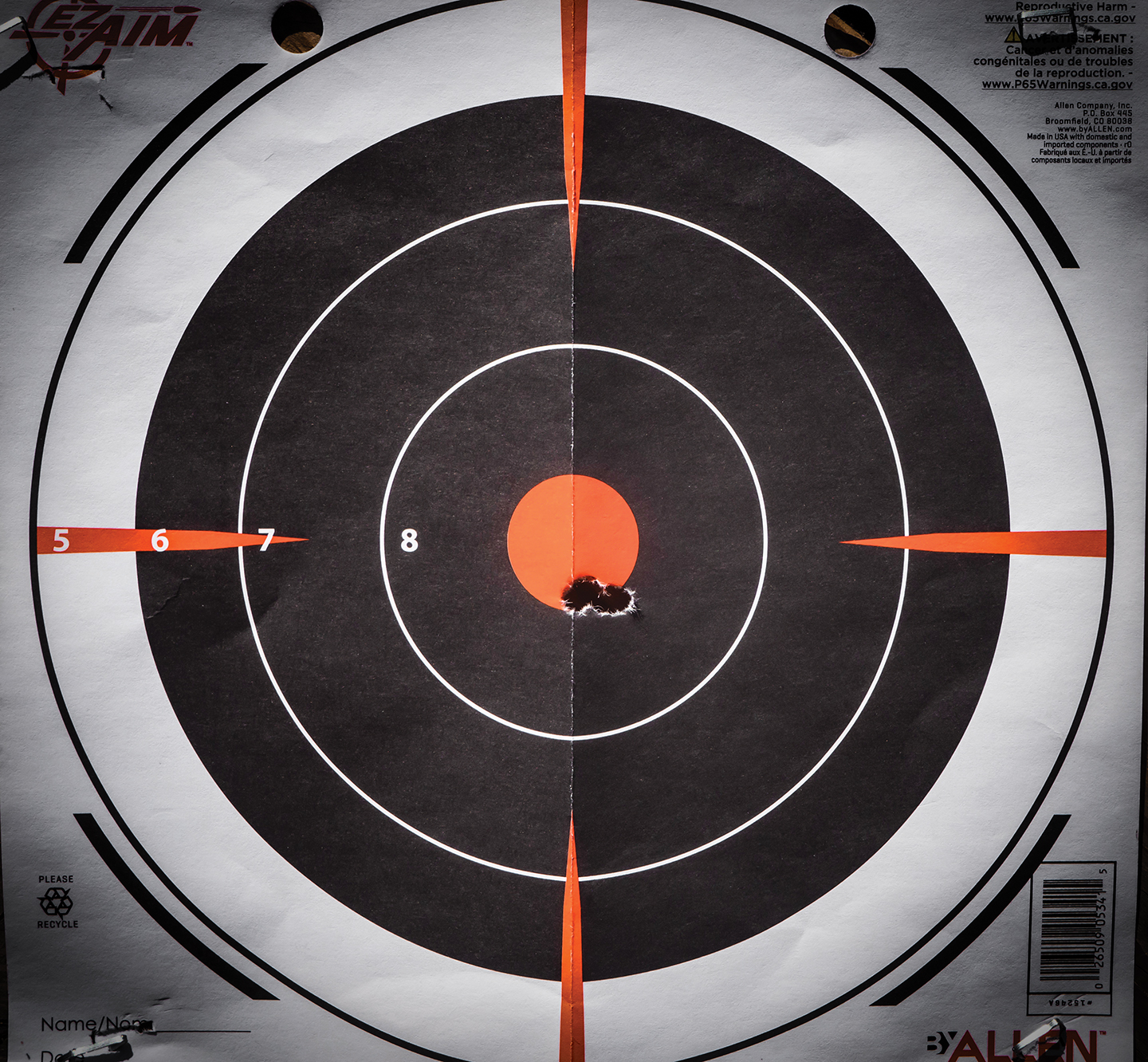 Ammunition Tested                Velocity                             Group Size
---
Federal 69 grain GMM                                2970                                       0.50 Inches
Black Hills 55 grain TSX                             3210                                       0.68 Inches
Black Hills 77 grain TMK                            2750                                       0.65 Inches
Sig Sauer 77 grain OTM                             2700                                       0.60 Inches
Five-shot/100-yard groups were fired using a bipod for a rest from prone. Velocity was measured using a Magneto Speed V3.