2022 Editors' Choice Award Winning
SIG Sauer P322 .22LR
By: Chris Mudgett
Setting a New Benchmark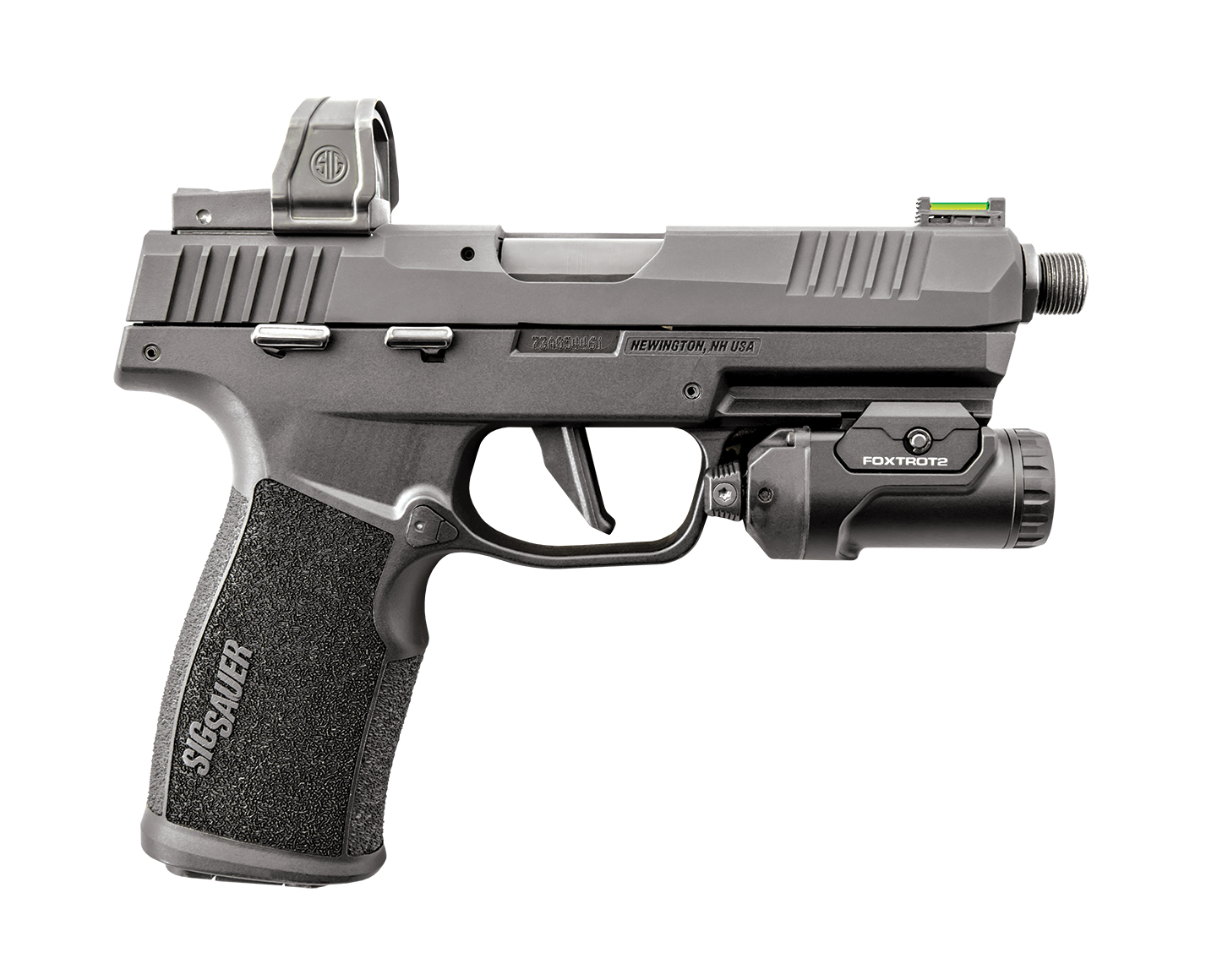 The .22LR pistol market has been simmering these last few years, with a number of high-quality, mostly reliable, affordable options coming to market from major manufacturers. If you have a .22LR pistol over ten years old, it's probably a picky eater. More so if it's a conversion kit. Once you discover a load that reliably feeds and fires (if you're among a lucky few, there's more than one to choose from), you simply don't deviate from that load. Ever.
With the ammunition crunch of the last few years really taking its toll, the market has been hot for rimfire alternatives to popular centerfire carry pistols. Thanks to modern manufacturing techniques and engineering teams committing extra effort to their designs while not being tied to a scaled-down version of an existing platform — rimfire pistols have become more reliable, shootable, and more in line with the performance of current polymer-framed pistols.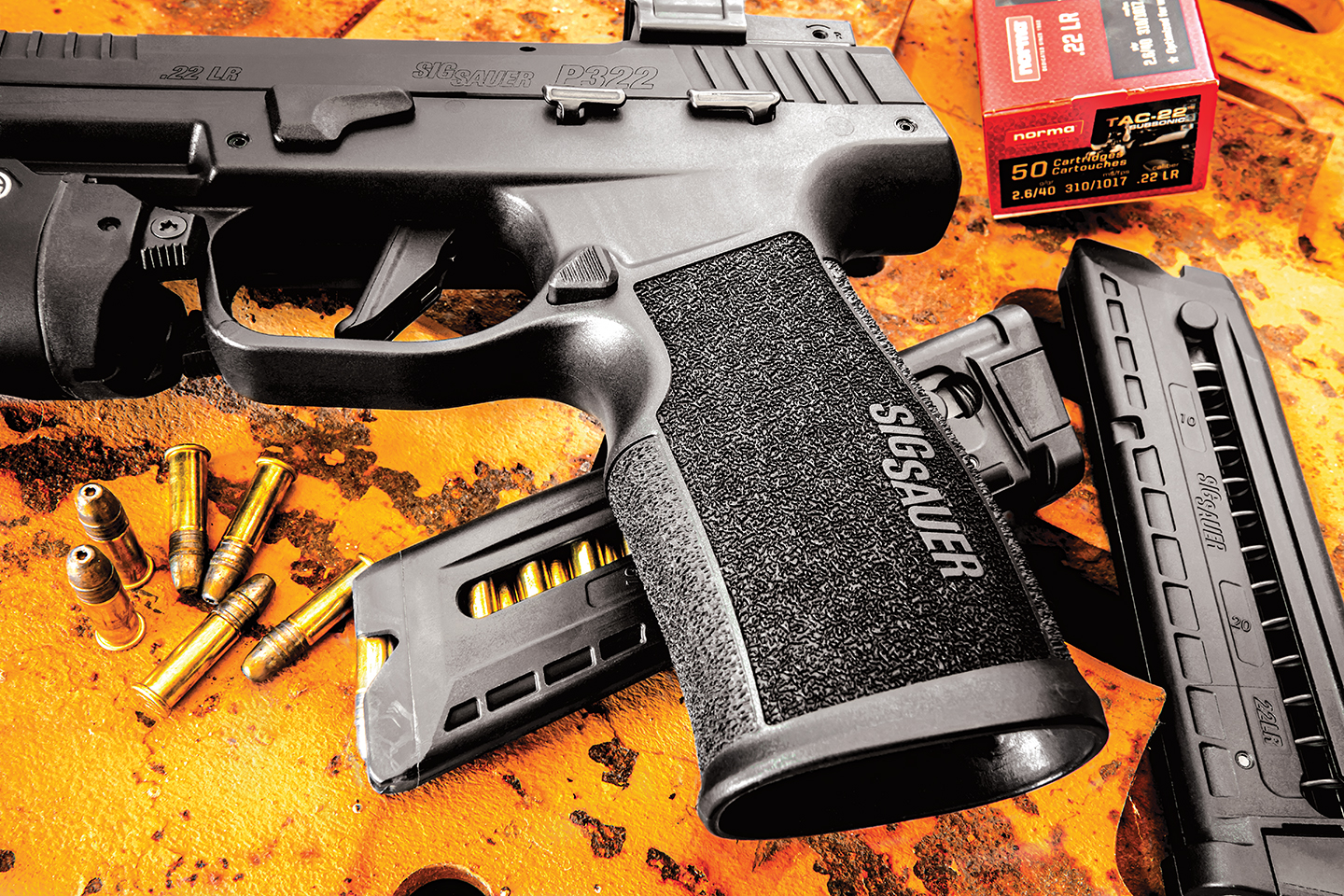 Which brings us to SIG Sauer's new rimfire pistol. The P322 is an all-new design, not a scaled-down version of an existing platform. While its outward appearance resembles a large P365XL or, more accurately, the new MACRO, it's actually a .22LR rimfire designed from the ground up to be, well, a .22LR rimfire.
Unsurprisingly, the P322 checks all the boxes while setting new benchmarks along the way. To say it's "loaded" or "premium" would be an understatement. Right out of the gate, the P322 is optic-ready from the factory, featuring a removable rear sight plate that reveals a nice deep optic pocket that accepts SIG's own RomeoZero, or any optic using the Shield RMSc footprint — all without the use of adapter plates.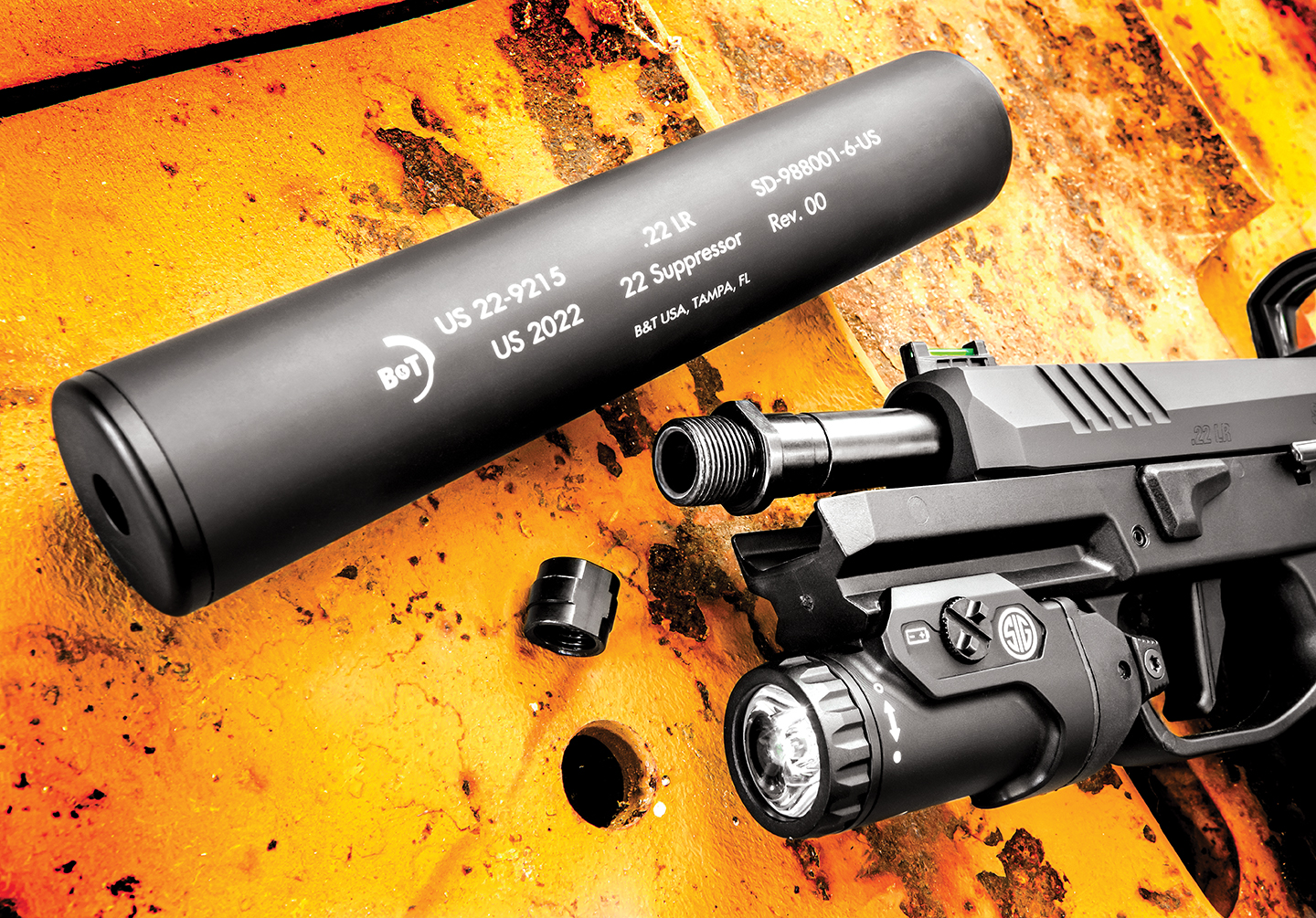 If you're not ready for an optic quite yet, the P322 comes with green fiber optic front and rear sights (the latter being adjustable), attractive and functional front and rear slide serrations, and a Picatinny-railed dust cover for mounting SIG's flush fitting Foxtrot2 white light or any other pic-rail weapon light for that matter.
All controls are ambidextrous, nicely beveled, and ergonomically placed. Much to our surprise, the manual safety goes mostly unnoticed until wanted. It certainly didn't impede our grip or the feel of the pistol, unlike others we've used. The frame is ergonomically contoured and provides some of the best texturing in the business — Velcro-like adhesion without the abrasion. It's just right. The magazine well is nicely flared for smooth reloads, of which very few will be necessary, given the P322's 20-round magazine capacity, of which a pair is included with the pistol.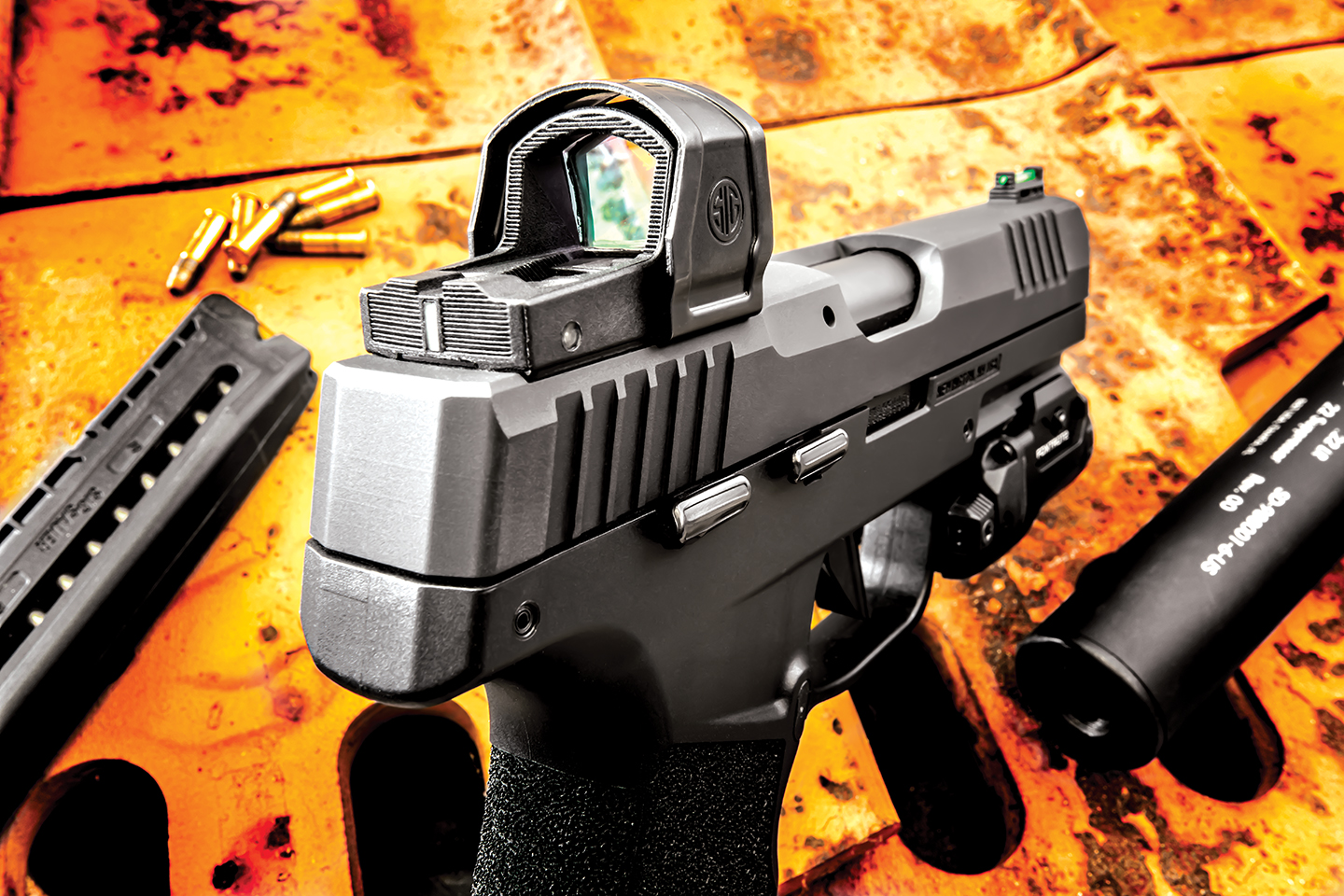 Fantastic ergonomics coupled with a light and crisp trigger (3lbs. 9 oz. as tested) makes the P322 a flattering pistol to shoot. The flat trigger shoe is replaceable with a curved version, also included with the pistol, and are easy to swap out with the included tools.
In our opinion, all modern .22LRs should be suppressor-ready from the factory. The P322 doesn't lack in that area either; a threaded barrel adapter is included with the pistol, making it suppressor-ready out of the box. We mounted a variety of suppressors on the P322, and with the exception of some point of impact changes with a couple of ammo/suppressor combos, all worked as designed and shot laser straight.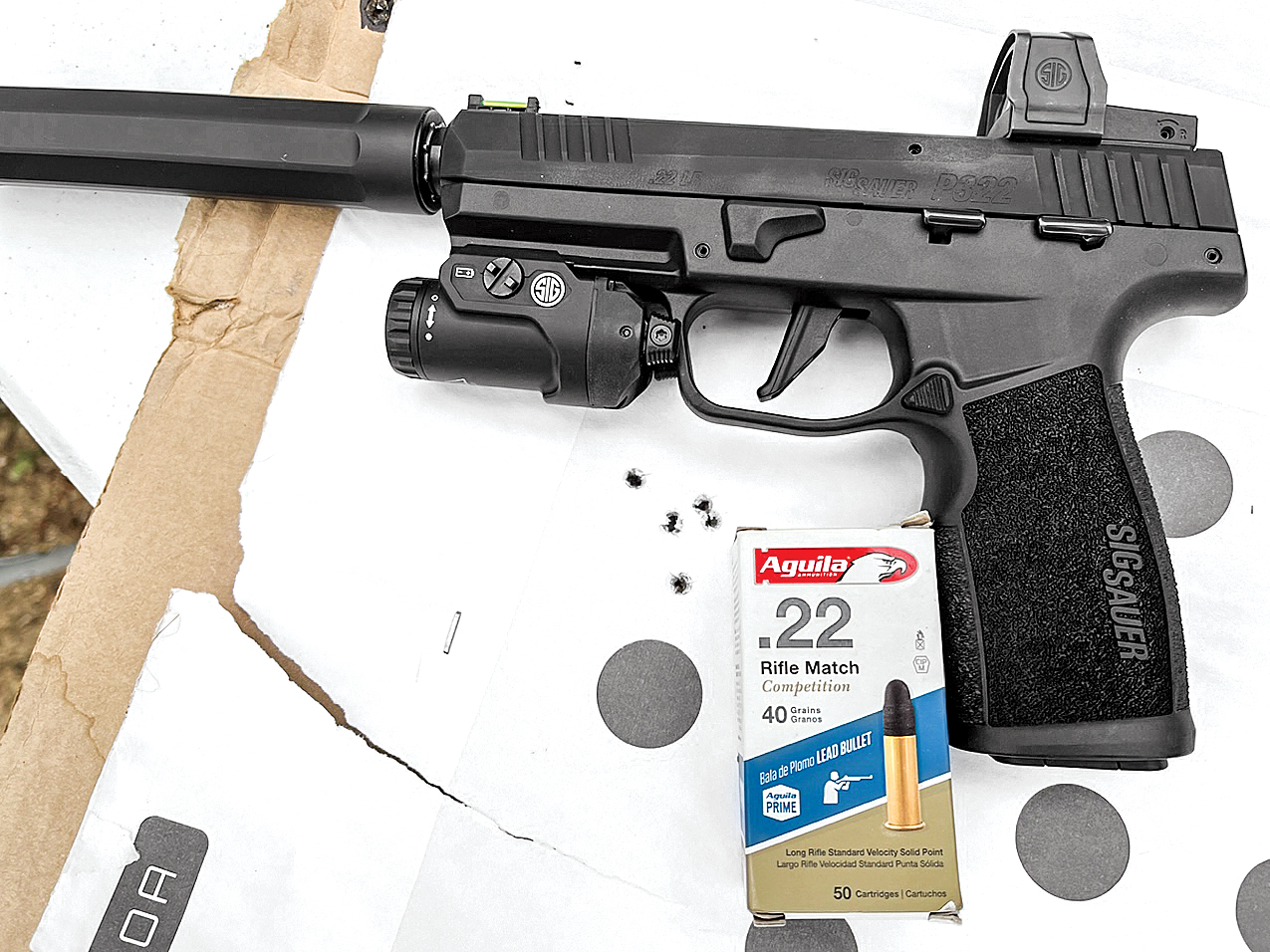 Our best five-shot group at 25 yards came from 40-grain Aguila Rifle Match ammunition, which tightly clustered into 1.10 inches — color us impressed. In fact, virtually all ammunition tested during our accuracy evaluation printed sub-1.5-inch average groups.
We predict the P322 will prove to be a smashing success for SIG Sauer. We have several samples of the pistol on hand, each running like a sewing machine. To ensure ours were not anomalies, we asked around and spoke with peers within the industry, who all shared the same experience and thoughts — the P322 is seemingly unstoppable. Thousands upon thousands (as in 5 digits) of rounds down range on singular pistols without so much as a hiccup. Some of these pistols have yet to be cleaned, which is simply astonishing performance from ANY rimfire pistol. How is SIG able to achieve such reliability when others cannot? A fluted chamber is just one of the smart engineering enhancements featured in the P322.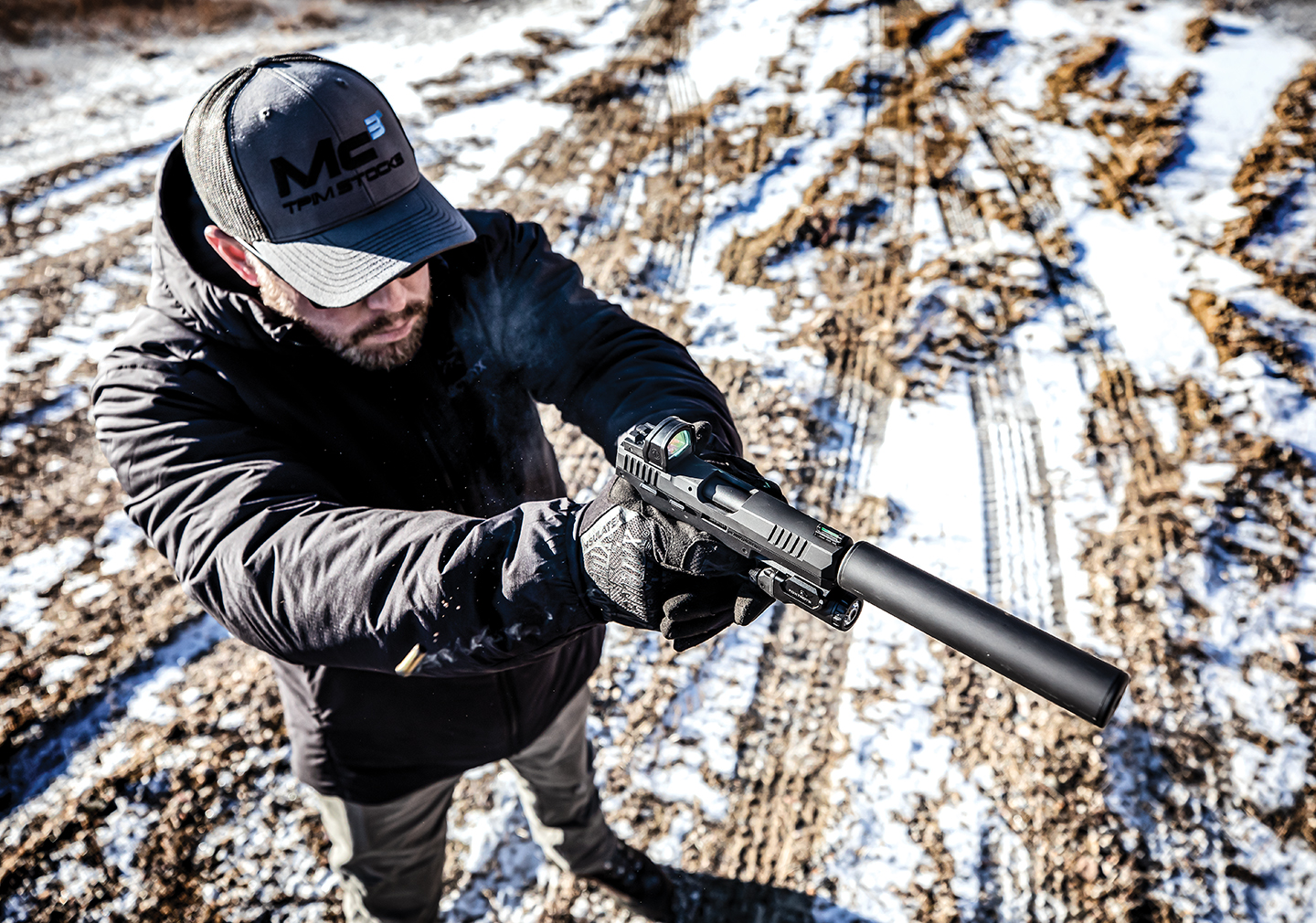 Rarely do we wholeheartedly give a product a blanket recommendation to all shooter demographics due to how subjective most products are. SIG's P322 is one of those rarities. The pistol fits into — and is perhaps the best choice for — every single rimfire pistol use we can come up with; from suppressed backyard plinking, teaching new shooters of all ages, honing existing skills or learning new ones, rimfire competition, small game hunting, learning the red dot and the list goes on. Given our experiences and those of whom we trust, SIG's new P322 has earned its 2022 Editor's Choice Award, and we recommend it without reservation. See the P322 at your nearest dealer, or for more information, contact SIG Sauer; Tel.: (603) 610-3000; Web: www.sigsauer.com.
---
Specifications:
Type: Single Action Only
Caliber: .22LR
Capacity: 20+1
Barrel: 4.0 in.
Overall Length: 7.0 in.
Weight: 17.1 oz.
Finish: Hard Coat Anodized
Frame: Polymer
Trigger: 3lbs 9 oz. (tested)
Sights: 3-dot fiber optic sights, adjustable rear, optic ready
MSRP: $449.99 to $599.99