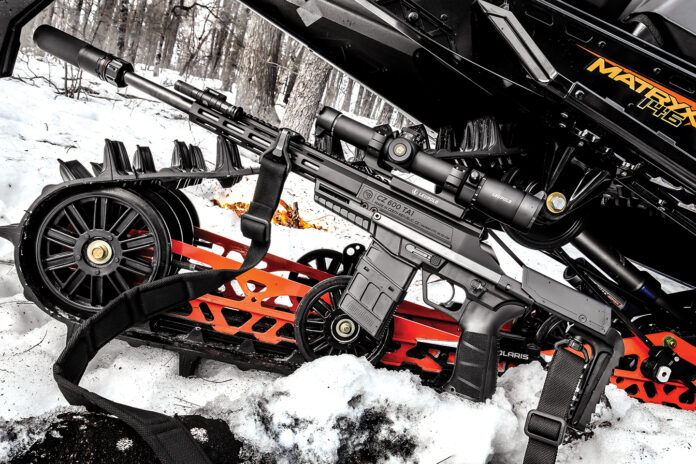 CZ 600 Trail
By: Chris Mudgett
Utility for the adventure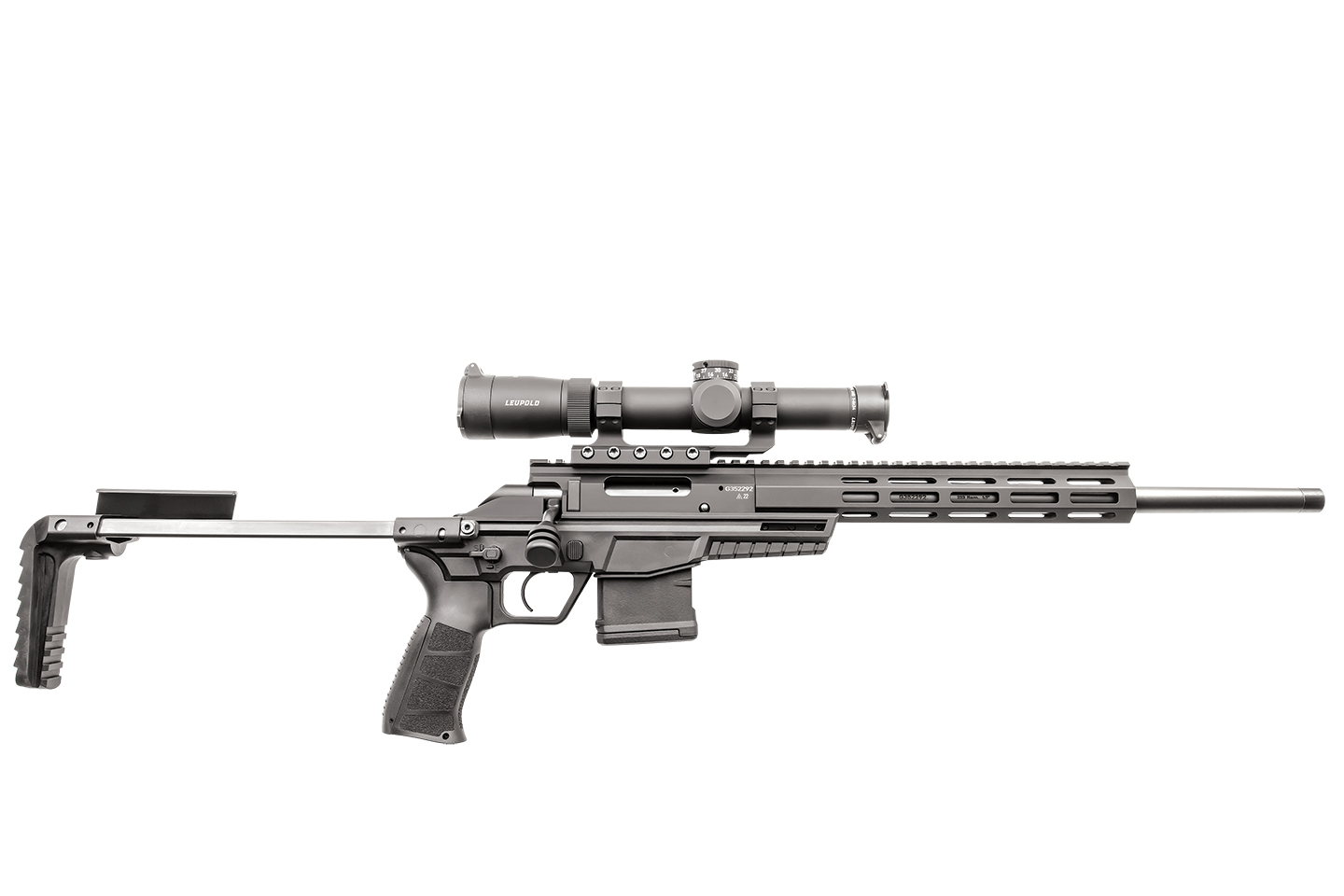 The CZ 600 trail rifle, newly released by Czech firearms manufacturer CZ Brno, is a very modern take on a general-purpose bolt-action rifle designed to offer exceptional performance in a lightweight, portable package. Available in two different calibers at the time of this writing, the CZ 600 Trail is one of the most versatile, innovative, and feature-filled field rifles on the market today.
First and foremost, the CZ 600 Trail is exceptionally lightweight and compact, weighing in at just over the 6-pound mark and with an overall collapsed length of 27 inches. This makes the Trail an ideal platform for hunters who do more hiking than sitting, those who need to be able to easily navigate off-trail, and as such, are more minimalistic in their equipment selection.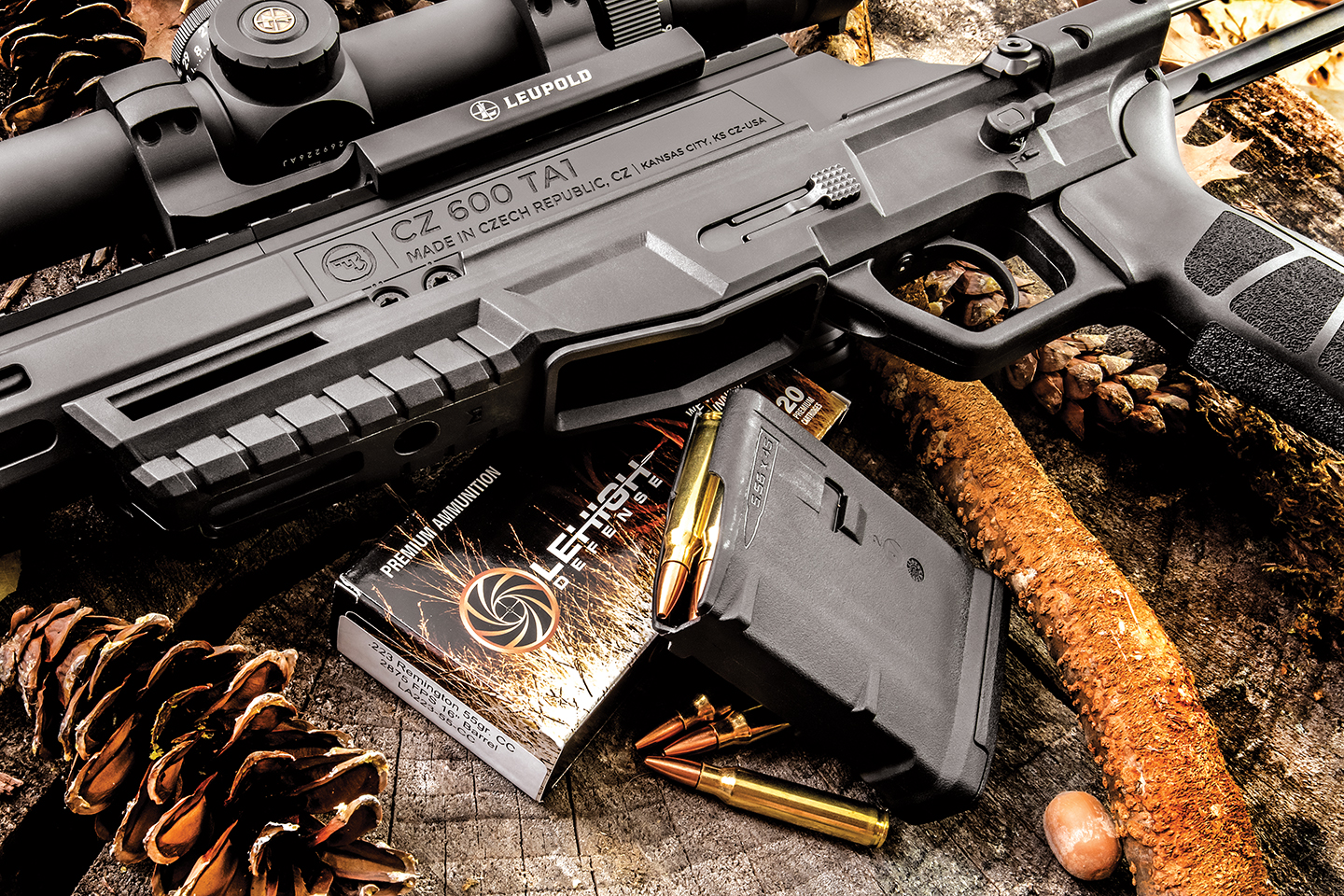 As mentioned, the CZ 600 Trail is currently available in two different calibers: .223 Remington and 7.62x39mm. The former uses standard AR-pattern magazines and ships with a Magpul 10-rounder but readily accepts your capacity preference in the form of standard and extended-capacity magazines — we think a 20-rounder would be an ideal fit for this rifle and its uses. The 7.62×39 uses the tried-and-true CZ Bren 2 Ms pattern magazine for those curious.
As you may have guessed, the Trail's action is none other than CZ's popular and proven 600 series — which is a great thing. The anodized aluminum action is paired with a glass fiber reinforced polymer chassis that contributes to the rifle's overall light weight, while a three-lug bolt with a 60-degree throw is responsible for smooth, fast, and reliable cycling of rounds. The ambidextrous magazine release and 45-degree safety selector switch are positioned in a familiar location for those well-versed with the AR or Bren 2 platforms. The replaceable pistol grip, reminiscent of CZ-s own P09 series pistols (and accepting the same replaceable backstraps), adds to that modern look and feel the CZ Trail expounds.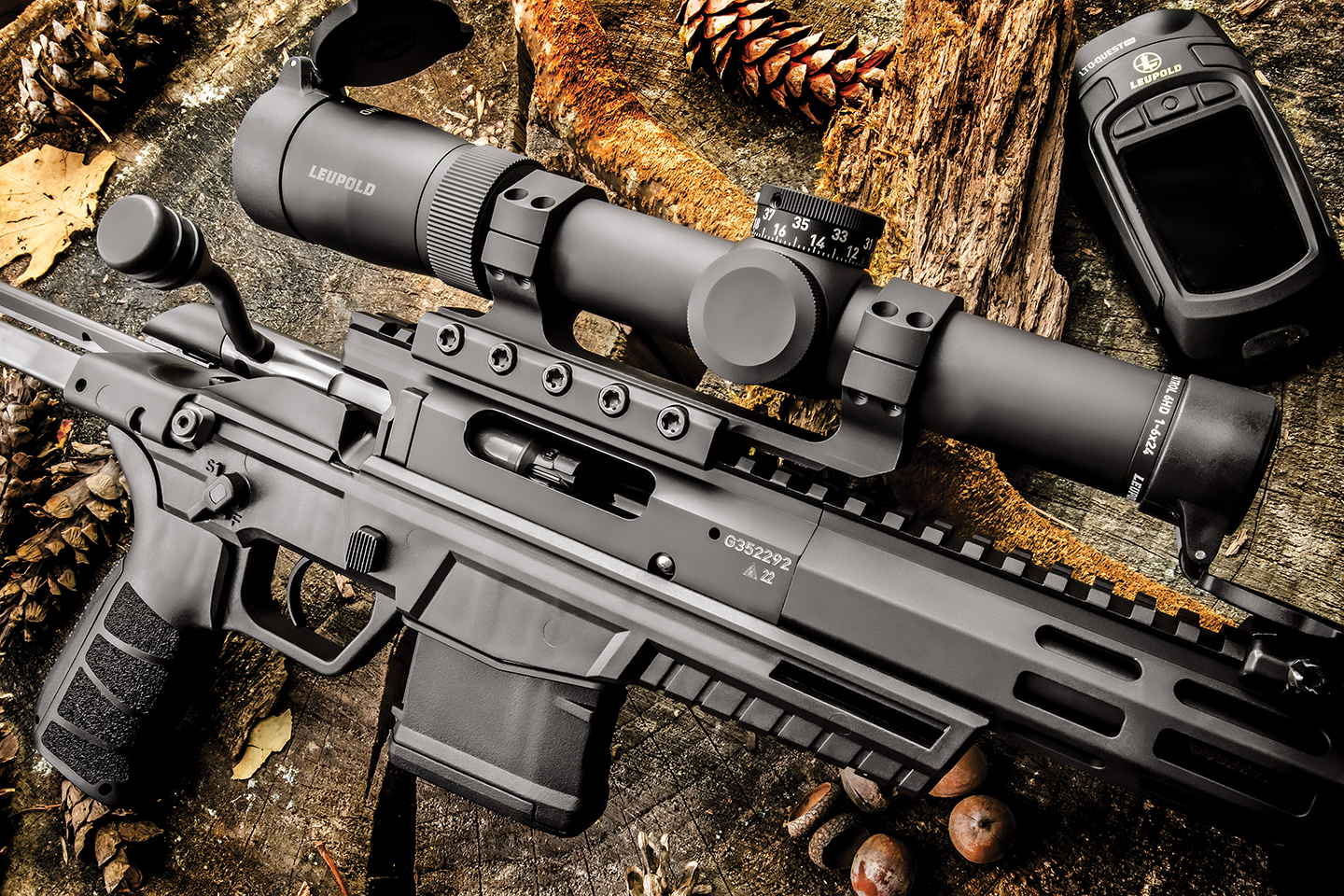 The barrel is what CZ refers to as a semi-heavy cold hammer forged that extends 16.2 inches in length and is factory threaded 1/2×28 for your choice of muzzle device or sound suppressor. The muzzle features a recessed crown for improved accuracy and, as stated above, is cold hammer forged for strength and longevity. Give the Trail one look, and you'll agree; it's begging for a compact suppressor to compliment its own compact dimensions. We found the new Dead Air Silencers 4.87-inch, 15.4-ounce Sierra 5 5.56mm suppressor, with the KeyMo QD mounting interface for quick detachment for transport, to be a worthy addition to this general-purpose bush gun.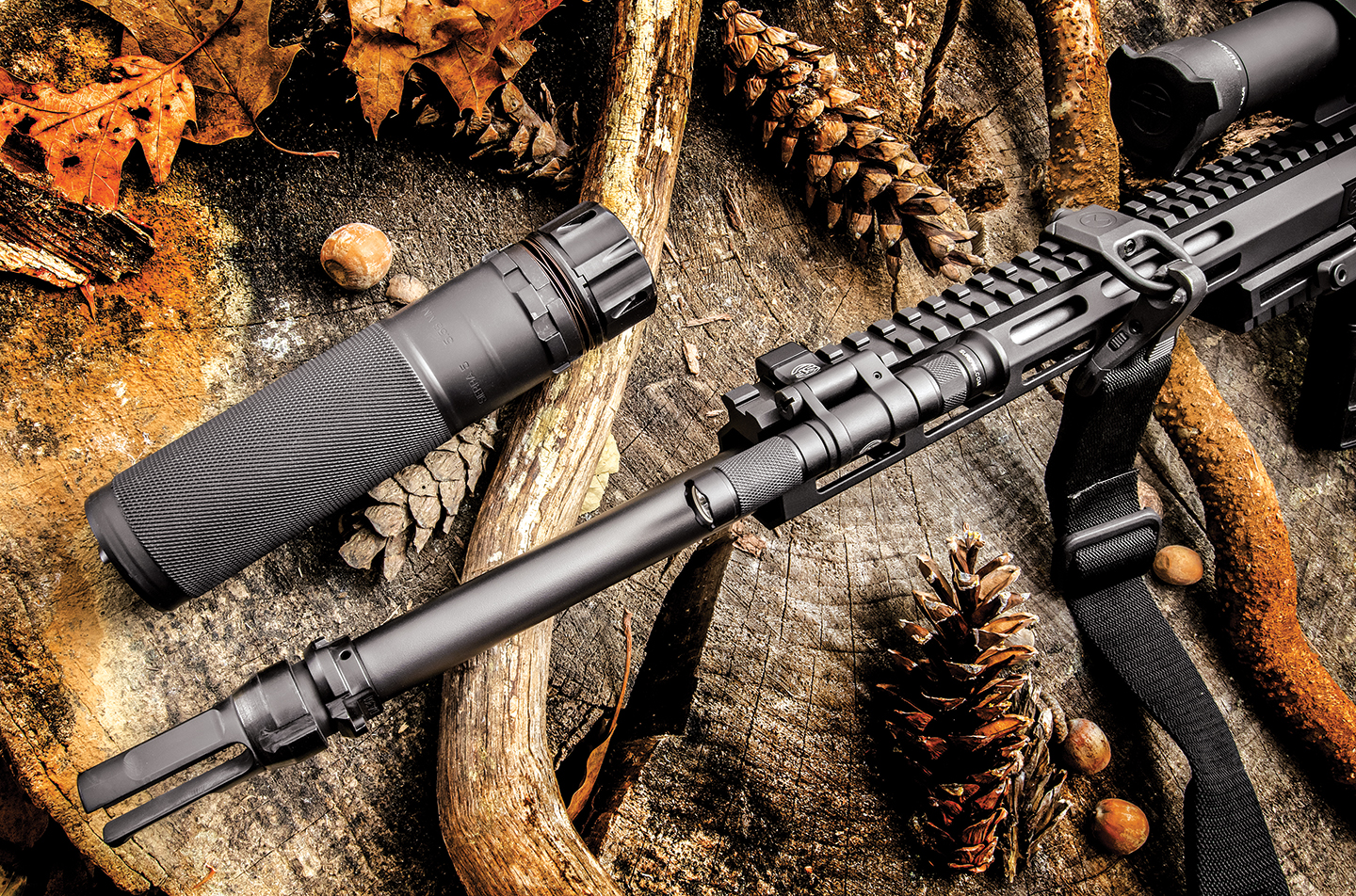 The Trail rifle features a patented two-stage trigger that is user adjustable from 3 lbs. down to 1.3 lbs. without having to remove the action from the stock. Instead, simply rotate the four-position dial to select your preferred trigger pull weight and go. While a 1.3-pound trigger pull is light for a field gun, it just goes to demonstrate how well-rounded the Trail really is and can be.
The CZ 600 Trail also comes with a slim 10-inch M-LOK compatible aluminum forend for those who want to take full advantage of their rifle's flexibility. As we are all aware at this point, M-LOK accessory slots quickly and easily accept your choice of accruements, ranging from bipods to field electronics to grip enhancements to Picatinny accessory rail sections and everything in between. Be aware, however, there isn't much space between the barrel and the slim circumference of the handguard, and you'll likely need shorter MLOK attachment screws to avoid barrel contact.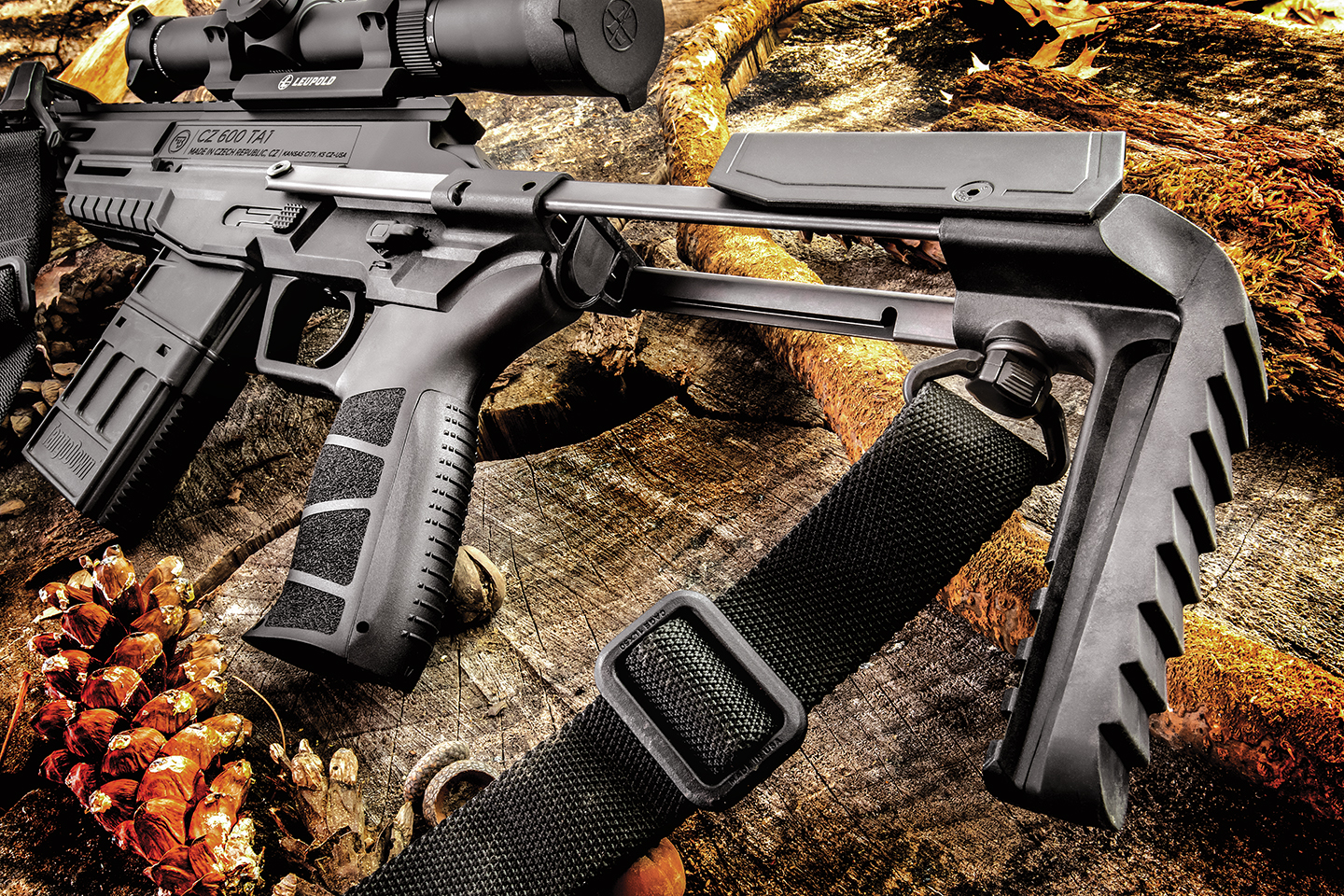 The four-position telescopic PDW-style buttstock helps give the Trail its futuristic, non-standard look and capability and can be adjusted for optimal fit and comfort. To retract or extend the stock, a push button at the rear of the receiver must be pressed. Once in either position, it remains securely in place. The stock is made of aluminum, features a nice, raised polymer cheekpiece for comfort, and does a great job of supporting the heads-up style of shooting required for fast shots on target in standing or braced positions. Fully collapsed, the Trail measures just 27 inches in length, while fully extended stretches its length to 35 inches. The ribbed, slender buttplate fits solidly in your shoulder pocket for a nice secure fit when quickly shouldered. Semi-aggressive and rubberized texture ensures it remains there, should follow-up shots be required.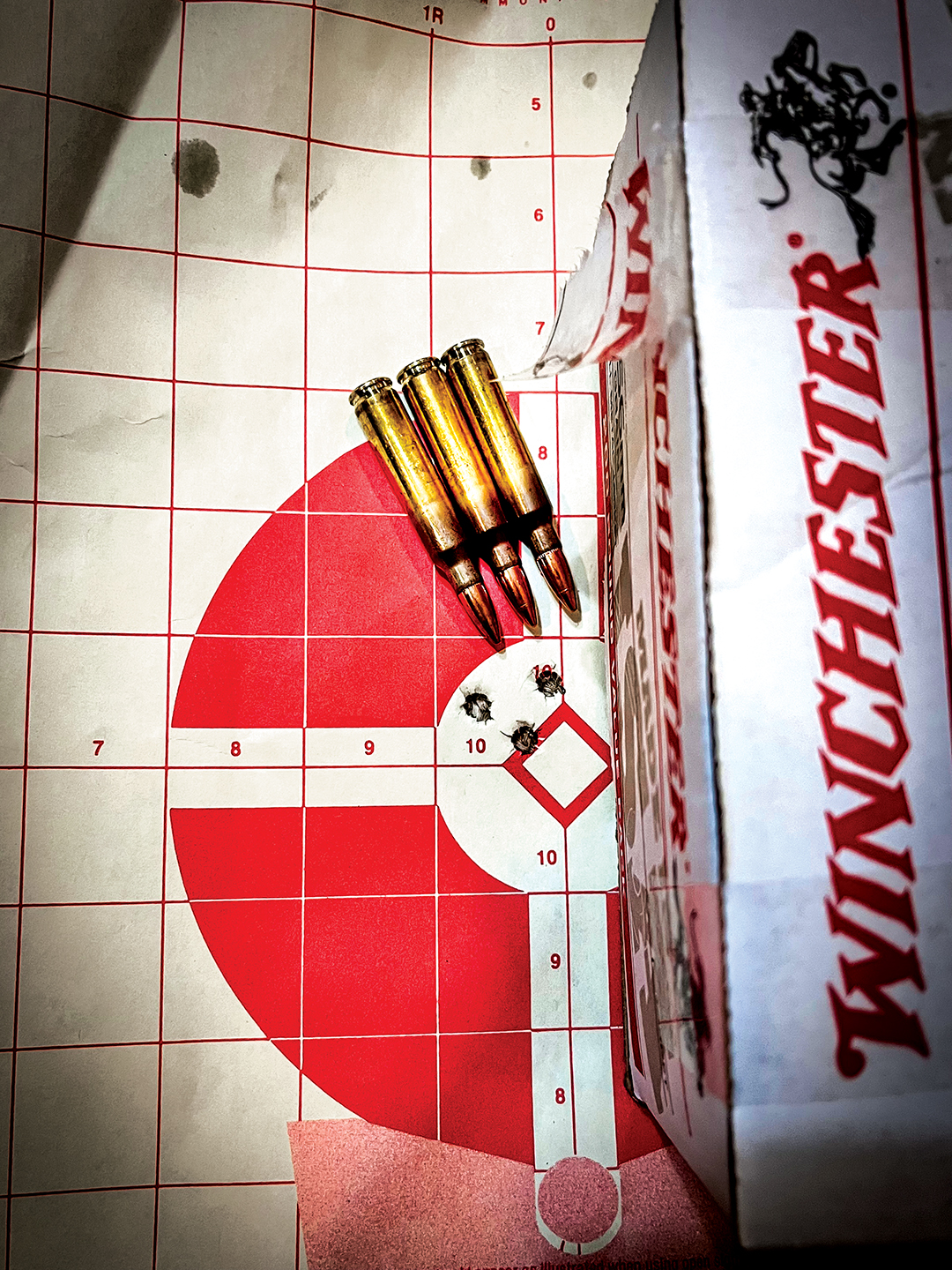 When it comes to accuracy, the CZ 600 Trail rifle stands out from the crowd. It's capable of delivering sub-MOA precision — meaning that shooters can rely on consistently-accurate shot placement, shot after shot. The Trail is also compatible with a wide range of ammunition offerings, shooting both lightweight varmint rounds and heavy target loads equally well and stacking both 55-grain FMJ white box and 69-grain match loads into impressive .70-inch three-shot groups. Color us impressed by this rifle's ability to print consistent group sizes with a wide range of ammunition.
The CZ 600 Trail is an incredibly capable rifle that blends performance and portability in a way that few other firearms can. With its lightweight construction and highly accurate performance, this rifle is sure to catch the attention of new shooters while becoming a favorite among seasoned hunters and outdoorsmen alike. It's reliable, accurate, and lightweight; perfect for honing your long-range skills, taking your small to medium-game hunting to the next level, or serving as a reliable companion for those long (or short) walks in the woods. Whether you're after an ideal hunting rifle or a lightweight, accurate target rifle to add to your quiver, the ultra-versatile CZ 600 Trail has you covered. See one at your nearest dealer, or for more information, contact CZ USA; Tel.: (800) 995-4486; Web: www.cz-usa.com.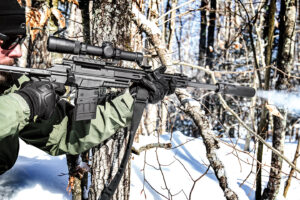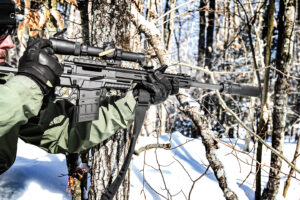 ---
Specifications:
Type: Bolt Action
Caliber: .223 Remington (tested); 7.62x39mm
Barrel: 16.2 in., 1:7 in. twist
Overall Length: 27.2 in. collapsed; 35 in. extended
Weight: 6 lbs. 2 oz.
Stock: PDW-style telescopic
Grip: CZ
Finish: Anodized
Capacity: 10 rounds (AR magazine compatible)
Muzzle Device: Thread protector
Trigger: Two-stage adjustable; 1.3 to 3 lbs.
Sights: Picatinny rail
MSRP: $1,080
---
Performance Data
Winchester 55-grain FMJ
Average Group: 0.81-inch
Best Group: 0.65-inch
---
Winchester 69-grain Match
Average Group: .80-inch
Best Group: 0.70-inch