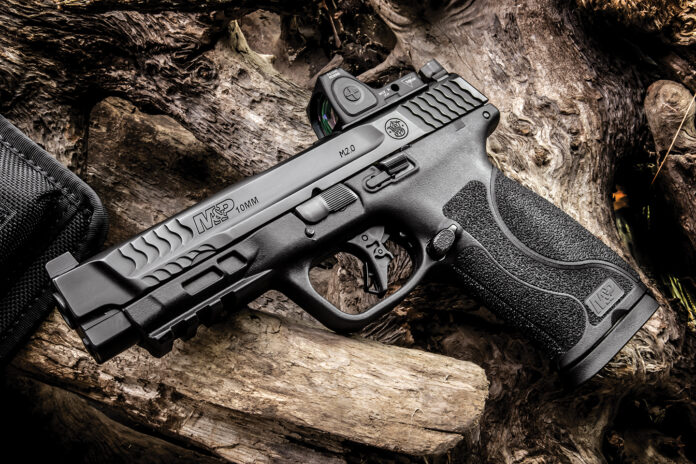 Smith & Wesson M&P 10mm
By: Massad Ayoob
           10mm X 16 + polymer striker = backcountry success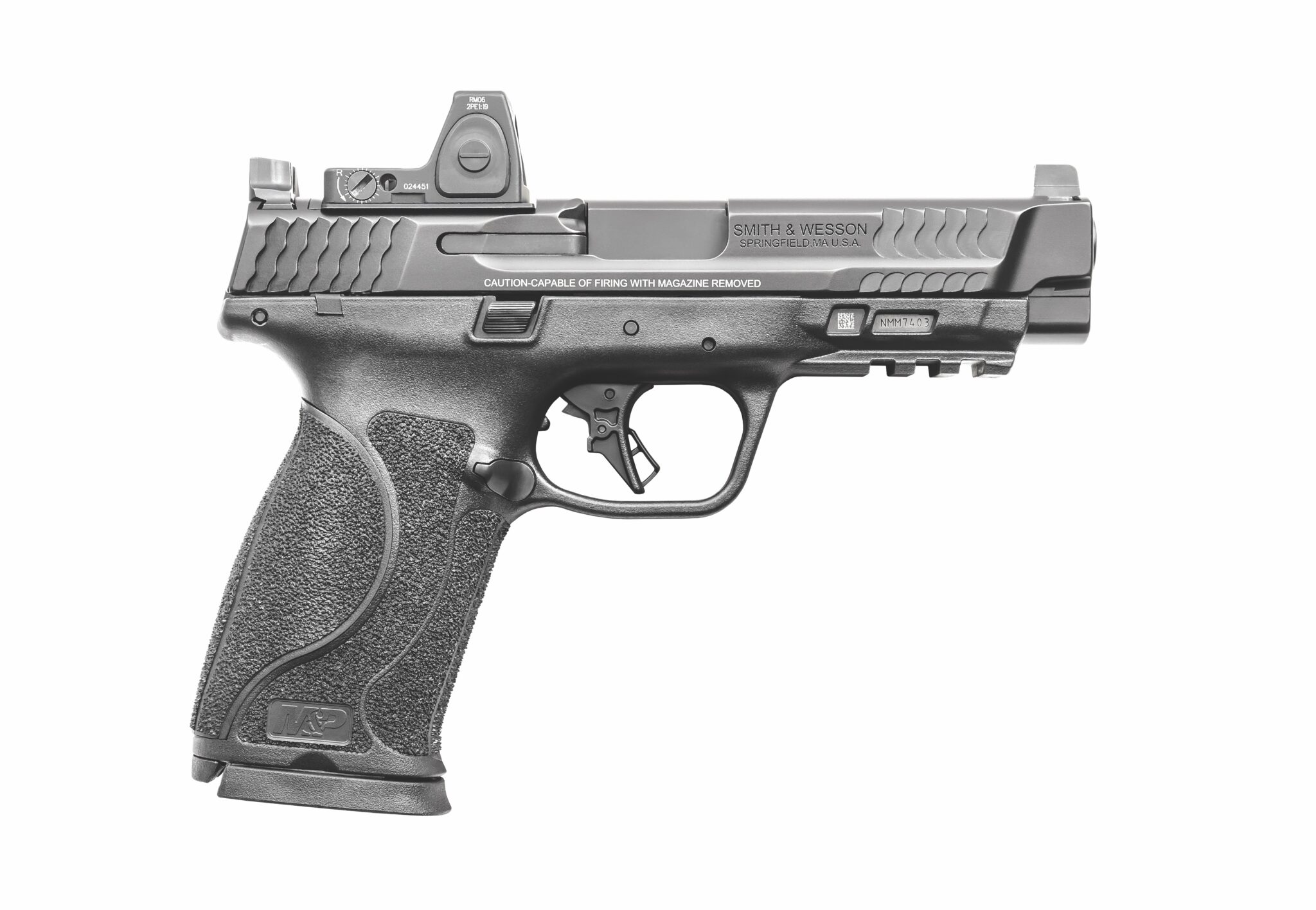 The 10mm Auto cartridge is enjoying something of a renaissance, particularly among outdoor sports folks who spend time in dangerous animal country. When something that looks like a furry Cadillac Seville is coming at you with a sharp-toothed grille, sixteen deep-penetrating handgun rounds are more confidence-building than six Magnum rounds, let alone bear spray or a clubbed fly rod.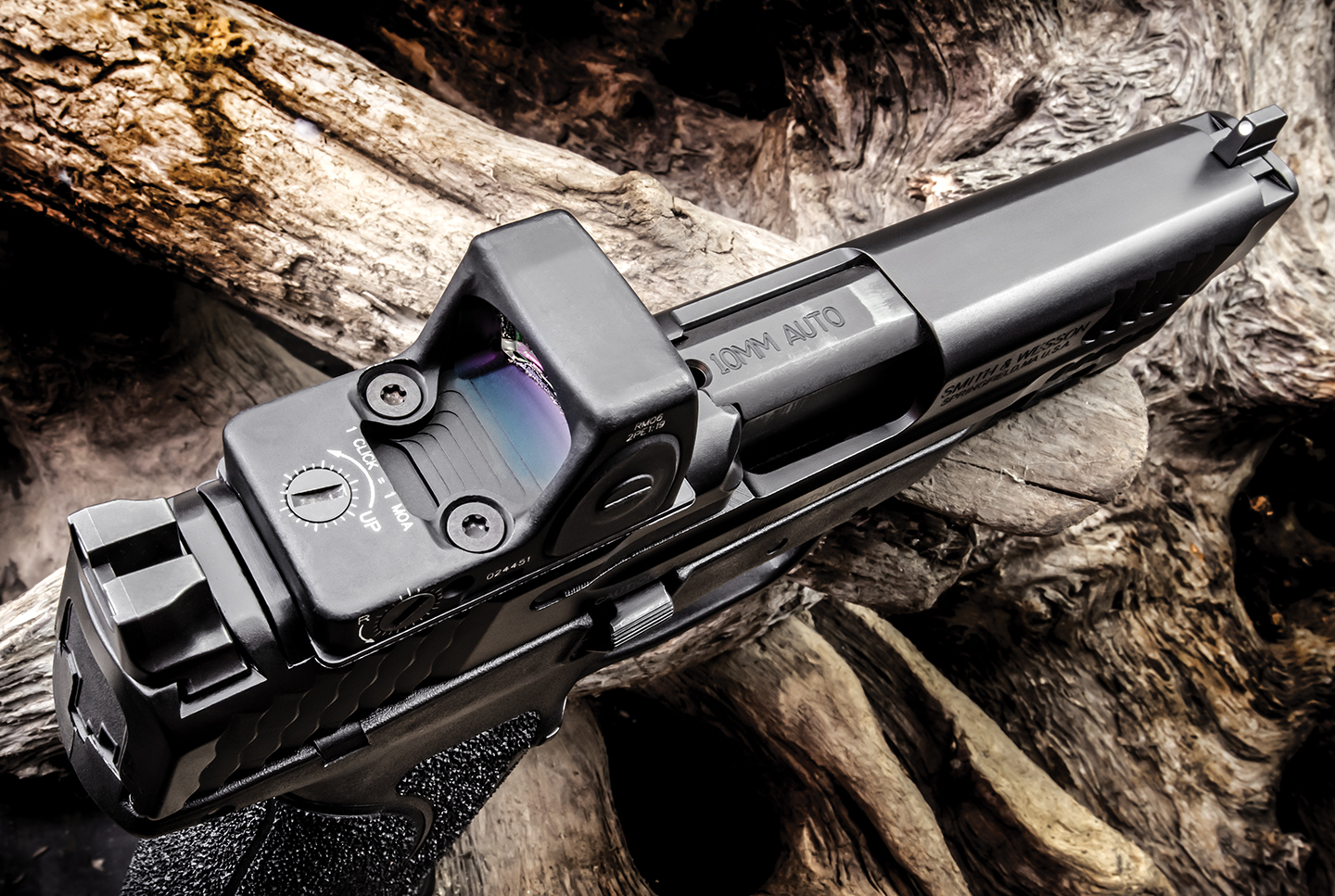 Back in 1990, the 15 +1 round 10mm Glock 20 set the pace and became particularly popular in Alaska, where gigantic brown bears compete with anglers during the salmon runs and aren't always sporting about it. S&W has now joined the fray with their own polymer-framed, striker-fired 15+1 round 10mm.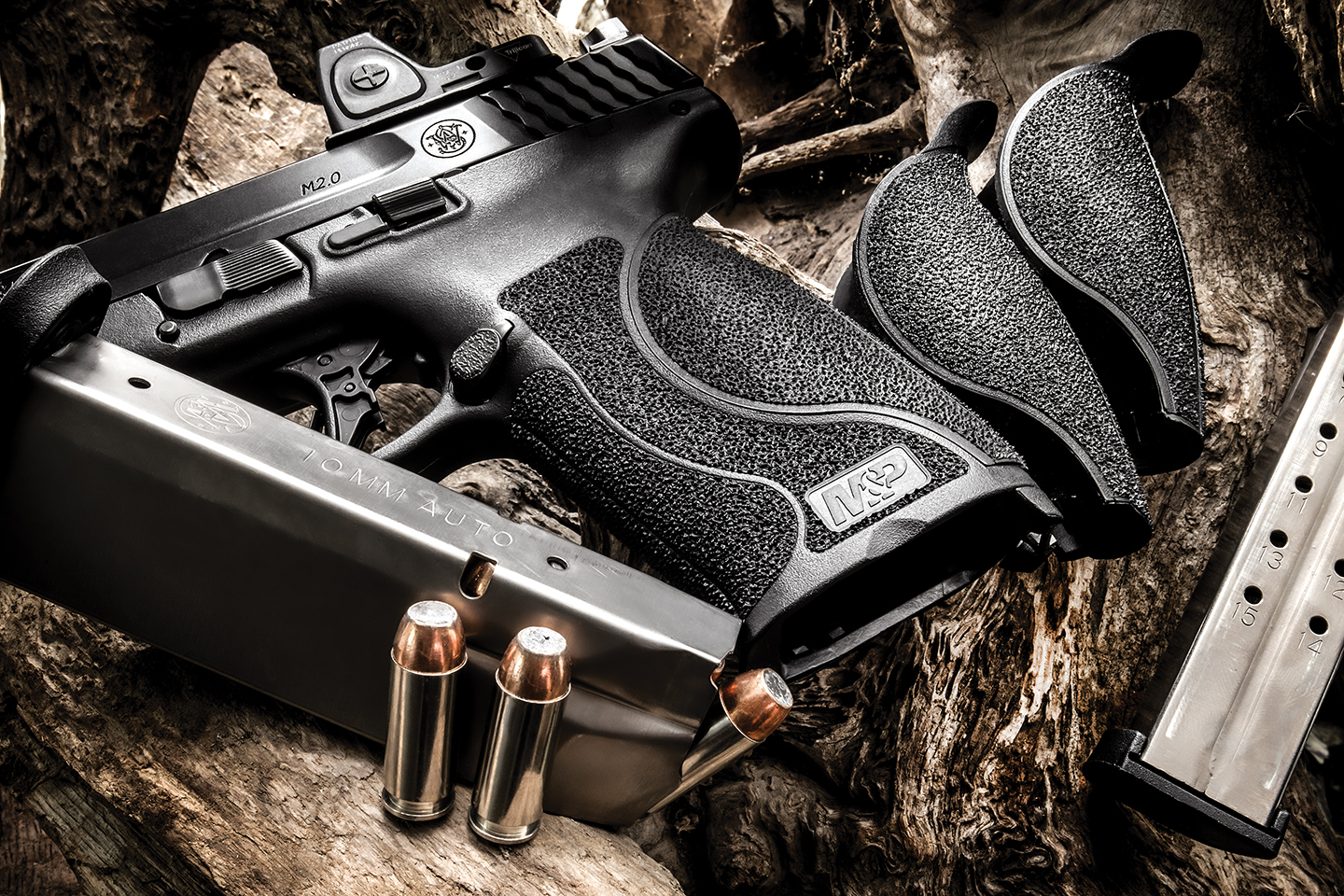 The S&W Military & Police 10mm is the most powerful chambering yet in the roughly twenty years of this series of pistols. It's Generation 2.0 and optics-ready complete with mounting plates and tall fixed sights with three white dots. It can be had with a 4.0-inch or 4.6-inch barrel, with or without a frame-mounted safety. The test sample that came to me from On Target headquarters in New Hampshire arrived sans manual safety and with the longer barrel. (I'd have ordered it with the thumb safety, but I like that S&W gives us the choice. If the manual safety is to your liking, this S&W is the only polymer 10mm striker gun that offers that option.) Editor Ben Battles had thoughtfully installed a Trijicon RMR red dot optic.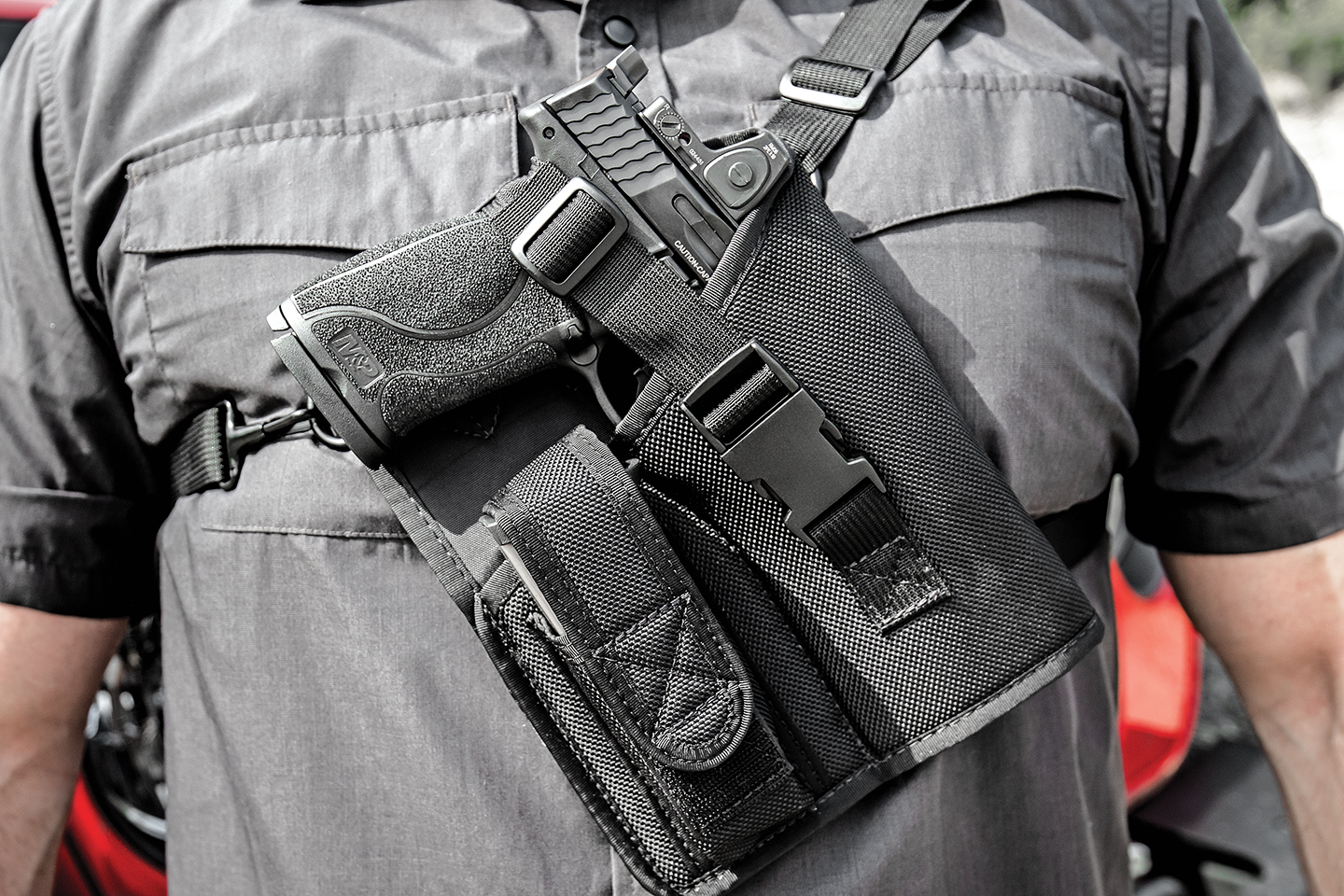 The all-metal 15-round magazines — two of which are included — were easy to fill up all the way and empty out by hand when necessary. That's a definite positive. This model comes with a flat-faced trigger, which no one on the test team disliked. In slow fire, one could feel a little creep (think "scrape") in the take-up, but once the trigger finger came to the "wall" of firm resistance, there was a short roll and a clean break. Pull weight, depending on whether the measurement was at the toe of the trigger (which is always lighter due to leverage; thank you, Mr. Archimedes) or at the center, was right between 5.5 and 6.5 pounds, good to go for "duty pull weight spec."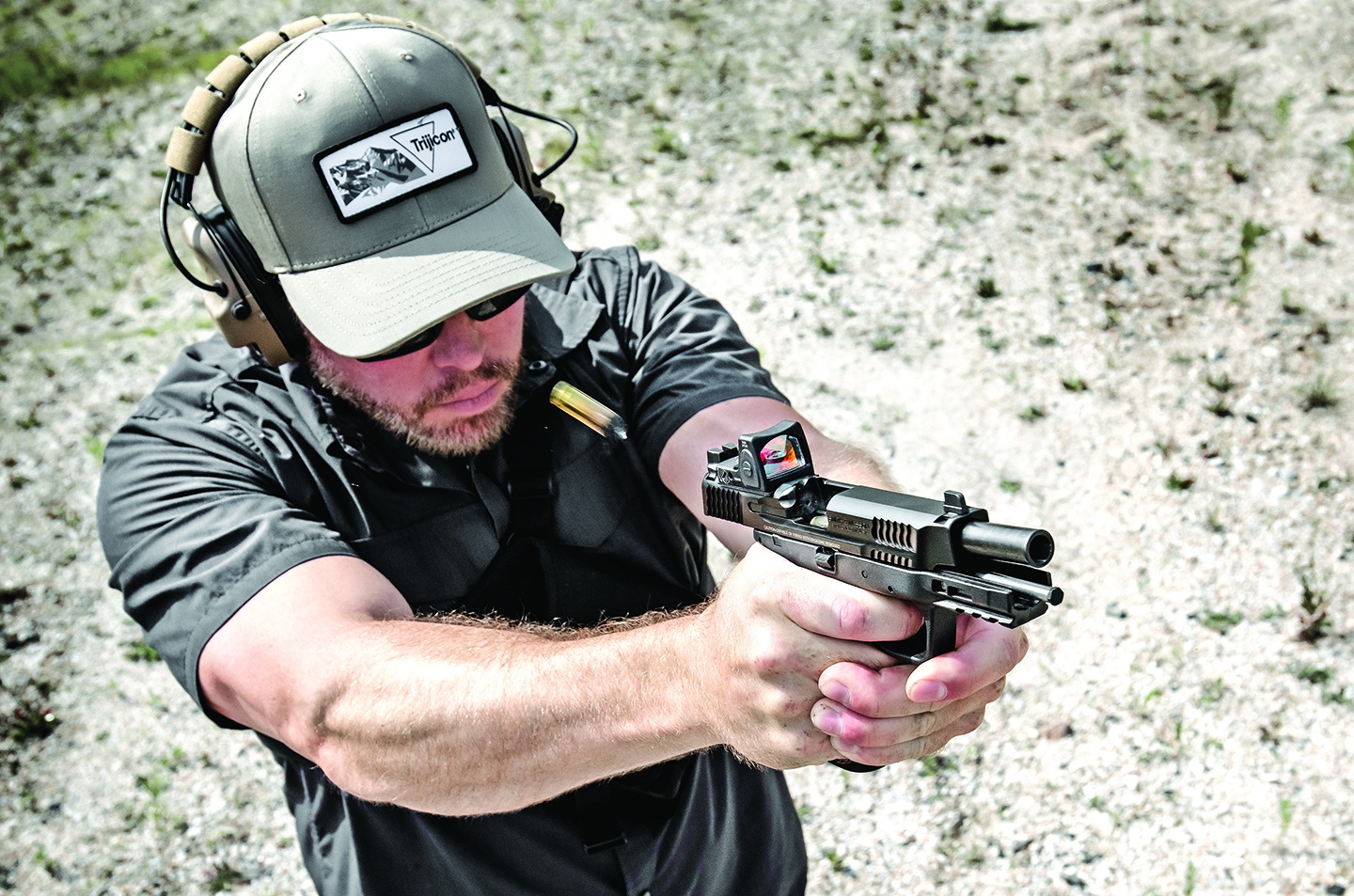 Like most of its breed today, this polymer pistola comes with inserts to change grip configuration and trigger reach. That latter element is a key part of "machine fitting the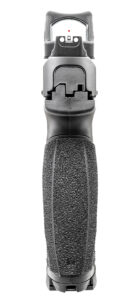 operator." Subjectively, in my average size adult male hand, I found the trigger reach between the longer reach of the Glock20 and the slightly shorter reach of the Springfield XD(m). Overall, every tester on our team found that the M&P 10mm felt good in their hand. The Gen 2.0 M&P has aggressive stippling. We testers didn't find it as bothersome as we thought we would with the hard grasp required for controlling powerful handguns, and while it wasn't something we'd want to shoot all day with the hottest loads, it turned out not to be a problem. That rough grasping surface did, absolutely, perform its intended function: keeping the gun from slipping in hand during rapid fire. Like its competitors, it comes with a light rail. If you are camping in bear country, you would be wise to take advantage of this and mount a white light unit.
Our sample ran fine with Blazer aluminum 200 grain, Buffalo Bore Heavy 10mm (220 grain hard cast lead flat point at 1200 fps), and Speer Gold Dot, which grouped in about two inches at 25 yards.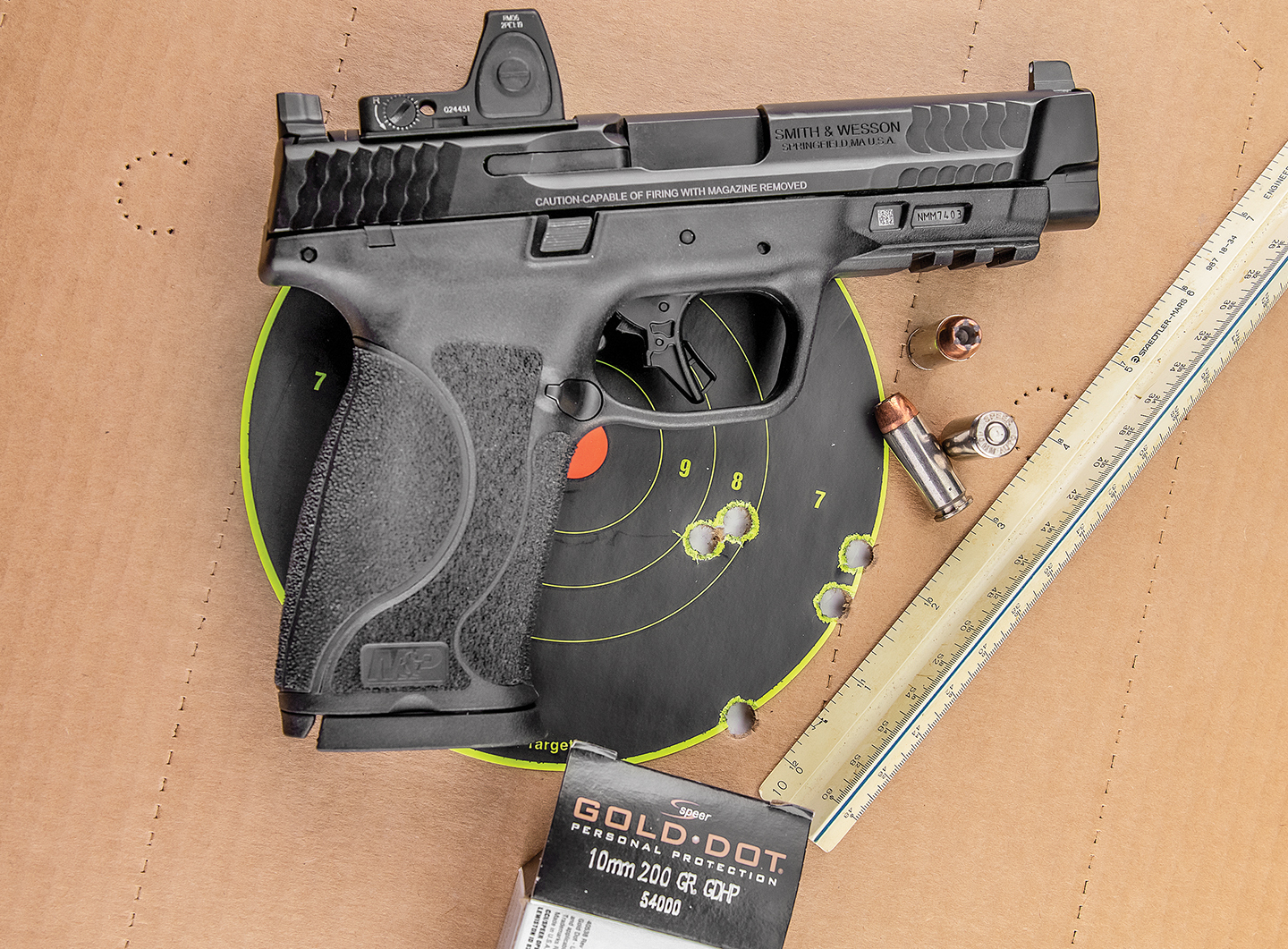 Overall, the testers all liked the 10mm Smith & Wesson M&P. It is a worthy contender in the growing field of polymer-framed, striker-fired sixteen-shot 10mm auto pistols. See it ($669) at your nearest dealer, or for more information, contact Smith & Wesson; Tel.: (800) 331-0852; Web: www.smith-wesson.com.
---
SPECIFICATIONS:
Action:                                    Striker fired
Caliber:                                  10mm Auto
Barrel Length:                        4.6 inches
Weight:                                  29.3 ounces
Capacity:                               15 + 1 rounds
MSRP:                                   $669
---