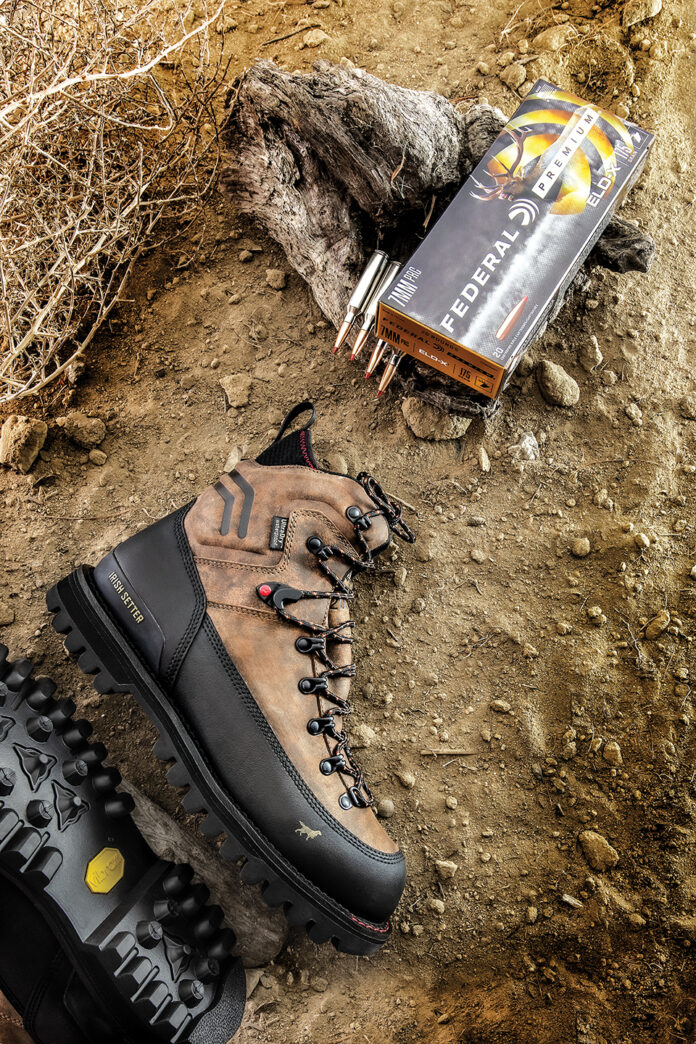 Irish Setter Elk Tracker XD Boots ($259.99)
Elk Hunters are a special breed. The typical rugged and mountainous terrain encountered when trying to put Elk in your crosshairs dictates that A: you must be in peak physical condition, and B: your gear is up to the task. Talking boots, the new 8-inch Irish Setter Elk Tracker XD is built specifically to take on the hardcore rigors of chasing Elk.
The technology Irish Setter has incorporated into the Elk Tracker XD is impressive and almost more than we can elaborate on here. We'll try anyway. Starting at the bottom, a rugged "Mega Grip" compound Bulls-Eye Air Bob Vibram sole effectively pairs comport with the needed stiffness and stability and features a tread pattern that provides claw-like traction. Strategically-placed Energ high-rebound material puts a burst of energy in each step. Moving up, a wrap-around Armatec rubber rand effectively serves as a barrier against rocks, sticks, and other boot-damaging objects.
The hand-crafted Trout Brook Leather construction features UltraDry Waterproofing to keep you dry, while 200g PrimaLoft insulation keeps you warm as you gain elevation. Scentban is added to control scent and to kill bacteria that cause odors. CuShin Comfort tongue technology reduces shin pressure, while Temsens Technology vaporizes moisture when you're hot and retains body heat when you're cold. See, we weren't kidding about the technology. See them in person at your nearest Irish Setter retailer, or contact Irish Setter Boots; Tel.: (888) 738-8370; Web: www.irishsetterboots.com