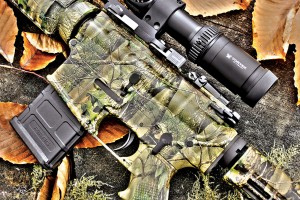 For testing we mounted a Vortex Viper HS-T 4-16×44 riflescope in a LaRue Tactical SPR 1.5 quick-detach mount. In case you missed it in our last issue, the Viper HS-T 4-16×44 ($659) is a multi-role scope suitable for hunting, target shooting, tactical deployment or all three. Built on an ultra-strong, one-piece, 30mm tube machined from aerospace-grade aluminum, and weighing 20.8 oz., the Viper HS-T 4-16×44 is available with your choice of two different hashmark-based reticles—one graduated in MOA and the other in MRAD (tested)—both of which are set in the second focal plane to facilitate long-range precision. It features side-mounted parallax adjustment dial (50 yards to infinity), 75 MOA (21 MRAD) vertical and horizontal adjustment range in 1/4 MOA (0.1 MRAD) increments, target-style zero-stop turrets and fully multicoated, extra-low dispersion glass lenses with ArmorTek scratch-resistant coating. It's waterproof, fogproof and shockproof, and comes with a 4-inch screw-on sunshade. And like all Vortex optics, it is covered the Vortex unconditional lifetime warranty (www.vortexoptics.com).
Reliability testing with a variety of 5.56 NATO/.223 Rem. ammunition brands and bullet weights went exactly as we expected—not a single failure to feed, fire, extract or eject was encountered. Both perceived recoil and muzzle rise were typical for a 16-inch barreled, direct-gas-impingement AR, and the gun handled well and tracked from target to target with ease.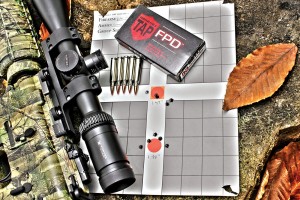 For accuracy testing from the bench at 100 yards, we used a variety of ammo brands in bullet weights ranging from 52 to 77 grains. The 77-grainers were included to see how the rifle's 1:9" twist rate would handle heavier bullets. The answer was quickly revealed: it absolutely hated them, and refused print a group much under three inches. The 52- and 60-grain loads produced better results, but all 5-shot groups still averaged over 2 MOA. The load that the TimberTec liked best was Hornady's 55-grain TAP FPD (3,240 f.p.s./1,282 ft. lbs.), with the best 5-shot group measuring 1.38" center to center, and a largest group measuring 1.89". While the rifle itself may be capable of better precision, we all felt that what you see is the best we could produce with the gun's Mil-Spec trigger.
One hundred yard precision averaging just over 1.5 MOA is definitely "minute of bad guy"—heck, it's even "minute of beer can"—which is more than acceptable in a 100% reliable hunting/defensive carbine. See the TimberTec Camo SRC at your firearms retailer, or for more information contact Windham Weaponry, Inc., Dept. OT; Tel.: (855) 808-1888; E-mail: [email protected]; Web: www.windhamweaponry.com