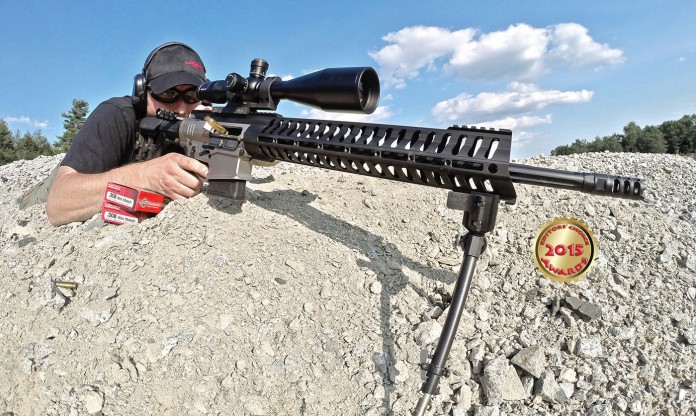 Patriot Ordnance Factory earns this Editors' Choice Award by calling the bluff of the "assault weapon" banners with the introduction of its new ReVolt family of AR bolt-action rifles. As reviewed by contributor Frank Melloni, the rifle comes out of the box looking as menacing as possible, with silver NP3 finished upper and lower receivers, black nitride heat treated barrel and extended charging handles on both sides, giving it that "Ma Deuce" look and feel—just what the assault weapon banners are looking for! The only thing it's lacking is the gas system and bolt-carrier group that makes a traditional AR rifle a semi-auto.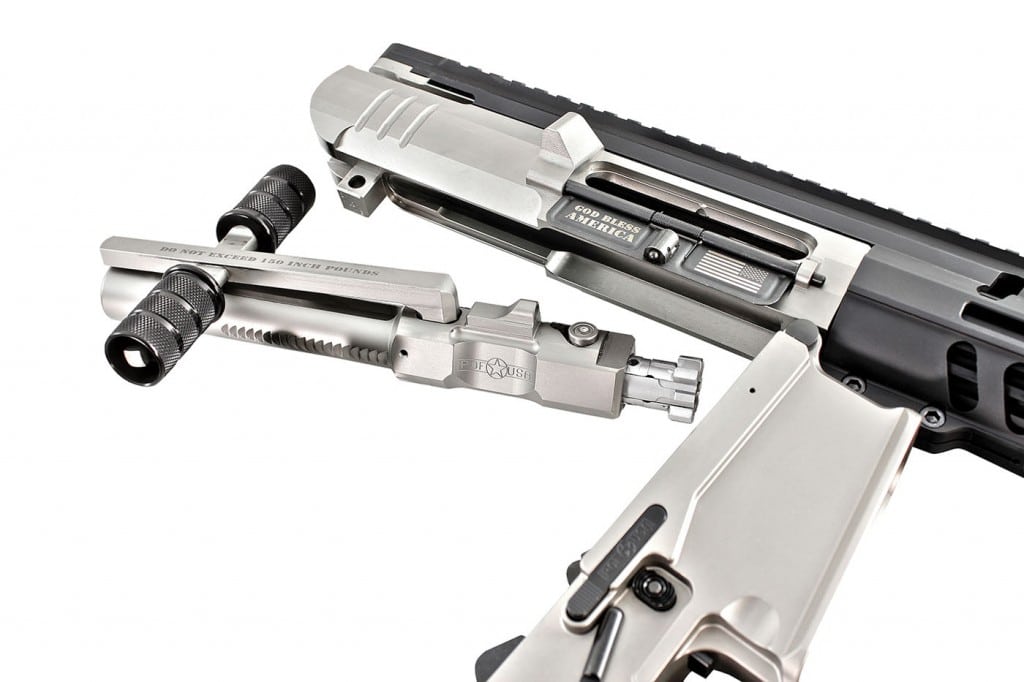 The POF ReVolt comes in two models: the 5.56 NATO chambered ReVolt Light ($2,029.99) and the 7.62 NATO chambered ReVolt Heavy ($2,679.99). We receive the ReVolt Heavy for evaluation and testing. Nothing says "Screw you" like sending ten rounds of .30 cal downrange in a hurry.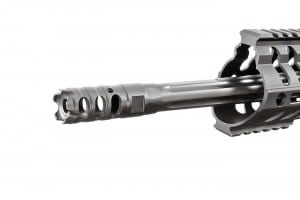 In place of an AR-standard "T" charging handle, you'll find POF's proprietary charging handle, with ambidextrous knurled aluminum extension handles on both sides, each measuring 1.5" long by 7/8" in diameter. The charging handle fits into a special notch machined into the bolt carrier. This system provides straight-pull, bolt-action cycling, and because it sits in a notch, it not only retracts the bolt, but also can be used as a forward assist. The buffer tube and spring remain in place and work to slam the bolt forward, picking up a fresh round from the magazine, chambering the round and putting the bolt into battery. Since all you have to do is pull the charging handle fully to the rear and let it go, cycling is fast and easy. The ambidextrous charging handles are mounted on rollers, making it easy to keep your grip and pull straight back to eject a spent round. The rollers also minimize wrist rotation. Another unique note on the charging handle is that stored inside you'll find an optics adjusting tool for use in the field if needed. Used in conjunction with the storage compartment on the Magpul MOE pistol grip, you can carry all the bits and pieces needed for installing and maintaining scopes and other accessories. The rifle employs a LUTH-AR MBA-1 buttstock, which is adjustable for both comb height and length of pull. Proper length of pull and comb positioning is critical for cycling the bolt without hitting yourself in the nose.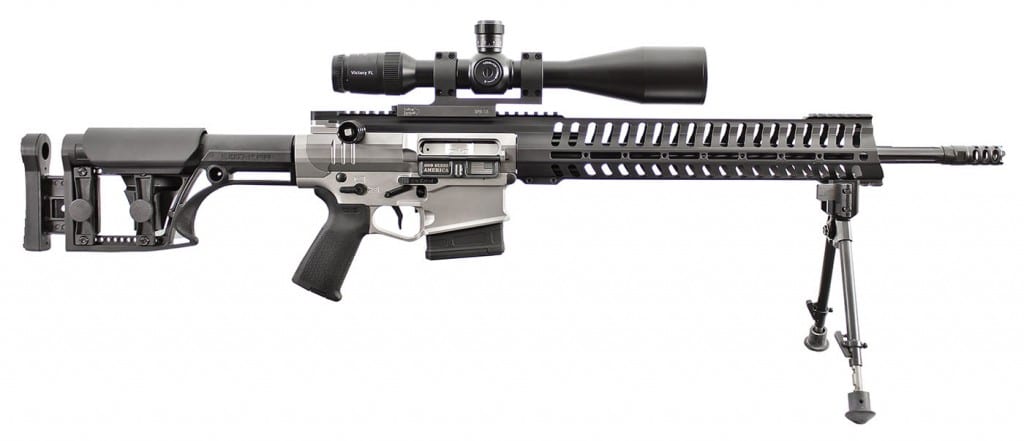 Other key features include an 18.5-inch, heavy-contour, fluted Match-grade barrel rifled at 1:10" with 5/8×24 muzzle threading and POF's Editors' Choice Award winning E2 Dual Extraction Chamber Technology. A 14.5-inch POF Monolithic M Rail handguard with 22-slot Picatinny top rail extends over the upper receiver, with 5-slot rails top and bottom at the forward end and full-length M-Lok slots along the slides and bottom. The handguard is free-floated over the barrel. The controls—mag release, bolt catch, bolt release and safety selector—are fully ambidextrous. The POF single-stage trigger system has an "enhanced finger placement" trigger blade, is secured by KNS anti-walk pins and breaks like glass with no take-up, creep or stacking at an average pull weight of 4 lbs. 2 oz. as measured on our Lyman digital trigger pull scale. The ReVolt Heavy comes with one 10-round Magpul P-MAG.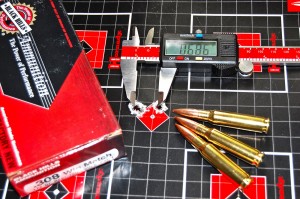 Testing ammunition consisted of Hornady 150-gr. SST and 178-gr. BTHP Match ammo, as well as Match loadings from Black hills in both 175- and 168-gr. Oh, and some Indian surplus left over from the '70s as a wildcard. Testing began with what the rifle was designed for—fast follow up shots. The problem with politicians is that they watch too many movies. They think that the average person can walk out of a gun store and successfully engage 10 targets in four seconds. They forget the unfortunate business of aiming that slows down accurate shooting.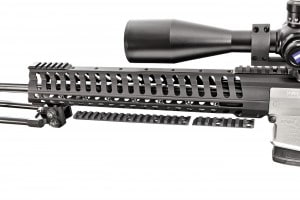 Following a rough zero and setting the Zeiss Diavari scope down to 6x, I began a rapid fire string of 10 rounds onto a standard 11 x 11 target set 100 yards down range. All 10 rounds of that Indian surplus ammo landed within four inches of the bulls eye without a single hiccup in feeding or extraction. My shot timer read back 30.12 seconds. This is just slightly less than HALF the allowed time for the prone rapid fire leg of a standard service rifle match. In short, it's fast enough to go toe to toe with a semi-auto when hits count.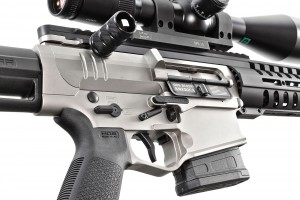 Accuracy testing was conducted from the bench at 100 yards. With the Black Hills 175-gr. Match ammo, it shot a best group of .686 inch, center to center. We were equally impressed with the Hornady 150-gr. SST load—a proven one-shot deer killer—which­ yielded a best group of .834 inch.
We're proud of POF for standing its ground in the "gun wars," for when tyranny stares you in the face true patriots don't retreat—they ReVolt.
Contact Patriot Ordnance Factory,; Tel.: (877) 561-9572; E-mail: [email protected];
Web: www.pof-usa.com
| | | |
| --- | --- | --- |
| Ammo | Best Group | Avg Group |
| Black Hills 175-gr. Match | 0.686" | 0.953" |
| Black Hills 168-gr. Match | 1.461" | 1.525" |
| Hornady 150-gr. SST | 0.834" | 1.423" |
| Hornady 178-gr. Match | 1.028" | 1.953" |