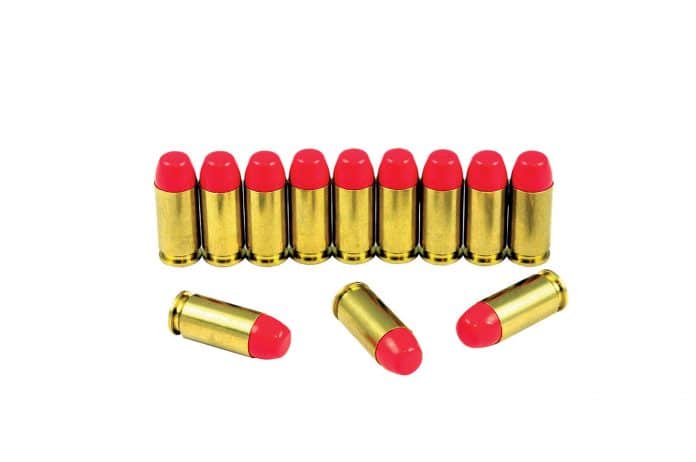 By Mike Dickerson
---
SAY GOODBYE TO COPPER AND LEAD FOULING OF YOUR PISTOL BARRELS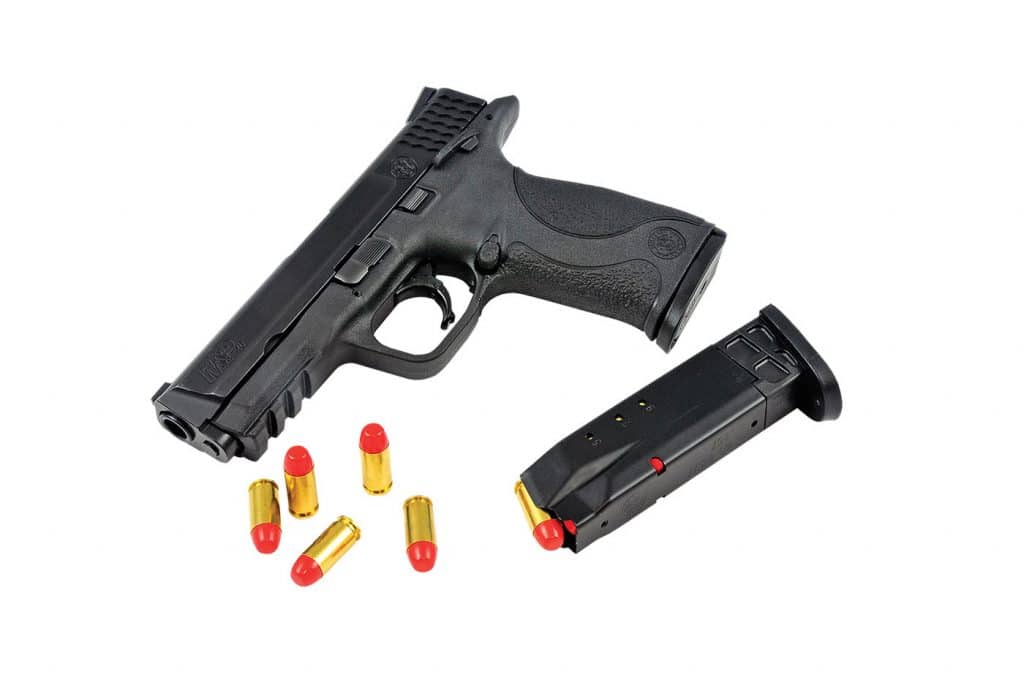 It's not every day that the little brown truck delivers a single box of ammo from Federal Ammunition marked "Engineering Sample." When it did recently, I opened the package with the enthusiasm of a Brittany pup flushing his first covey of quail, because I knew there had to be something pretty cool inside.
In this case, the contents had me seeing red, quite literally, because the box contained handgun rounds loaded with bullets coated with a synthetic red material. It's actually a hard polymer coating, and it completely encases a soft lead bullet. Federal calls it a "Total Synthetic Jacket" (TSJ) bullet, and it may well be a game-changer.

The new ammo, named Syntech, will be sold in Federal's competitively priced American Eagle line for use as target or range ammunition. Unlike other coated bullets, such as those that use the nylon or Nyclad coating of some law enforcement loads, the Syntech coating maintains its integrity and stays on the bullet as it travels down the bore. Because there's no metal-on-metal contact between the bullet and the barrel, there's less friction, heat and barrel wear. According to Mike Holm, senior product manager for Federal American Eagle Ammunition, testing by Federal engineers demonstrated that a 230-grain .45 ACP Syntech bullet produced 12% less friction than a comparable FMJ bullet. Similarly, the 115-grain 9mm Syntech bullet produced 14 % less heat when tested against a similar FMJ load.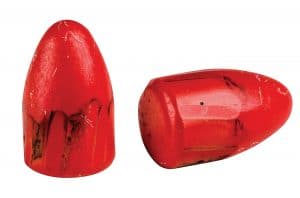 That may not sound like a lot, but the reduced friction allows Federal to achieve the same velocities as comparable loads using a bit less powder, so there's a corresponding reduction in recoil. The fact that the bullet glides down the barrel, with no metal-on-metal contact, has another beneficial impact that stands out like an NFL cheerleader in a convent: It completely eliminates copper or lead fouling of the barrel. Think about that for a moment. The only thing you'll need to remove after shooting Syntech is some burnt-powder fouling, and even that is reduced thanks to the use of Federal's lead-free Catalyst primer and cleaner-burning powder.
The new primer is hot and provides extremely reliable ignition, according to Joel Sandstrom, Federal's chief chemist. "This results in a more complete and efficient burn of the propellant, which significantly reduces residue with each shot," he says. It also helps address a concern of target shooters over the risk of possible lead exposure at indoor shooting ranges. Some of this risk stems from the use of lead styphnate in traditional primers. Although this reportedly accounts for only 20% of the airborne lead at indoor shooting ranges, the airborne lead from primers is much finer and supposedly more easily absorbed into the bloodstream when inhaled. In addition to eliminating that source of airborne lead, Syntech's full coating prevents vaporization of lead from the base of the bullet upon ignition.
"The lead issue and the use of "greener" ammo appear to be of greater concern to a new generation of shooters," says Holm. "We know that someone who started shooting a handgun in the past few years generally has different wants and needs than established shooters," he says. "New shooters are typically more intimidated when it comes to cleaning their handgun or shooting at indoor ranges."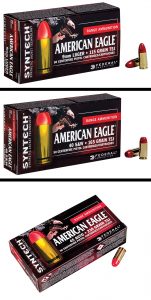 Both new and experienced shooters may share concerns about "splashback" of bullet fragments when shooting at steel targets. If you shoot at steel long enough, you'll likely experience this. It can, in some cases, be hazardous. According to Federal, Syntech's combination of soft lead and a polymer coating greatly reduces splashback. Testing of the 115-grain 9mm Syntech bullet, versus a comparable FMJ bullet, revealed 91% less weight in fragments traveling more than 15 yards from a steel target, and a 77% reduction in fragments weighing more than 10 grains.
Federal isn't giving away any trade secrets, but hints that the company may look to apply the Syntech treatment to other ammunition products in the future. Initially, Syntech will be available in a 9mm 115-grain load ($19.95), a 165-grain .40 S&W load ($26.95) and a 230-grain .45 ACP load ($33.95), all in 50-count boxes.
With only one box of ammo to play with, I couldn't fully test the new Syntech loads, but I did run a few magazines through my Smith & Wesson M&P 40. The new ammo fed, fired and ejected with no hiccups, and I was pleasantly surprised to discover that recoil was noticeably milder than with full-house law enforcement or self-defense ammunition. Cleaning the pistol was, as promised, an easy task. It took only a couple of minutes, and I quickly decided that my pistols are going to see a lot more Syntech in the future. For more information, contact Federal Premium Ammunition, Dept. OT; Tel.: (800) 379-1732; Web: www.federalpremium.com.