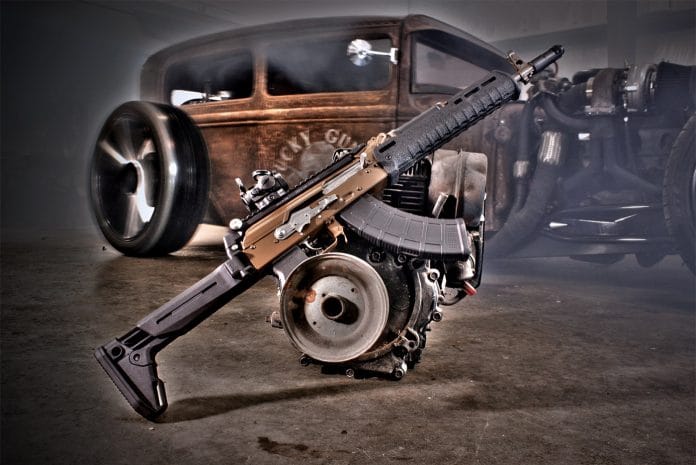 Several of out staffers hold the attributes of the AK-47 platform dear to their hearts, and in a healthy percentage of these cases, even prefer it to the AR-15 (I don't happen to be one of them). Recognizing that many readers also favor the AK, however, we decided to build the ultimate AK as an illustration of what can be accomplished with this iconic defensive rifle.
We started out with a staffer-owned Arsenal, Inc. SLR-107—the company's most basic model from several years ago—with a fixed stock and stamped Russian receiver chambered in 7.62×39. The fixed-stock version has been discontinued, but the identical gun (SLR-107FR) with a Bulgarian stamped receiver (the Russians remain embargoed) and left-side folding stock retails for $999.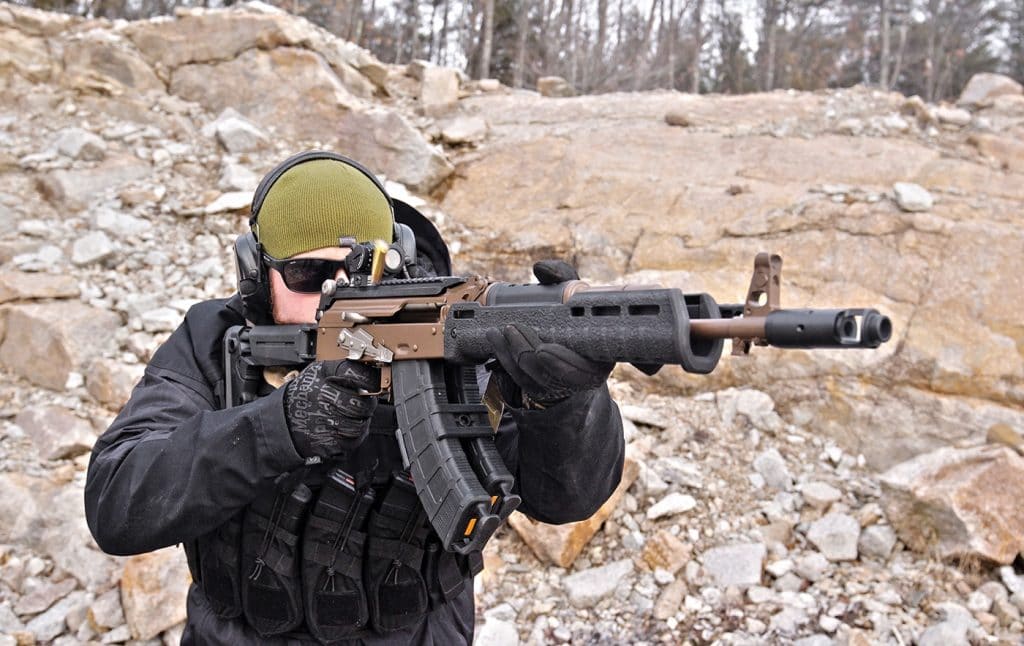 Our SLR-107 is represents one of the finest AK platforms available to U.S. consumers today, with a cold-hammer-forged, chrome-lined barrel, and top-quality U.S. made components, like the anti-slap, double-stage trigger group, 24mm removable muzzle brake and right-side-mounted scope mount, and it's reasonable price (in comparison to a quality AR-15) made it a good "starter AK" for this project.
The Magpul Connection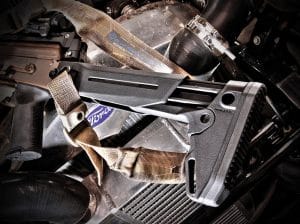 Like many reading, we're sure, Magpul is one of our go-to sources for AR and AK aftermarket furniture and accessories. In this case, we started with Magpul's awesome-new Zhukov-S left-side-folding, collapsible buttstock ($99.95) in black. FDE, Stealth Gray, OD green and Plum are also offered. It features QD sling mounts, modular cheek risers, five length adjustments over a range of 2.6" and a shock-absorbing rubber butt-pad. Weight is 15.0 oz. Snap-on polymer check risers are available in 0.25", 0.50" and 0.75" heights in all five colors at $9.95 each.
Moving forward we chose a Magpul MOE AK+ rubber-covered polymer pistol grip ($24.95). It's also available in the same five colors as the Zhukov-S buttstock. The Magpul MOE AK+ provides outstanding grip traction and contains a roomy storage compartment.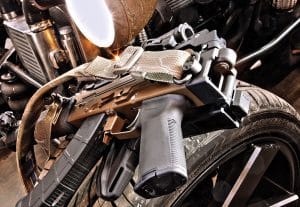 Magazine choices for the AK platform abound, but we chose the PMAG 30 AK/AKM MOE. This inexpensive ($13.95) lightweight, high-reliability, 30-round polymer magazine was designed specifically for Kalashnikov pattern rifles in 7.62x39mm. It's become our AK magazine of choice, and has never let us down. It's available in black or FDE.
For a handguard, we chose Mapul's extended-length Zhukov polymer model ($99.95). It features an aluminum chassis for strength and heat dispersion, a comfortable injection molded exterior for superior ergonomics, and M-LOK slots at the 3, 6 and 9 o'clock positions for optimized accessory attachment. It weighs 15.1 oz. with top cover and is 11.7" long. We also picked up an M-LOK Cantilever Rail/Light Mount in black polymer for mounting a Surefire weapon light ($17.95). The total tab at Magpul was $256.75. Contact Magpul Industries, Dept, OT; Tel.: 877-4MAGPUL; Web: www.magpul.com.
Other non-Magpul accessories we installed included a Krebs Custom AK top rail ($310; www.krebscustom.com) and a Blue Force Gear Vickers 221 QD sling ($80; www.blueforcegear.com).