The ROBAR Job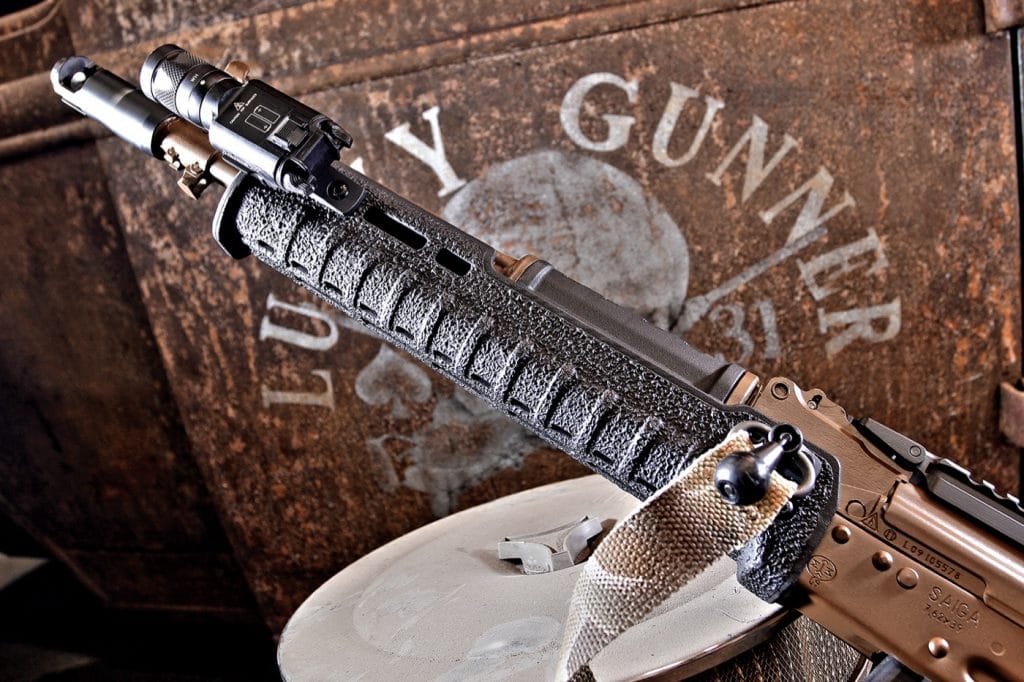 We've learned that if you want a firearm to remain rust and corrosion free for a life time, ROBAR is a great place to start. Their Poly-T2 is a PTFE based modified epoxy coating specifically designed to provide lubricity and corrosion protection for metal components exposed to harsh environments and demanding service conditions. It provides the corrosion protection necessary to exceed 1,000 hours salt-spray exposure per ASTM-B-117. It also provides excellent abrasion protection and impact resistance, galling, seizing and fretting. Poly-T2 is virtually unaffected by atmospheric and fretting corrosion, as well as exposure to solvents, acids, oils and degreasers, including all of the MIL-PRF-46010G Table 1 Test Fluids. ROBAR is so confident in the performance of Poly-T2 that it offers a lifetime warranty.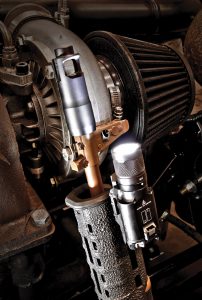 We had ROBAR apply Poly-T2 in their new burnt bronze color to all major components, including the receiver, receiver cover, gas tube, barrel and front sight post. Everything else was coated with ROBAR's electroless nickel-based NP3 finish that co-deposits sub-micron particles of PTFE (a/k/a Teflon) with electroless nickel. NP3 permits firing for longer periods of time between cleaning, as dirt and powder residue have no wet or oily surface to cling to. When cleaning is required, the effort needed is minimal, usually requiring only a soft cloth. NP3 is highly corrosion resistant. It provides a high lubricity and low friction co-efficient, greatly increasing the life expectancy of a firearm due to reduced friction wear. NP3® is a satin gray, non-reflective color ideal for all firearms. The bolt and its small parts, bolt carrier with gas piston, the entire trigger group and time pins, The sight adjustment dial on the Krebs Custom AK top rail, the Magpul folding stock pins and the safety/bolt hold back were all coated in NP3.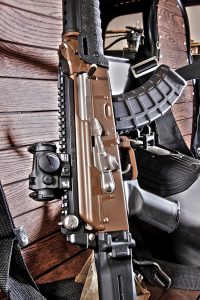 Anything we wanted to remain black—the Krebs Custom AK top rail, muzzle brake and a variety of internals—got ROBAR's matte Roguard coating, the best black finish available anywhere. It's a hard, durable, molybdenum-disulfide based polymer finish specifically designed to provide lubricity and corrosion protection for metal components exposed to harsh environments.
Finally, ROBAR installed all of the aforementioned Magpul and Krebs Custom accessories, and applied its excellent non-slip finish to the Magpul Zhukov forend. The total tab at ROBAR was $580. Contact The ROBAR Companies, Dept. OT; Tel.: (623) 581-2648; Web: www.robarguns.com
All told, we invested $1,226.75 (plus the original $750 cost of the gun) to create the ultimate AK for under $2,000. It was a fascinating project that produced a great looking gun, and one of the most rock-solid, abuse-proof defensve rifle's currently in On Target's armory.