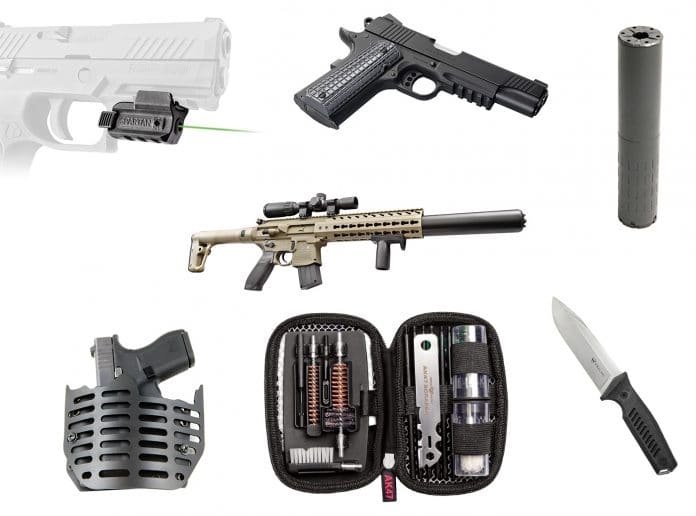 Sig Sauer MCX ASP Air Rifle
From tactical drills to target practice to chipmunk eradication, the new CO2 powered SIG MCX ASP delivers 30 rounds of semi-auto fire and authentic MCX/AR-15 handling for realistic, economical training and practice—any time, any place. Its patented pellet drive system housed inside a detachable box magazine smoothly feeds 30 rounds in 3.5 seconds, and it comes one magazine and a refillable belt. The MCX ASP mimics the looks of the real-deal SIG MCX with a suppressor installed, and is available in flat dark earth or black.

Power comes from a 90 gram CO2 housed in the fixed buttstock tube, which propels a .177 caliber pellet to 750 f.p.s. Other features include an 18-inch rifled steel barrel, polymer handguard with full length Picatinny top rail and five rows of KeyMod slots, tactical vertical grip and flip–up iron sights. Our sample MCX ASP had the optional 1-4×24 Sig Sauer scope with mil-dot reticle. Pricing was not available at press time, but stay tuned for an in depth review of this air rifle. Contact Sig Sauer, Dept. OT; Tel.: (603) 610-3000; Web: www.sigsauer.com
Vortex SPARC AR Red-Dot Sight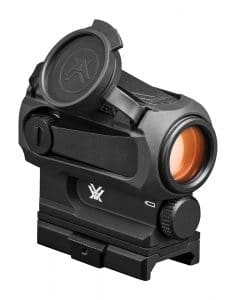 The new SPARC AR red-dot sight ($259) was designed specifically for the AR platform deployed in any defensive role. It's a simple, fast, effective, rugged, lightweight and compact red-dot with a 22mm objective lens diameter and 2-MOA dot for precise point of aim. It features digital, rear-facing controls for power and dot brightness (ten brightness levels) in the base for quick access and viewability from the shooting position. It automatically returns to last brightness setting when turned on. Other features include a single-piece, hard-anodized, aircraft-grade aluminum housing rubber armored for durability, integrated flip caps that nest together out of the way when not in use, fully multicoated optics for optimal light transmission in critical low-light conditions, unlimited eye relief and zero parallax. Powered by a single AAA battery with a 300-hour continuous  use life, the SPARC AR automatically shuts off after 12 hours to preserve battery power. Contact Vortex Optics, Dept. OT; Tel.: (800) 426-0048; Web: www.vortexoptics.com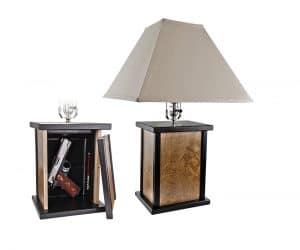 Tactical Walls Tactical Lamp
The new Tactical Lamp ($129) from Tactical Walls—the leading manufacturer of in-wall firearms concealment and storage solutions—is a fully functional decorative lamp with a Velcro-lined hidden compartment measuring is 6" W x 9" H x 4" D to keep a pistol or revolver close at hand. To access your gun, simply pull the detachable panel off the front of the base. A retention magnet placed behind the panel holds it in place. The hardwood lamp base is available in Early American, Dutch Walnut, Cherry and Black finishes, and comes with a  natural colored linen shade A note of caution is in order: the Tactical Lamp's gun storage compartment does NOT lock, which presents a safety hazard if there is any chance of children being present. Contact Tactical Walls, Dept. OT; Tel.: (540) 298-8906; Web: www.tacticalwalls.com
Blue Force Gear Jedburgh Pack
Fashion can be like a revolving door—inevitably, what was once popular will likely be so again. The Blue Force Gear Jedburgh pack is reminiscent of my '80s school backpack—minimalistic and small—but updated with the modern tools to make it just right for modern users.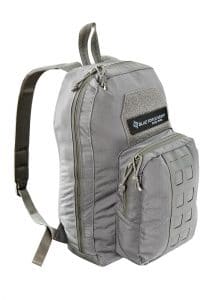 The Jeddburgh offers two compartments: a large main compartment and a smaller accessories pouch. Instead of the obvious MOLLE around the bag, this low profile EDC pack has one single strip of MOLLEminus that almost looks decorative, while still offering expansion. Inside both pockets you will find a generous amount of VELCRO for securing your kit via a number of available Blue Force Dappers. This modularity allows for a bag that has lots of dedicated pockets and pouches or a single large dump pocket. With use of the optional Dapper insert you can actually double the amount of organizational space.
Dual hydration or comms pass-throughs on the top of the pack allow for listening to your iPhone and hooking up a Camelbak or running comms for mission critical intel. Lightweight, compact and streamlined, this low-profile pack puts what you want where you need it without breaking OPSEC during EDC. Available in black, coyote brown, multicam, OD green or wolf, it's priced at $140. See it at your local retailer, or contact Blue Force Gear, Dept. OT; Tel.: (877) 430-2583; Web: www.blueforcegear.com