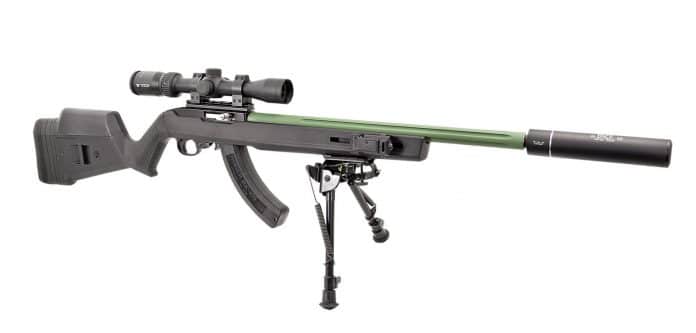 We use the latest hardware to bolt together a performance Ruger 10-22 that won't break the bank.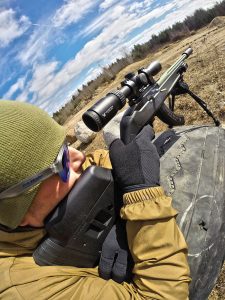 When Bill Ruger introduced his blowback operated, semi-automatic 10/22 rifle in 1964, it was an instant success. With over 5 million sold since—in seemingly countless variations—it has been a mainstay of the Ruger brand for over 50 years.
The original 10/22 was chambered in .22 LR, but Ruger also produced a .22 Magnum version from 1998 to 2006 as well as a .17 HMR model from 2004 to 2006. All current production 10/22s are available chambered only in .22 LR.
Every member of our staff has either owned—or currently owns—a 10/22, and they all have nothing but good to say about the rifle. It's light, fast and reliable, and is equally well suited to plinking or small game hunting.
This project involved taking a staff owned 10/22 and upgrading it to a ultra-precision .22 rifle for target shooting and hunting—quickly and inexpensively—by retaining the existing receiver and bolt group and simply fitting it with a new precision stock, barrel, sound suppressor, Ruger BX-Trigger, and adding a variable power riflescope.
Green Mountain Barrel

The key ingredient in this build was the barrel, so the first task was to remove the factory stock. Then the factory barrel was taken out—a process which involves nothing more than removing two Allen head machine screws and pulling the barrel forward and out of the receiver. The hole deal took about two minutes.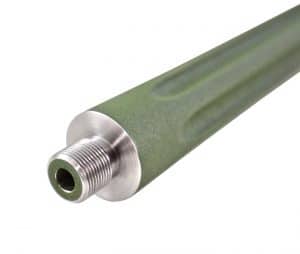 For a replacement barrel we chose a Green Mountain Rifle Barrel Co. 18-inch, stainless steel, fluted precision bull barrel (.920" outside diameter) in Army Green ($193.95) rifled at a 1:16" twist rate. We seen outstanding performance from Green Mountain's 10-22 and AR-15 barrels with previous builds, and this one proved no different. Founded in 1976, Green Mountain Rifle Barrel is now the largest independent barrel manufacturer in the country, and supplys barrels to more than a handfull of O.E.M.s.
Since it's getting to the point that whenever a limp-wrested liberal hears a gun shot around here, they call the cops, so we wanted to equip our project gun with a suppressor. Green Mountain's barrel threading option is only $75, and enabled us to mount our Gemtech G5 .22LR suppressor and Q.D. mount. The new barrel went in just as fast as the factory barrel came out, and now we were ready to install the new trigger assembly.
Contact Green Mountain Rifle Barrel Co., Inc., Dept OT; Tel.: (603) 447-1095; Web: www.gmriflebarrel.com
Ruger BX-Trigger
Ruger's new BX-Trigger ($89.95) is a drop-in replacement for the factory trigger group on any 10/22 rifle or Charger pistol. Installation is quick and simple with good written directions provided and an installation video on Ruger's website (www.Ruger.com/BX-Trigger). The BX-Trigger provides a crisper, lighter trigger, with a pull weight of 2.5 to 3.0 pounds, with minimal overtravel and positive reset. Being "experts," of course, we didn't bother watching the video, and had the new trigger group installed in less than two minutes. And it's an excellent trigger—way better than the relatively heavy, sort of mushy factory trigger—and a "must-do" precision upgrade to the 10/22.
Contact Sturm, Ruger & Co., Dept OT; Tel.: (888) 220-1173; Web: www.shopruger.com