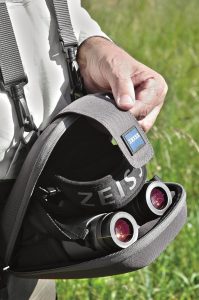 Zeiss gave its newest Victory an equally innovative case. The stiff, lightweight shell, with shock-absorbent lining and dual zippers, tilts open and can be carried that way—or partially or fully closed. Its magnetic flap keeps your SF handy, yet secure enough for any activity short of bronc riding.
In Europe, I joined birders giving the SF its first outing. Was that the wing-flick of a warbler or the wink of an antler tip? I found both. Both the 8×42 and 10×42 delivered brilliant, razor-edged images in fields notably flat, with essentially no color fringing. At dawn and dusk I saw no disparity in brightness between this glass and the HT. The SF came to my brow without effort—almost as if Zeiss designed the clumsy out of my hands.
Price? Gerry Dobler argues persuasively that "we did our best to limit costs. Superior optics don't come cheap." The 8×42 SF lists at $2,649, the 10×40 at $2,699. Of course, street prices are lower. Consider the SF an investment. In just 20 hunting seasons, you'll have committed a little over $100 a year to seeing more game. Maybe the SF will show you the biggest buck of your life! A good buy?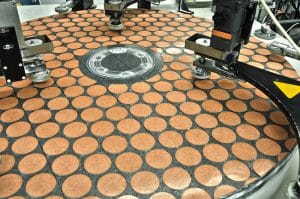 Truth About Brightness
Glass with a high refractive index delivers a sharper image, but less light transmission. So optical engineers must choose. Abbe-Konig (Hensoldt) prisms pass more light than the mirror-equipped Schmidt-Pechan, but are not as compact. According to Zeiss, the SF binocular delivers 92% of incident light. The HT transmits nearly 95%. You won't see the difference. Ads from some binocular houses trumpet 98%, even 99% light transmission. If you believe that, you can keep your old health insurance.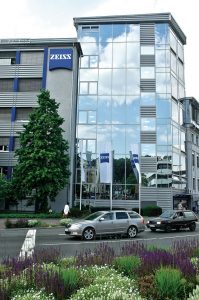 Where It's Made
Wetzlar, a city of 50,000, has long been Germany's optics hub. The Hensoldt company pioneered here. The Carl Zeiss enterprise began life nearby, in 1846. In 1897 Zeiss fielded a roof-prism binocular; in 1902 a rifle-scope with an erector system. A 1926 Zeiss booklet in my files has the logo: Carl Zeiss, Jena. It lists variable 1-6x scopes at $66! Zeiss then manufactured in Jena, Wien (Vienna) and Gyor. By 1928 it owned controlling stock in M. Hensoldt & Sons. In the rubble of post-war Germany, Zeiss offices moved by U. S. mandate to Oberkochen. Under the shadow of the Berlin Wall, the Jena plant supplied binoculars for Warsaw Pact nations. In 1964 Zeiss started making sporting optics at Hensoldt's factory.