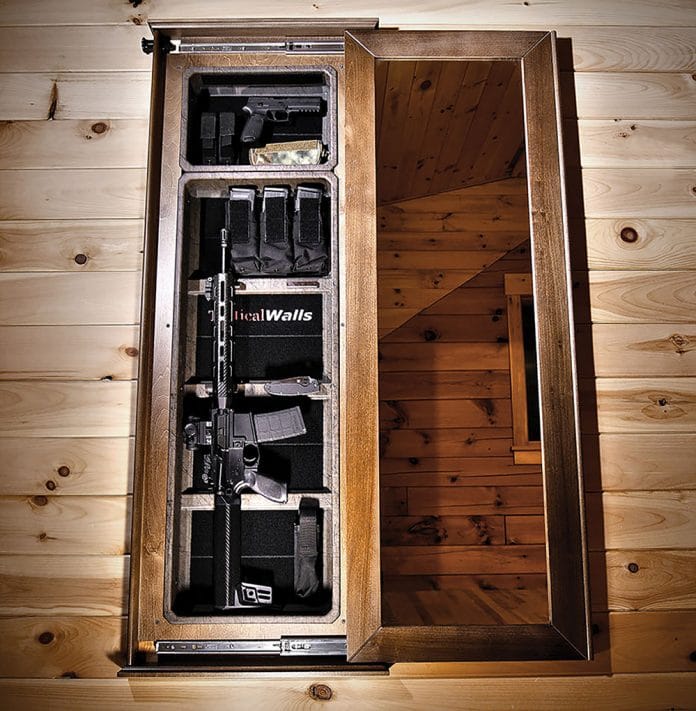 Lockable, quick-access and incognito firearm storage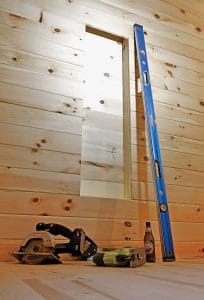 The new 1450M Bundle from Tactical Walls is a recessed, in-wall home gun storage solution designed to look like a classic, full-length wall mirror. Measuring 60" H x 22.5" W x 3.5" D, its interior compartments were designed to fit between standard 16-inch-on-center 2×4 wall studs. Priced from $490 to $760 depending upon the type of locking system and finish you choose, the 1450M represents an outstand emergency-firearm-storage option when a high level of discretion is needed.
Upon unlocking, the mirror slides to the side to reveal a hidden cavity with two compartments. The smaller of the se ret compartments is 10" H x  14" W x 3.5", while the larger compartments measures  40" H x 14" W x 3.5" D. This product can be used for any variety of items such as rifles, handguns, or ammunition. It will hold multiple handguns, long guns, ammunition, magazines and other go-to defensive gear.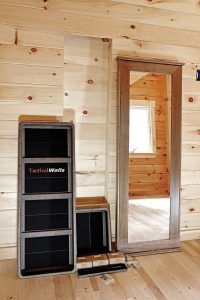 The 1450M Bundle is handmade in the U.S.A. from Baltic birch and poplar, and the inserts are made from U.S.-sourced ABS plastic. The mirror has a shatter-resistant coating and is backed with plywood, giving you two layers of security. The mirror is also encased in a full hardwood frame for added rigidity and security. Installation of the entire system is dirt-simple, with the most daunting task being actually cutting the hole in the wall. Since both the inserts and outer-perimeter wood frame screw to sides and face (respectively) of the 2×4 wall studs, the finished product rests/operates on a very solid foundation.
The two available locking systems include magnetic (shown) and RFID. The less expensive magnetic lock package Includes one magnetic locking concealment cover, one magnetic key, both inserts, one accessory shelf, two large retention magnets and one small retention magnet. The RFID lock package includes one RFID locking concealment cover, one CR123 battery, one programming card, two key cards, both inserts, one accessory shelf, two large retention magnets and one small retention magnet.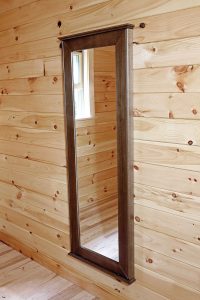 To open the safe, simply disengage the hidden lock and slide the mirror to the side. It travels on slides that provide smooth opening and closing. Magnetic firearms retention makes accessing and organizing your hardware even more convenient. Standard Velcro loop backing allows you to apply storage pouches or any other Velcro backed product right onto your insert. Additional shelves, hangars and LED interior lighting are all available optionally.
We followed along as a friend installed a 1450 in his nearly-completed home, and as you can see from the accompanying photos, installation is not rocket science. He chose the magnetic locking system with Dutch Walnut exterior finish ($490). Other exterior finish choices include cherry, black, white, early American or unfinished. Insert color choices include black, carbon fiber or distressed wood.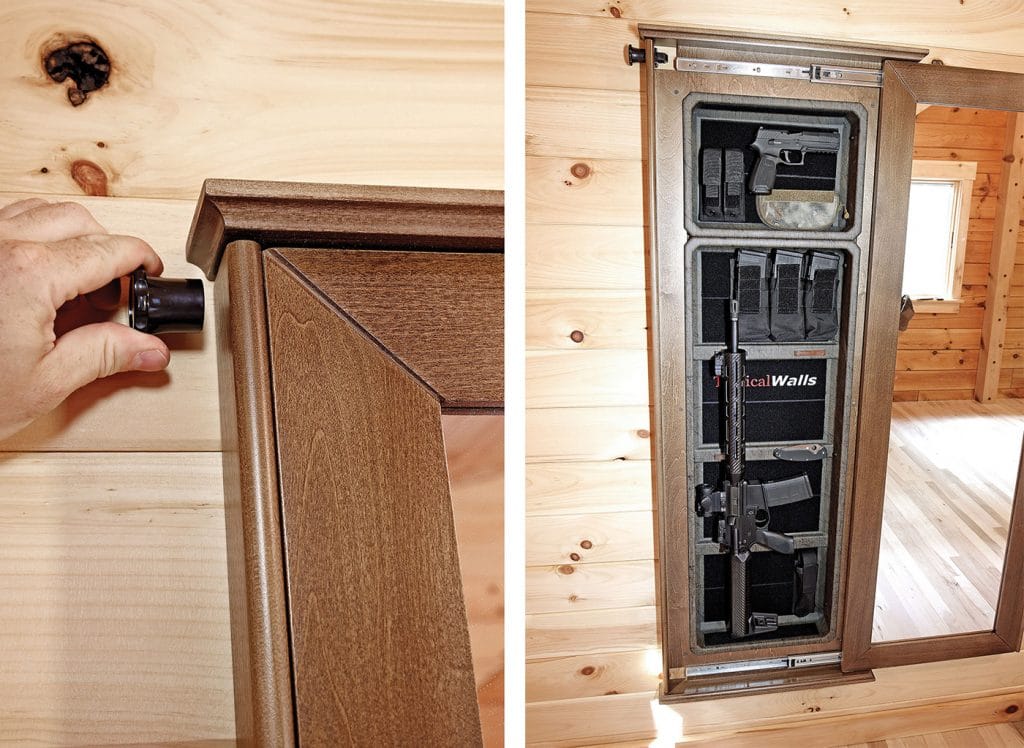 For more information, contact Tactical Walls, Dept. OT; Tel.: (540) 298-8906; Web: www.tacticalwalls.com