Blackhawk! Omnivore Multi-fit Retention Holsters
Multiple holsters for multiple handguns is no longer an issue. The BLACKHAWK! Omnivore multi-fit family of Level 2 Retention holsters (all $59.95) accommodates more than 150 models of semi-automatic handguns equipped with an accessory rail. Omnivores are available for non-light bearing pistols, or for pistols equipped with either a SureFire X300/X300U-A or Streamlight TLR1/2 weapon light. The model for non-light bearing pistols has an active retention mechanism that locks onto Blackhawk's proprietary Rail Attachment Device (included), not the frame of the handgun. The Rail Attachment Device is secured to the pistol's dust-cover rail. For pistols equipped with the SureFire or Streamlight weapon lights, the proprietary retention mechanism locks onto the lights themselves.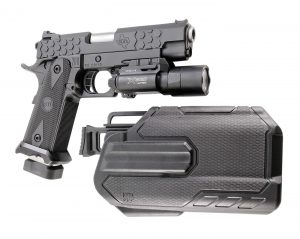 An ergonomically positioned thumb release disengages the locking mechanism when drawing the handgun. It is adjustable to any of three different positions for a perfect fit with your hand. The free-floating design inside the holster does not wear the pistol's frame or finish. Available in black only, in both right- and left-handed versions. See the Omnivore's at your firearms retailer, or contact Blackhawk!; Tel.: (800) 379-1732; Web: www.blackhawk.com
TRUGLO TFX Pro Tritium/Fiber Optic Sights
TRUGLO invented the original combination tritium/fiber-optic day/night sights—the TFO—then they made them virtually indestructible with their hermetically-sealed TFX sights. The latest evolution of the combination tritium/fiber-optic day/night sight is TRUGLO's new TFX Pro, designed for professionals and shooters who demand maximum performance from their handguns. The new TFX Pro sights ($186) provide the ultimate reliability, accuracy and brightness no matter how tough things get.

TFX Pro's are CNC machined from steel with TRUGLO's matte black Fortress Finish. Large slots in the top surfaces permit the tritium/fiber-optic light pipes to gather maximum ambient light for daylight use. The tritium is contained (somehow) within the light pipes and glows brightly in low or no ambient lighting conditions. The front sight has a contrasting orange ring around the visible end of the green light pipe, while the rear sight features dual green light pipes, one on each side of a U-shaped font sight notch. The rear face of the rear sight is angled for emergency one-hand racking of the slide. TFX Pros are available for a wide range of handguns listed on the website. See them at your gun shop, or contact TRUGLO, Inc.; Tel.: 888-8-TRUGLO; Web: www.truglo.com
Krebs Custom Interchangeable Muzzle System
The new Interchangeable Muzzle System ($90) from Krebs Custom is produced so the user can have a barrel of 16.25" overall length and still be able to switch among various muzzle devices (from flash suppressor, to muzzle brake, to a sound suppressor from Liberty Suppressors). The various parts of the I.M.S. are made of 4140 steel that's been heat-treated to 40 Rockwell C Scale hardness, with a black oxide finish. The only exception is the muzzle brake attachment, which is made of Grade 5 titanium, with a black titanium hardcoat finish.

The open, 4-prong, 14×1 base muzzle attachment is a very effective flash suppressor. The use of factory ammunition will produce, at best, only a few sparks at the muzzle. This base unit can also act as a harmonic dampener when installed on a 14.5" barrel. The total weight of this unit is 4.2 oz., and the overall length of the unit is 2.9", which means it will extend only 1.95" from the muzzle when installed. The closed-end "birdcage" compensator suppresses flash enough for effective low-light shooting, and holds the front of the rifle down. The total weight of this unit is 1.7 oz., and its overall length is 2.46", meaning it will add only another 0.225" to the base unit installed. The Liberty sound suppressor (not included) is custom-made for this system. This "sealed" suppressor weighs 1 lb. 10.6 oz., should be shot dry only, and is rated at 134 to 138 decibels. See the Krebs Custom I.M.S. online at www.krebscustom.com
Trijicon AccuPower 1-8x28mm Riflescope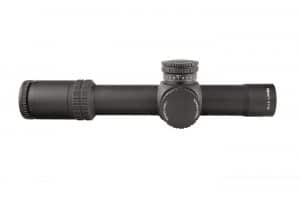 The AccuPower 1-8x28mm Riflescope from Trijicon ($1,699) is another of the new breed of 8X magnification range tactical scopes. Built on a 34mm tube machined from 6061-T6 aerospace-grade aluminum, hard-coat anodized in black, it features a unique, illuminated Segmented Circle MOA Crosshair reticle set in the first focal plane which offers both rapid target engagement and long-range precision. The first focal plane reticle allows subtensions and drops to remain true at any magnification, allowing the shooter to quickly and accurately apply the correct hold. The illuminated reticle, powered by one CR2032 battery, offers eleven brightness settings with an "off" position between each. The fully multi-coated, broadband, anti-reflective glass lenses, together with the 34mm tube and 28mm objective lens, offer a combination of superior optical clarity and brightness. It weighs 25 oz. and measures 10.8 inches in overall length. Other features include eye relief of 4.0 to 3.9 inches, exit pupil diameter of 0.46 to 0.14 inches, 1/4-MOA click adjustments with 100 MOA of total travel and a 109.2- to 13.1-foot field of view at 100 meters. It's fogproof, shockproof and waterproof to a depth of 10 feet, and has a battery life of more than 31 hours at full illumination. See it at your firearms retailer, or contact Trijicon, Dept. OT; Tel.: (800) 338-0563; Web: www.trijicon.com