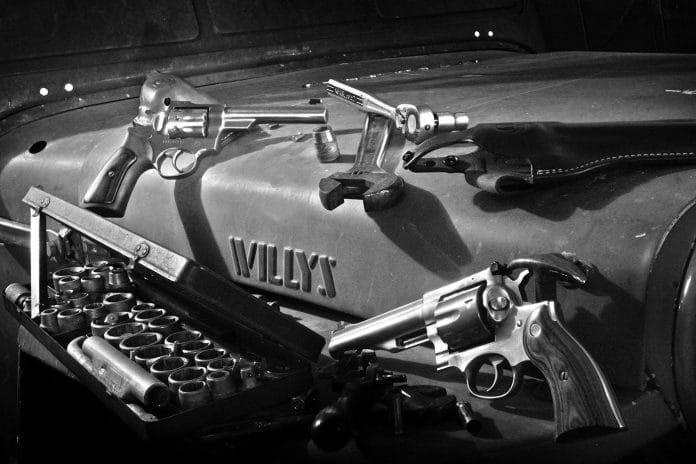 By Christian Hazel
Photos by Christian Hazel and Ben Battles
---
A classic, punch-packing pair of revolvers in calibers that will never go out of style
Remember when your dad asked you to help in the garage? It's like a rite of passage: Reaching into an ancient steel tool box and extracting a 9/16-inch forged-steel wrench so he could set the timing on the family car's engine, or digging through down to the bottom of the drawer for the 1/2-inch socket and ratchet driver so he could adjust the handlebars on your bike. Chances are that old box contained a full arsenal of tools in all shapes and sizes, but only a few of them showed the scratches and scars earned from frequent and repeated use. The others? They mostly lay in the drawer, put to work once in a blue moon.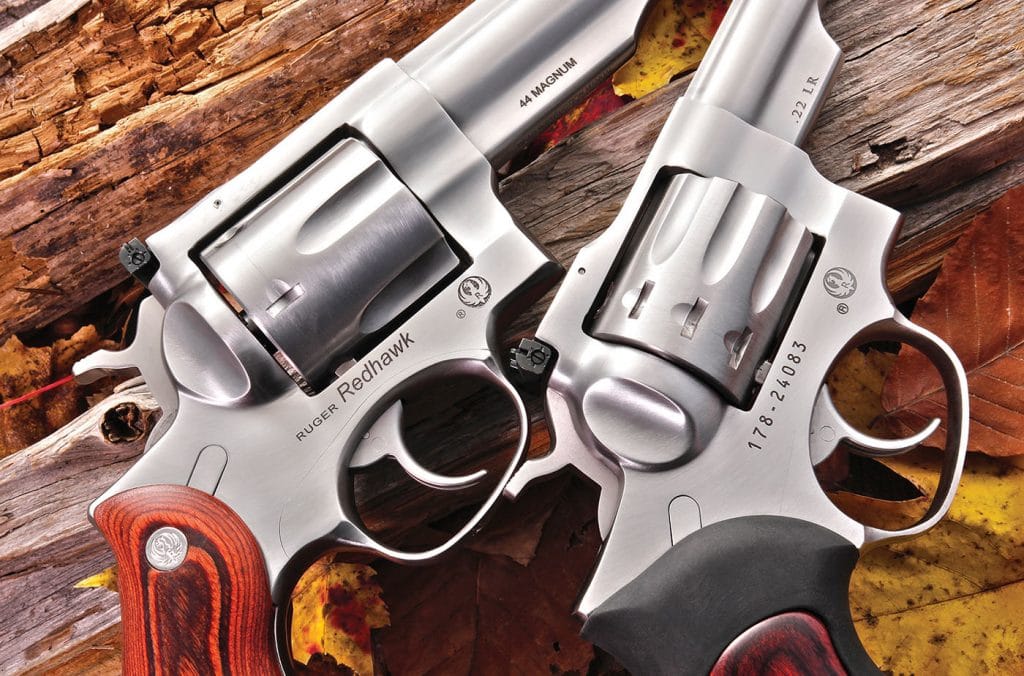 That's the way we think of the ubiquitous .22 rimfire and .44 centerfire cartridges. There may be many other tools in the box, but when it comes time to go to work, it's hard to argue with either's ability to get the job done. With both of these calibers in your arsenal almost any critters from small rodents and varmints to larger game like deer and bear can be felled.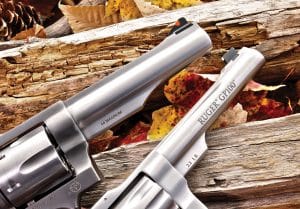 Ruger has really been burning the midnight oil lately up there in Newport, New Hampshire, adding a host of new caliber options for its semi-auto pistols and rifles as well as its classic revolver lineup. If you'll pardon the pun, Ruger's new offerings plug many holes in the caliber chart. However, if you want to cover the basics with a classic pair of wheel guns chambered in .22 LR and .44 Magnum, it's hard to beat Ruger's classic GP100 and Redhawk platforms. And in terms of reliability and sheer indescribable brawn they have few, if any, equals. For trouble-free function, they are to the revolver world what the Kalashnikov is to the semi-auto rifle. And as for strength, well let's just say a 5-pound sledgehammer has nothing on a Ruger revolver. It's a certainty that these solid chunks of steel will be reliably serving your needs every bit as long as those old hand tools.
But here's the thing: neither of these pistols are really new. And if you're looking for NASA-level specs and info on either, then the Internet is awash with thousands of reviews, which I plan to spare you from.
The .22 Long Rifle GP100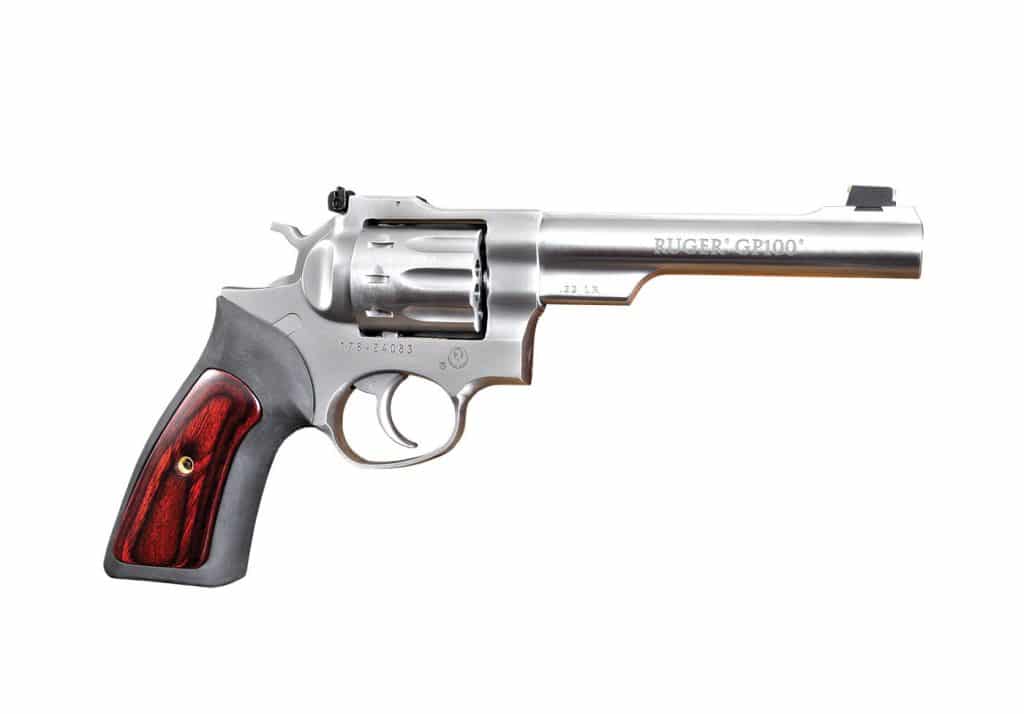 Built with the same monoblock design as the gargantuanly strong .357 Magnum GP revolvers, the 10-shot rimfire model may seem at first blush a tad overbuilt for a .22-caliber revolver. And "tad" in this case means complete-and-totally-gonzo-overboard. But despite the overabundance of satin stainless steel, the pistol handles nicely with balance and poise.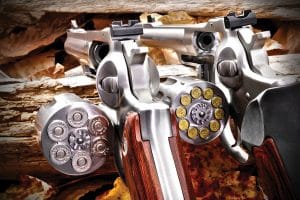 The cushioned, rubberized grips with wooden inlays offer a nice blend of control, comfort, and enjoyment. Yes, enjoyment. It's just nice to hold and feels good and secure in the hand: like the pistol grip shifter of a '70 Road Runner. Depress the cylinder release, stoke it up with ten rounds of rimfire and close the triple-lock cylinder with a solid "chunk". Present the pistol to the target and your eye is immediately drawn to the high-vis front sight. The rear sight features adjustable windage and elevation and a subtle white U-notch outline for quick acquisition without distracting from the front sight. The rear sight was dead-on out of the box. Either thumb back the serrated hammer spur for a guesstimated 4-pound pull or do the whole 12-pound double-action enchilada with your trigger finger. Virtually no recoil no matter how hot your rimfire ammo thinks it is. With a 5.5-inch barrel and weighing in at 42 ounces according to Ruger's data, a lack of perceived recoil wasn't unexpected, and despite the heavyish double-action pull, it's excessively easy to stay on target for accurate follow-up shots. Just keep your eyes focused on the front sight and watch the rounds impact your target.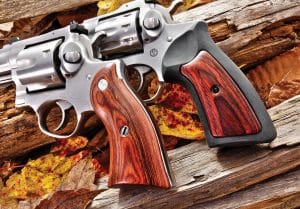 For testing purposes, the Ruger GP100 ($829) was first taken to the range and fed a variety of Aguila .22 LR ammo ranging from the dead-quiet 20-grain Colibri, to the 40-grain Pistol Match competition, and 40-grain Super Extra high-velocity, as well as 29-grain Super Extra short. Ruger warns that extended use of .22 Short can cut a ring into the cylinder chamber, but we only put roughly 100 rounds of Short ammo down range and encountered no subsequent sticking or hang ups extracting Long Rifle brass. The primer strikes were crisp with all ammo but we noted at 25 yards that with its 1:16 twist barrel, the GP100 was lobbing the low-velocity Colibri at the target with a mild corkscrew arc visible to the naked eye. The Pistol Match and Super Extra hustled to the target straight as an arrow and impacted right at point of aim. For a non-professional pistolero such as myself, the best 10-shot group came single-action with the Aguila Super Extra, resulting in a 1.5-inch cluster with one called flyer and three adjoining holes. The operator in this case really was the limiting factor. With the heavy barrel and great sights a more experienced shooter could most likely shrink down that grouping substantially.