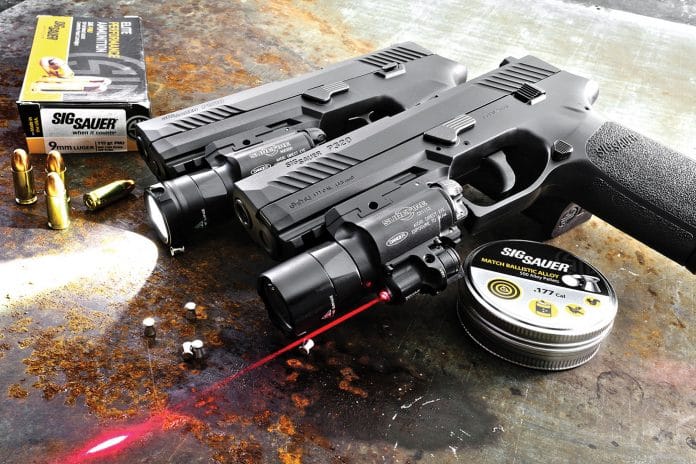 Low cost/noise training in a pistol that's about as close as you can get to a real-deal P320
Designed for anyone who carrys the center-fire Sig Sauer P320 as their duty sidearm or personal defense weapon, the new P320 Advanced Sport Pellet Pistol ($119.99, in black or FDE) gives them a non-lethal and low-cost practice alternative in a pellet pistol with looks, weight, balance and handling that are identical to the full-size, center-fire P320. And since the center-fire P320 has now been accepted by the U. S. Army as it's new standard service pistol, that group includes every army grunt who is issued a sidearm.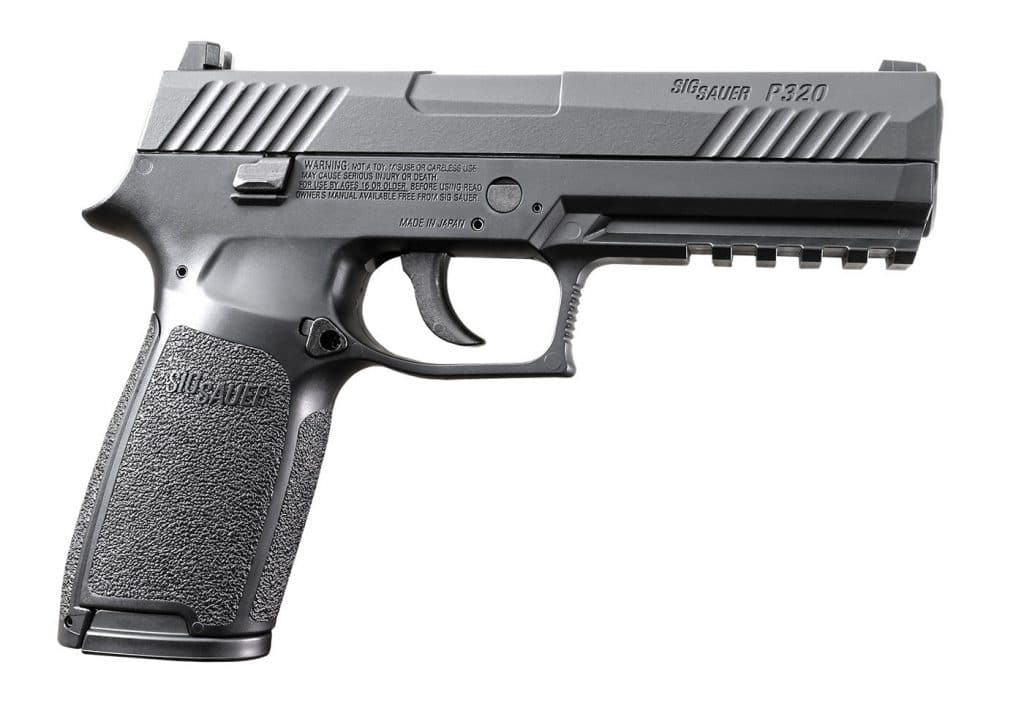 Made in Japan, quality, fit and finish are outstanding. Powered by a standard 12-gram CO2 cartridge, it shoots both steel BBs and .177 Cal. lead pellets (the latter at a velocity of up to 430 f.p.s. depending on pellet weight, temperature and altitude.). CO2 cartridges are easily inserted and removed through a compartment in the side of the grip. The semi-auto P320 Advanced Sport Pellet Pistol is the first air pistol in the world to feature a 30-round belt magazine. Housed inside a portion of what would be the standard magwell on the center-fire pistol, the 30-round belt magazine is contained within a flip-open polymer housing that is released simply by pushing the extended magazine release button just like on the real thing. Also adding to the realism is a reciprocating slide, which blows back after each shot to introduce some felt recoil into the experience.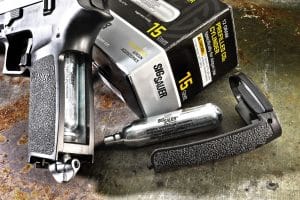 Controls are identical to those of the center-fire P320, except the slide release on the center-fire version is replaced with a fore-aft sliding safety on the pellet gun. Other features include a polymer frame, metal slide, rifled steel barrel, front and rear white-dot sights that are drift adjustable for windage, 5-slot Picatinny equipment rail molded into the dust cover just like that on the center-fire P320 and a trigger that's OK, but not quite up to the standards of the real P320—which is an exceptional trigger by any standards. Bear in mind that we're talking about a $119 air pistol here, so something had to be lost in the translation. That being said, the trigger on the air gun pulls through a bunch of gritty, stacky junk, but eventually hits a very obvious hard wall at about 6-pounds pull weight. During testing we learned that you just pull through all the crap until you hit the wall, finalize your aim and pull a tad more. From the wall, the trigger breaks crisply and decisively with no more foolishness.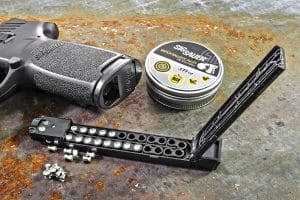 I tested the P320 Advanced Sport Pellet Pistol with SIG's own Match Ballistic Alloy .177 Pellets and SIG 12 gram CO2 cartridges from the company's Elite Performance Airgun Accessory line at 15 yards—the longest range I have in my basement shooting range—and accuracy was impressive. Five-shot groups averaged under 1.5 inches center to center. This is a really cool pellet pistol, and in our opinion, anyone who owns a real-deal P320 should also add its CO2 counterpart to the collection.
See it at your firearms retailer, or contact Sig Sauer, Dept. OT.; Tel.: (603) 610-3000: Web: www.sigsauer.com